LIST: Food Delivery Apps to Help Satisfy Your Cravings
Everyone appreciates eating at home or at the office without having to prep your own meal—thanks to online deliveries for making this possible.
While most restaurants have their own applications nowadays, there are independent online food deliveries that serve as your one-stop shop for multiple stores. It comes in handy when you can't decide which restaurant you want to order from.
We've listed down some of the food delivery apps you can download and rely on for your meals, groceries, and more:
Honestbee
Honestbee is an online concierge and delivery service app, where trained concierge shoppers literally shop for your needs. The app started out to serve as a grocery service but now has expanded to deliver restaurant orders including S&R New York Pizza, Banapple, Yoshinoya, and more!  They cater to patrons in Metro Manila and Cebu, but are working to extend their services to other areas.
They aim to make life easier as you can shop for your food and groceries without having to leave the comforts of your home. Once your orders are placed, they deliver it within minutes depending on how far you are from your selected establishment.
However, as of April 2019, Honestbee has put their services in the Philippines on a hiatus. They have yet to announce when their services will continue.
We're really sorry we can't bee here for you right now. But don't worry, we're busy buzzin' behind the scenes, so we can get back to serving you in no time! #BeeRightBack #BeeMissYou

honestbeeさんの投稿 2019年4月21日日曜日
Also read: Honestbee PH: Your online concierge and delivery service
foodpanda
Launched in the Philippines in June 2014, foodpanda allows users to conveniently order food from restaurants via online or mobile. They currently operate in over 40 countries across five continents. They are partnered with over 1,000 establishments, which makes it easier to satisfy your cravings.
They also have exclusive deals for certain restaurants that you can avail of—including free upsize, meal deals and discounts, among others. Like other food delivery services, they show how long you have to wait for your meals to arrive, as well as which restaurants are still open at a specific time of the day.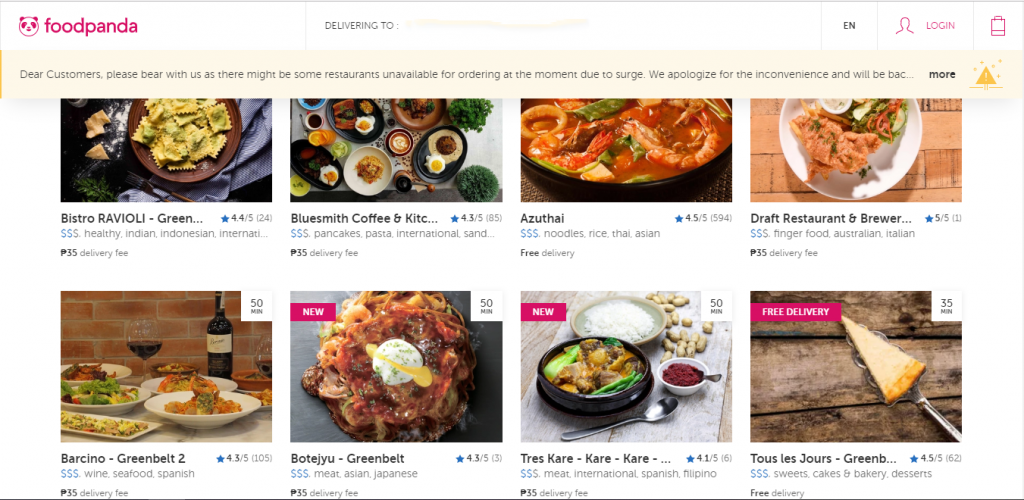 The foodpanda Website
What makes foodpanda a little more convenient than others is that they show your delivery fee, including those that offer it for free. Their delivery fee is usually at Php 35, making it slightly cheaper than the rest.
You also have the option to order your meals in advance, and pick them up at the restaurant itself. For their pick-ups, they also show the distance of the restaurant from your location and how long you have to wait.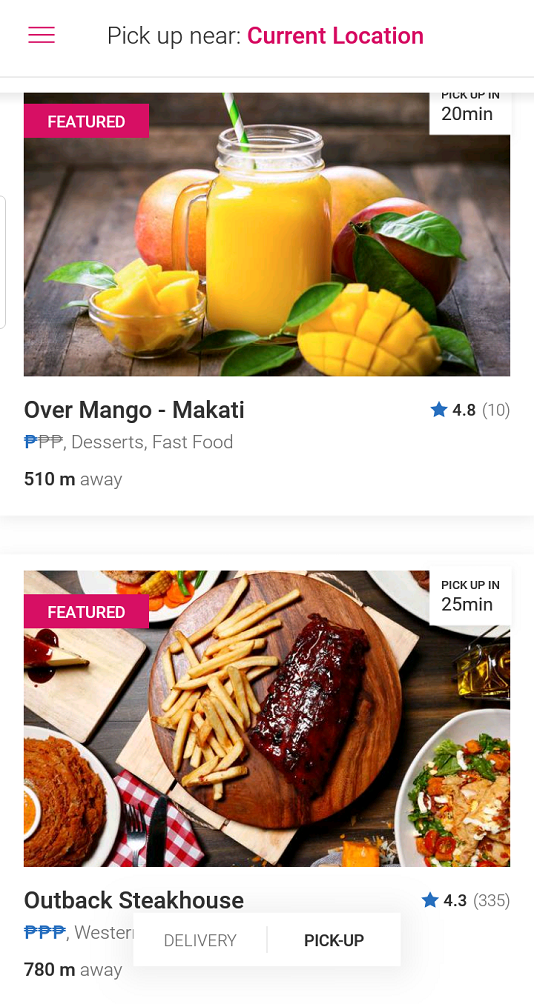 The foodpanda app featuring their pick-up option
Their app is available for download on Play Store (Android) and App Store (iOS). You can also make your orders online via their website. Much like their app, simply type down your address and you'll see a list of restaurants that are available for delivery.
MetroMart & MetroTable
MetroMart mainly focuses on being a grocery delivery service. You can place your orders on their app or their website and—for only 90 minutes or less—your orders will be at your doorstep! Do take note that they only deliver to Makati, Taguig, Pasay, Antipolo, Cainta, Las Pinas, Mandaluyong, Manila, Marikina, Muntinlupa, Paranaque, Pasig, Pateros, Quezon City, and San Juan.
The MetroMart app
They are partnered with establishments such as Robinsons Supermarket, S&R, Pet Express, Watsons, Toy Kingdom, The Blue Kitchen, Messy Bessy, Nisce Skin n' Face, among others. The prices of the items on MetroMart are usually the same as their in-market prices with the exception of the weighed items, which may vary.
It's important to note that their delivery hours are only between 11 a.m. to 10 p.m., depending on the operating hours of their partner stores. Their standard delivery fee is Php 40, but they also have free delivery for first-time purchases or if your purchase meets the minimum amount (Php 1,000).
You can pay using major credit cards or by Cash-On-Delivery—it doesn't get more convenient than that!
The MetroMart Website
You can order from different stores, however, delivery fees and time are separate for each store. You can still avail of their free shipping if you meet the required amount.
MetroMart also has MetroTable, which allows you to reserve tables at your favorite restaurants with exclusive discounts. The best part is that you don't have to install a separate app to use their services. Note that MetroTable is only available on the MetroMart app and not on the website.
They have a list of cuisines and restaurants that you can choose from. The process is quite simple:
Select the restaurant that you wish to dine at.
Select your preferred date and the number of guests.
Select your desired time and the discount (if applicable)
MetroTable on the app
These discounts are only valid for dine-in transactions and cannot be used in conjunction with other discounts. It's also worth noting that your discount is only valid for food items ordered one hour from your reservation time—those in excess will be charged in full.
The MetroMart app is available for download on the Play Store (Android) and App Store (iOS).
Also read: MetroMart officially launches in the Philippines
GrabFood
GrabFood is probably one of the most popular food delivery apps today. Not only is it convenient but also has one of the biggest varieties of food that you can choose from—with no minimum order required!
Using GrabFood is very simple, all you have to do is download the Grab app and select Food from the menu.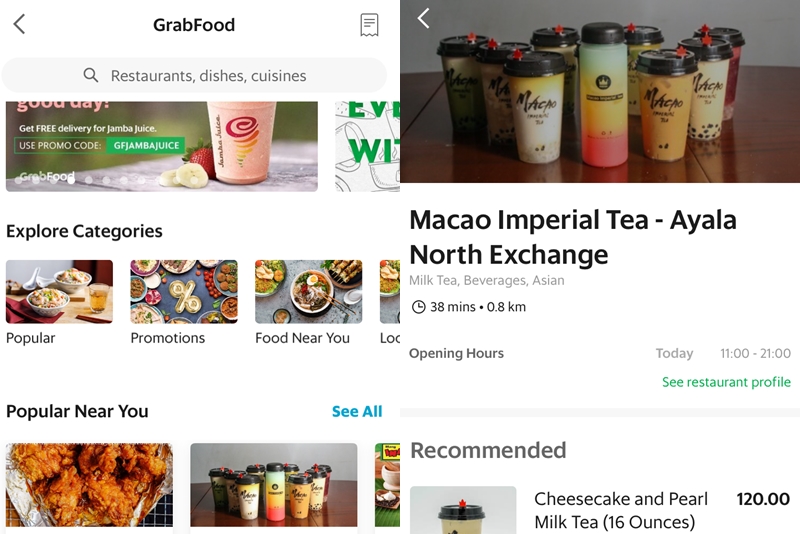 As of writing, GrabFood is only available from 9 a.m. to 9 p.m. from Mondays to Sundays (except holidays) in selected areas including Bonifacio Global City, Makati, Manila, Pasay, Mandaluyong, San Juan, Ortigas, and Quezon City. It also recently became available at select establishments in Cebu.
You can no longer cancel your orders once you've checked out. Otherwise, you might face penalties and account suspensions.
Also read: How To Use GrabFood and GrabExpress
LalaFood
LalaFood is one of the newer food delivery apps. They guarantee to have your food delivered in 45-minutes or less, which makes it perfect for those who are in a hurry! They have over 800 partner stores, allowing those from Makati, Taguig, Pasig, and Quezon City to enjoy their favorites without the hassle of traveling.
Take note that they only deliver from 10 a.m. to 10 p.m. from Mondays to Fridays, with an average charge of Php 49 per delivery. You don't have to worry about reaching a minimum amount to get your food delivered as LalaFood has no minimum fee! They also have discounts and vouchers that you can avail.
Which app is your go-to for food deliveries? Don't forget to share them with us in the comments!