Tablea de Maria Clara in Tagbilaran City, Bohol Serves Creamy Espeso with Puto Maya
A passion project– this best describes Dr. Mark Romero's Tablea de Maria Clara established in 2017. A surgeon by profession, Dr. Romero's character is not only displayed under a white coat but can be easily seen inside Tablea de Maria Clara, a rising cafe in Tagbilaran City.
Tablea de Maria Clara is a proper cafe with wood accents, sparsely decorated with pots and plants.
What made Tablea de Maria Clara a gem of Tagbilaran City is that it supports local farmers from Guindulman and Sierra Bulliones in Bohol who grow cacao beans made into Sicuate.
Sicuate, Dr. Romero describes, is a thick and creamy unsweetened chocolate drink, best served hot. The serving is called the Espeso, ideally paired with Puto Maya (suman in Tagalog; rice cake in English) with a rose-shaped mango on top.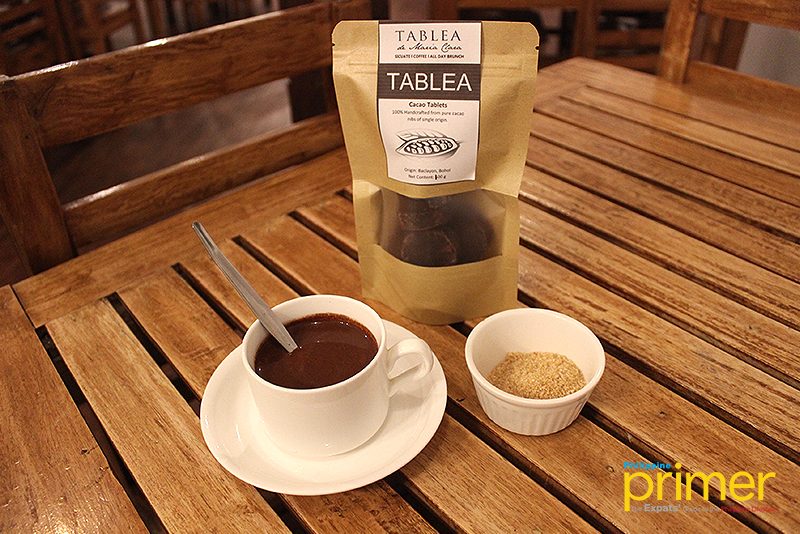 Espeso (Php 89)
This Espeso Combo (Php 109) can be gulped up any way you want, but as Dr. Romero prefers, you can scoop up the rich Espeso and drizzle it on top of your Puto Maya.
Puto Maya is usually available in Bohol during Christmas and special occasions, but at Tablea de Maria Clara, the treat can be ordered as often as you like!
The result works magic on your palate as the gingery touches of the Puto Maya interact with the sweet mango, only to burst with that creamy, unsweetened Espeso.
The unsweetened tablea chips used to make this Espeso can also be purchased inside the cafe.
On the other hand, for those who would like to have a hearty brunch, Tablea de Maria Clara also serves a mix and match of starch, protein, and drink!
For starch, you have a choice of rice whether steamed or fried, or a choice between french fries, french toast, or whole wheat toast.
For protein, you get to choose between a bevy of hearty meats, one of which is Dr. Romero's own favorite, Herb-Crusted Fried Chicken with Fried Rice, tender and flavorful to the core.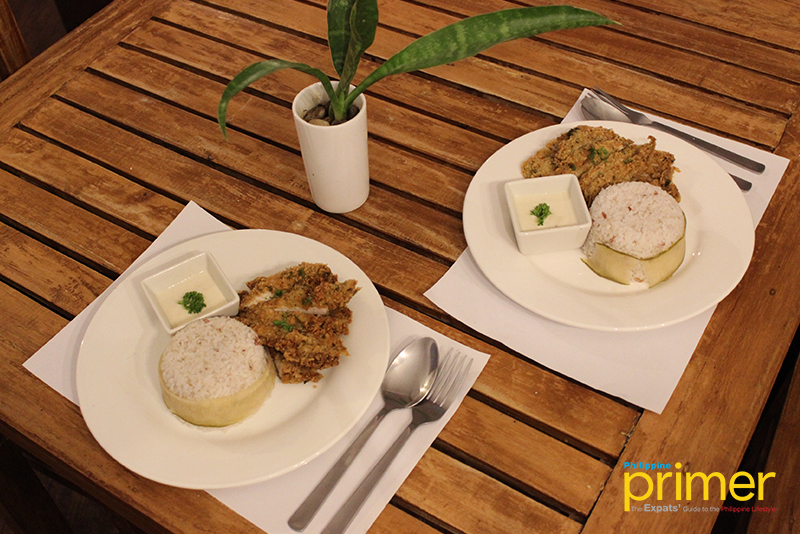 Herb-Crusted Fried Chicken with Fried Rice (Php 134)
Its meat, seasoned lightly, remains tender for the rest of your meal and not at all dry, leaving you with a satisfying meal.
Finally, pair these with your choice of drink from iced teas and Faux-Mosa to what you'll call your favorite- the Espeso Sicuate.
A Treasure along Maria Clara Street
While Tablea de Maria Clara is built with the interest of students in mind, near as it is to a university, the cafe slowly became a go-to place of expats who treat the once-family-home as their own.
To make it even more exciting, Tablea de Maria Clara, with its romantic atmosphere, also hosts poetry and acoustic nights as well!
So while in Tagbilaran City, make a stop for a hot cup of Sicuate only at Tablea de Maria Clara!
Note: Pancakes are also available at Tablea de Maria Clara for breakfast! Pastas are available too! If that will not lure you into the cafe, we don't know what will.
How to get here:
By private car: From the new Bohol-Panglao International Airport, take the Dauis-Panglao Road going to Tagbilaran City proper. From here, take a left towards the Hontasonas Road, before taking right to Totolan Street 1. Take the J.A. Clarin Street and go straight via Tagbilaran North Road. Turn left to Maria Clara Street and you'll see Tablea de Maria Clara's signage.
By public transport: Along Panglao Island Circumferential Road, wait for a van going to Tagbilaran City and board it. Tell the driver to let you off at Maria Clara Street and walk towards Tablea de Maria Clara. A van ride from Panglao to Tagbilaran City costs Php 38.
---
This first appeared in Philippine Primer Japanese Magazine's April 2019 issue.
Written by Chin Sanigan
General Information
Maria Clara Street, Tagbilaran City, Bohol
0950-883-2645
9 am to 9 pm