Nomu in Poblacion: Modern Japanese Bar with Authentic Roots
From its former location in BGC, Nomu has transferred to a bigger space in the bustling and colorful district of Poblacion, Makati. The Japanese bar is now tucked along Jacobo Street—a bit outside the area of bright lights and booming music of other establishments.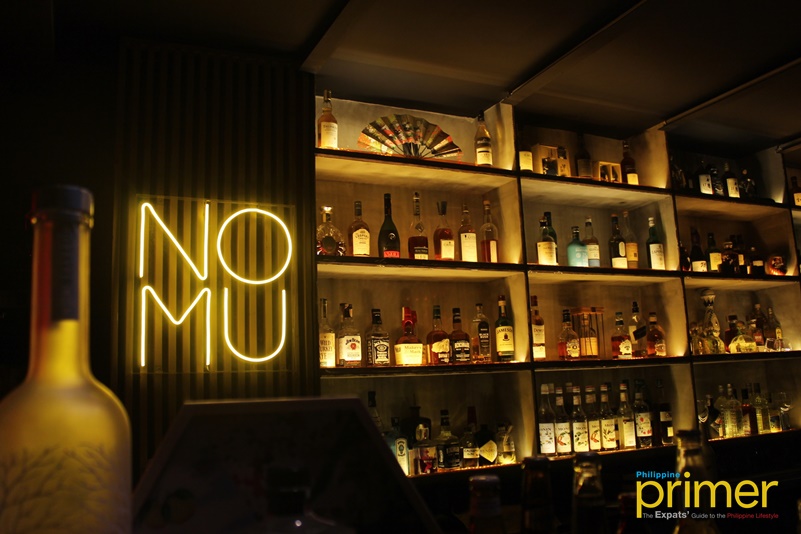 The light-up bar seems like the centerpiece for the whole place with the neon signs and its wide collection of liquor
It was an early Friday night when Philippine Primer got the chance to visit, and we had the chance to sample some of their best-selling food and drinks while chatting with Nomu's very own bartender Marvin Pantoja.
Drinks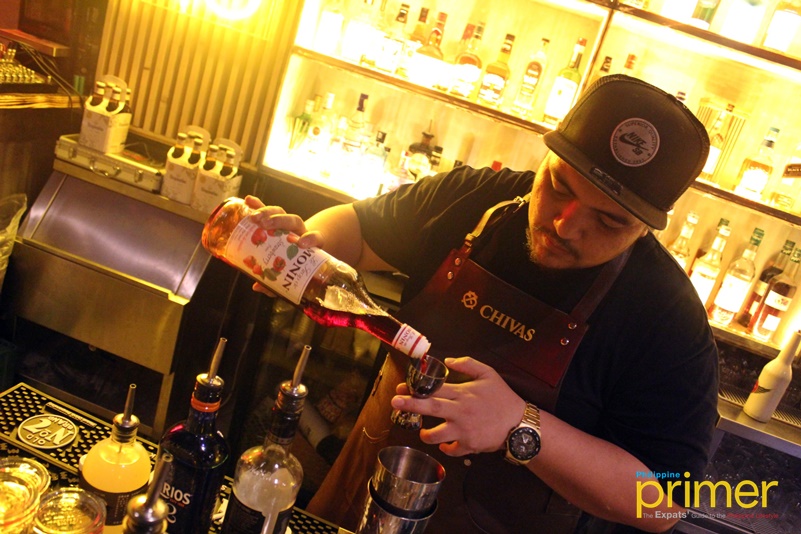 Bartender Marvin Pantoja prepares the Berry Watermelon Bramble
Nomu offers classic cocktails with quite a twist, adding some ingredients you wouldn't expect to find in your regular glass.
For instance, the usual bramble cocktail made with gin and lemon juice is given a berry twist with the addition of berry syrup and watermelon. A glass of Nomu's Berry Watermelon Bramble (Php 350) is perfect for those who love fruity and citrusy cocktails, and long nights of drinking and sharing meaningful conversations.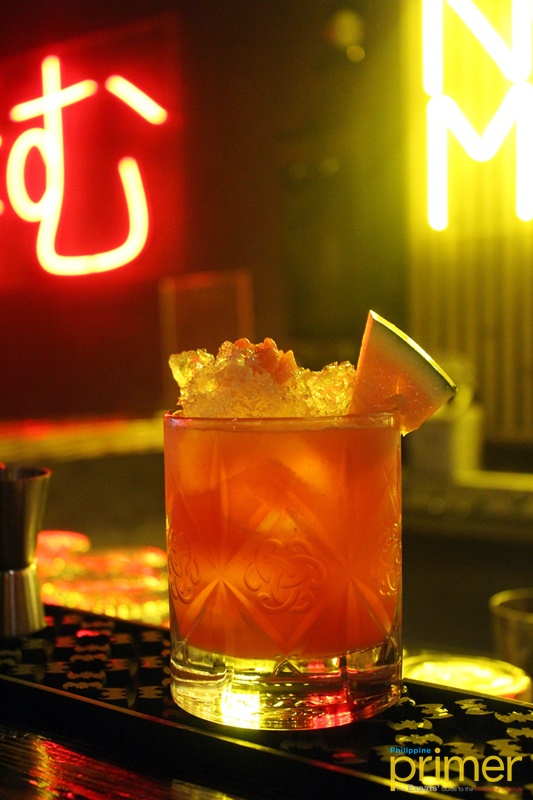 Berry Watermelon Bramble (Php 350)
The Matcha Amaretto (Php 350), meanwhile, is a trademark of Nomu. This unique take on amaretto sour is Nomu's nod to Nomi, a specialty cafe in BGC where the bar was first located.
Additionally, the matcha used in this drink is sourced from Kyoto by one of the owners himself.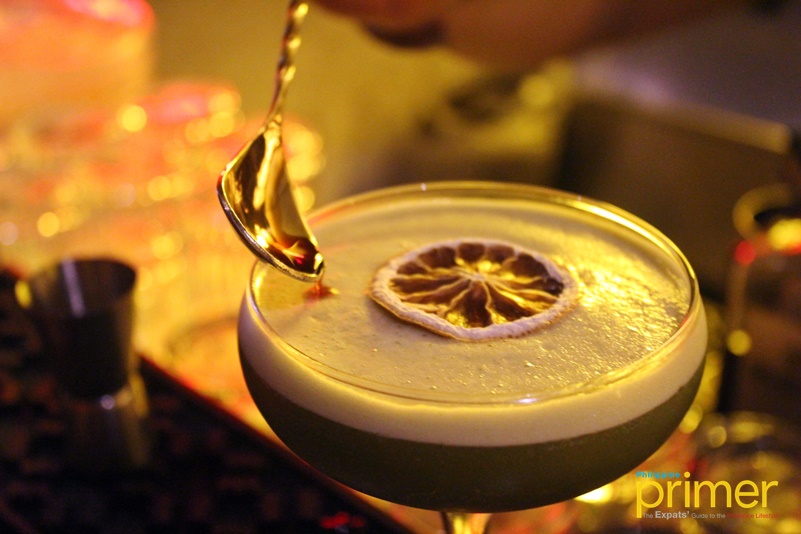 Matcha Amaretto (Php 350)
Crafted by bartender Marc Bautista, the Popcorn Old Fashioned (Php 400) is a fun twist on the classic drink characterized by its rich, smooth, and silky taste.
The simple combination of bourbon or whiskey, sweetener, and bitters on the rocks is elevated by adding popcorn syrup to balance the sour taste of liquor. Once stirred, the aroma of popcorn fills the air much like how a movie house lobby would smell.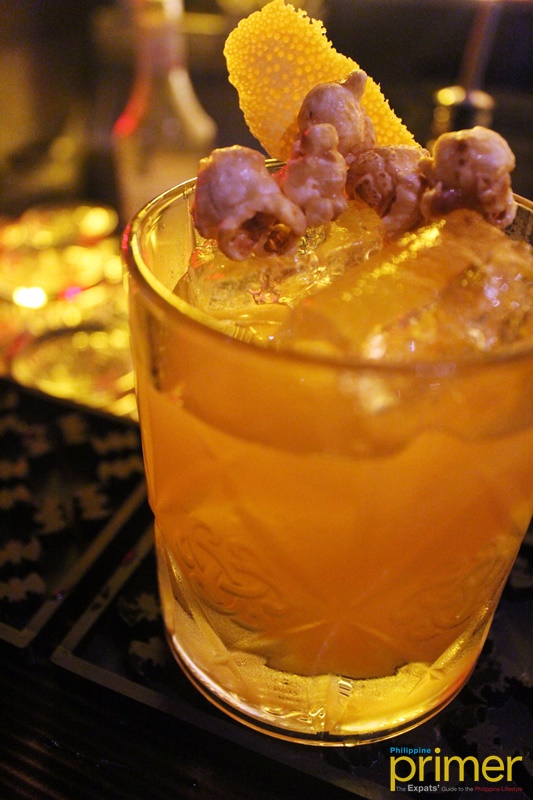 Popcorn Old Fashioned Drink (Php 400)
Aside from cocktails, they also serve beer and other liquor.
Food
Japanese favorites compose Nomu's food selection. As you go through the list, you may notice that the food is served to be easy and hassle-free to eat, which is ideal for such a dynamic environment present in bars.
However, they also have rice bowls that you can enjoy for dinner before the drinking starts.
Partner your cocktails (or beer, if that's your thing) with Nomu's best-selling makis. With their Gyudon Maki (Php 300), your favorite beef rice bowl now comes in a bite-sized, cheesy form topped with fried onions. You can also opt to have a plate of the classic Spicy Tuna Maki (Php 260).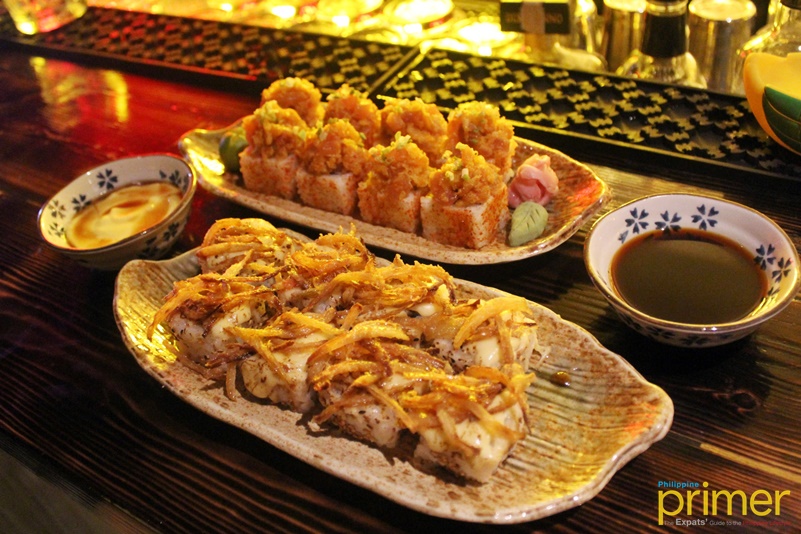 Gyudon Maki (Php 300) and Spicy Tuna Maki (Php 260)
For a filling meal before cocktails, you can order their Oyakodon (Php 320) composed of rice topped with flavorful chicken, egg, and onions drizzled with donburi sauce.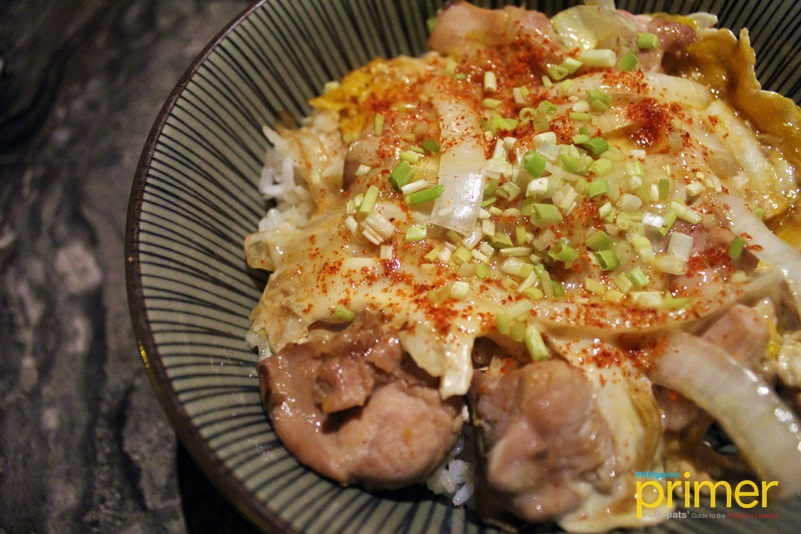 Oyakodon (Php 320)
Other must-trys are the Chicken Yum Yum (Php 200), a bite-sized version of chicken karaage, and the Yakitori (Php 200) made with perfectly grilled skewered chicken and bell peppers.
Both are served with shredded cabbage with sesame dressing.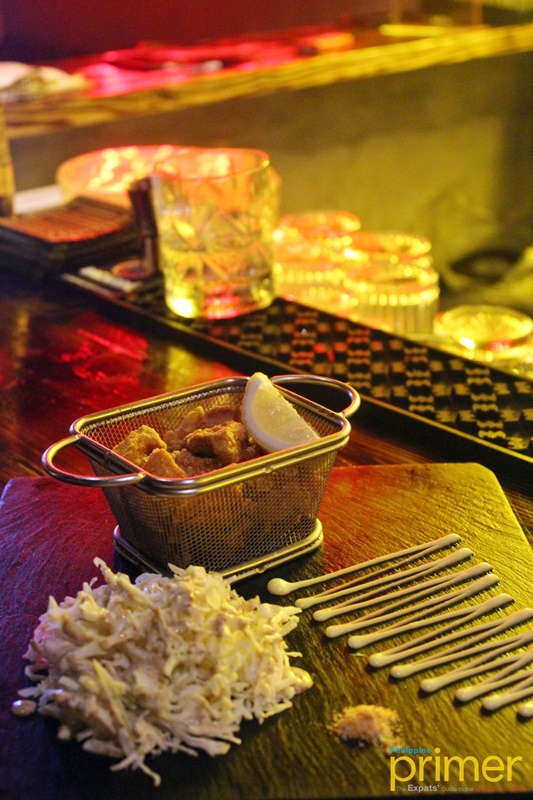 Chicken Yum Yum (Php 200)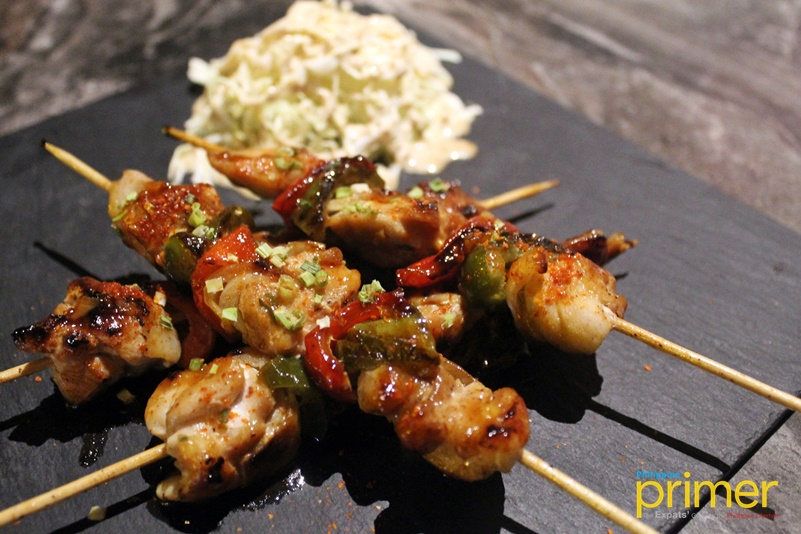 Yakitori (Php 200)
Further, the bar's unassuming facade gives little to nothing of what it holds inside. Stepping inside Nomu, you'll be welcomed by its full bar, neon signs, and Japanese art pieces as if to represent the bar's identity–a hip and modern Japanese bar that doesn't stray away from its roots.
"We want our customers to experience both the authentic and at the same time, what a hip Japanese bar would look like. That was the vision and idea behind Nomu," Také Hosomi, one of the managing partners of Nomu, shared.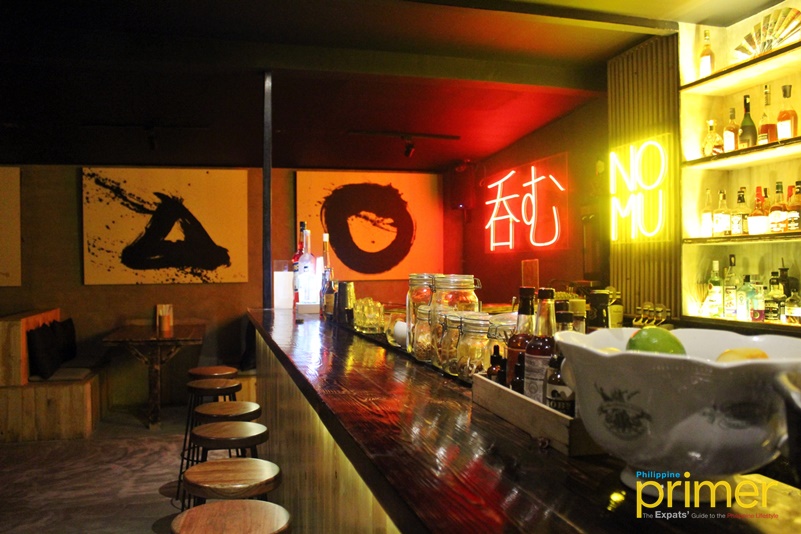 According to Hosomi, Nomu is a result of taking little concepts from bars in Kyoto and Tokyo and implementing that into one.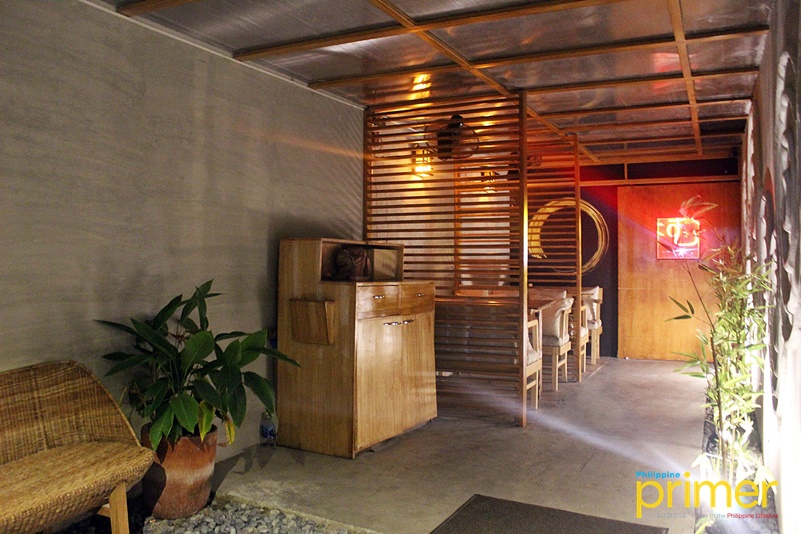 The alfresco area is inspired by Také Hosomi's hometown of Kyoto in Japan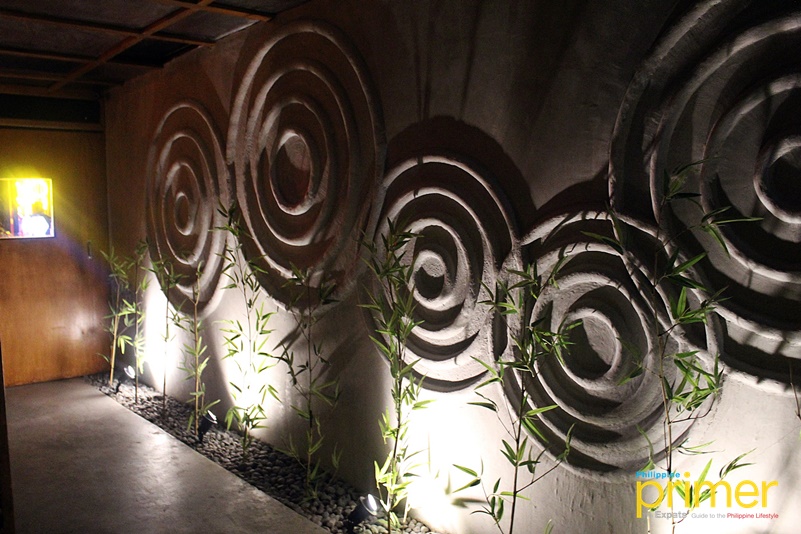 A modified zen garden on the wall of the alfresco area
This is evident with the stark contrast of the alfresco area, which appears to be more on the zen Japanese side complete with pebbles, small bamboo trees, and a zen garden on the wall, to the inside of the bar itself that is adorned by neon signs and Japanese artworks.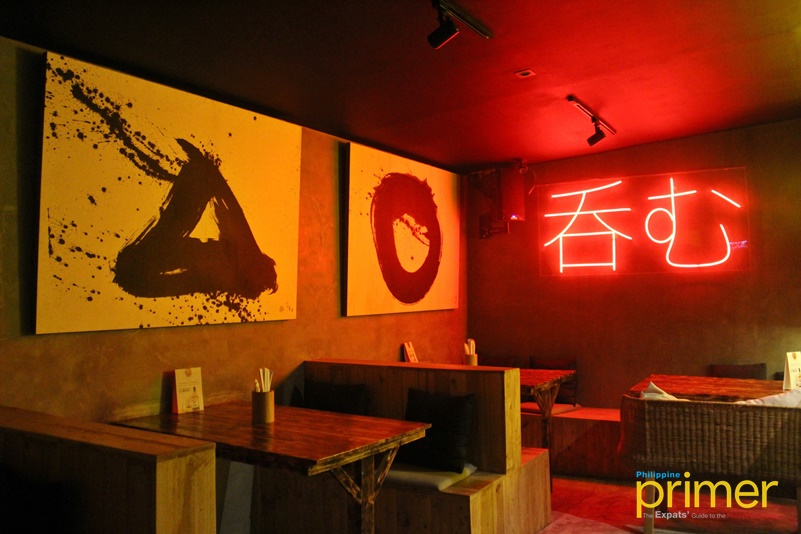 A painting of famous Japanese artist Shiro Tsujimura adorns one wall of the bar
Since their soft opening in October, Nomu has been steadily gaining traction in the area with bigger crowds week after week. According to the staff, the peak hours start at 10 p.m.
Nomu plans to officially launch the bar by the end of the year, with more Japanese cocktails and a wider variety of rice bowls and appetizers right up their sleeves.
How to get here
Nomu is located at Jacobo Street in Poblacion.
By car: From EDSA take the exit towards J.P. Rizal Avenue. In J.P. Rizal Avenue, make a left at Escuela the drive to Jacobo Street.
By commute: Take the MRT to Guadalupe station then ride a jeep going to L. Guinto. Alight at J.P. Rizal Avenue. From there, you can walk to Jacobo Street in Poblacion.
---
Written by Teresa Gatmaitan

5811 Jacobo Street, Poblacion, Makati City

0946-876-7701/0915-741-3534