WILD Plant Based Cafe Bar in BGC: Offering Wholesome Vegan Delights
WILD Plant Based Cafe Bar in BGC, Taguig stands as a sanctuary for health-conscious foodies and advocates of sustainable living, thanks to its wide variety of guilt-free, delicious, nutrient-packed offerings such as burgers, waffles, sundaes, and even cocktails that both vegans and non-vegans will absolutely enjoy.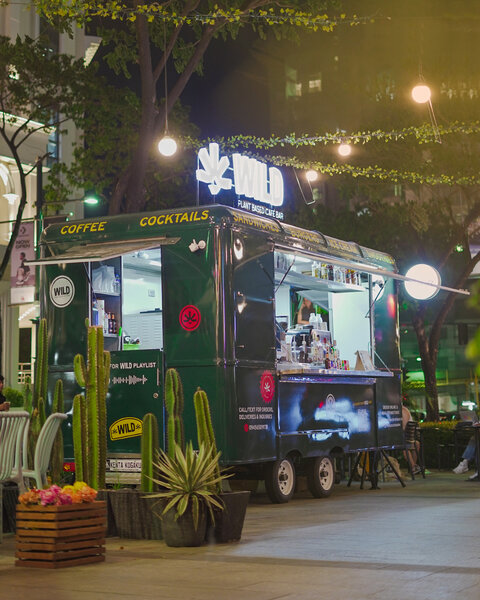 IMAGE from WILD Plant Based Cafe Bar Facebook page
The menu at WILD is a culinary exploration of the vibrant and diverse world of plant-based cuisine. Each dish is meticulously crafted to showcase the incredible flavors and nutritional benefits of natural, whole-food ingredients. From hearty sandwiches bursting with fresh, colorful vegetables to flavorful coolers packed with refreshing goodness, every bite is a celebration of nature's bounty. The 'gram-worthy dishes, infused with a fusion of global influences, offer a delightful symphony of tastes, textures, and aromas.
Start with the Mushroom Fritters (Php 175), a scrumptious vegan appetizer that showcases the earthy and umami-rich flavors of mushrooms. These crispy fritters boast a golden-brown exterior and a tender, savory interior, making them a perfect choice for both mushroom enthusiasts and those new to plant-based cuisine.
Fuel your day with the Choco Banana Protein Waffle (Php 225), a decadent yet nourishing vegan breakfast treat. This waffle creation combines the rich flavors of chocolate and banana while delivering a healthy dose of plant-based protein to kick-start your morning.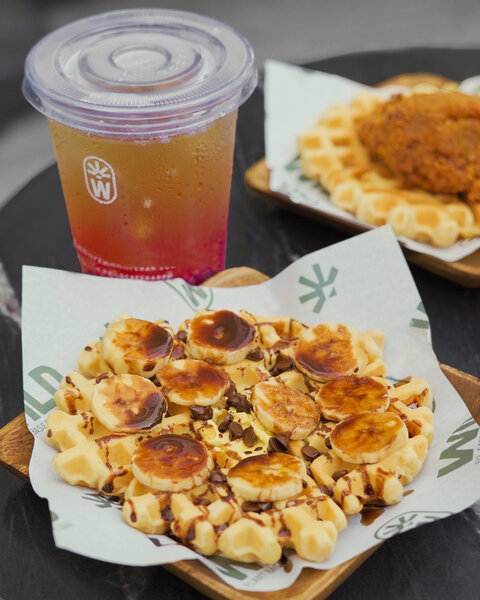 Choco Banana Protein Waffle / IMAGE from WILD Plant Based Cafe Bar Facebook page
The Spicy Gochujang "Chikn" Sandwich (Php 245) is a mouthwatering and satisfying vegan creation that combines the bold flavors of Korean cuisine with a delightful twist on the classic chicken sandwich. The plant-based protein patty mimics the texture and taste of real chicken is coated in a fiery, salty-sweet gochujang sauce, which adds a spicy kick and a depth of flavor. Nestled between two pillowy-soft buns, the spicy "chikn" patty is complemented by crunchy pickles and in-house slaw that provide a refreshing crunch and a subtle zing.
The beverage offerings at WILD are equally exceptional. Sip on invigorating coolers, energizing caffeinated and non-caffeinated options, as well as a selection of classic cocktails, all made with vegan-friendly ingredients.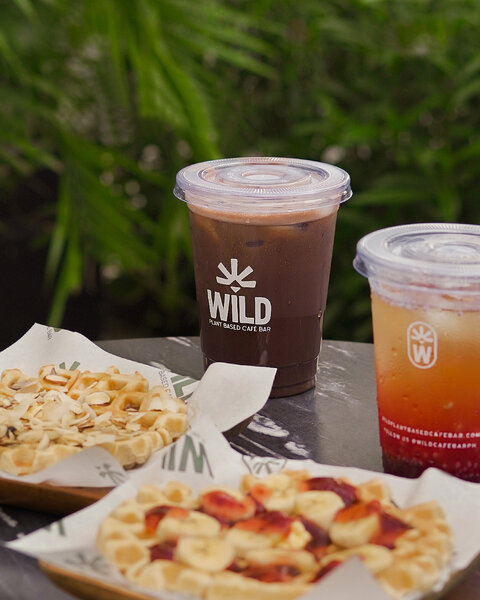 Assorted waffles and coolers / IMAGE from WILD Plant Based Cafe Bar Facebook page
WILD Plant Based Cafe Bar in BGC is a sanctuary that nourishes both body and soul. With its innovative plant-based cuisine, and commitment to sustainability, WILD invites you to embark on a flavorful journey that supports your well-being and respects the planet.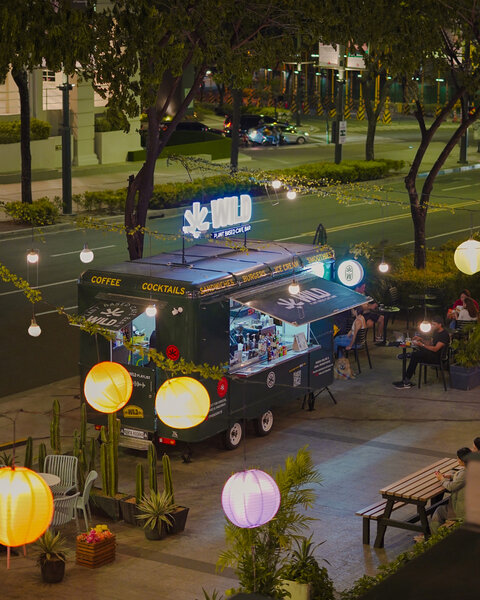 IMAGE from WILD Plant Based Cafe Bar Facebook page
General Information
G/F, UPTOWN PARADE, 9th Ave, Taguig
0945-650-9178 (Viber)
10 a.m. – 11 p.m. (Mon-Thu, Sun) / 10 a.m. – 1 a.m. (Fri-Sat)
pauline@wildplantbasedcafebar.com
Restaurant Menu
You can scroll the image left and right.