Raging Bull Chophouse & Bar in BGC: Fine Steaks and Great Whiskey
Raging Bull Chophouse & Bar is a steakhouse that brings premium quality meat sourced from sustainable farms in Australia to the Philippines found at Shangri-La at the Fort in Bonifacio Global City.
The Chopping Block: 1824 grain-fed, Queensland 250g (Table smoked) (Php 2,425)/IMAGE Shangri-La at The Fort
The restaurant is inspired by Raging Bull, a film that revolves around the story of an Italian boxer played by Robert de Niro. Its dishes are made by Chef Nathan Griffin, an English native who began his culinary passion in 2000, and uses only the finest and freshest local produce in all his seasonal creations.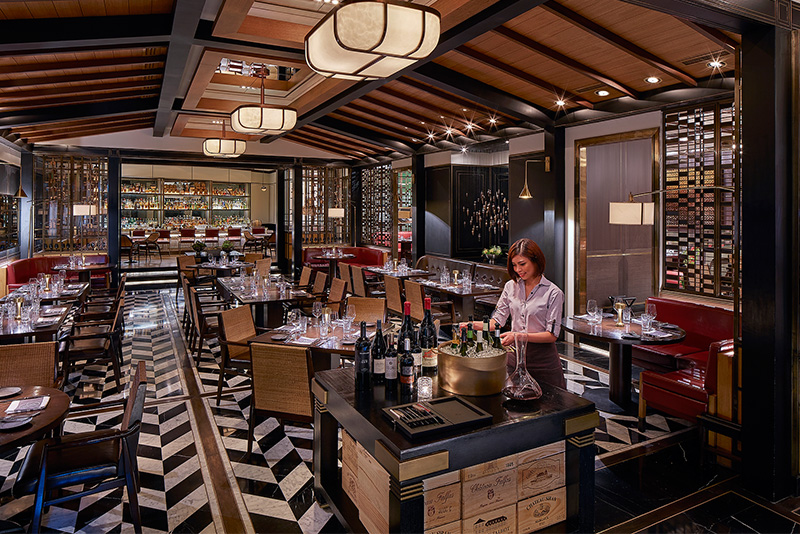 IMAGE Shangri-La at The Fort
At Raging Bull Chophouse & Bar, guests can choose their own 'weapon': a selection of knives that they can use to slice the meat. Everything from the Chopping Block is a must-try and is cooked to your preference (medium-rare is the only way to go, of course). While you're at it, check out the restaurant's beverage menu. They've got over a hundred whiskeys plus a number of bespoke, whiskey-based cocktails.
It never seems proper to have steak without a salad and there's no way you can ever go wrong with a classic, so don't be sheepish and order the Caesar Salad (Php 395). The greens are crisp and the salad isn't swimming in the dressing; a good indication that their vegetables are of great quality. The bacon bits are on the saltier side though it helps in toning down the richness of the dressing.
Caesar Salad (Php 395)/IMAGE Shangri-La at The Fort
Its retro-classic interiors, designed by New York-based firm AvroKo Hospitality Group, evoke a nostalgic feel of a 1960s uptown Manhattan residential aesthetic through art of wood and metal craftsmanship.
When you happen to be in BGC, be sure to stop by Raging Bull Chophouse & Bar.
General Information
Level 3, Shangri-La at the Fort, Manila, 30th Street cor. 5th Ave, Bonifacio Global City, Taguig City
(02) 820-0888
Lunch: 11:30 a.m. to 2:30 p.m. (Mon to Fri); Lunch: 12 noon to 3:00 p.m. (Sat to Sun) ; Dinner: 6:00 p.m. to 10:30 p.m. (Mon to Sun)