Manam Comfort Filipino Food in BGC
Manam Comfort Food, a homelike dining space in Bonifacio Global City by The Moment Group of Restaurants is tilting the fare limelight to our own Filipino flavors.
The restaurant derived its name from the Filipino word malinamnam, which means heartily delicious, complementing its brand's word of unfolding hominess to anyone and everyone. It first opened in 2013 and currently operates 4 branches in the country – Greenbelt 2, Mall of Asia, Ayala Fairview Terraces and in BGC, where the largest branch lies.
MANAM COMFORT FILIPINO. Passersby can easily witness the beauty of Manam's interior through its clear glass walls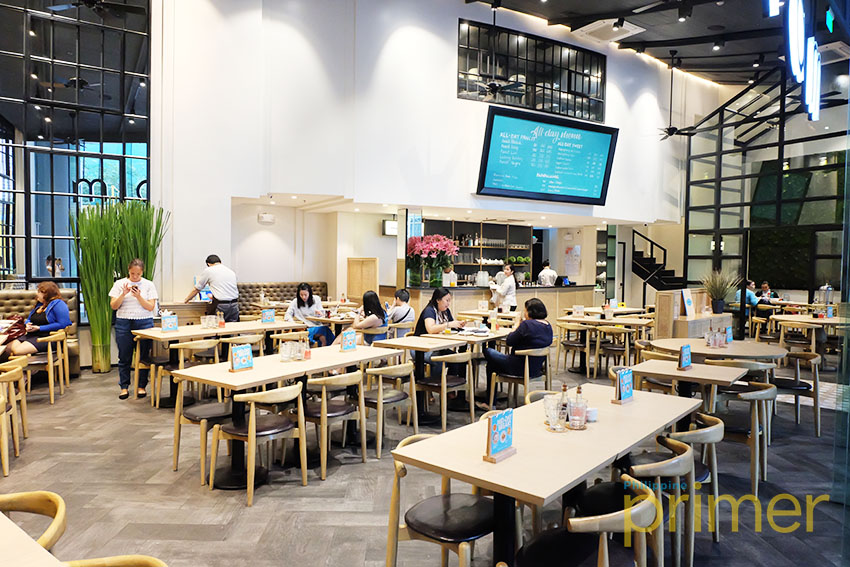 HOMEY INTERIOR. The whole place can accommodate 98 diners
Although the main notion of the restaurant is to underscore the flavorful traditional Filipino cuisine among its market, they also braved the recency and took a great step ahead of the usual Filipino fare, crafting their own spin to their dishes. Thanks to Manam's creative culinary team, they managed to develop an all-local bill of fare spread in two parts: "Classics", if you're in the traditional side, and "Twists" for those who want to try something different and have an adventurous palate.
"What makes it different from any other restaurant is, if you look at the menu, we serve both 'classics' and 'twists'," said PR Head for the Moment Group, Maita Quesada.
On the roster of their Classics is the House Crispy Sisig. It's more like the typical Filipino sisig (chopped pig face and ears topped with raw egg, usually served on a sizzling plate) except that it nourishes a distinct crunch and creamier taste that channels the provincial Pampanga staple.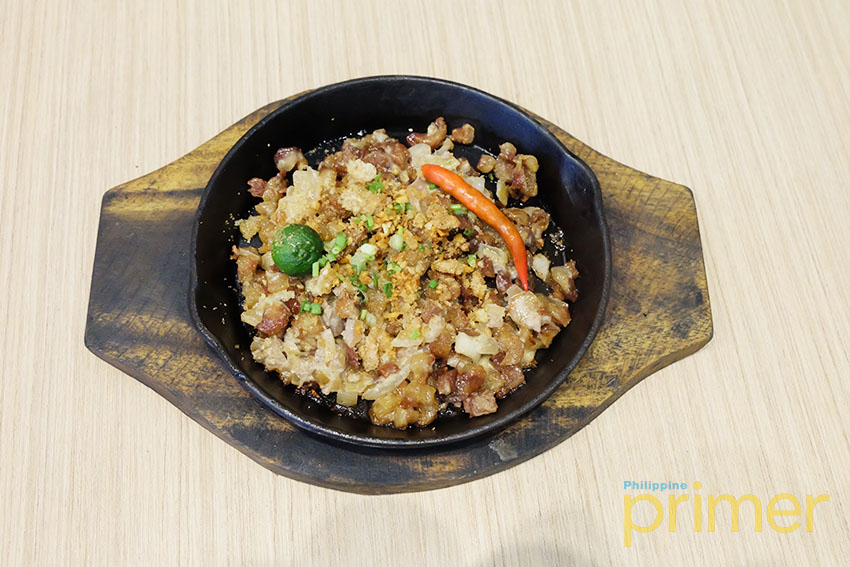 HOUSE CRISPY SISIG. Small size for P135.
On the other hand, Manam's very own Sinigang na Beef Short Rib and Watermelon is upping the ante on the usual Filipino sour stew or sinigang recipe. It's one of the dishes in the Twists menu since it is utterly different from the usual pale-colored pork sinigang as the soup wins its reddish color from the watermelon extract. It also gives it the subtle sweetness over its sour taste. Plus points for the juicy beef short rib which is really malinamnam. Expats have to try this dish; it will give them a remarkable first impression on Philippine cuisine.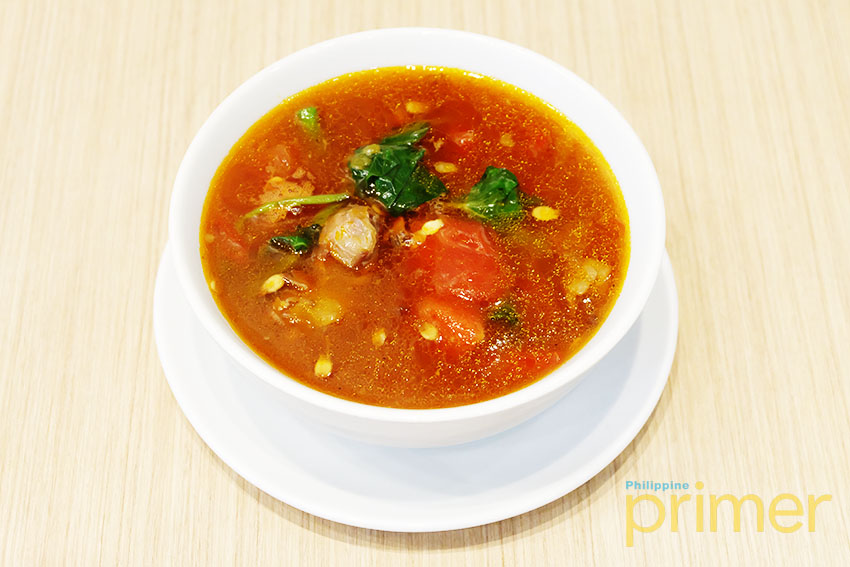 SINIGANG NA BEEF SHORT RIB. Small size for P245
For their All-Day Pancit, try the Crispy Pancit Palabok. Manam will wow you with how creative and unusual they present this Filipino noodle dish favorite – it's served as a tower of crispy pancit strands topped with crushed chicharon (fried pork belly or rinds) and, of course, the shrimp and egg slices on the sides. It sure tastes amazing as it looks!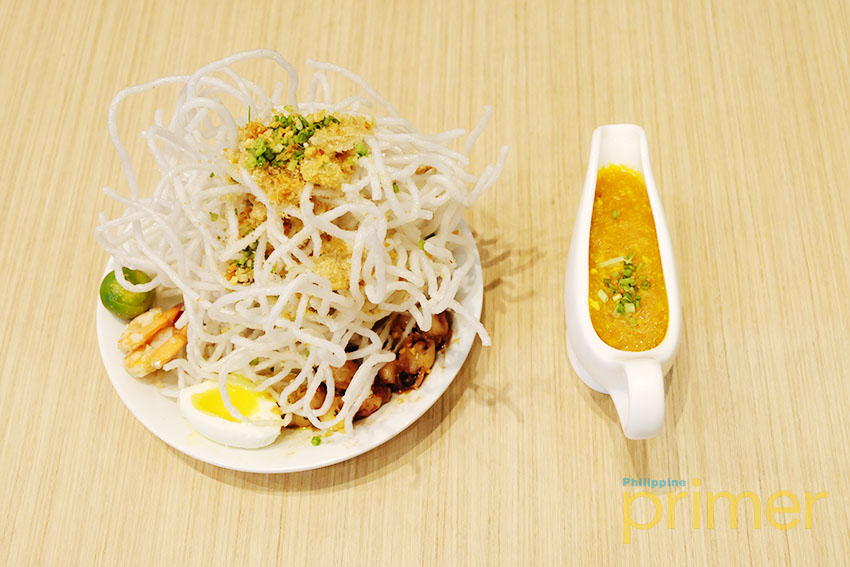 CRISPY PANCIT PALABOK. Small size for P200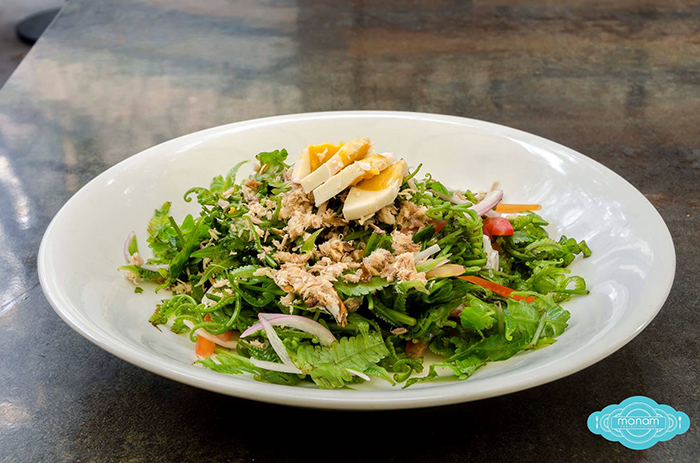 PAKO SALAD. (Small/ P95, Medium/ P175, Large/ P310)
Filipino, huh? They really have it all there! Filipinos are known as really good balut (incubated and boiled duck eggs) eaters. It is a popular street food in the Philippines and is identified worldwide as one of the "fear factor" food because of its very delicious taste despite its uninviting appearance. If you haven't tried one before, worry not because Manam serves this exotic Filipino snack in really nice plating with their 3 kinds of salt: Chili Lemon, Squid Ink, and Turmeric Garlic. For their Twists version of this snack, you might want to order their Balut ala sisig and Balut ala adobo.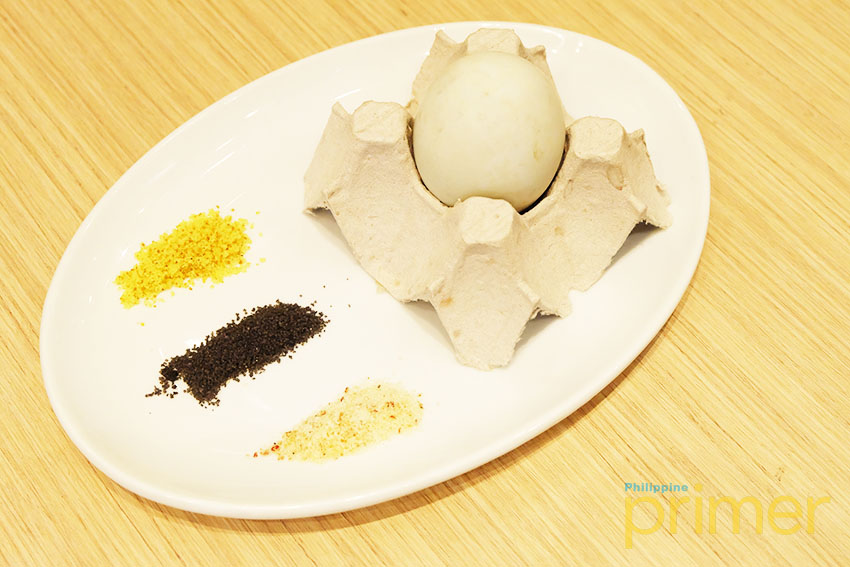 BALUT CLASSIC with salt trio for P65 small size
For dessert, Bibingkang Ube is Manam's best-seller from their All-day Sweets menu. Bibingka is a popular type of rice cake in the Philippines that is commonly served during Christmas season. They made it even more Filipino by putting a nice swirl of ube (purple yam) on top of it. Taste heaven with its soft and delicate texture with the right amount of sweetness in every bite.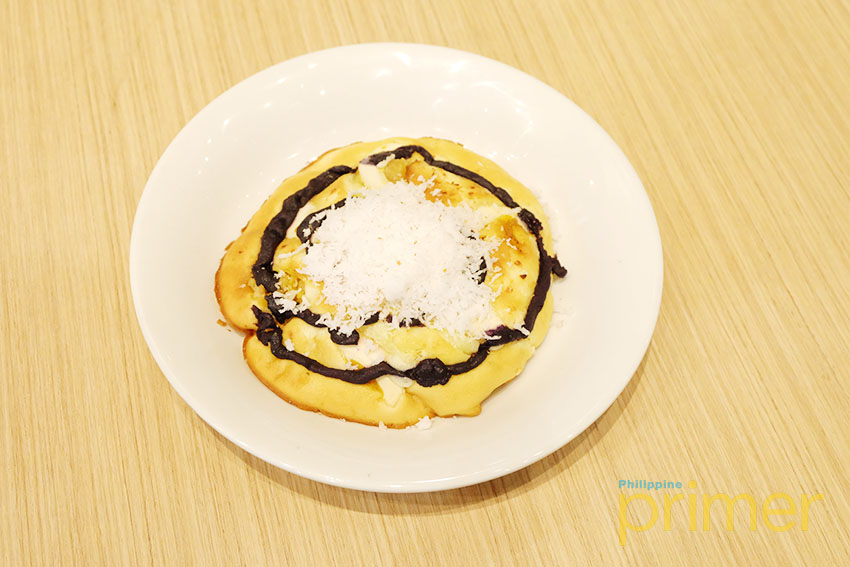 BIBINGKANG UBE for P120
They also have a small room inside the restaurant which you can reserve for a more private time with your friends or family. There is a minimum consumable spend of P7,000 for lunch and dinner and P5,000 for snack time.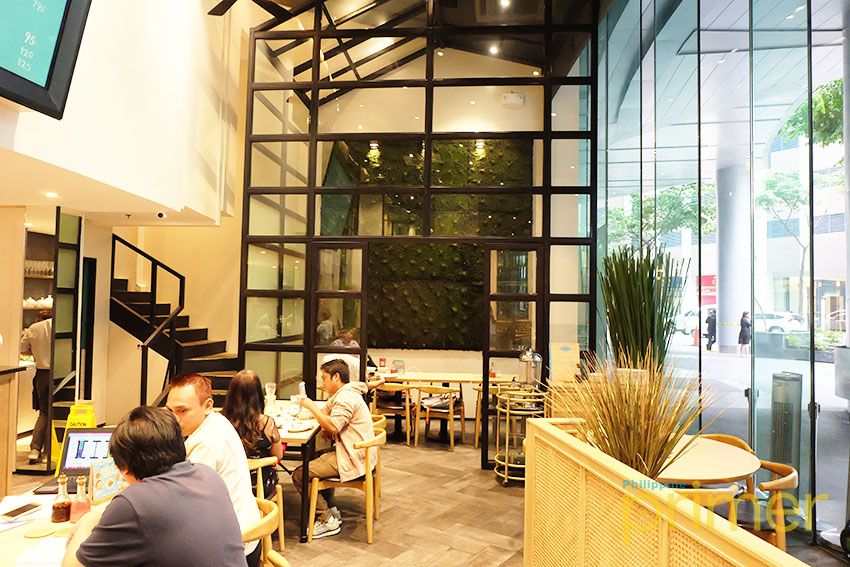 THE GLASS HOUSE is perfect for business matters or even some intimate bonding with the family
---
 Last updated: April 26, 2017

Ground Floor, Net Park Building, 5th Avenue, Bonifacio Global City, Taguig City

10:00 am – 10:00 pm (Monday to Friday ); 11:00 am – 10:00 pm (Saturday & Sunday)

Greenbelt 2, Esperanza St. cor. Greenbelt Dr. Ayala Center, Makati City

Central Garden, Ayala Fairview Terraces, Quirino Hi-way Cor. Maligaya Drive, Novaliches, Quezon City