Francesco's in BGC: A Distinctive Southern Italian Dining Experience
From the homey neighborhood of San Juan, some may have known about Francesco's Kitchen—a homey Italian restaurant known to serve the finest southern Italian cuisine.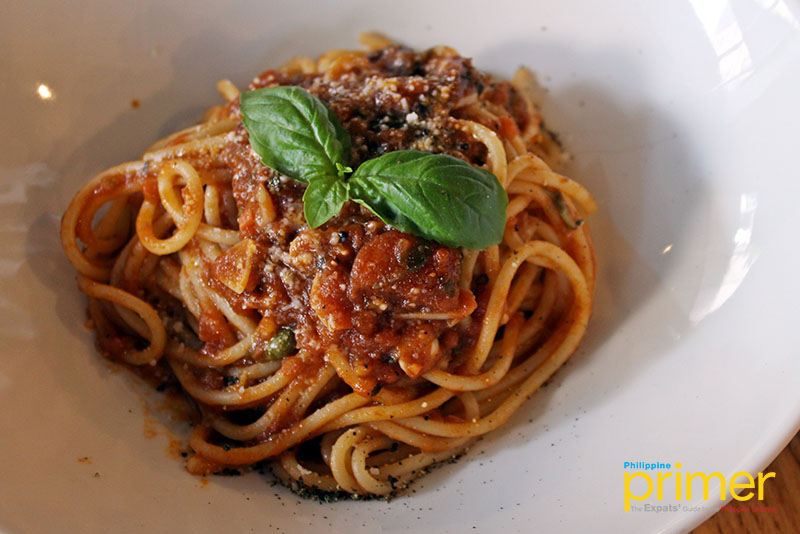 Here's good news for foodies in BGC because Francesco's recently opened its new branch in the commercial hub to serve a crowd of diners who want to experience traditional Italian cuisine in a more laid-back, urban setting of the city.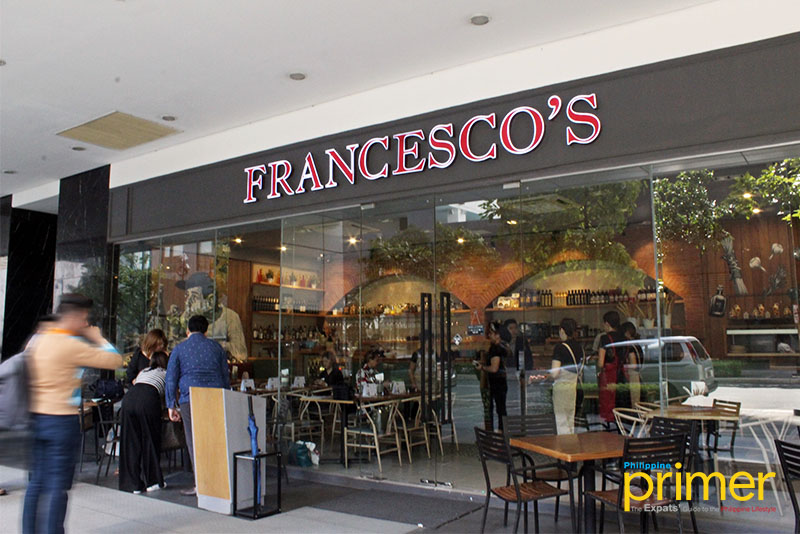 Unlike other Italian restaurants, Francesco's beg to differ as it offers regional Italian cuisine, mainly focusing on the Southern area of Italy or fondly known as Mezzogiorno. Most of their dishes are greatly influenced by the Mediterranean, which explains their love for tangy flavors and fresh seafood.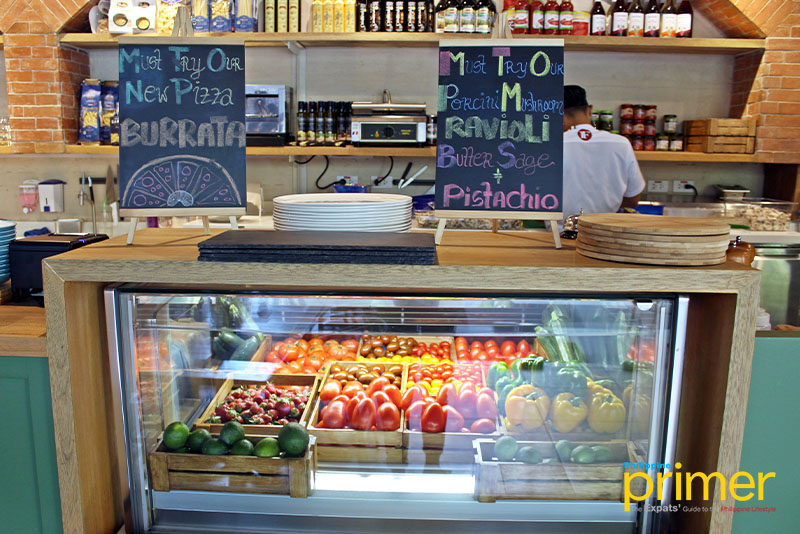 The man behind Francesco's—Chef Patron Francesco Rizzo, is born and raised in Leece, Italy. He first brought the authentic flavors and recipe of southern Italy to Mabini Street in San Juan where the flagship restaurant of Francesco's Kitchen was built in 2017.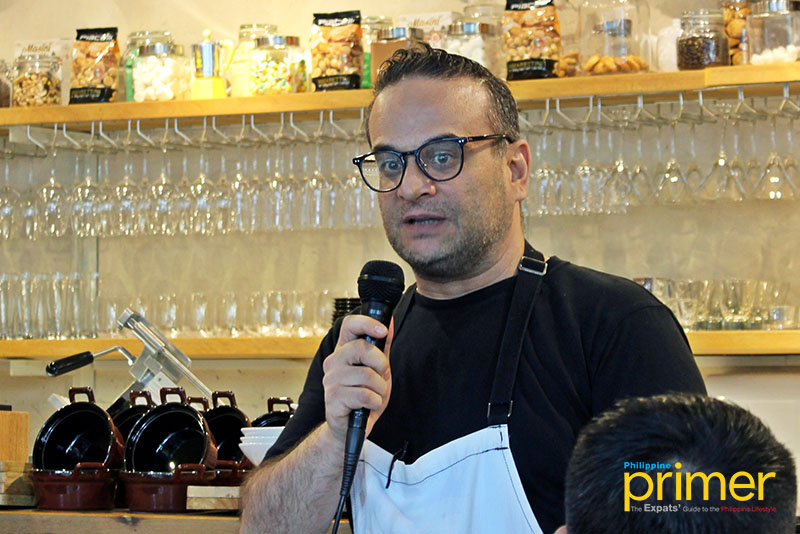 Chef Patron Francesco Rizzo
His recipes are also inspired by the dishes he grew up to like his mother's cooking. With a delightful selection of pasta, brick oven pizzas, and more, Philippine Primer is lucky enough to sample Chef Francesco's delectable dishes and share how exquisite they are!
Start your meal with a generous serving of Polipo (Php 560), an octopus dish grilled until tender with roasted cauliflower puree and salmoriglio dressing. This dish will awaken your taste buds with its strong roasted flavor.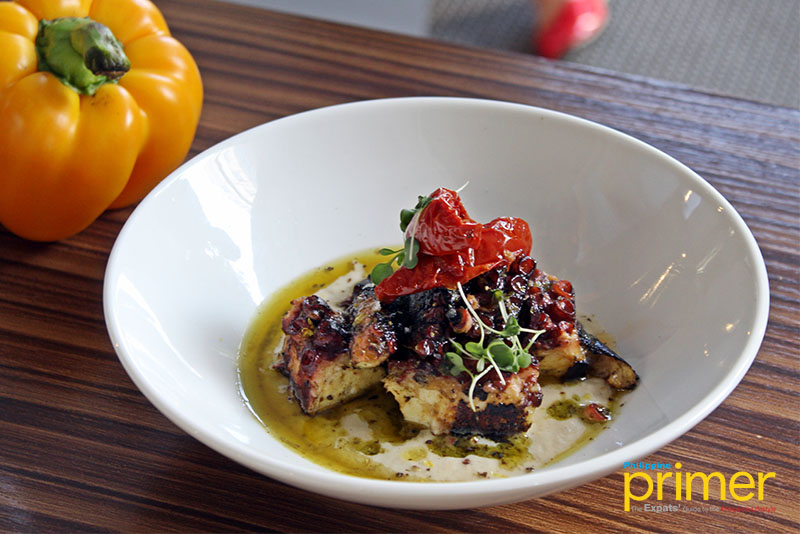 Polipo (Php 560)
Meanwhile, Le Polpette (Php 460) is a dish composed of seasoned meatballs covered in a tangy tomato sauce topped with Grana Padano cheese.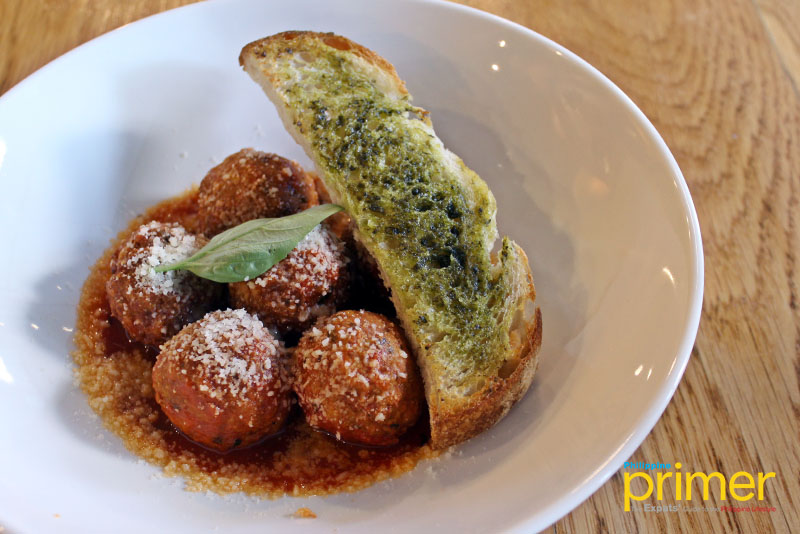 Le Polpette (Php 460)
If you are looking for something light for an appetizer, their Vitello Tonnato (Php 580) is the right dish with its thinly sliced poached veal loin with creamy tuna sauce and assorted greens.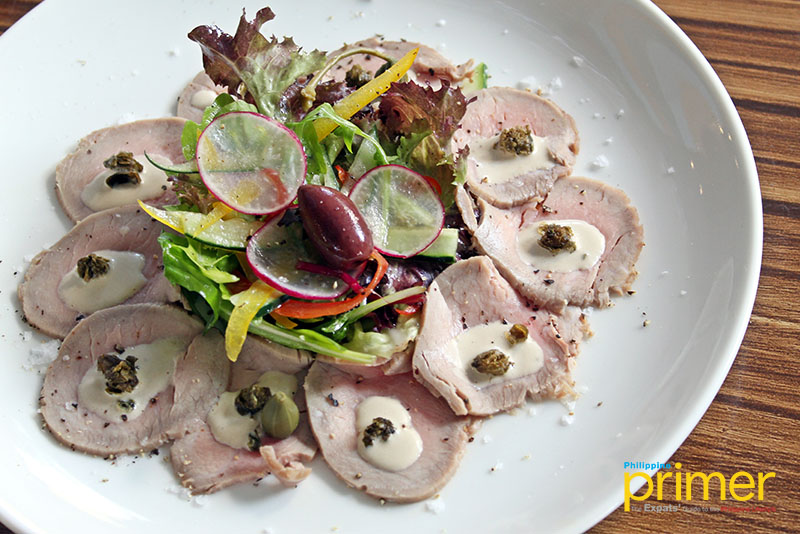 Vitello Tonnato (Php 580)
For the mains, Francesco's Risotto (Php 540) makes the cut in the must-try dishes from their menu. It is made with mushroom risotto and a big chunk of slow-cooked beef cheek, which is so tender, you can slice it without a hassle and melts in your mouth.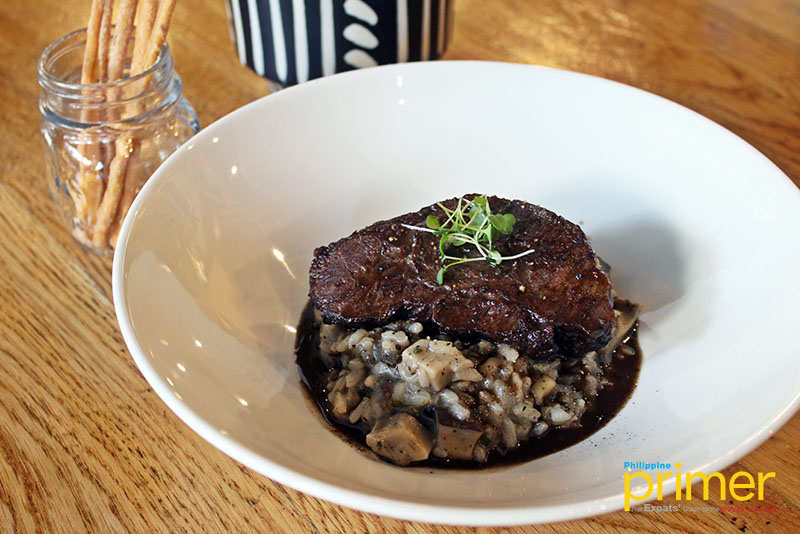 Risotto (Php 540) 
A classic Southern Italian dish, Spaghetti Puttanesca (Php 440) is made with anchovies, olives, and capers in garlic tomato sauce with pecorino cheese on top. It has a subtle spice into it which makes it more appetizing.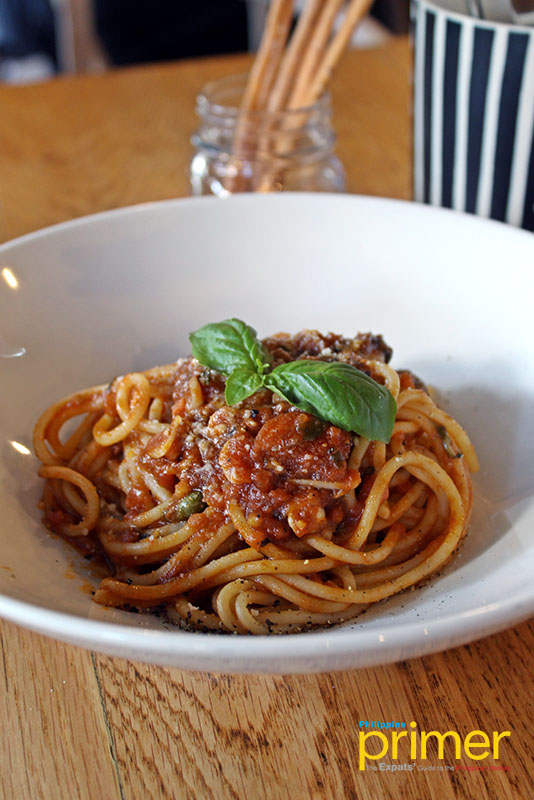 Spaghetti Puttanesca (Php 440)
The Orecchiette (Php 480) or ear-shaped pasta is another dish to try if you love al dente pasta. It is made with broccoli puree with bits of sausage, sundried tomatoes, and pecorino cheese to flavor.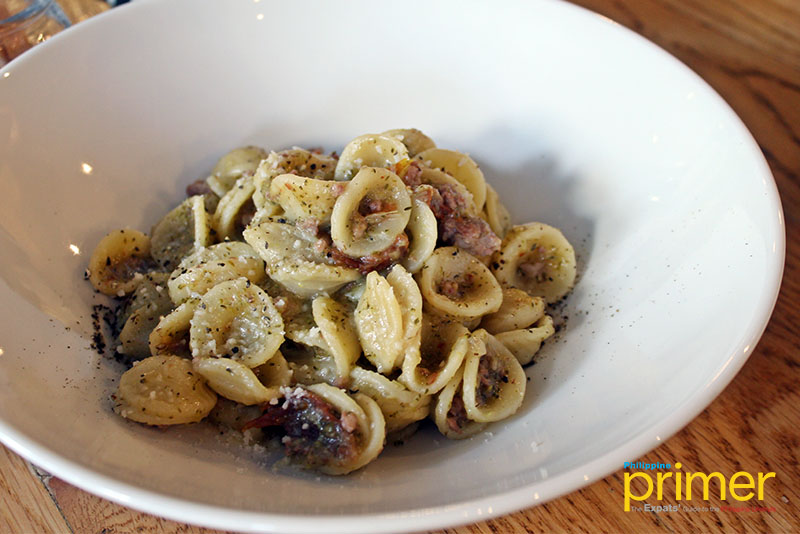 Orecchiette (Php 480)
If you thought that truffle in pasta is already good, you better think twice because truffle also goes well with pizza! Take for example Francesco's Tartufata (Php 560). This truffle-flavored white pizza topped with assorted cheese is best enjoyed while still hot and fresh from the oven.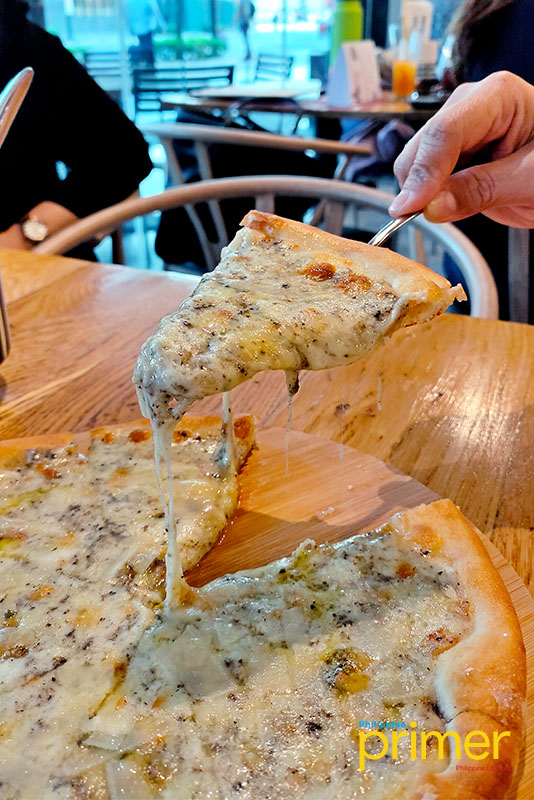 Tartufata (Php 560)
Having two pizzas on the table is not a sin because aside from Tartufata, their Parma (Php 530) pizza is another fool-proof dish to munch on. 
This colorful pizza is topped with thin slices of Proscuitto di Parma, arugula, cherry tomatoes, and mozzarella. Adding texture and flavor to every bite of this pizza is the shaved parmesan cheese.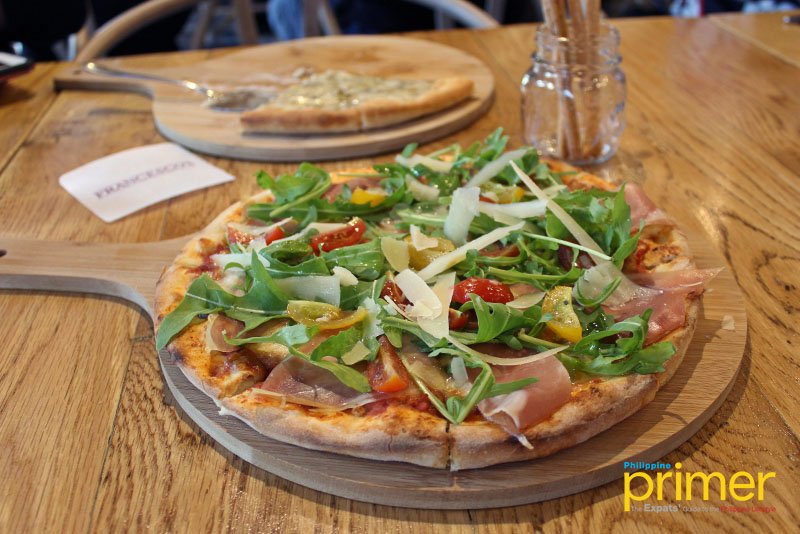 Parma (Php 530)
Finally moving on to dessert, if there is something that diners in Francesco's should be raving about, it's none other than the Cannoli (Php 360). This dessert is made with tube-shaped pastry dough filled with sweet creamy ricotta cheese. 
For some added crunch and sweetness, both ends of the cannoli are decorated with candied fruits and crushed pistachios.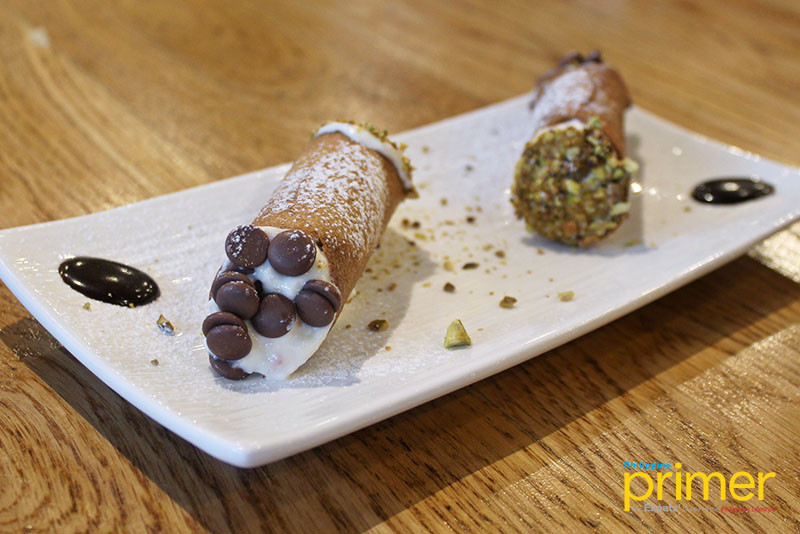 Cannoli (Php 360)
Another dessert to look out for is Francesco's Pannacotta (Php 360). This cream-based dessert with yogurt honey has a smooth custard-like consistency that easily melts in your mouth accompanied by the sweetness of the berry compote.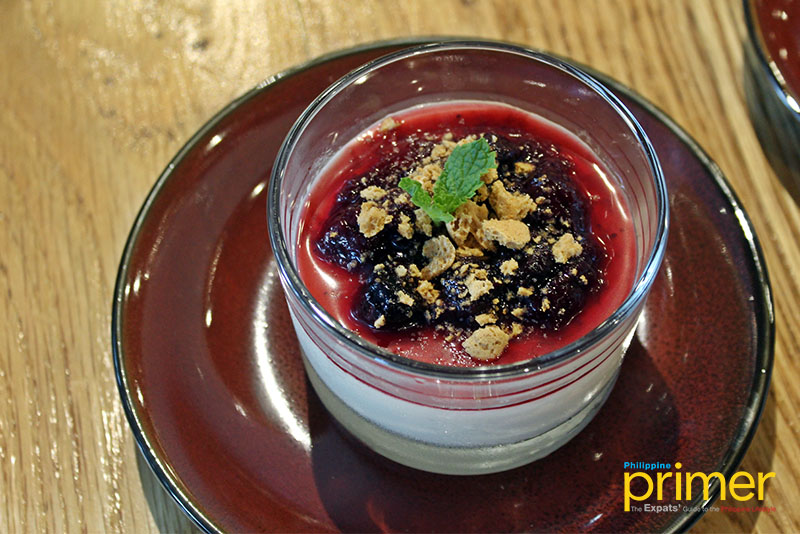 Pannacotta (Php 360)
And of course, an Italian meal would not be complete without a serving of traditional Italian dessert, Tiramisu all Amaretto (Php 360). With a little twist of amaretto, Francesco's very own tiramisu gives off a kick of alcohol blended well with the light, airy layers of espresso-soaked ladyfingers and mascarpone cream.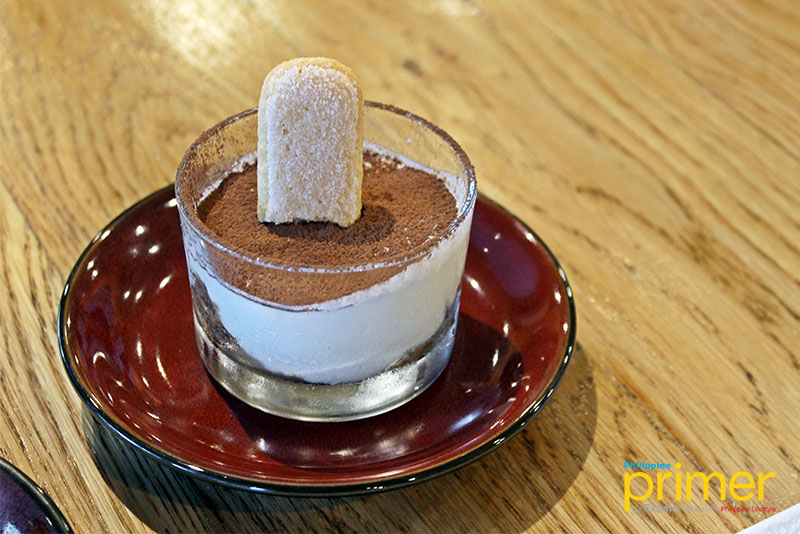 Tiramisu all Amaretto (Php 360)
Unlike the first branch, Francesco's in BGC dons a rustic retro vibe with red brick and wood accents plus toned-down shades of earth tones. Adding appeal to the space is the glass shelf of colorful vegetables at the counter.
Upon entering, you'll first notice the huge mural of a man eagerly munching on his pasta on the left side of the restaurant. On the opposite side, you'll see a wall full of photo memorabilia of chef Francesco's family—from his grandparents down to his own portraits.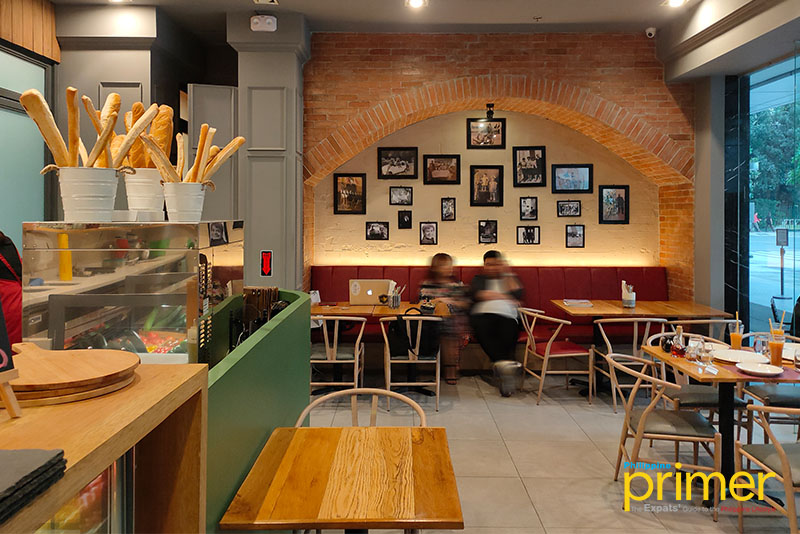 How to get here
Francesco's is located at the BGC Corporate Center along 30th Street, beside Tomatito. The nearest landmarks in the vicinity are Seda Hotel and Bonifacio High Steet.
From Ayala, you may either drive along McKinley Road or Kalayaan Avenue to enter BGC.
For those coming from McKinley Road, drive straight to McKinley Parkway then turn left to 9th Avenue bound to 26th Street. Upon reaching 11th Avenue corner, turn left going to BGC Corporate Center. If you are going via Kalayaan Avenue, take the 32nd Street bound to 11th Avenue.

BGC Corporate Center, 30th Street Corner 11th Avenue, Bonifacio Global City, Taguig City