Electric Garden in BGC: Fine-tuning Upscale Dining Experience to 2.0
Get ready to have your senses electrified as Electric Garden in BGC, Taguig takes upscale dining to a whole new level! Brace yourself for jaw-dropping audio-visual presentations that use cutting-edge technology to create a feast for your eyes while you indulge in exquisite offerings—expertly prepared using the finest ingredients—and sip on premium concoctions and rare vintages that perfectly complement your meal. So get ready to be wowed at Electric Garden, where everything has been fine-tuned to 2.0!
Even though they only opened its doors to the public last April 2023, Electric Garden is already hogging the limelight in the realm of interactive lounges and high-end resto bars. They offer a truly unique and immersive dining experience that combines cutting-edge technology, exquisite cuisine, and a vibrant atmosphere that seamlessly blends nature and tech with a touch of elegance.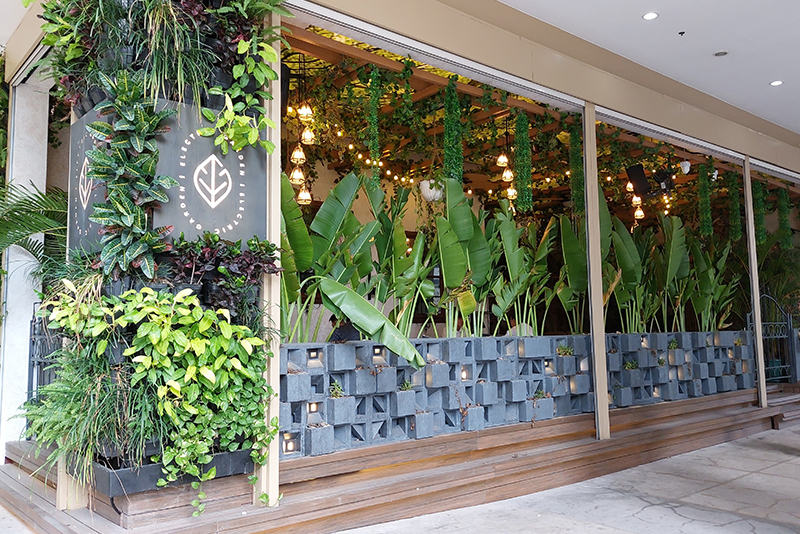 IMAGE from Philippine Primer
The interactive aspect of Electric Garden is truly captivating. The establishment utilizes advanced projection mapping to transform the entire space into a dynamic canvas. Guests are treated to visually stunning displays that shift and evolve throughout the evening, creating a customized environment and mood that complement and enhance the dining experience.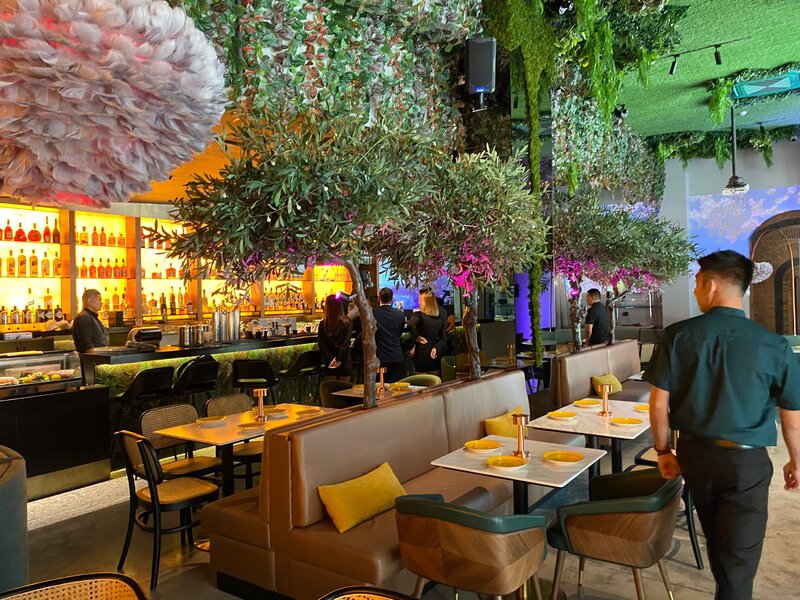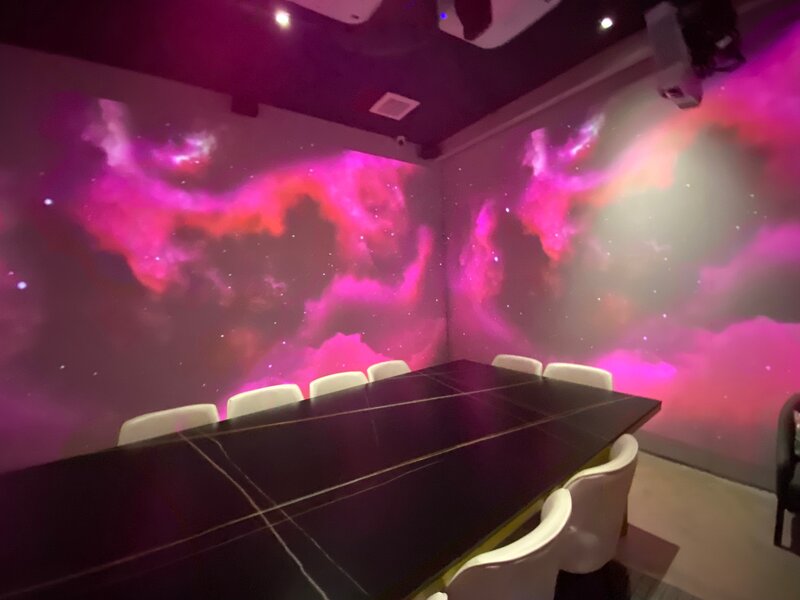 IMAGES from Philippine Primer
Prepare to be blown away by their smoking room, where you can unwind with a selection of Cuban and South American cigars, while their impressive wine cellar houses coveted bottles from exclusive wineries across the world, including the likes of Napa Valley, California and Bordeaux, France. Indulging in the ultimate pleasure of wine and cigar pairings is highly recommended.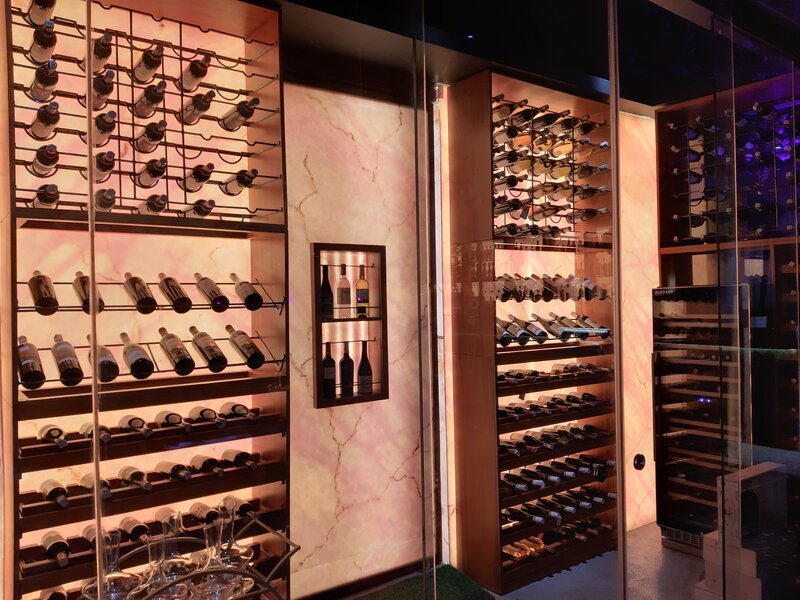 IMAGE from Philippine Primer
Now, let's talk about the food. The chow at Electric Garden are wickedly impressive. The menu features a collection of western and Japanese favorites crafted by seasoned chefs who skillfully combine traditional and modern techniques. From tasty appetizers to sumptuous mains, everything is expertly prepared using the finest ingredients, resulting in a medley of flavors that will surely put a smile on your face.
For starters, whet your appetite with Electric Garden's Aburi and Nigiri Sushi (Starts at Php 400). They feature melt-in-your-mouth slivers of salmon, tuna, grilled beef, among others, and topped with luxurious ingredients such as black truffle, caviar, uni, and even edible gold, these bite-sized creations offer a symphony of tastes and textures that celebrate the finest ingredients and culinary finesse.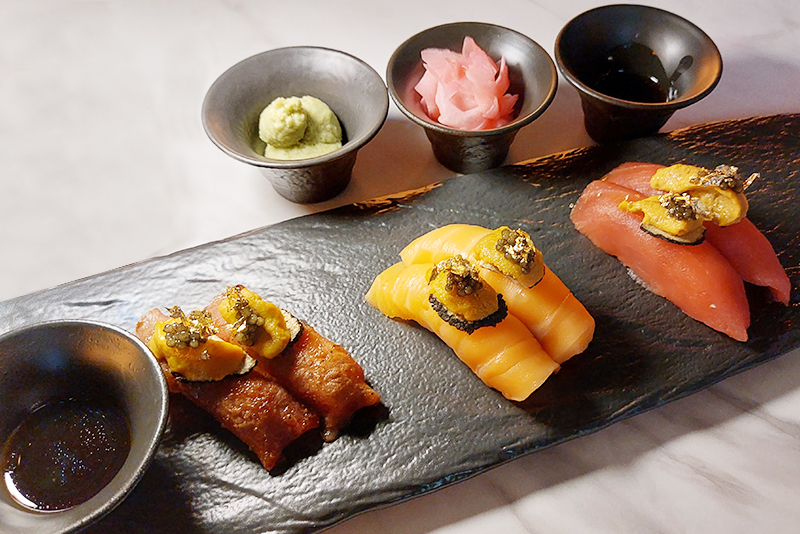 Aburi and Nigiri Sushi / IMAGE from Philippine Primer
For those seeking a spicy and tantalizing appetizer, the Spicy Salmon Flamado (Php 500) is an absolute winner. It features marinated salmon cubes and crispy nori sheets topped with togarashi, complimented by refreshing cucumber slices and briny flying fish roe that adds a popping surprise. The fusion of textures and bold flavors creates a memorable dish that showcases the best of Japanese-inspired cuisine that Electric Garden clearly showcases.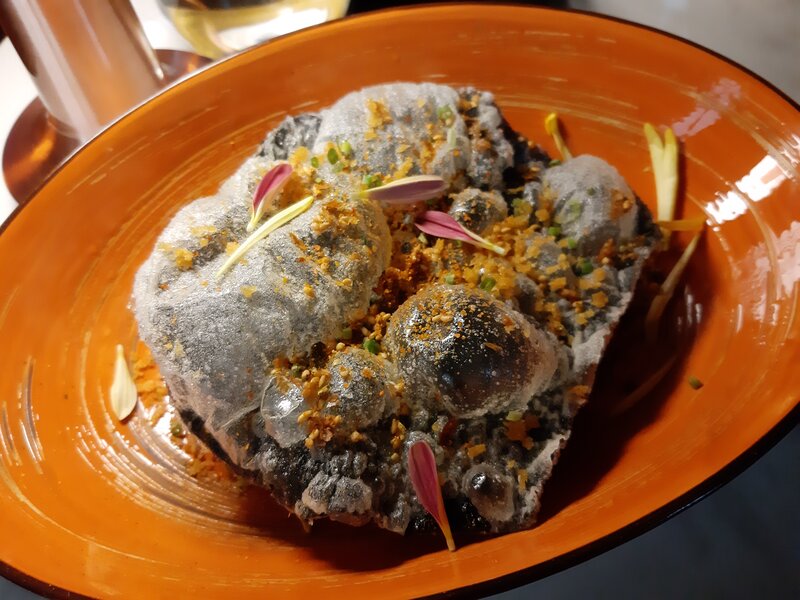 Spicy Salmon Flamado / IMAGE from Philippine Primer
If you want something hearty to accompany your spirits, try their Soft Shell Crab Sliders (Php 900). Sandwiched between perfectly toasted brioche buns, you'll find crispy shelled crab that adds a delectable crunch and in-house slaw that gives a refreshing contrast and cuts the oiliness of the flower crab. The creamy and nutty goma sauce brings it all together, thanks to its sesame-infused goodness.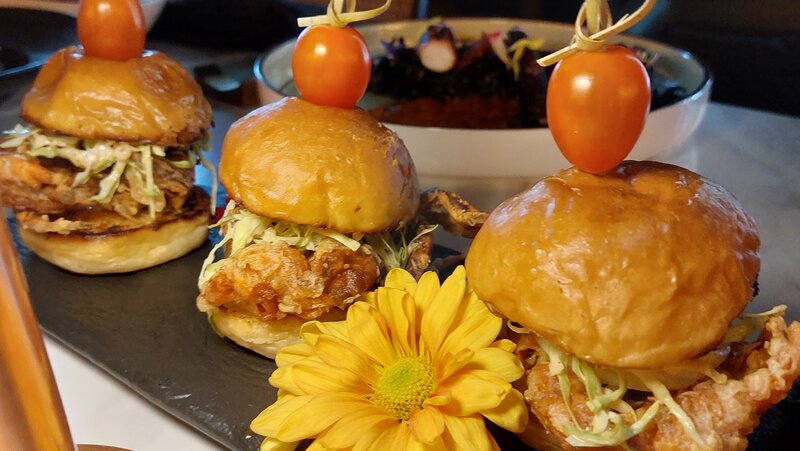 Soft Shell Crab Sliders / IMAGE from Philippine Primer
You may also opt to indulge in their Spinach and Mushroom Risotto (Php 800), a satisfying appetizer that combines the finest ingredients and culinary craftsmanship. Made with arborio rice, the risotto achieves a creamy and velvety texture, while the addition of spinach and wild mushroom rspectively infuse it with a vibrant color and earthy flavors. Topped with a crispy tuile for an extra texture, it offers a harmonious balance of flavors that will leave you craving more.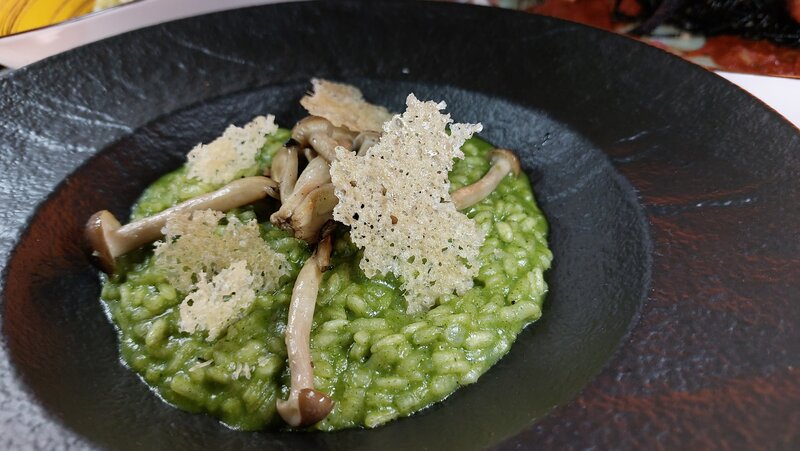 Spinach and Mushroom Risotto / IMAGE from Philippine Primer
Seafood lovers will be delighted with their Grilled Pulpo with Squid Ink Pasta. These tender and smoky octopus tentacles are expertly grilled to perfection and served alongside squid ink pasta, which adds a touch of elegance to the plate. The dish is completed with a savory marinara sauce that brings all the flavors together, resulting in a memorable combination of land and sea.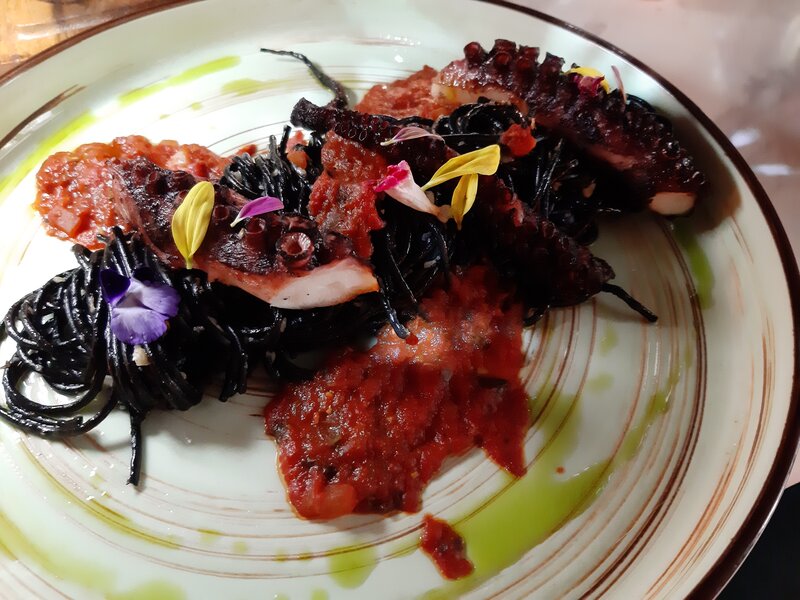 Grilled Pulpo with Squid Ink Pasta / IMAGE from Philippine Primer
Meats and steaks have rightfully claimed the throne as the stars of many restaurants for a reason. And we're sure that Electric Garden has taken it to heart with their Grilled Beef Ribs (Php 5000). The prime angus beef ribs are first sous vide for 48 hours to preserve the natural flavours of the ribs without the juices escaping, guaranteeing a moist and tender eating experience. Then, they are expertly grilled and presented on a rustic wooden board, accompanied by vibrant cherry tomatoes, and wonderful jus that offer a primal and satisfying indulgence. It comes with an order of grilled cabbage and mashed potato.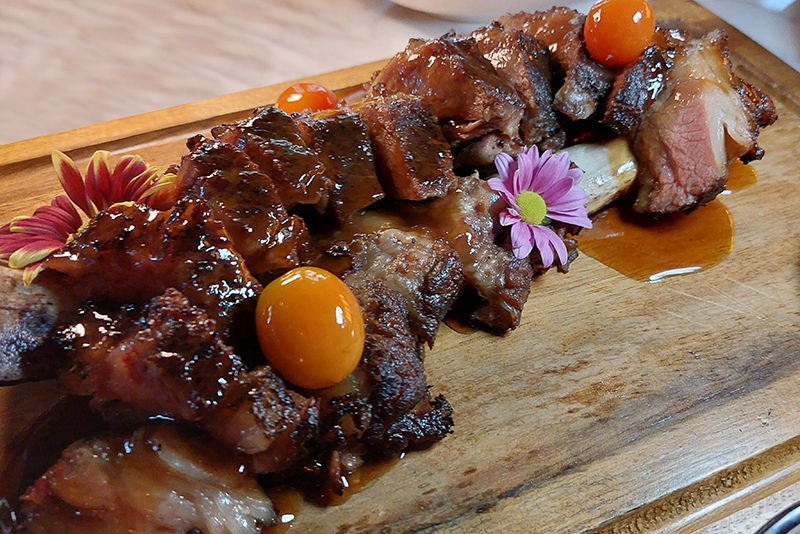 Grilled Beef Ribs / IMAGE from Philippine Primer
Additionally, Electric Garden offers a well-curated selection of beverages, including a vast array of handcrafted cocktails, premium spirits, and fine wines. They boast highly skilled mixologists who are adept at concocting innovative drinks, ensuring that your beverage of choice perfectly complements your meal.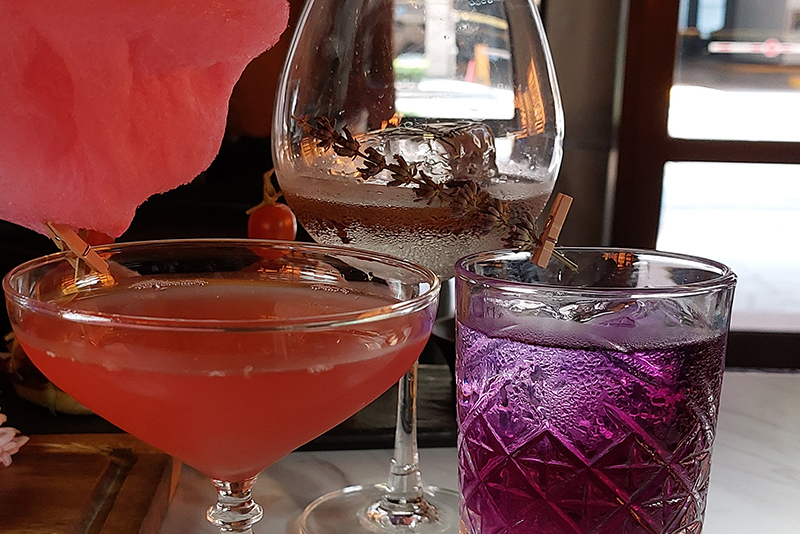 Assorted Cocktails / IMAGE from Philippine Primer
Beyond its gastronomic delights, Electric Garden prides itself on providing exceptional service. The attentive and welcoming staff ensures that each guest receives personalized attention and assistance throughout their visit. Whether you're seeking recommendations for the perfect cocktail to complement your meal or require any other assistance, the staff goes above and beyond to cater to your needs.
Electric Garden sets itself apart as a trailblazer in BGC: its fusion of technology, culinary excellence, and a captivating atmosphere creates an unparalleled experience that leaves a lasting impression on all who visit the place.
General Information
Capital House, 9th Avenue corner 34th St., Bonifacio Global City, Taguig
0917-106-5320
4 p.m. - 2 a.m.
Sunday
reservations@electricgarden.ph
Restaurant Menu
You can scroll the image left and right.