Cobalabamba in Mckinley Hill: For Your Late Night Mexican Cravings
When you dine in at this restaurant in McKinley Hill, you'll find yourself transported to Mexico. At Cobalabamba, you can get your late night beer and taco fix to satisfy your Mexican cuisine cravings.
Welcome to Cobalabamba where the neon is open from morning till night to light their equally vibrant dishes!
Cobalabamba opened in August 2018, as the owners wanted to offer Mexican flavors with various twists to match the Filipino palate. It derived its name by combining the words Coba, a place in Mexico and La Bamba, a popular song.
If you're curious about what kind of eats can you try in Cobalabamba, here are some of them:
Their Coba Supreme Pizza (Php 305) is a 10-inch flour tortilla topped with tomato sauce, sausage, chili con carne, bell pepper, onion, corn salsa, cheddar, mozzarella. The chewy crust makes this pizza easy to munch on in between drinks and good conversations.
Coba Supreme Pizza (Php 305). Softly lift each slice and watch the tortilla crust droop to your mouth for that gooey goodness!
Try their Crispy Fish Taco (Php 155) as well, made of battered fish, pickled cucumber & onion to be enjoyed with their siracha aioli sauce. It has a punch of flavor that makes this dish zesty and fresh.
Crispy Fish Taco (Php 155) is a great starter for your meal or a side to your cocktail!
Cocktails such as Lychee Martini (Php 150) and the Peach Surprise (Php 140) are also available. For beer lovers, Cobalabamba has local and international beers like the Corona (Php 160). Tag friends along with you and get a Beer Bucket (6 bottles Php 295) to share!
For those looking for a filling meal, get Cobalabamba's Chipotle Chicken (Doble Php 205, Triple Php 285) made of grilled skewered thigh quarters, pickled cucumber & onion, chipotle sauce, rice. The skewers are well marinated and dipping it into the sauce will give it an extra kick.
Chipotle Chicken (Doble Php 205, Triple Php 285) is a crowd favorite and soon, yours too. Pair it with their hard drinks available by the bottle.
A Mexican-inspired restaurant is not without nachos so get your fill of the Doble Nachos (Php 295) made of corn tortilla chips, chili con carne, pico de gallo, olives, cheddar sauce, sour cream, sharp cheddar.
This towering goodness is named doble (double) because after devouring the top layer drizzled with cheese, when you get to the middle part, there's another layer of chili, sour cream and cheese!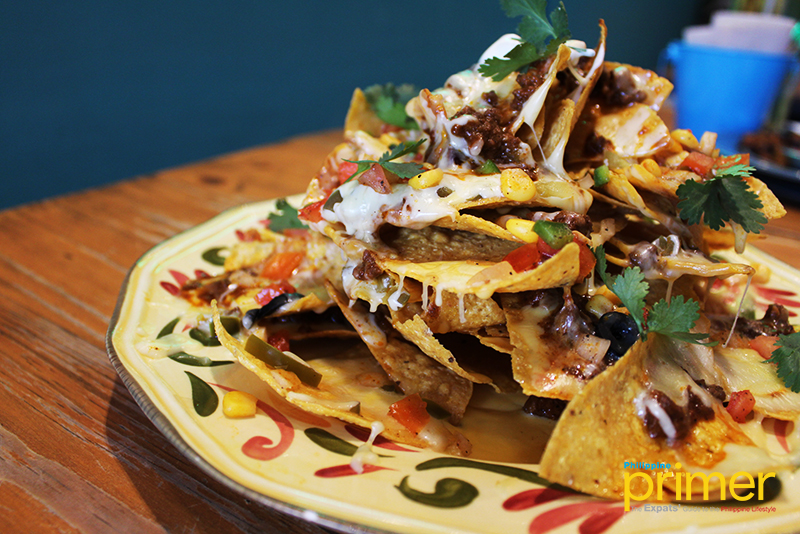 Forget those times when your nacho order runs out of cheese because the Doble Nachos (Php 295) is a tower that keeps on giving.
Other crowd favorites in this Mexican restaurant are Blackened Chops (Doble Php 240, Triple Php 335) made of spice-rubbed pork chops with gravy, corn salsa, and rice, and their three-layer Cheesy Lasagna (Php 230) made of three kinds of cheeses with chili con carne and pico de gallo.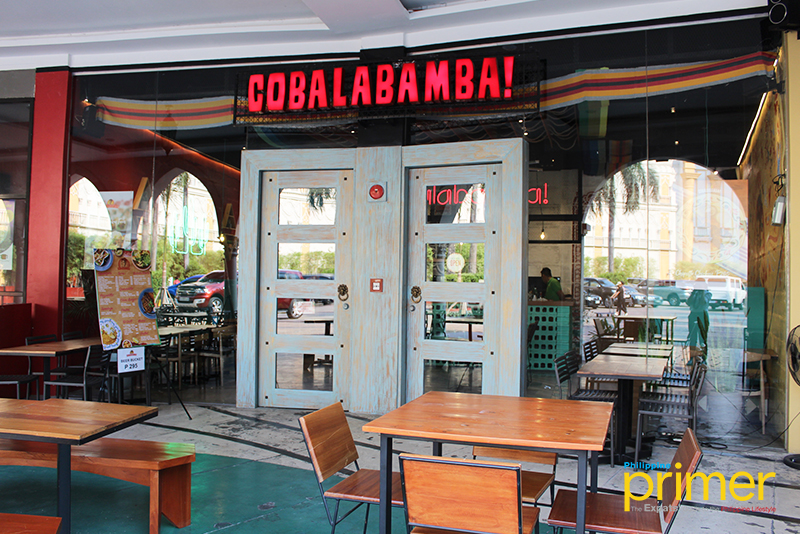 Bring people over for a fresh lunch or a nightcap with a cold beer or fun cocktails!
Visit Cobalabamba and try a fresher take on Mexican food!
How to get here:
By car: From Market! Market!, drive along the McKinley Parkway then make a left turn onto Bonifacio Avenue towards 21st Drive. Exit at 5th Avenue and drive straight to Lawton Avenue. Turn left onto Upper McKinley Road towards South Road. Make a left turn at Service Road and another left at Venezia Drive entrance of Venice Grand Canal Mall.
By bus: Take the P2P Bus from San Lorenzo Place Terminal in Magallanes for Php 25 with trips every hour from 6 a.m. to 12 a.m.
---
A version of this appeared in Philippine Primer Japanese Magazine's April 2019 issue.
General Information
G/F Venice Piazza, Mckinley Hill, Taguig City
02-701-5905
10 a.m.- 1 a.m. (Mon to Fri); 10 a.m.- 11 p.m. (Sat to Sun)
Cash and Card
Restaurant Menu
You can scroll the image left and right.