Providore at SM Aura Premier Provides A Classic Filipino-American Feast
Providore by the Raintree Restaurants Group located at the ground floor of SM Aura Premier is everybody's classic throwback to the good ol' times.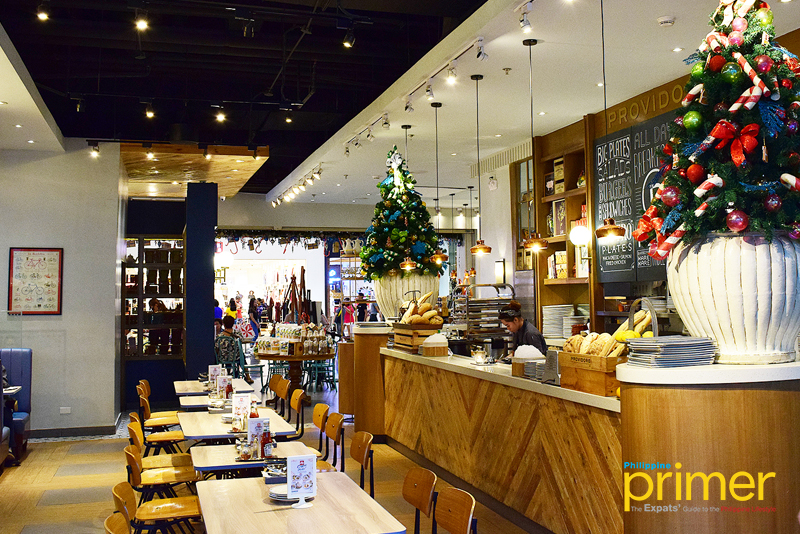 PROVIDORE is conveniently located at the ground floor of SM Aura Premiere
Built with a coffee bar, a bistro, essential kitchen provisions and a retail area with local artisanal items, Providore is both a feast in the eye and stomach. The inside of this restaurant will instantly let diners take pleasure in a country and laidback vibe with its wooden fixtures and light atmosphere adorned with dainty crockery and some greenery. Everything you want in an eating place is here!
There's also a little corner in the bistro where you can find all local and Filipino-made items which are available for sale. Unique items like homemade soaps, canvas totes, kitchen provisions and other home goods from different local brands are displayed here.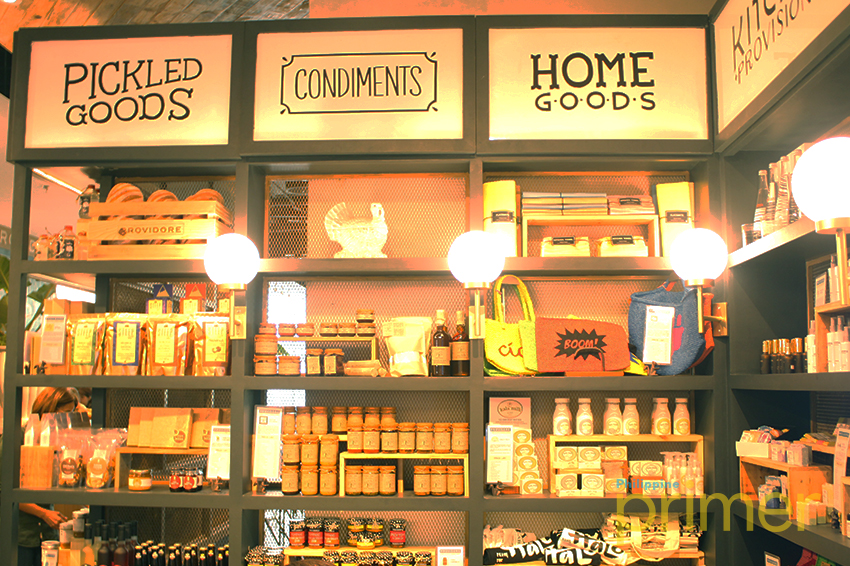 Providore supports local
The menu has all the old time favorites. Food is exactly the way you want it, like your favorite fluffy pancakes, a wide array of cakes and pastries, fried to perfection onion rings, and omelets – all ready to bring wide smiles on your face!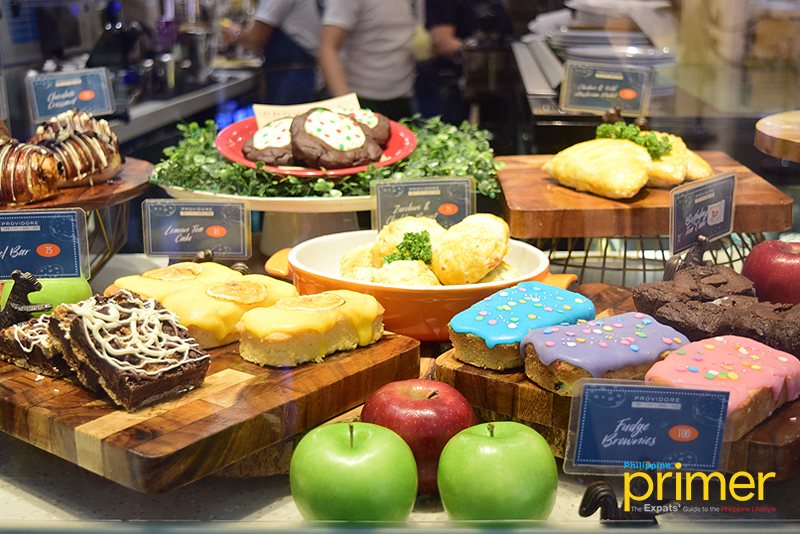 It's your grandma's usual dinner rolls except it's not! Have they deceived you? This one may look like a squad of baked potatoes but it's really Providore's own take to the classic meal accompaniment, dinner rolls. Savor these round loaves of bread drenched in garlic parsley butter before anything else.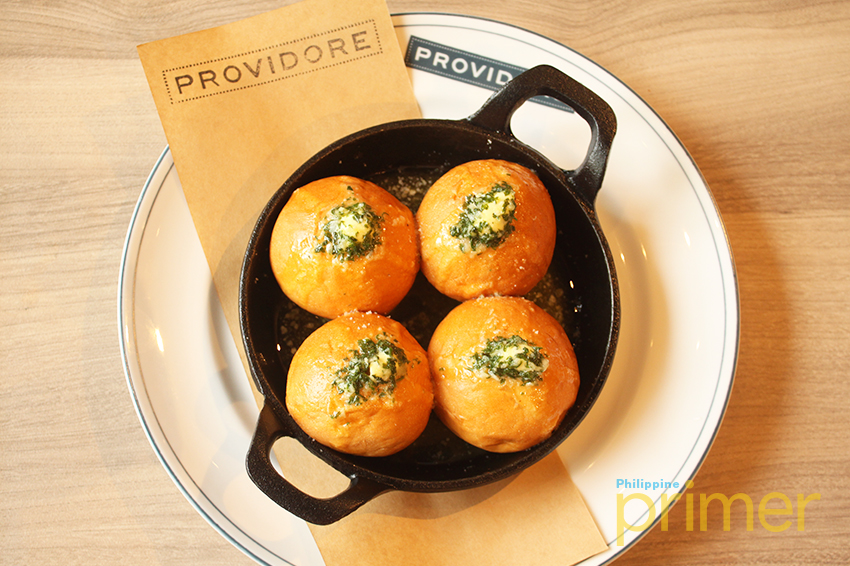 Cast Iron Garlic Parsley Dinner Rolls. (P150)
Aside from dinner rolls, Providore also serves an all-day breakfast meal like the old-fashioned hotcake Maple Bacon Syrup. It is served with butter and chantilly cream.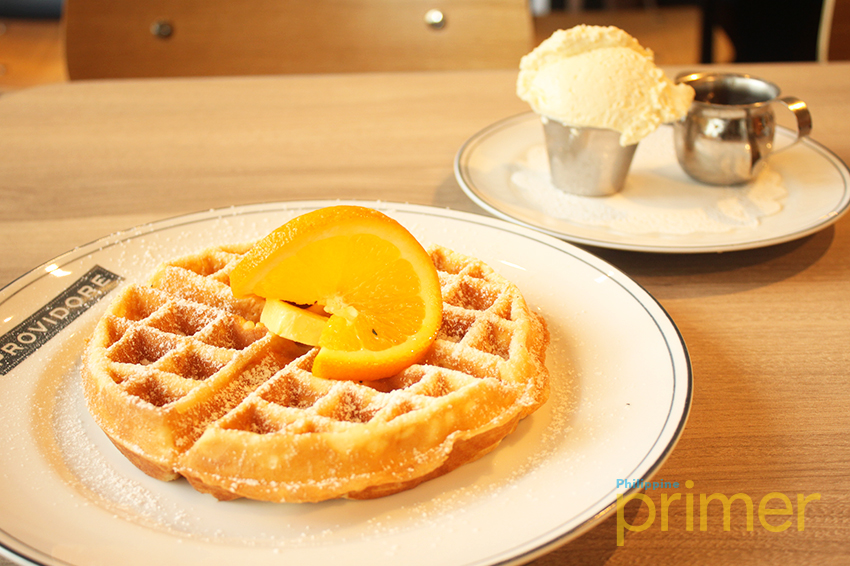 Maple Bacon Syrup (P215)
For a tasteful and healthy meal have the Providore's Salad where greens are topped with avocado, bacon, cheese, grilled Japanese corn, cranberries, walnuts, and buttermilk dressing.
Providore Salad (P235 solo; P475 sharing)
Want a good break from the usual burger and fries favorite? Try their Zucchini Pecorino Fries for some twisted healthy delight and the Steakhouse Chili Burger for a meaty and not so chili finish.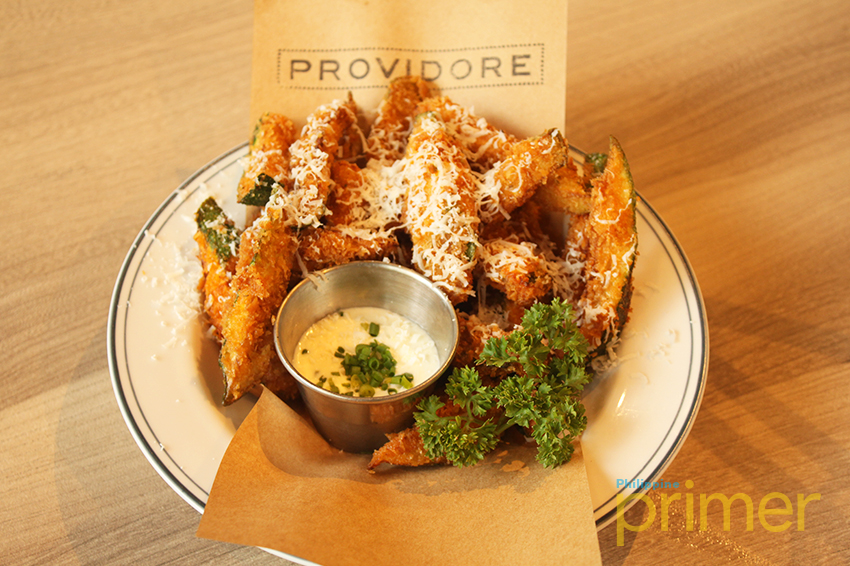 Zucchini Pecorino Fries (P195)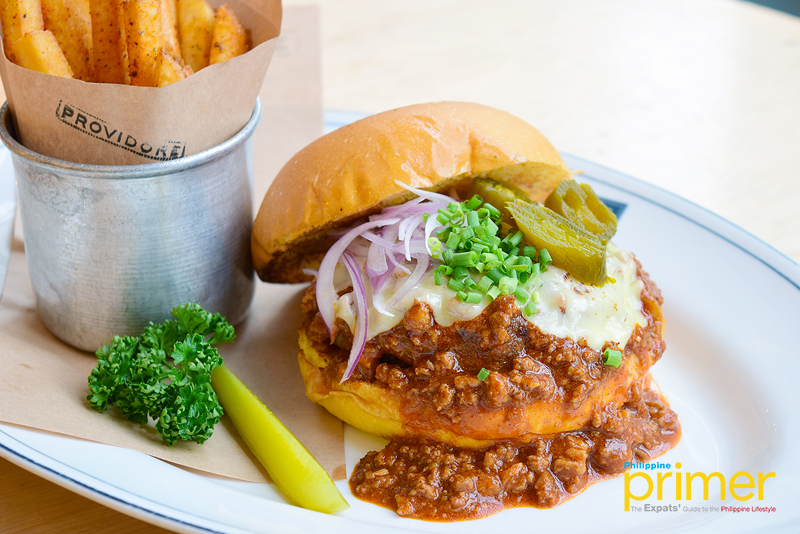 Steakhouse Chili Burger (P595)
And here's some sea special for the big eater, the Seafood & Rice Skillet—fresh prawns, fish, squid in garlic, parsley, and white wine butter, special spice, served with creamy spinach pilaf. For a lighter meal, they also have the Providore Fish and Chips—beer battered dorade fish, house fries with coleslaw, mignonette and tartar sauce on the side.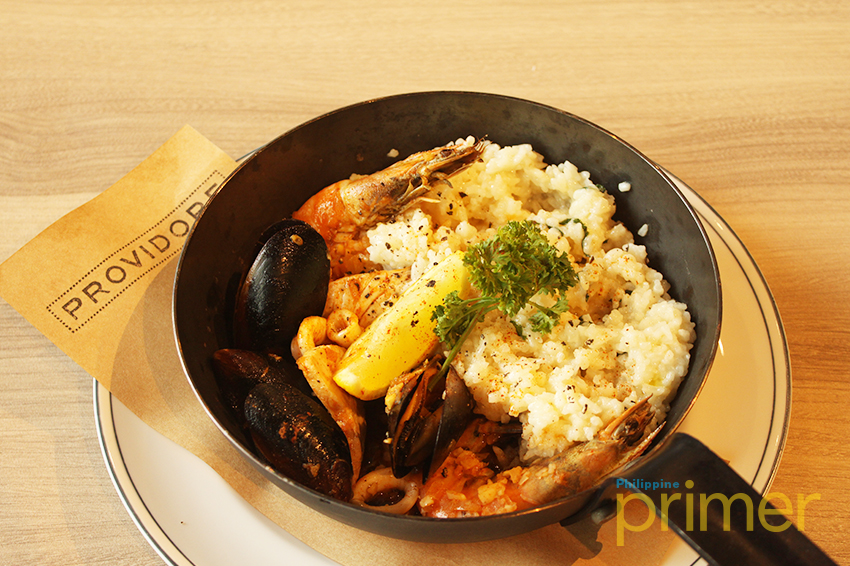 Seafood & Rice Skillet (P420)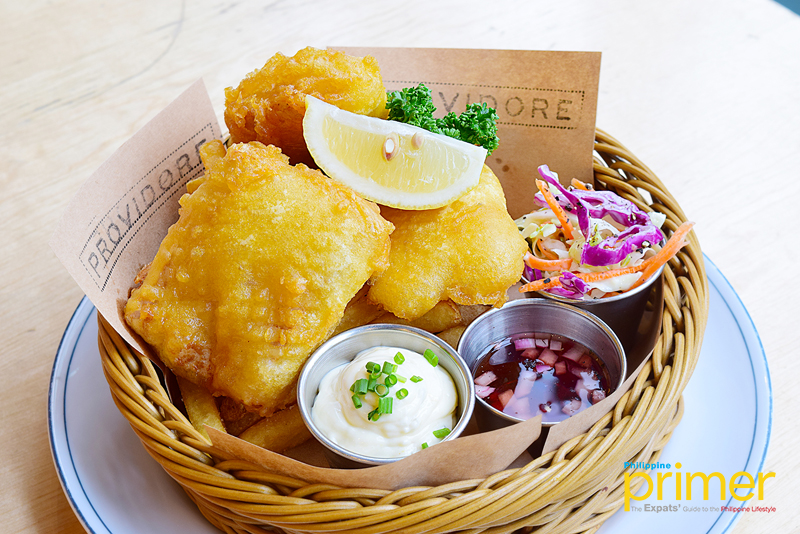 Providore Fish and Chips (P550)
For the meat lover, try the Steal Plate Cooked Garlic Butter "Salpicao" Steak, U.S beef short plate, tripe, oxtail, French beans, banana hearts, eggplant, pechay and housemade bagoong (Shrimp Paste). For sharing especially for families with kids, we recommend the crispy and tender Winner Winner Chicken Dinner with buttered corn, sausage gravy and mashed potato on the sides.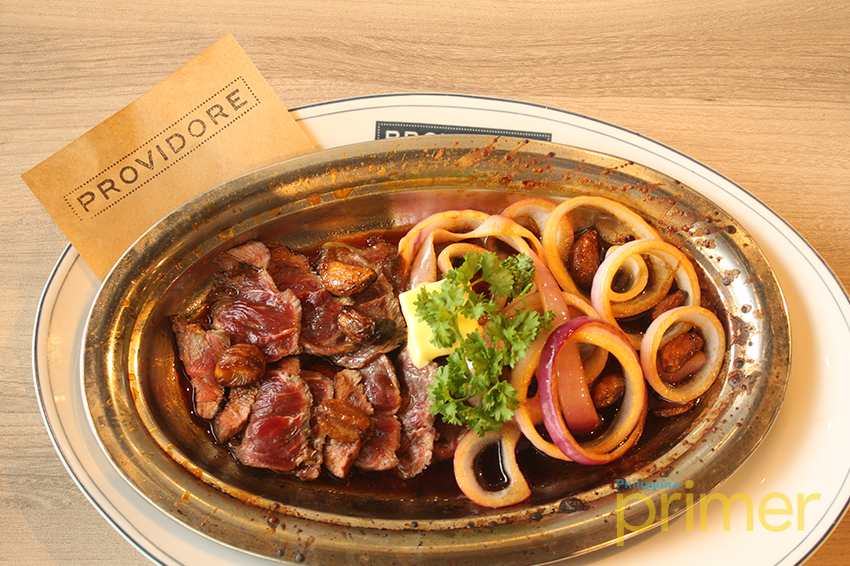 Steal Plate Cooked Garlic Butter "Salpicao" Steak. P475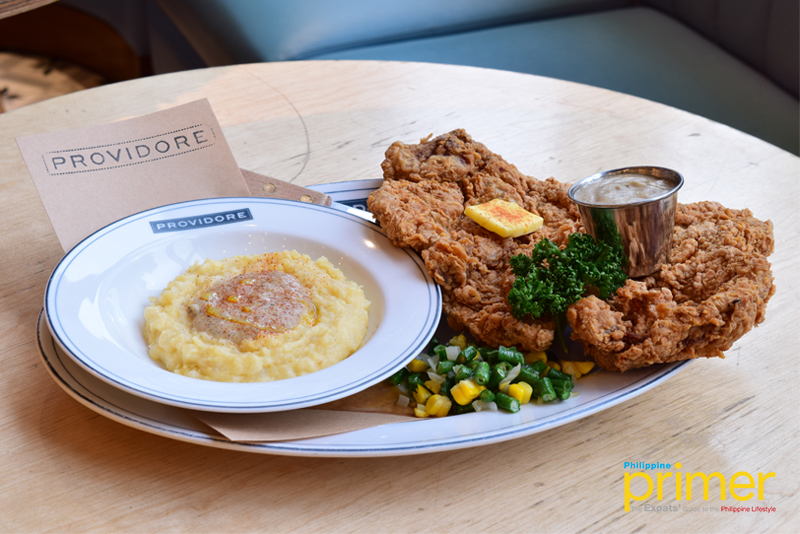 Winner Winner Chicken Dinner (P450 solo; P750 bucket) 
For those who are craving for Filipino meals, worry no more as Providore offers Filipino plates that will surely win your hearts. Start with the classic Tokwa & Baboy garnished with the same sour and salty taste but served in a coupe glass for an extra fine dining touch. For mains, they have the Pork Binagoongan, with a salty finish as it has dried shrimps, eggplant, tomatoes, and green mangoes.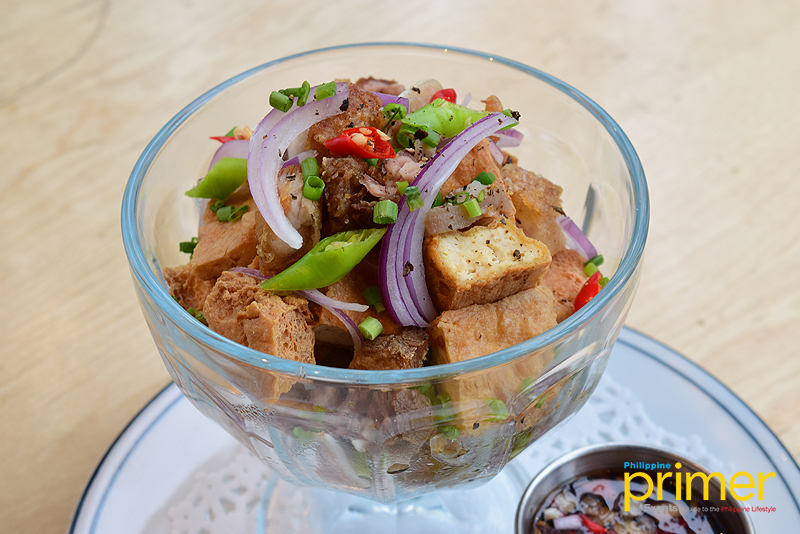 Tokwa and Baboy (P225)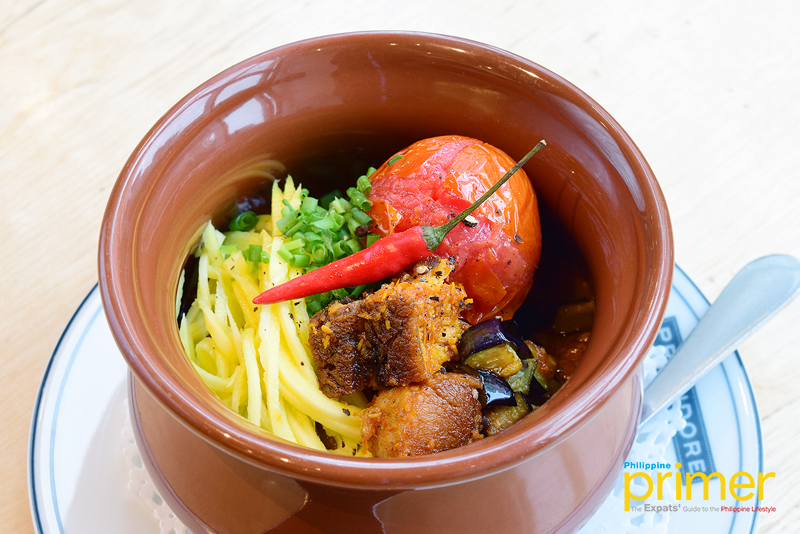 Pork Binagoongan (P425)
For snack plates or something sweet, Providore has a take on the Filipino favorite Champorado. Served with white chocolate tres leches sauce, dessicated coconut and, crispy danggit is their Ube Champorado.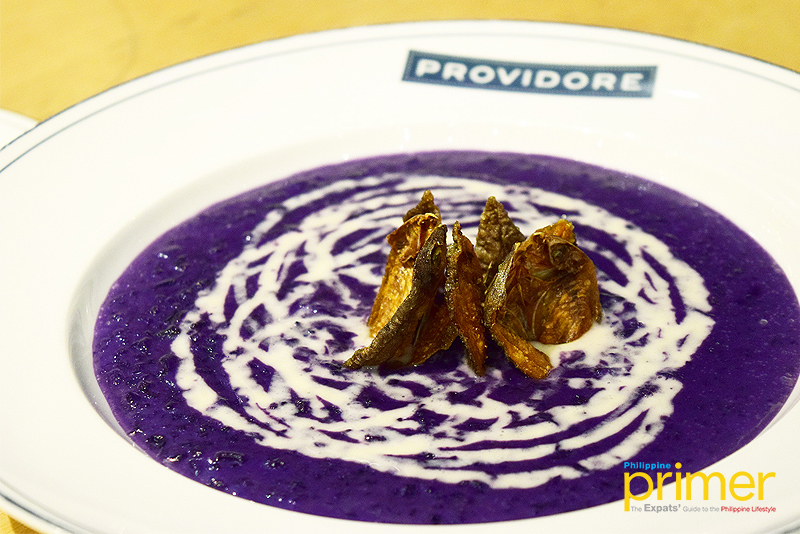 Saving the best for last, here are some sweet treats for the sugar lovers out there. Their milkshakes will surely bring all of you to the yard! Providore offers the creamiest and best milkshake you'll ever taste. Unlike any other milkshake, Providore's very fine texture will make you feel like you're sipping molten ice cream right from the tub.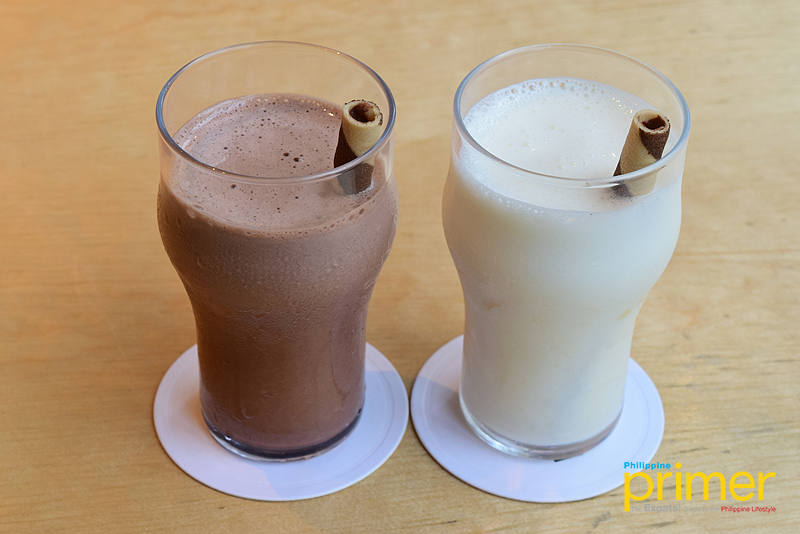 Classic Vanilla and Dark Chocolate Malt. (P150)
It comes with a refill maybe because they're quite sure that you'll ask for more after finishing a glass. With its smooth texture and the right amount of sweetness, Providore's milkshake can make you come back for more! But if coffee is your cup, try the Cafe Affogato for an even bittersweet taste.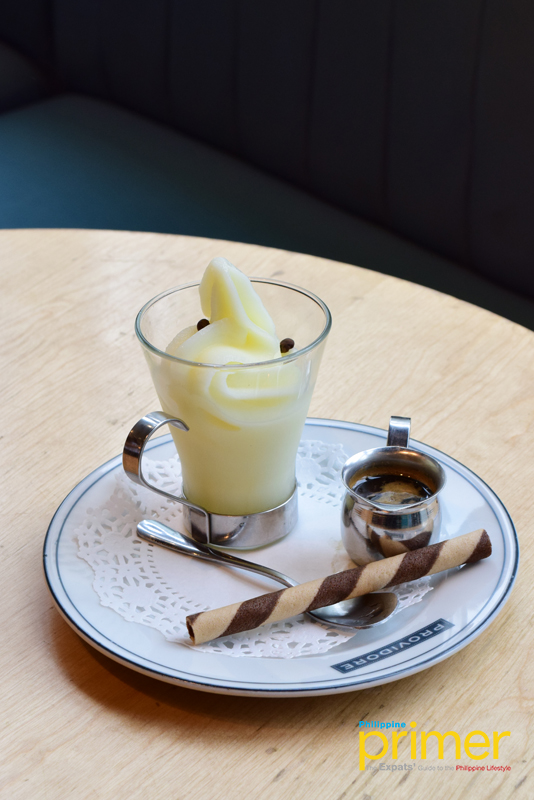 Cafe Affogato (P195)
Not much of coffee or milkshakes? Providore also has teas, wines, cocktails, beers, sodas, and juices. For a healthy and refreshing drink, we recommend you to try the Calamansi Lychee Cooler.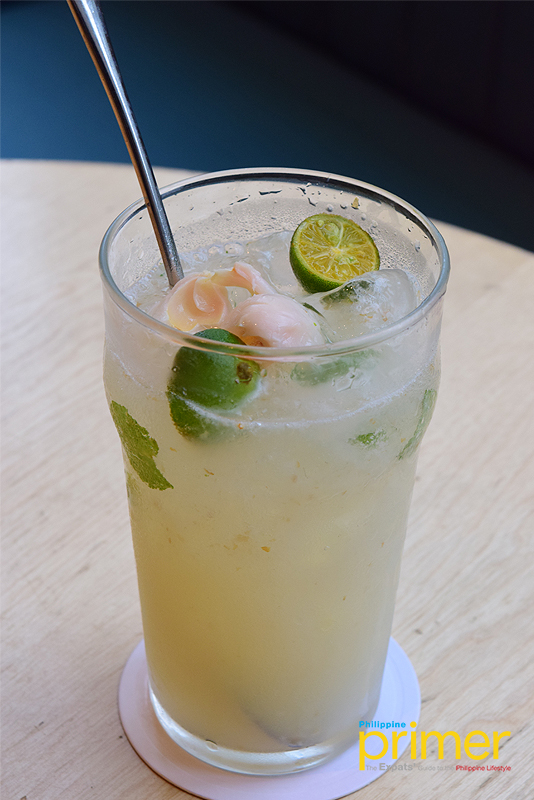 Calamansi Lychee Cooler P140
All in all, Providore is a fresh go-to restaurant that offers not just authentic American and home-style Filipino cuisine—but a full experience that will take you back to the good ol' days. Visit them at the Ground floor of SM Aura Premier at Bonifacio Global City.

G/F, SM Aura Premiere, Bonifacio Global City, Taguig

Mondays – Sundays: 10:00 am – 10:00 pm