Bistro Madrid in Burgos Circle: An Authentic Spanish Experience
Spanish cuisine is indeed one of the tastiest cuisines in the world. From Paella to Jamon to Churros, one cannot deny that Spanish dishes are not only vibrant in their presentation but also very rich in flavor.
Located along Burgos Circle, Fort Bonifacio, Bistro Madrid provides their guests with only the best, letting them experience authentic Spanish cuisine.
Also read: Keizo in Burgos Circle: Unparalleled Authentic and Traditional Japanese Food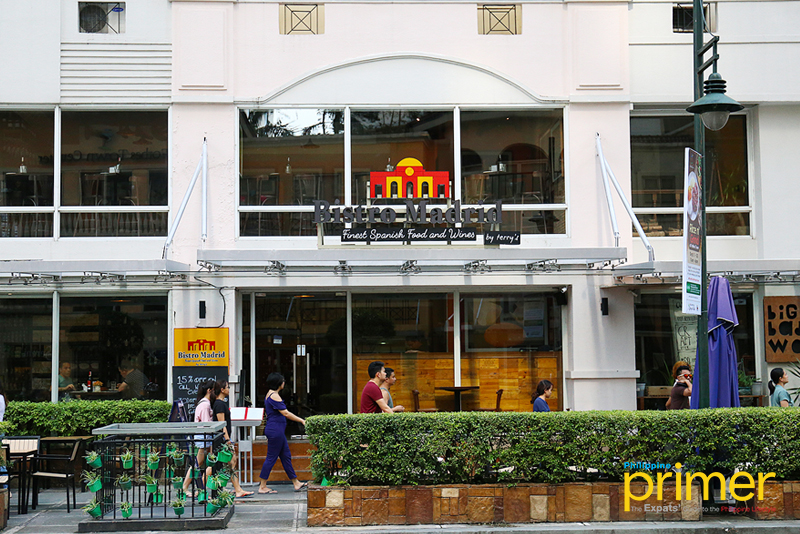 Bistro Madrid is situated in Burgos Circle and serves only the most excellent Spanish food and Wines
Bistro Madrid opened in 2017 and is the sister restaurant of Terry's Bistro. It is the brainchild of Chef Juan Carlos de Terry, a chemist who also holds a Ph.D. in Oenology.
As a two-story restaurant, Bistro Madrid also has a small deli inside, where they sell goods like sausages, hams, cheese, and an assortment of sauces. You have the option to pick your favorite sausage or ham or have it assorted to enjoy in the shop.
The interior of Bistro Madrid gives their guests an intimate and cozy vibe
Part of what makes Bistro Madrid an authentic Spanish experience is the quality of the ingredients that are used in their fantastic dishes. Most of the ingredients that they use are imported from Spain, including the rice that they use in their exquisite Paella.
Sample their Gambas Al Ajillo (Php 435), it's a Spanish favorite that has a light, spicy kick to it. It's served sizzling, giving off the ideal blend between the taste of the shrimp cooked in olive oil and the taste of the garlic.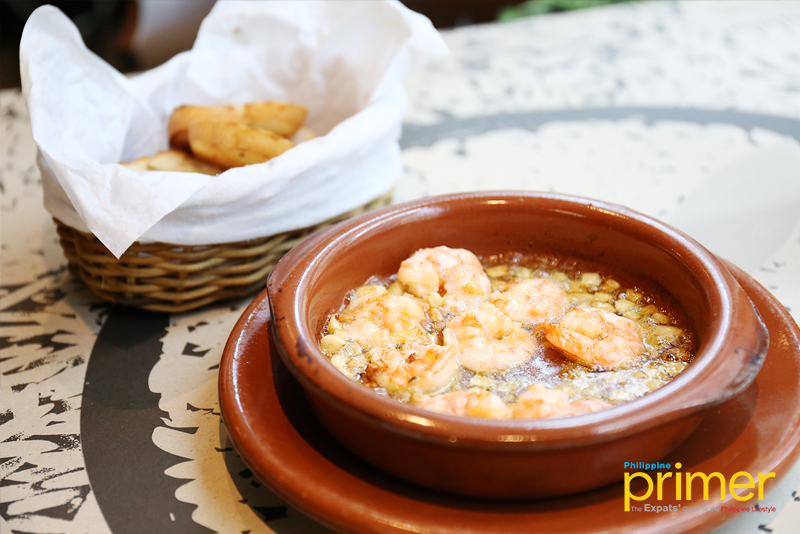 Bistro Madrid's Gambas Al Ajillo (Php 435)
Another must-try at the Bistro is their El Buey Feliz (Php 445). As a Bistro Madrid original, this dish is unique yet doesn't stray away from the restaurant's Spanish theme. The dish is grilled rib-eye cubes that are served with Española sauce. You have an option to choose between onion rings or deep-fried potatoes with Aioli sauce for your side.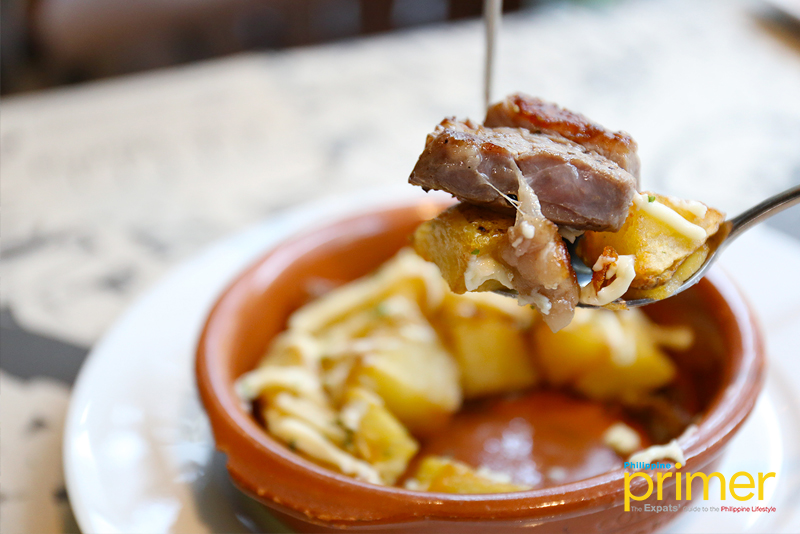 A Bistro Madrid original, El Buey Feliz (Php 445)
When in Bistro Madrid, you must also sample their Spanish Cold Cuts & Cheese Platter (Php 445). The Platter is composed of slices of Jamon Serrano, Chorizo Pamplona, Salchichon de Vic, Manchego, Mahon, and Arzua Ulloa. It's the perfect pair to match that glass of wine.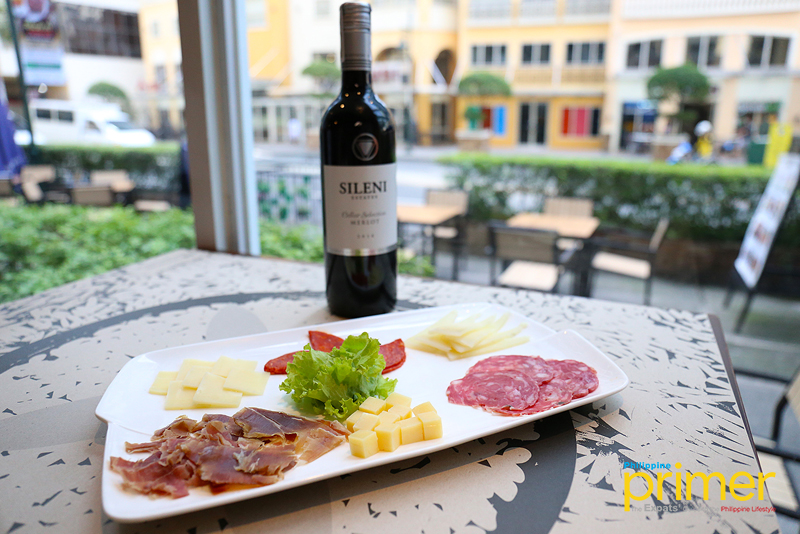 Spanish Cold Cuts & Cheese Platter (Php 445)
Lastly, Bistro Madrid's Gran Paella (Php 795) is something that you should try. The rice is Valencian rice that is cooked in a Saffron-based stock. Shrimps, tuna belly, baby squid, tomatoes, green peas, roasted red bell peppers, and chorizos are then added to the dish to complete the meal.
The paella also comes in a black version that is cooked with squid ink and seafood stock. It's an absolute must-try for those of you who are lovers of Spanish cuisine or those of you who are new to the whole Spanish craze.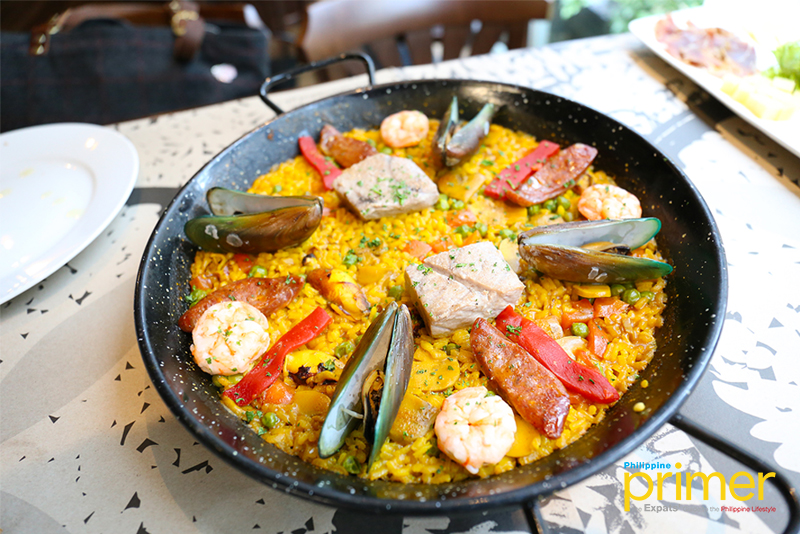 Bistro Madrid's Gran Paella (Php 795)
Bistro Madrid is the perfect place for those who want to experience Spanish cuisine with no frills, as it brings together dishes from different regions of Spain. To add to that, you can also enjoy a glass of wine starting Php 275.
Bistro Madrid is an ideal place to experience Spanish food at its finest!
Also read: Susi in Burgos Circle is a Vegan Restaurant That Doesn't Disappoint
For more information, you may call 02-828-5203. You may also visit Bistro Madrid's official Facebook page. 
Store Information
Unit F130-131 Forbeswood Heights Forbestown Center, Rizal Drive corner Weste Crescent Park, Taguig City
02-828-5203
10 a.m. to 1 a.m.