B.A.D. Late Night Breakfast Bar at The Palace Serving Breakfast, Cocktails, and All-night Rave
B.A.D. Late Night Breakfast Bar at The Palace Serving Breakfast, Cocktails, and All-night Rave
Not even Superman can go high without a good breakfast. And neither can you! So, on a lovely evening before hitting the club, make B.A.D. Late Night Breakfast Bar at The Palace in Uptown Bonifacio your first stop as a prelude to a thrilling night out or your final stop before going home from an all-night rave. Actually, make it your main destination when you need a casual hangout to hang loose with your friends.
The newest food and drink hot spot at The Palace, B.A.D. (Breakfast All Day) is the only bar and restaurant that opens too early just to make sure you can quench your cravings for breakfast and comfort food. They open at 6 p.m.—a good 12 hours too early for breakfast. That means breakfast lovers can especially dive into a good meal of eggs or waffles even late in the evening or very early in the morning (they're open until 6 a.m. on weekends).

One wall is covered with a collage of posters and playbills related to breakfast and eggs.
Besides the menu, the whole place is a monument to breakfast. Sunnyside up eggs adorn the floor, while the wall on one side is covered by a paper mache-looking collage of vintage breakfast posters and playbills, which adds to the overall retro feel of the bar.
B.A.D. emanates a warm atmosphere that coordinates well with the steady brown couches. They sure didn't go ungenerous with space because the tables and couches are well spaced apart and stylishly divided by black wire fencing, which lets you have a more private time with your best friends or a more intimate date with bae.
The other side is a simpler wall of black louvers painted with more mainstream images.
B.A.D. has an exciting selection of breakfast dishes inspired by different cuisines. If you're a classic silog (fried rice and egg) lover, we're sure you will love their Chuck Steak Tapa. A hefty serving of thin cuts of USDA flat iron with tasty fried rice, sunny side up egg, and salted egg salsa, this harmoniously flavorful dish will definitely power you up.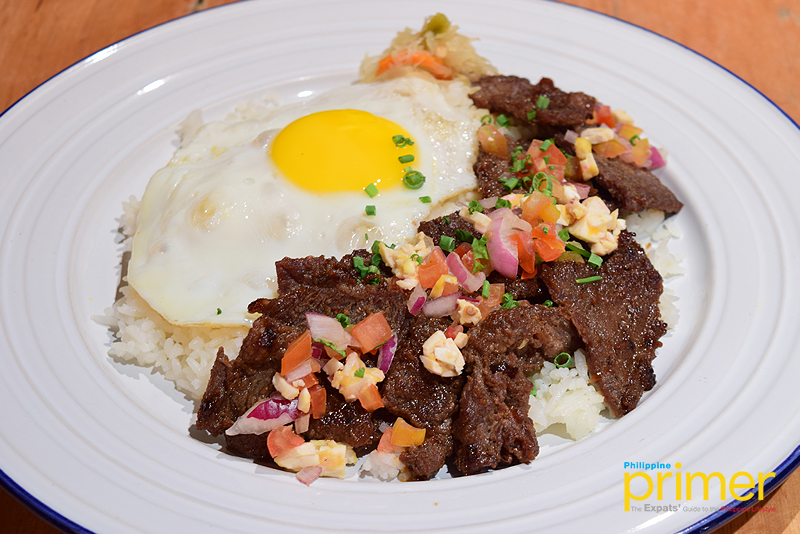 Chuck Steak Tapa (Php 310)
Another breakfast combination favorite is waffles with bacon slices. Here at B.A.D, have a bite of their Bacon and Cheddar Waffle with its thick cut bacon slices and bourbon pancake syrup for a perfect balance of sweet and salty.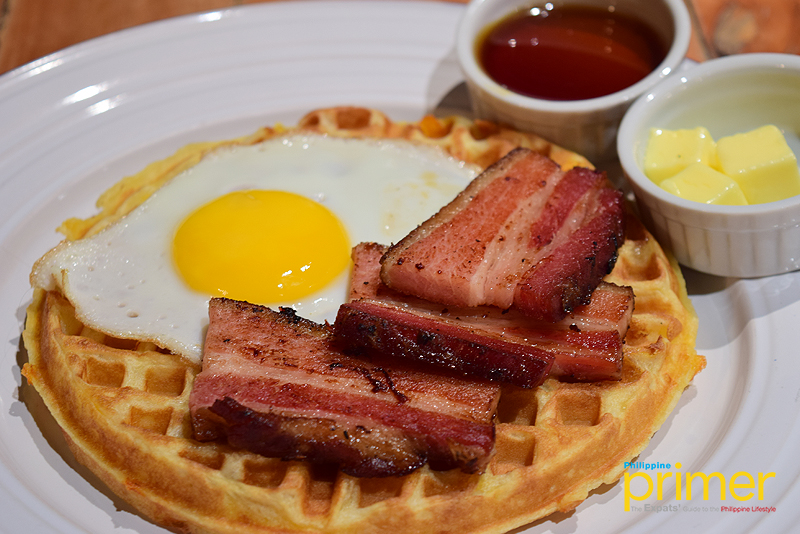 Bacon and Cheddar Waffle (P300)
The B.A.D. Arroz Caldo is an awesome rendition of the well-known Filipino comfort food of the same name. The thick consistency of this rice porridge is pleasing to the palate. Add to that the generous mix of crispy pork cheek, chicken, salted egg, boiled egg, and bonito flakes, then you've got the greatest asset against an antagonizing hangover or a depressing heartbreak.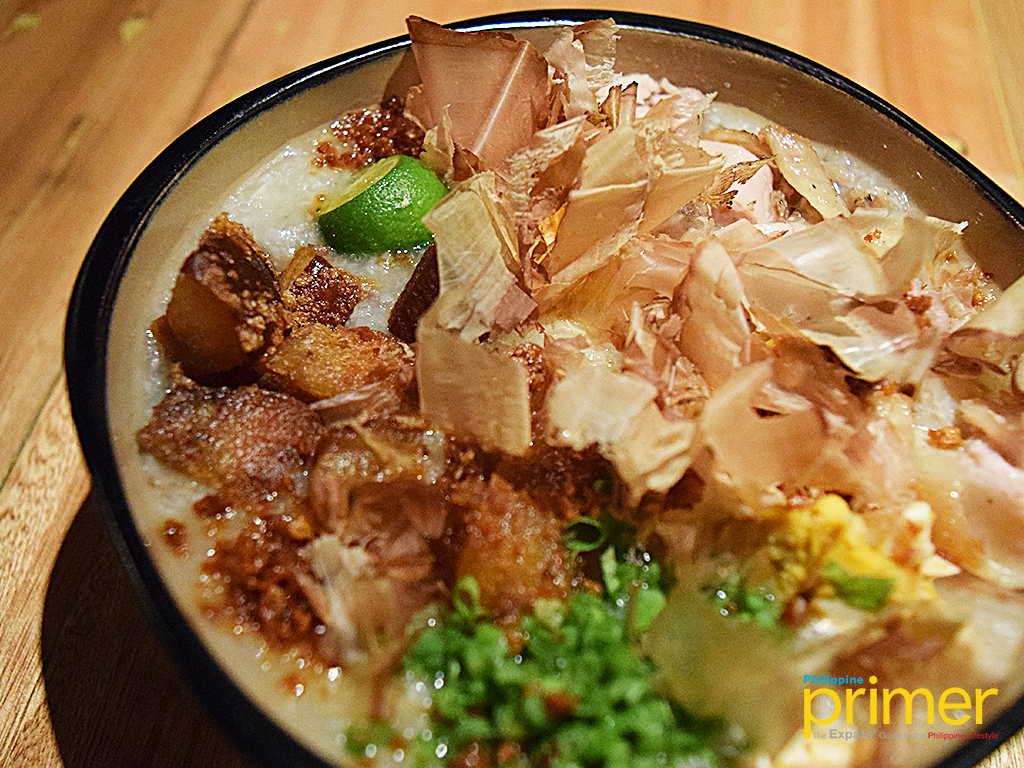 B.A.D. Arroz Caldo (Php 260)
For sandwich lovers, a super must-try is the Wagyu Patty Melt, made with wagyu patty, American cheese, and glazed onion tightly sandwiched between sourdough bread. The sides, tater tots, are also delicious!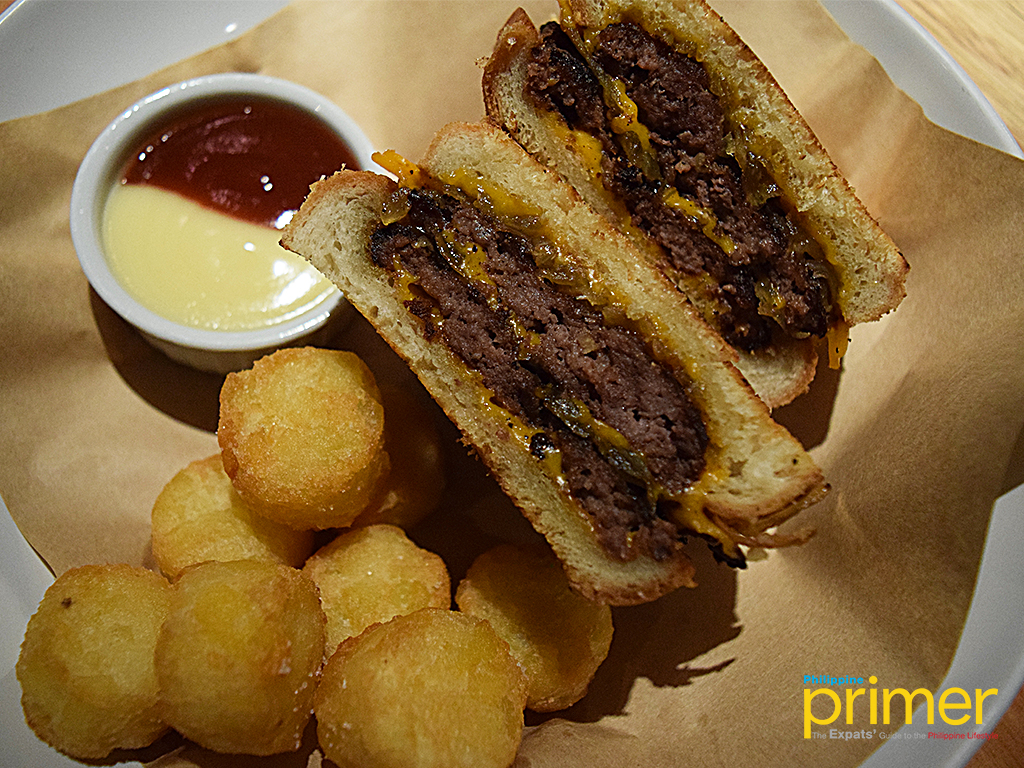 Wagyu Patty Melt (Php 370)
If you don't feel like eating rice but want a hearty meal, go classic and try the Hot Wings, served with veggies and ranch dipping.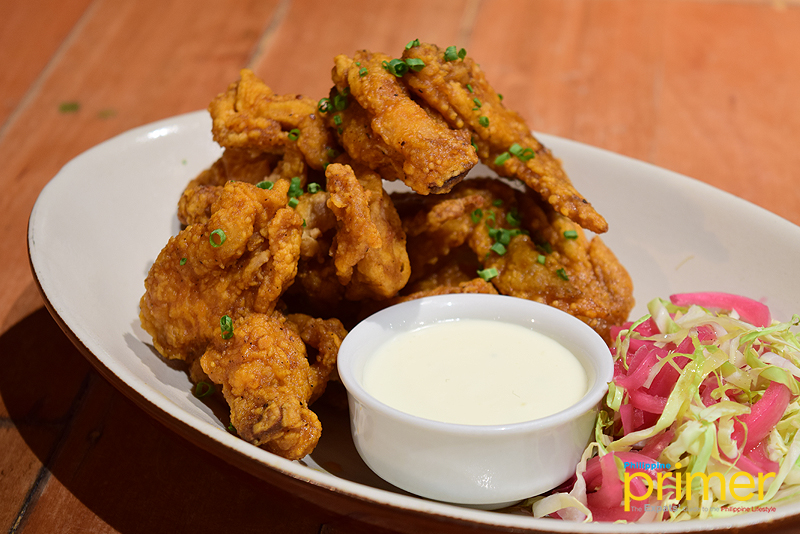 Hot Wings (Php 370)
Want more carbs in your late night breakfast? Or, need a protein boost? B.A.D. also lets you fix your own breakfast with options for waffles, pancakes, toast, garlic rice, bacon, Spam, sausage patty, corned beef, smoked salmon, eggs, and cheese, which you can combine in different ways.
As a late night bar, they also have an extensive menu of affordable beers, cocktails, liquor, and wine. The cocktails are enjoyable and easy to drink, potent enough for a good zing and complementing to a good night that shines the spotlight on good breakfast and casual conversations with friends.
What better way to end a breakfast meal than pairing it off with the pleasurable selection of sweet, fruity, and creamy shakes, such as the Nutella Shake.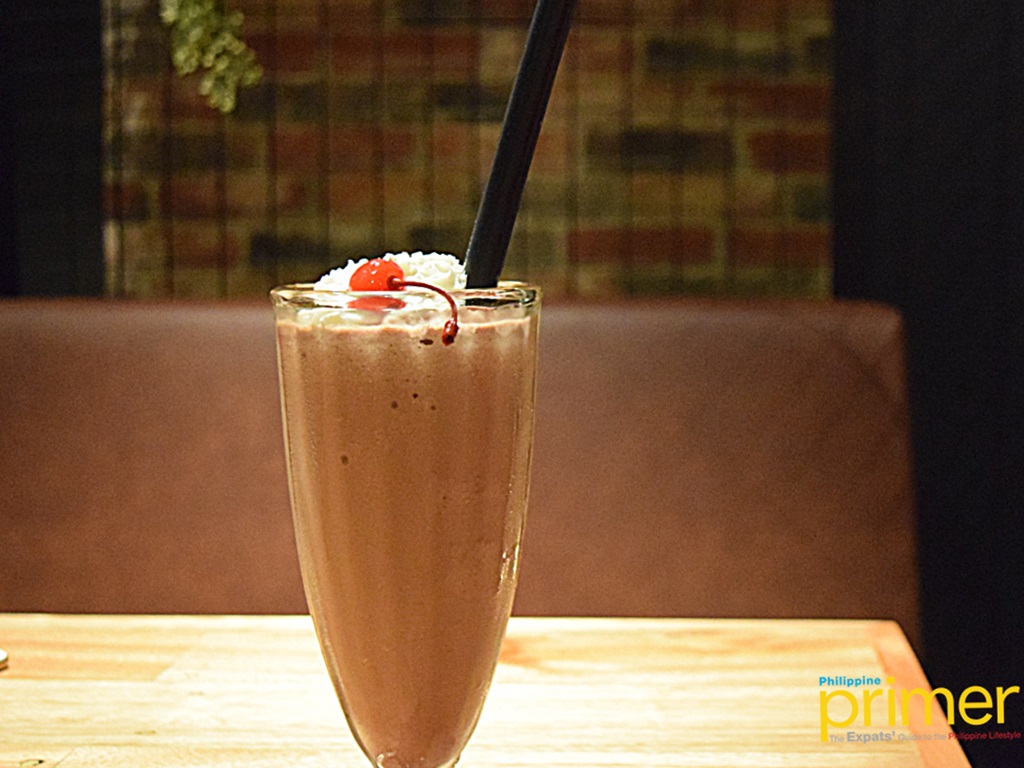 Nutella Shake (Php 180)
For the cocktail drinks, B.A.D. boasts highly affordable drinks selection. If you're into more of fruity cocktails, you can try their Frozen Mango Daiquiri, a fruity finish with Bacardi.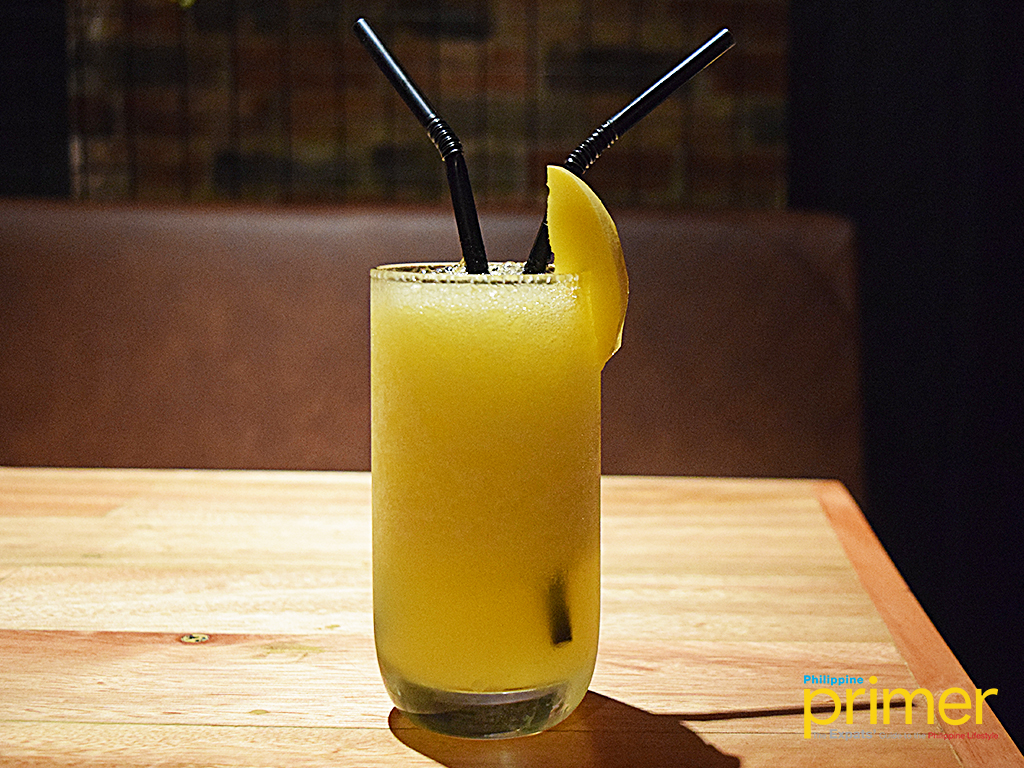 Frozen Mango Daiquiri (Php 150)
For a citrusy-wine taste, get a glass of the Red Sangria, with brandy, red wine, lemon and orange juice, Angostura bitters, simple syrup, sliced citrus, Cointreau and soda water. They also have the Mojito here, if you want a minty drink or the Old-fashioned for a dark bitter aftertaste.
Red Sangria, Mojito, and Old-fashioned
Who says you can't eat comfort foods inside a late-night bar? Here at B.A.D. they serve you comfort food and drinks perfect for your intimate dinner, fun night out, chill after party or midnight cravings.
Visit B.A.D at 11th Avenue, The Palace Complex, Uptown Bonifacio for your pre and post party cravings! For more information, call them at 0917 550 9999.
---
Written by Rizelle "Rei" Leaño
General Information
11th Ave., The Palace Complex, Uptown Bonifacio, Taguig
0917-550-9999
6 p.m. - 3 a.m. (Mon. to Thu.), 6 p.m. - 6 a.m. (Fri. to Sat.)
Sun.