Antonio's in Tagaytay: Hidden Gem for First-Rate Steak and Fine Dining Experience
Updated as of December 2, 2019
Hidden in Tagaytay's beautiful backdrop of greeneries is a fine dining restaurant inside a grandiose Spanish colonial-style house known for its first-rate steak and splendid dining experience.
Antonio's was established in November 2002 by Chef Antonio "Tonyboy" Escalante who wanted to have a place to entertain his friends and still do what he loves—cooking. 
It was hailed as one of the country's best and has an integral part in transforming Tagaytay from a weekend getaway to a gastronomic destination. Plus, Antonio's is the only Filipino restaurant to be included in The Miele Guide to Asia's Finest Restaurants for five years in a row.
The whole restaurant speaks for itself as it exudes a one of a kind elegance in every corner of the room from the chandelier, fine wood furnishings, and refined tableware. 
They take pride in their dry-aged steak—an exceptional fare to try at Antonio's. Their steaks are stored in a custom-designed dry-aging cooler where the meat goes through the process of dry aging.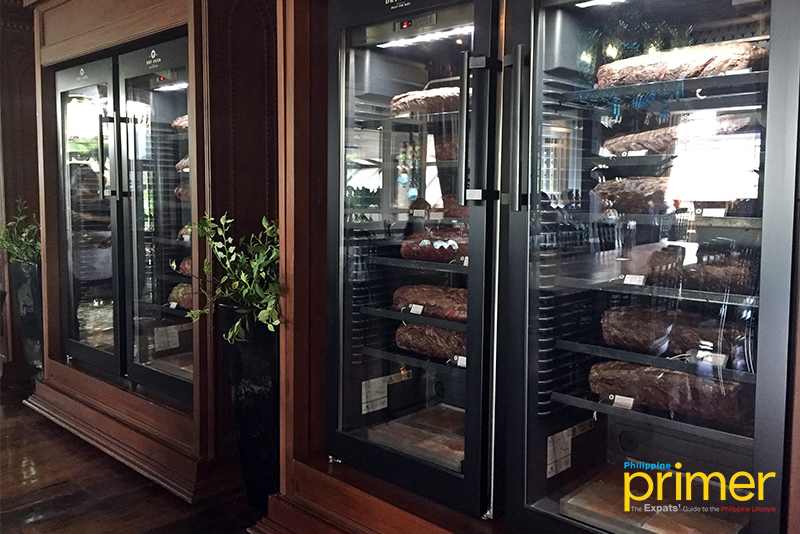 Antonio's custom-designed dry-aging cooler for steaks
Like wine, dry-aging improves the quality of the steak's flavor, making it taste better with time. As the beef ages, the moisture is drawn out while the enzymes tenderize the meat, which brings out sophisticated notes such as hazelnut and blue cheese.
Additionally, the steaks are grilled in their own charcoal oven which combines the charcoal grill and convection oven in one.
A must-try from their entree is the 45 Days Dry Aged Charcoal Grilled Angus Prime Ribeye Steak (Php 7,600), a sizzling 700 grams of tender-aged Angus rib-eye beef served with 6 different condiments.
45 Days Dry-Aged Charcoal Grilled Angus Prime Ribeye Steak (Php 7,600)
Each slice of meat emanates a full-bodied smokey flavor and fire aroma that will surely entice you to have some more. Adding a touch of crisp to the meat are the potato chips on top.
Their steaks come with a choice of salad, soup, dessert, and coffee or tea, which determines the price of your meal.
A great starter to pair with the steak is their House Salad made with organic mesclun, Bleu d' Auvergne Croquette, housemade potpurri of dehydrated fruit and vegetables, seeds, seaweed lavosh, and raspberry vinaigrette.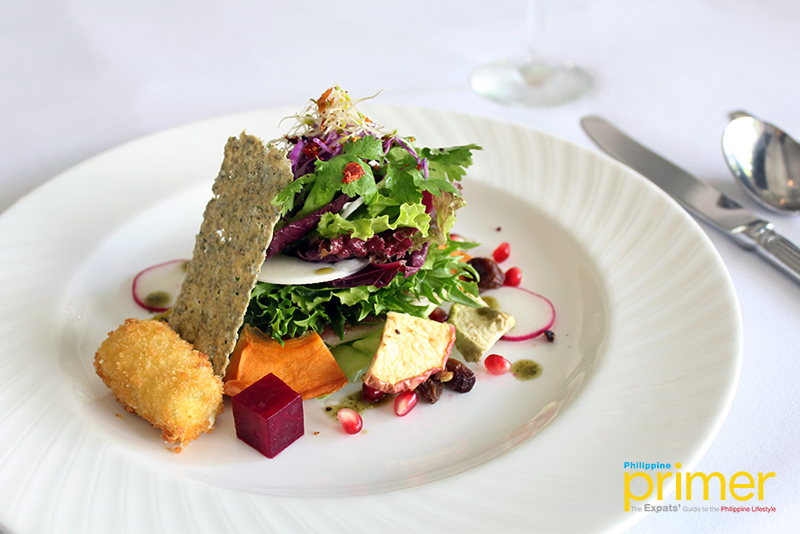 House Salad
To end your fine meal, have Chef Tony's personal favorite dessert—the Mixed Fruit Pavlova. It is made with meringue and a fluffy dark chocolate chantilly topped with fruits like oranges, kiwi, and strawberries in a sour-sweet passion fruit sauce.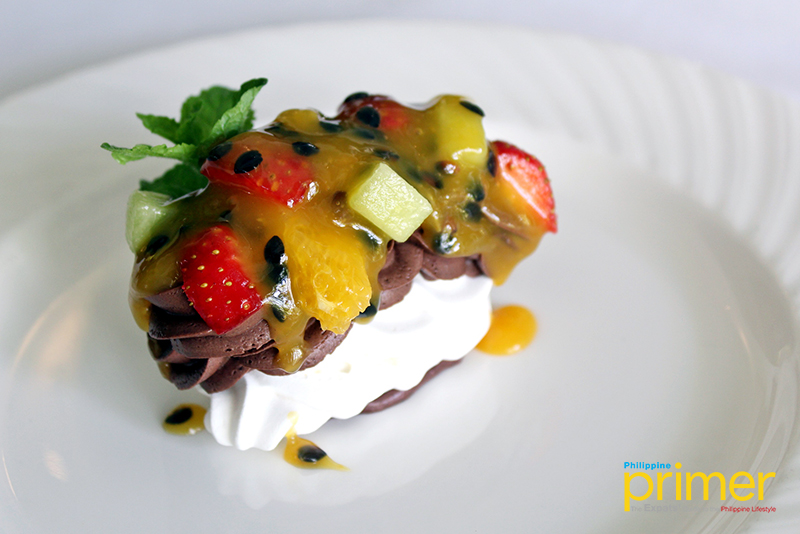 Mixed Fruit Pavlova
As the flagship restaurant of Antonio's Group of Restaurants, Antonio's has retained its elegance and refined setting for guests' important life milestones for 17 years now. 
The Lanai Lounge or alfresco area is the perfect place for diners to feel the warmth of the late afternoon while sipping a fine cocktail such as Antonio's Arugula Lemon Drop, Bees Knees, and Coffee Cocktail.
Guests are even allowed to book the entire restaurant for exclusive events as early as a year in advance. Special life occasions such as weddings and intimate parties are also welcome at the Lanai Lounge or at the 150-seater events spaces called The Cabana.
Diners are required to make a reservation which can be made up to two months in advance from the calendar date. Also, take note of their smart casual dress code.
How to get here
Antonio's is located along Zambal Road via Tagaytay-Nasugbu Highway, 18 minutes away from Olivarez Plaza, Emilio Aguinaldo Highway.

By car: From Olivarez Plaza, drive along Tagaytay-Nasugby Highway and pass by Mahogany Avenue. Continue on Tagaytay-Nasugby Highway then turn right onto Zambal Road. There are signages along Zambal Road that will guide you to Antonio's restaurant.
---
A version of this appeared in Philippine Primer Japanese and English September 2017 and December 2019 issues
Photos by Deneca Ordinanza

Purok 138, Barangay Neogan, Tagaytay City, Cavite

0917-899-2866 / 0918-899-2866

Lunch - 11 a.m. to 2 p.m.; Dinner - 5 p.m. to 11 p.m. (Tues to Sun)
Restaurant Menu
You can scroll the image left and right.