Crêpes Siargao Makes Irresistibly, Mouthwatering Fruit Crepes, Shakes, and Bowls in the Island
Crêpes Siargao Makes Irresistibly, Mouthwatering Fruit Crepes, Shakes, and Bowls in the Island
Crêpes Siargao may be a humble creperie situated at the southeast tip of the island, but their thin pancakes sell so much, the French crepes kept on evaporating into thin air since its opening just last September 2018!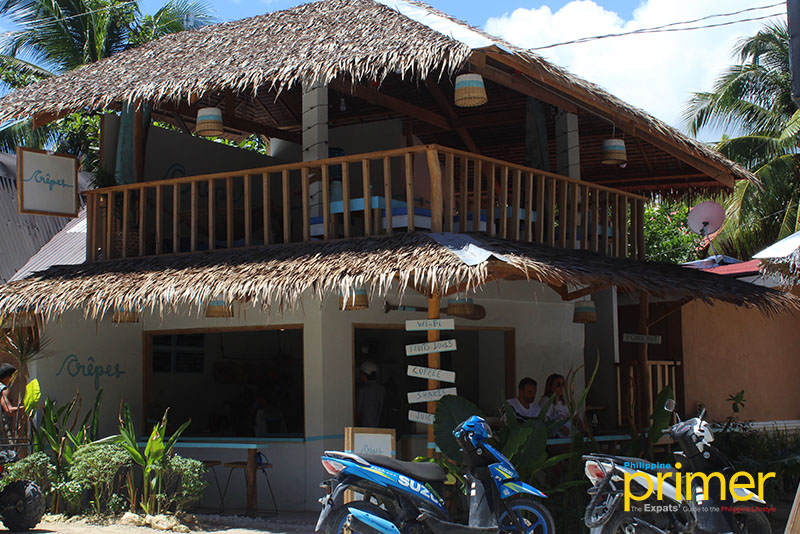 While Crêpes Siargao humbly resides along Tourism Road in General Luna with its Nipa hut accents, the creperie attracts guests looking for a refreshing treat to counter the heat of the sun.
Situated along the main road of the island in General Luna, Siargao, Crêpes Siargao sports a cool, relaxing vibe with its open area and simple, healthy menu of savory and sweet French crepes, as well as fruit bowls, fruit shakes, and juices.
This open fruity shop, which is sometimes called as the "La Creperie," invites guests with its open and welcoming vibe.
Try their best-seller Nutella Banana Crepe with scoops of ice cream, drizzled generously with chocolate Nutella syrup. With its cold ice cream melting over warm, thin pancakes, the contrast gives the combo an exciting touch in the mouth.
While crepes usually make one even hungrier, this Nutella Banana Crepe fills the tummy with Crêpes Siargao's huge serving.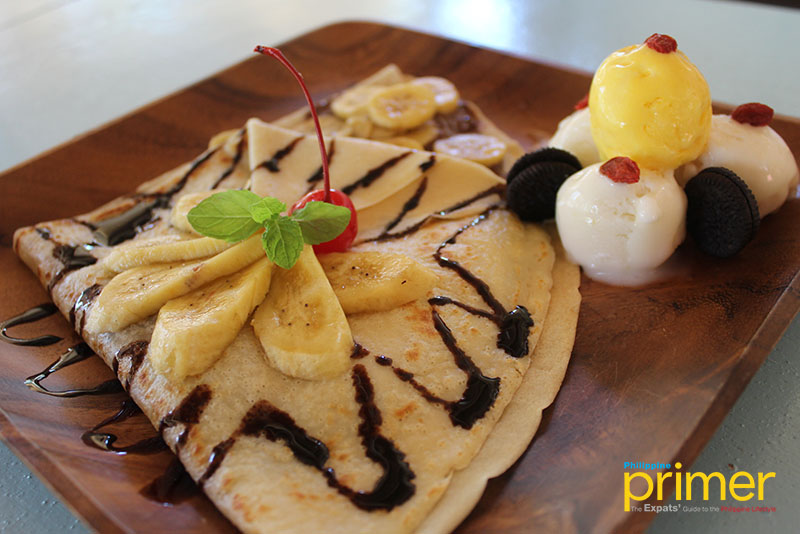 Nutella Banana Crepe (Php 250)
Partner this with their fruit juices and shakes or better yet their selection of Banana Mango Milk Shake, Mango Pineapple Milk Shake, or Banana Berries Milk Shake, each for Php 180, and you complete the refreshing and healthy ensemble perfectly!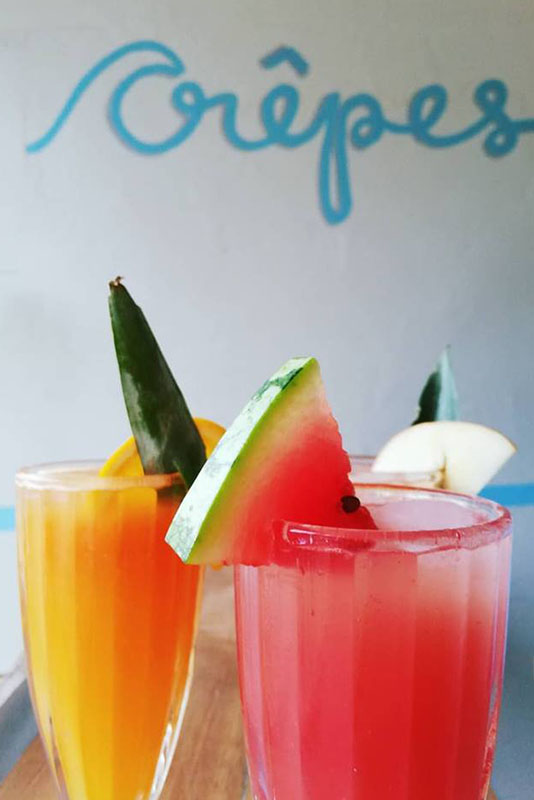 Fruit shakes and juices are available at Crêpes Siargao, perfect for those who need a healthy and refreshing treat to soothe them./ IMAGE Crêpes Siargao
Local Favorites
More than anything, Juan Tudela who is at the helm of Crêpes Siargao, encourages guests to try their local offerings as Crêpes Siargao tries to incorporate locally made products such as chocolate and ice cream with flavors of mango, buko (coconut), vanilla, chocolate, and ube (purple yam) to the menu.
Mango Banana Crepe/ IMAGE Crêpes Siargao
Hailing from Barcelona, Spain, Juan shared how expats would definitely like something new that differs from the usual Western taste of food, making Crêpes Siargao a suitable choice for their palates.
Further, Juan also shared how Japanese expats, who are currently starting to become famous for their crepes, frequent Crêpes Siargao to order their specialties.
Other nationalities like Korean and Chinese are also following their footsteps inside the creperie, thanks to Siargao's continuous transformation from being the surfers' haven to an oasis of non-surfing vacationers.
So, visit Crêpes Siargao for a healthy, fruity, and refreshing snack from morning until night time!
Also read: Shaka in General Luna, Siargao: A Cafe Offering the Healthiest Food in the Island
---
This first appeared in Philippine Primer Japanese Magazine's December 2018 issue.
Featured image grabbed from Crêpes Siargao
General Information
Tourism Road, Purok 5, General Luna, Siargao, Surigao del Norte
0995-153-3204
7:30 a.m. to 11 p.m. (Mon. to Sun.)