Laruan Atbp. Café
Parents have told their kids for ages not to play whenever they're eating. This has been a standard for centuries, regardless if it's your home dinner table or the local diner… that is, until you set foot inside Laruan Atbp. Café in Quezon City.

THEY TAKE FOOD AND GAMES seriously at Laruan Atbp.
One of the newer restaurants along the city's famous food crawl destination Maginhawa St., Laruan Atbp. is nothing short of paradise for the young at heart. Board games, card games, comic books… oh, and of course, good food.
GAMES AND COMICS GALORE! Where in the city can you find such a wonderful combination?
For a consumable fee of only P150, you get to enjoy good food and unlimited games from their wide selection, courtesy of their partner Abubot (check them out on Facebook). Their food won't blow you away… mostly because you're too busy playing games before you realize you're in a café and not your living room.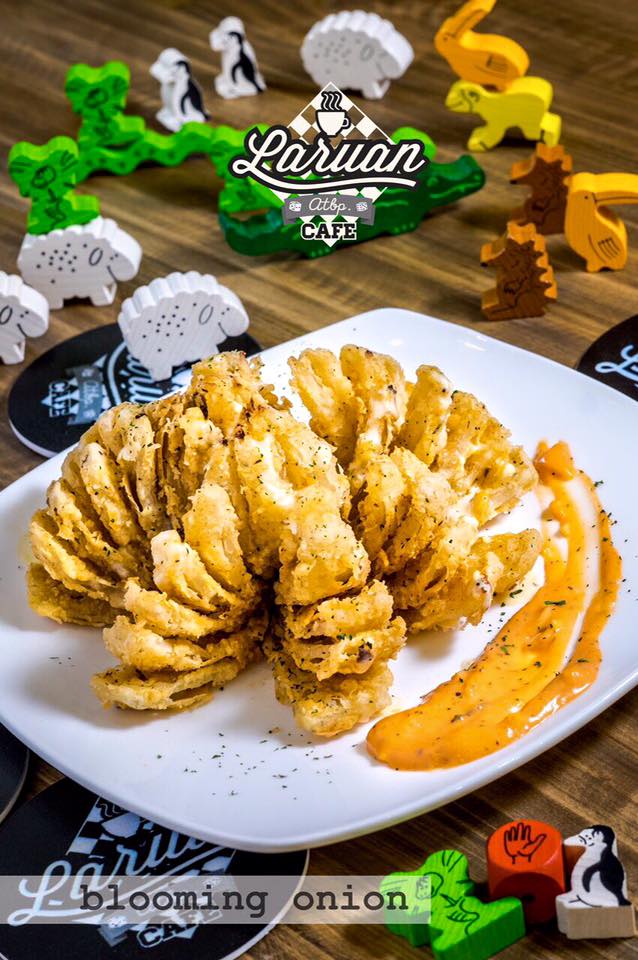 HOUSE SPECIALTY. The Blooming Onion (P125) is a great way to start your meal.
Laruan is still in its infancy, so a bit of downtime in between servings is to be expected. The games and books more than make up for the downtime, along with their signature Blooming Onion. They describe it as a "deliciously battered, deep fried, awesome blossom of onion drizzled with a tangy ranch emulsion."
Lauran offers sandwiches, rice bowls, and pasta; i.e. items that you might expect from a café. Being a café, you can expect a variety of cold drinks that are sure to impress: shakes, milk teas, soda floats, and your standard line of imported and local beers.
You can find Laruan Atbp. Café at the first floor of Luisa Bldg 2, 107 Maginhawa Street, Teacher's Village, Quezon City. They're open daily, following these schedules:
• Monday to Thursday: 2:00 pm – 12:00 am
• Friday and Saturday: 12:00 pm – 2:00 am
• Sunday: 12:00 pm – 12:00 am
For reservations or more information, you can call them at 02-512-6621. Don't forget to like their Facebook page (Laruan Atbp. Cafe) and follow them on Instagram (@laruanph).

1/F Luisa Bldg 2, 107 Maginhawa Street, Teacher's Village, Quezon City

Monday to Thursday: 2:00 pm – 12:00 am Friday and Saturday: 12:00 pm – 2:00 am Sunday: 12:00 pm – 12:00 am