Artesania MNL Cafe: Encouraging People to Make Art and Dine
Artesania MNL is a real refuge in the midst of the bustling food hub of Maginhawa for artists and people who want to de-stress through art and food.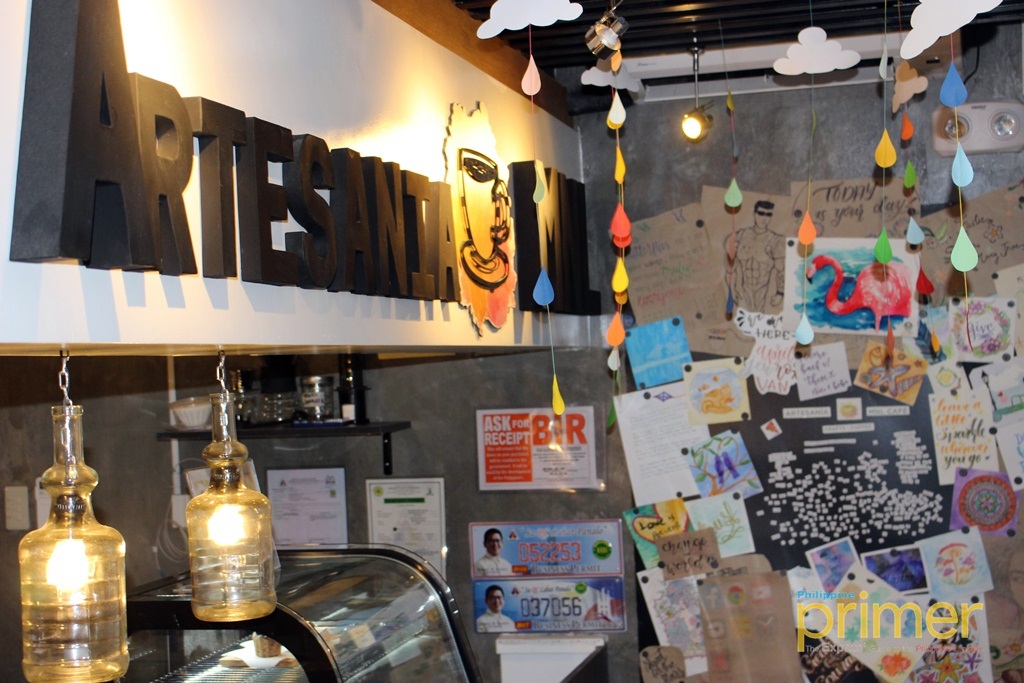 Artesnia MNL Cafe is an art haven.
Have you ever been stranded in the middle of nowhere with no place to spend a peaceful time to nurture your artistic self while tending your appetite? Go deeper inside Maginhawa Street and into Sikatuna Village, and you will find Artesania MNL Cafe that provides a very conducive space for people to make art and dine.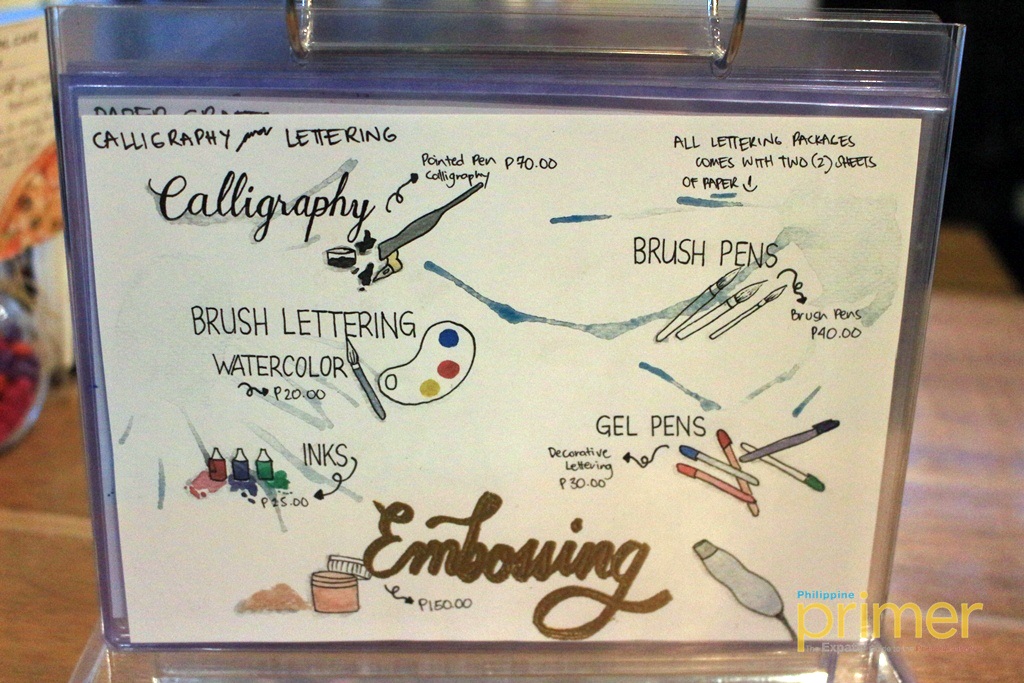 Artesania MNL has a menu for art materials!
Artesania MNL makes sure that people can make art by providing different kinds of materials at a low cost. Two of the owners, Clarissa and Elaine, themselves are happy to share some art tricks for beginners. The modest interior of the cafe is filled with artworks, sketches, and calligraphy that are truly encouraging. One whole wall painted in black serves as space for individuals to draw on depending on the theme, while another wall is filled with thumbtacked artworks by customers.
The idea behind the cafe's concept of "#ArtTambay" (art and dine) is that creating art is one of the best kinds of stress-reliever, whether you're a student or a working professional. Combine it with food and you get the ultimate de-stressor!
Even the coffee and dishes are artistically stimulating. Artesania MNL is best known for its coffee served in colorful latte art, also known as Galaxy Latte. It does not only look cute but also tastes great.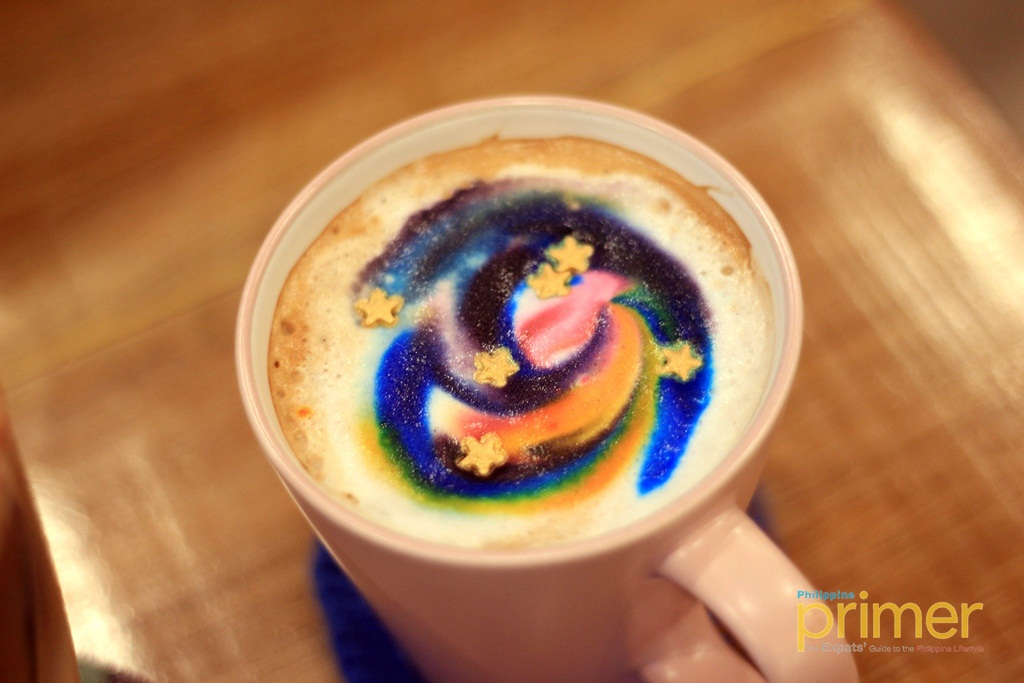 English Toffee Latte (Php 135)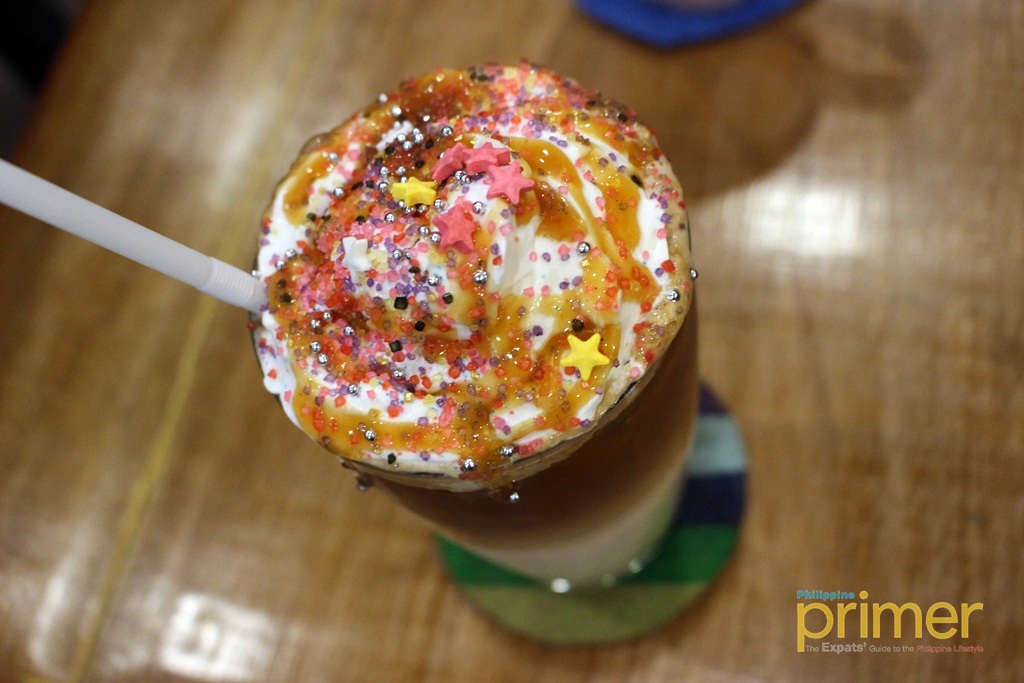 Caramel Macchiato (Php 115 – 135)
The Potato Eaters is served with colorful dips placed on a painter's palette. A word of caution: place the dip palette on the far end of your table or you might find yourself painting calligraphy with ketchup and blue cheese!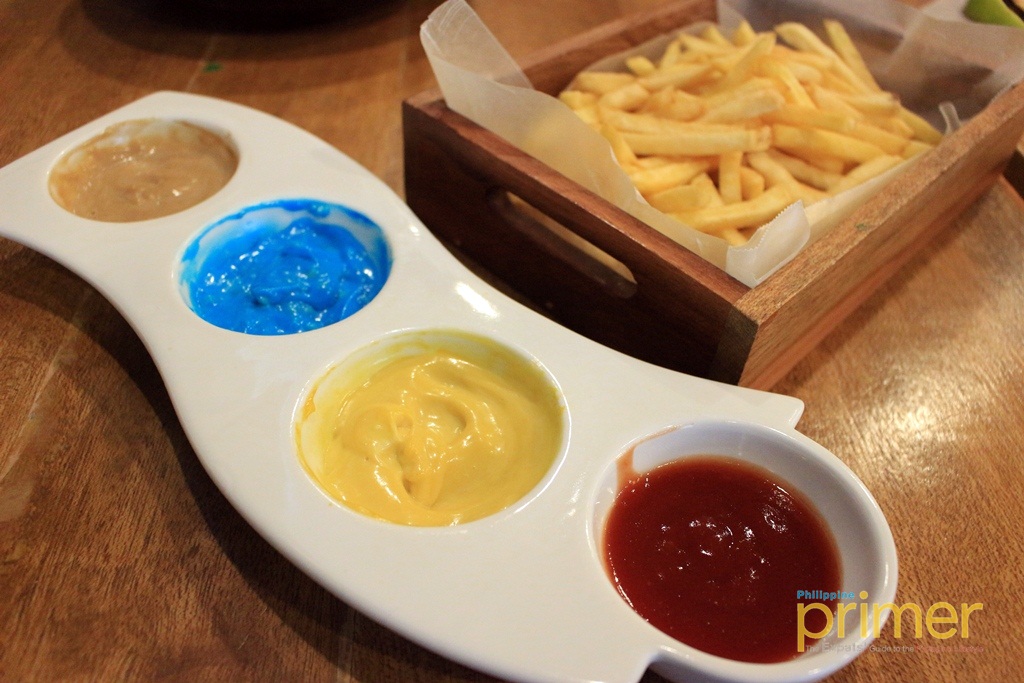 Potato Eaters (Php 185)
Another must-try in Artesania MNL is the Deconstructed Tablea Hot Choco. This delicately delicious hot chocolate requires your labor of love, and it's worth it. It is served with a cup of hot milk and a chocolate tablet on a stick, which you will dip and stir in the milk. You have to wait a few minutes for the cacao to melt, and you won't even mind. Just stirring and staring, watching the milk turn light brown is a relaxing thing to do.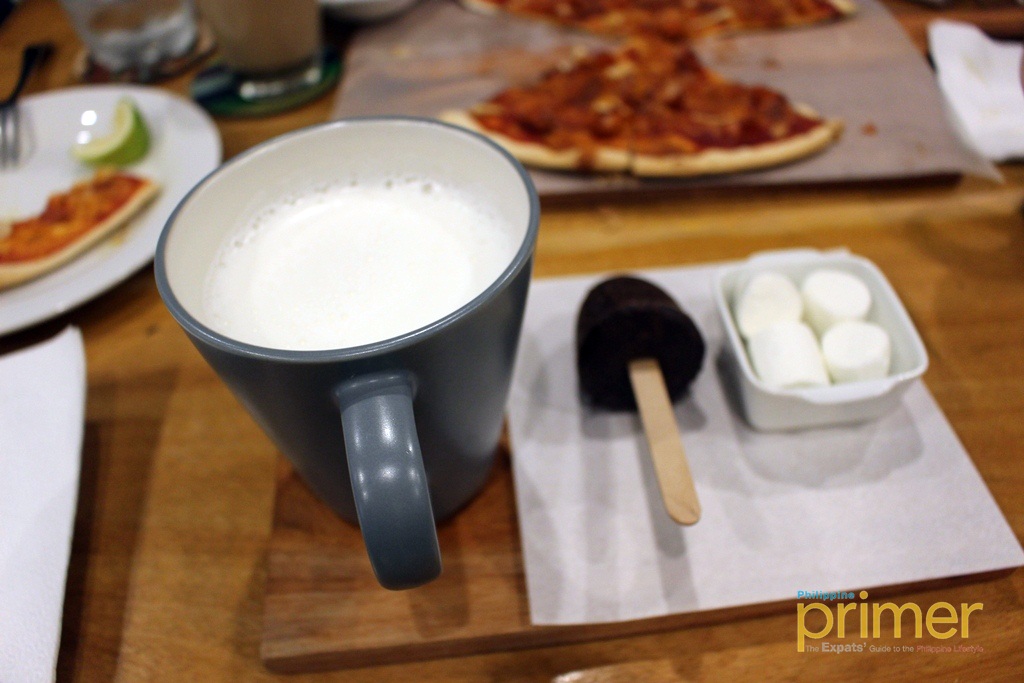 Deconstructed Tablea Hot Choco (Php 150)
Other recommended dishes to boost your creativity are Midsummer Night's Dream (lettuce, grapes, and mangoes in a honey mustard dressing), Love Me Tender (beef stroganoff pasta), and Come on Irene (garlic shrimp pizza).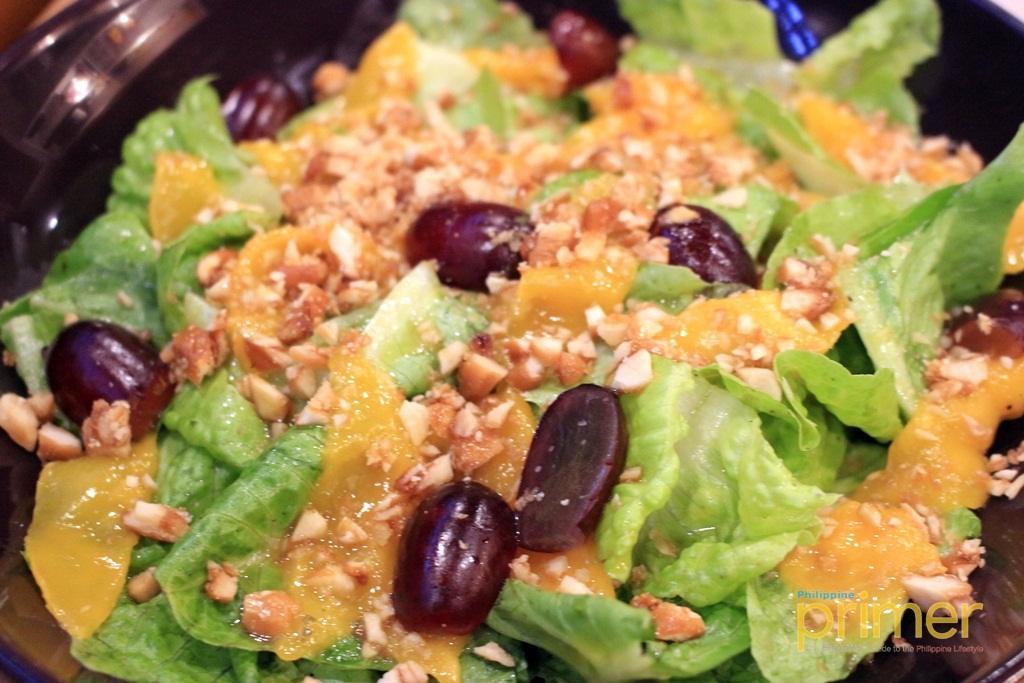 Midsummer Night's Dream (Php 245)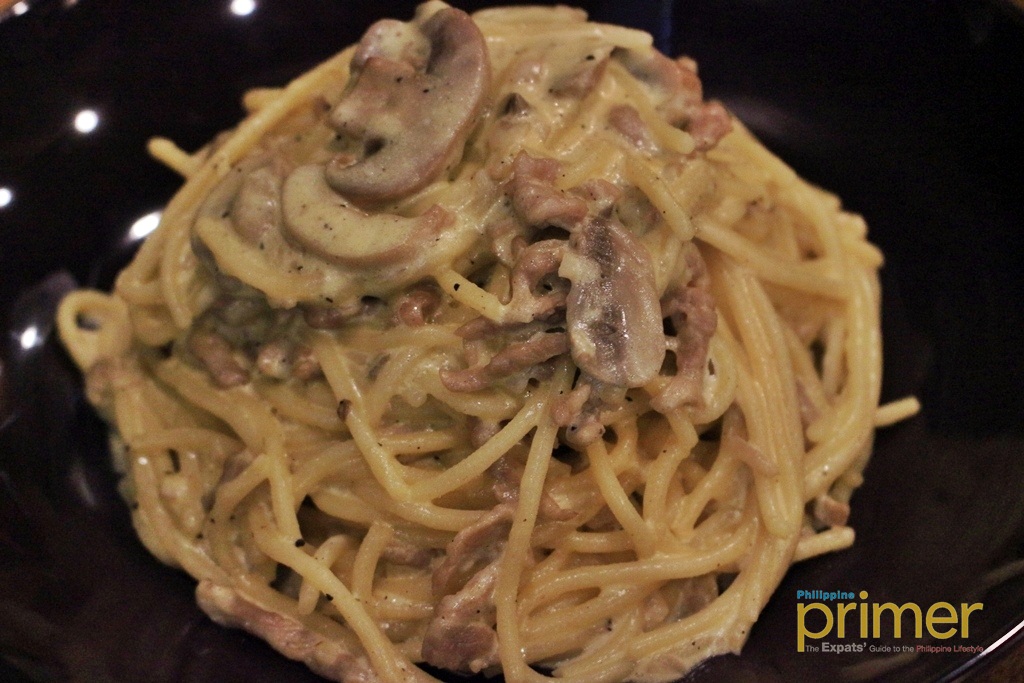 Love Me Tender (Php 290)
From art to food and coffee, this special little cafe delivers everything with a touch of art and creativity. Artesania MNL Cafe is a happy place for art lovers, foodies, and coffee lovers alike.
---
Written by: Rizelle "Rei" Leaño
General Information
2nd floor, #140 Maginhawa Street, Sikatuna Village, Quezon City
02-891-8959
11 a.m. to 10 p.m. (Tue. to Sat.), 11 a.m. to 10 p.m. (Sun.)
Mon.
artesaniamnl@gmail.com