BurgerPub in Pasig
Burgers are a dime a dozen, and you feel like they all taste the same… until you take a bite out of one of Burger Pub's delicious creations.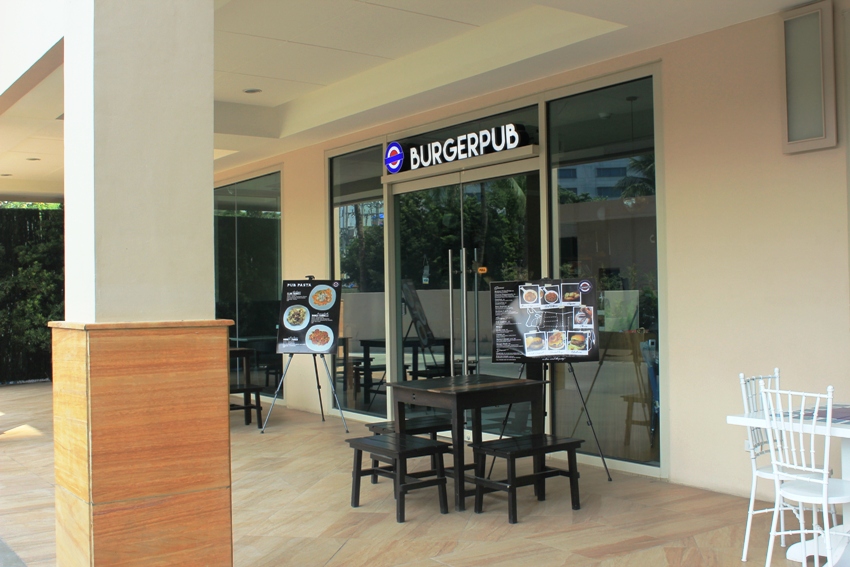 NO MUSS, NO FUSS. None of the flashy, fancy decorations you would expect out of a restaurant.
Burger Pub came out of the burger-loving minds of businessman JP Lim and his brother, Chef Richard Lim. Combining their love for burgers, music, and beer, the duo looked at something that has yet to be explored by other burger-centric establishments: a place to just hang out – eat, listen to music, and drink good beer.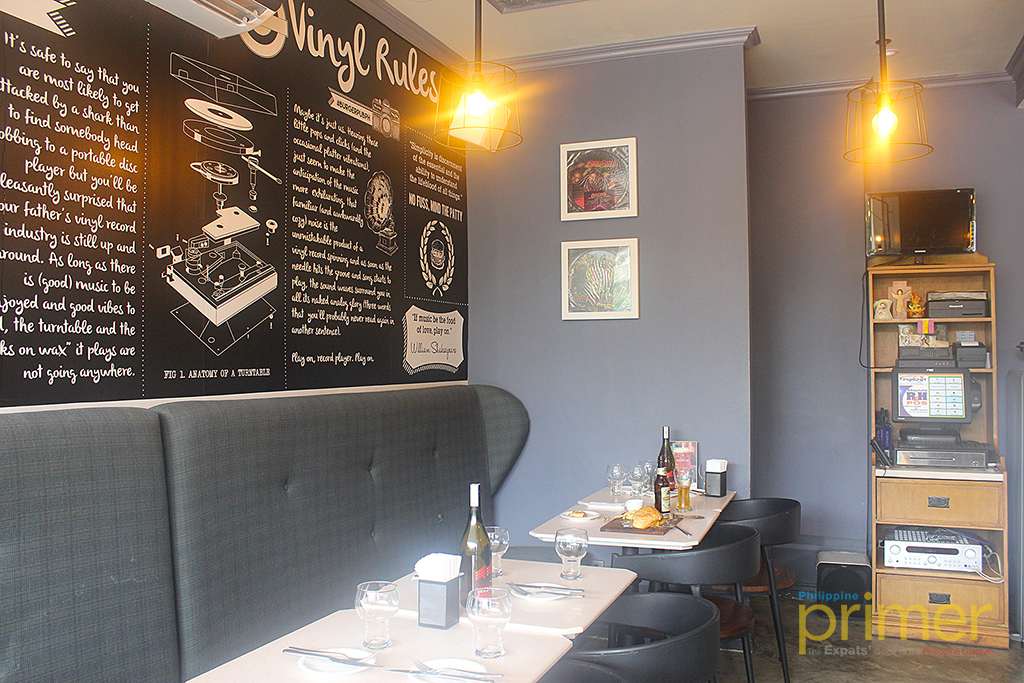 "TAMBAYAN." A term used by Filipinos to describe any place where one can hang out.
The restaurant's layout is similar to that of an English pub – a public place where you can drink any alcoholic beverage – sans the long bar table. The logo should be familiar to anyone who's been to London: it's taken from the Underground's logo.
It's not that big (it seats 20 people at most, according to JP), but it's perfect for their tambayan concept. Add walls that remind you of the good days of music and you're all set.
THE MENU. A testament to their motto: No muss, mind the patty.
"No fuss, mind the patty" is a perfect motto for this restaurant. With ingredients sourced from overseas, the owners agreed that nothing over the top (or in their case, on top) is needed for you to have a good burger. They use mostly Canadian beef for their 170-gram patties, with only salt as its seasoning. Even their fries are sourced overseas, using only the best bintje potatoes from Belgium.
The buns are freshly baked, and anything else they would use (sauce, cheese, mushrooms) are all made in their kitchen. Their Spanish sides are all prepped in-house, rounding out the delectable international menu.

BEST BURGERS YOU'LL HAVE. (L) The Bastard Burger, a particularly nasty, yet delicious combination of a 170-gram patty, crispy onion rings, Belgian mustard and ketchup @ Php 350. (R) BLEU, a simple concoction of patty + home-made blue cheese dressing @ Php 345.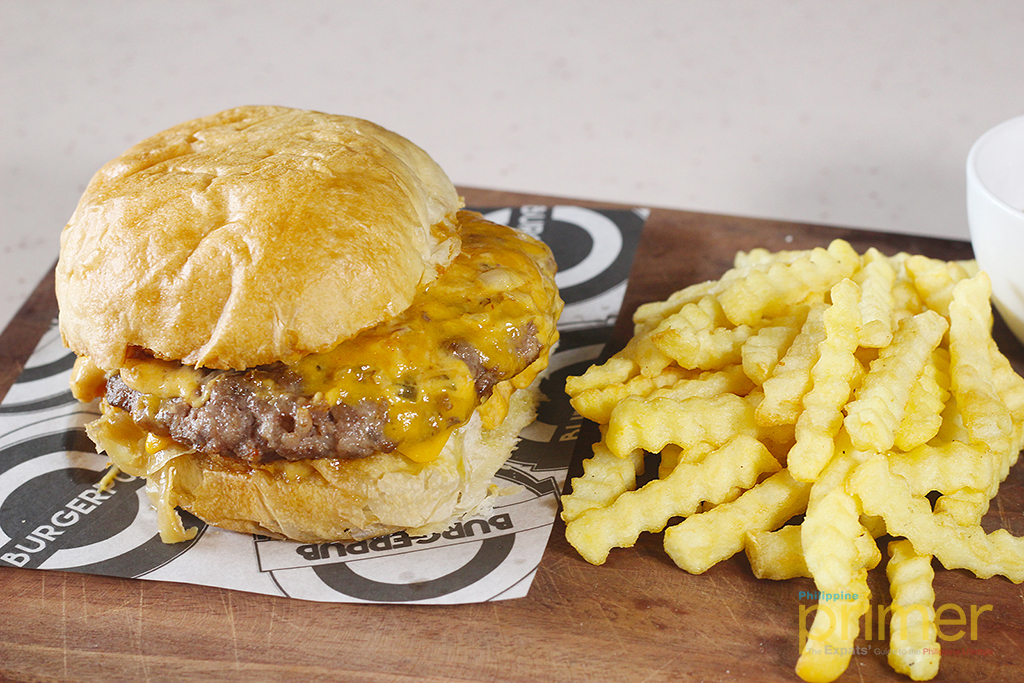 THE PUB ORIGINAL. BurgerPub's signature cheeseburger, made with 100% beef with a side of Belgian fries. Get it for only Php 345.
For first-time visitors, JP suggests getting the Pub Original (Php 345), combined with a glass of Weihenstephaner Dunkel (P110) and a serving of Churros with either a butterscotch whisky or dark chocolate dip (Php 270). For those who are a bit more daring, you can try the Bleu burger or their latest burger creation: the Bastard Burger, with a glass of Dunkel and a side order of Belgian Frites (Php 190). If, on the other hand, you have invited someone who's not keen on having burgers, fear not: Burger Pub has added pasta to their menu and, like their burgers, sides, and dessert, everything is made in-house.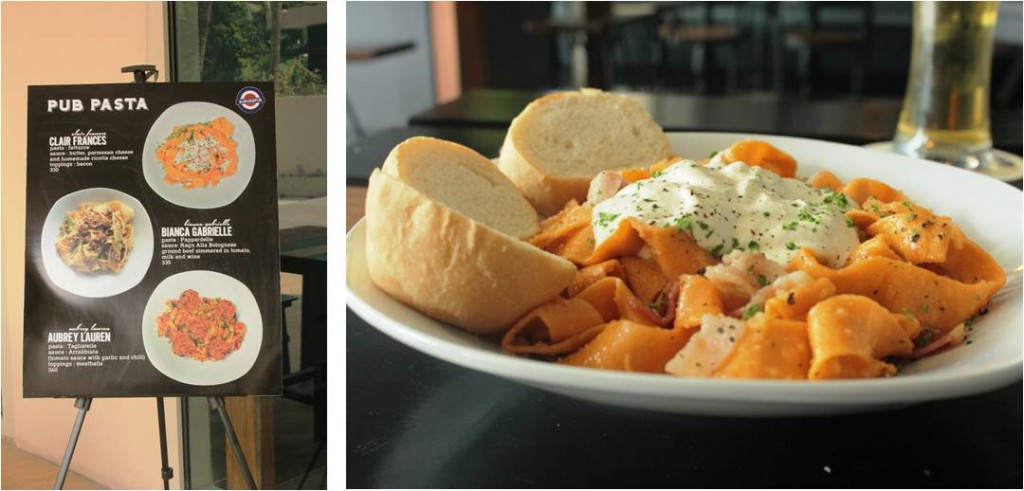 PASTA, THE BURGER PUB WAY. (L) One of their latest offerings: the Clair Frances, priced at Php 330. (R) Burger Pub's Pub Pasta menu.
Beer is something you will not miss in this pub, and with an international selection of the best ales and lagers, you can't go wrong with having a meal at Burger Pub.
Great burgers, a wide selection of beer, pasta, and some of the best music… what more can you ask for?
General Information
117 E Rodriguez Jr. Ave. (C5), Pasig City
02-966-4393
0917-630-4979
11 a.m. to 10 p.m., Sundays – Thursdays (extending until 11 p.m. Mon-Thur for drinks), and 11 a.m. to 12 m.n. Fridays and Saturdays
burgerpub@yahoo.com
Burger Pub Unit 101, The Grove by Rockwell