Blue Wonder Coffee and Bean Roastery: A Specialty Coffee Shop in Pasig
For caffeine-dependent people, coffee is a crucial beverage that enables them to survive any day. A cup of joe gives them the capability and energy to do all things feasibly at work. If you're a coffee lover, you probably know a lot more coffee facts. If not, well, Blue Wonder Coffee & Bean Roastery, a specialty coffee shop we have just discovered along C5 in Pasig, will definitely fulfill your naive thinking about coffee.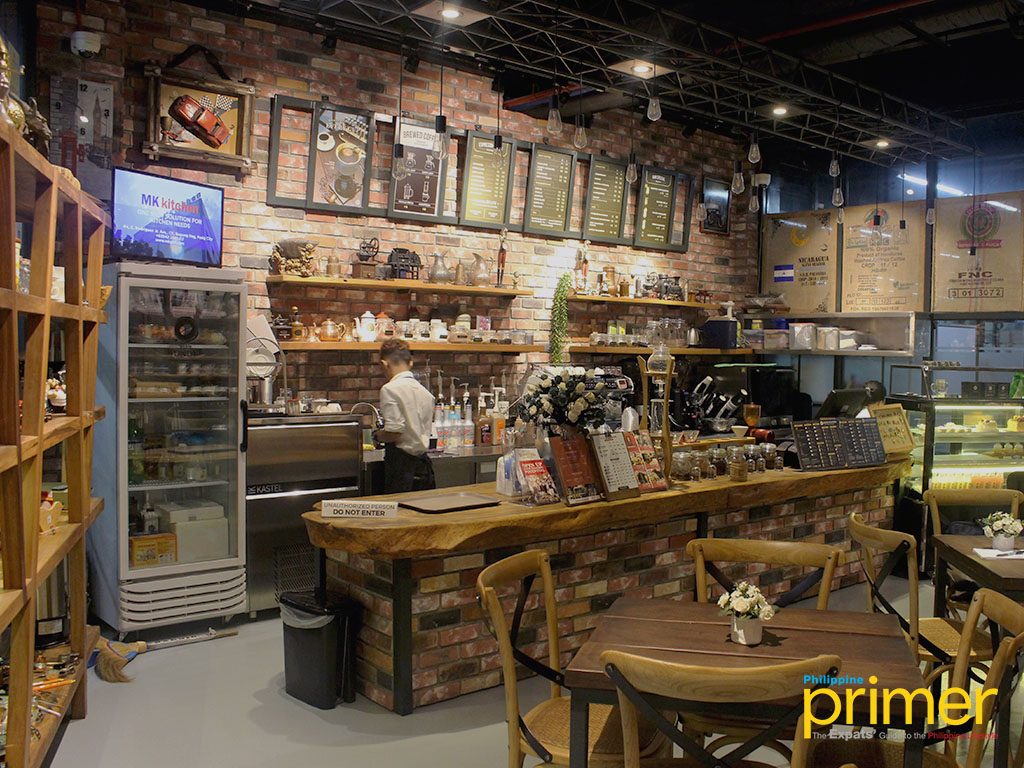 Your stay in Blue Wonder will feel like you're in a museum
Blue Wonder was formally opened in December 2016. It's a kind of cafe that will deeply entice your inner addiction to coffee like how its aroma will excite you. This shop was derived from the idea that "Coffee is a wonder from the water," like how Jesus turned water into wine. It, thus, emphasizes that drinking coffee is a wonderful thing you can do on any given day.
With its museum-like place—from the decorations, memorabilia, to the special services a typical cafe does not offer—all these collaboratively make the cafe worth a visit.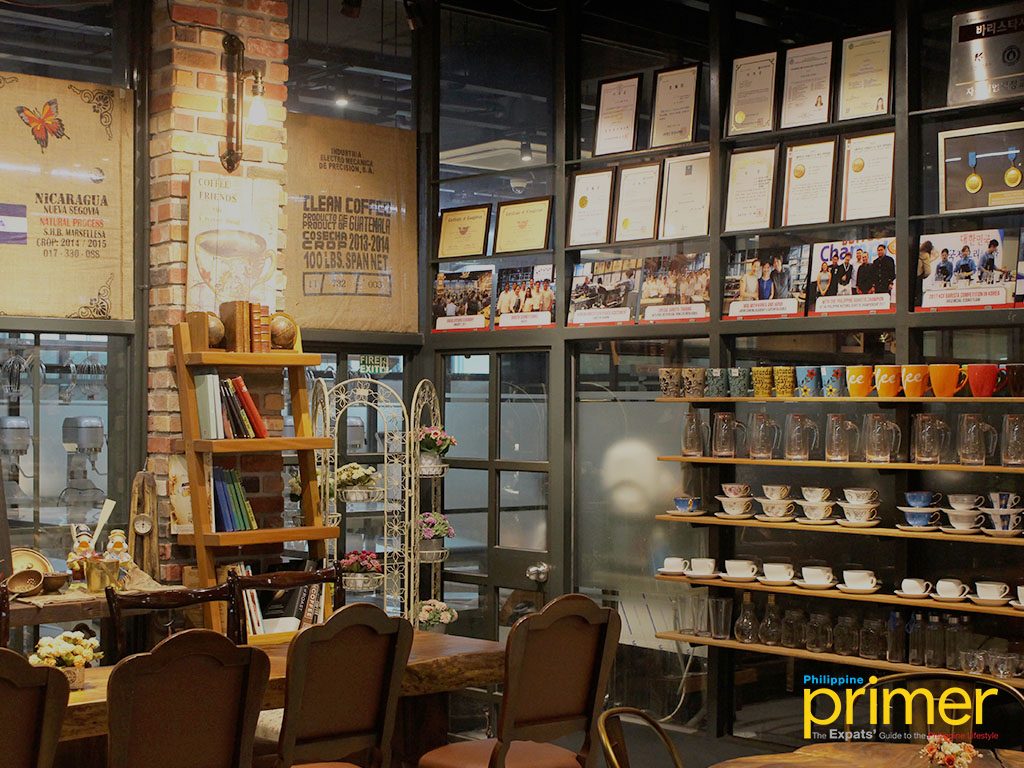 You can buy products and equipment inside, all from MK Kitchen, their partner company
What makes Blue Wonder relatively exceptional is that it offers third wave coffee, presenting the best premium blended beans and single origin from different countries. To make sure that the beans are fresh and properly preserved, they always roast it and pack in a one-way valve. Once you order, they will let you choose from a variety of beans coming from Kenya, Guatemala, Colombia, Brazil, Ethiopia, Philippines' very own Sagada, and a lot more imported ones—which may be bought in-store starting from Php 150.
Interestingly, you can select how your desired coffee would be manually brewed. It could be done in four ways: Kalita Drip, Hario Drip, French Press and AeroPress, all for Php 110. It would be much better to watch the barista show you how brewing is done so you can enjoy doing it yourself on your next visit.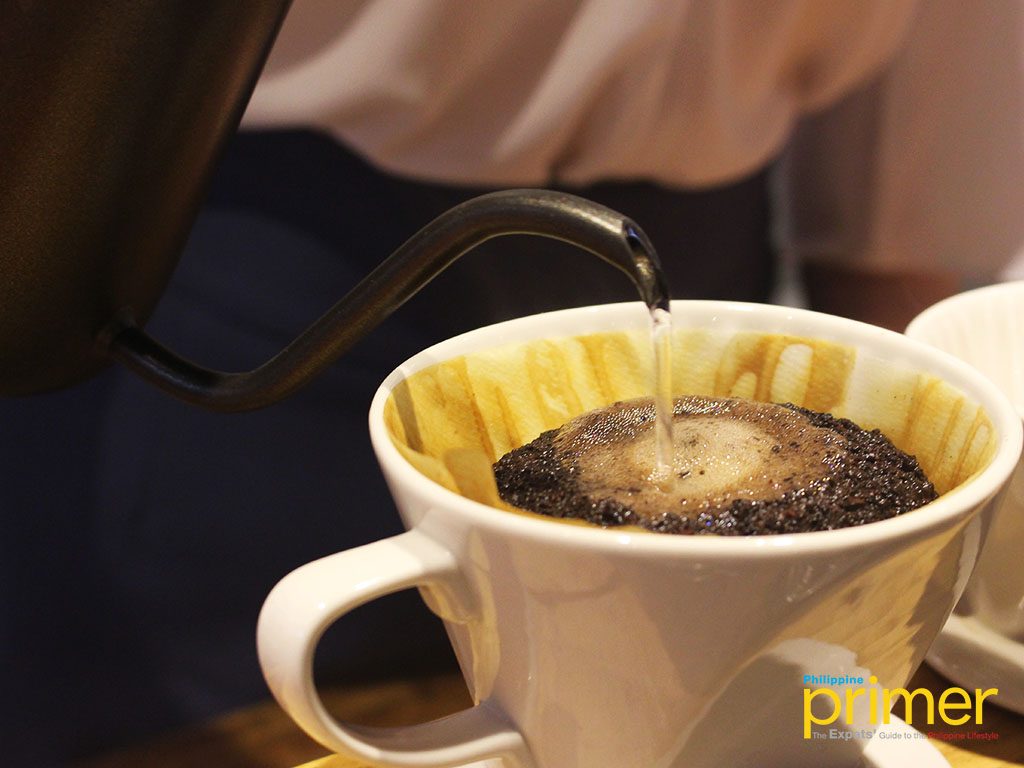 Brewing using the Kalita drip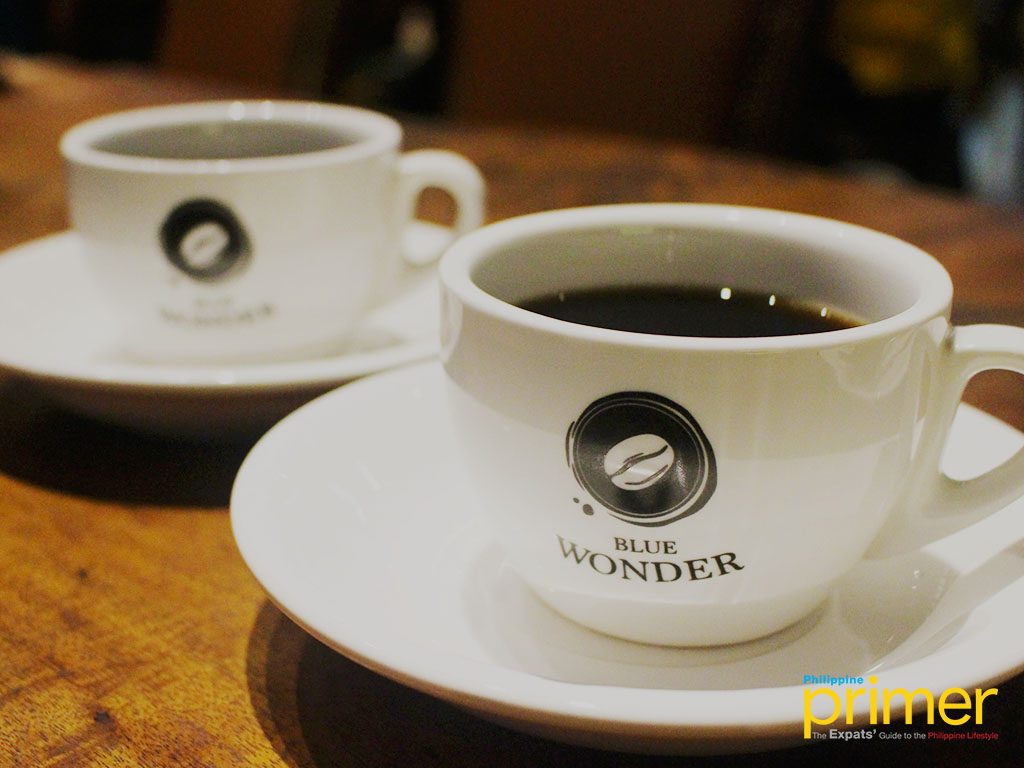 These were brewed using the Kalita and Hario drip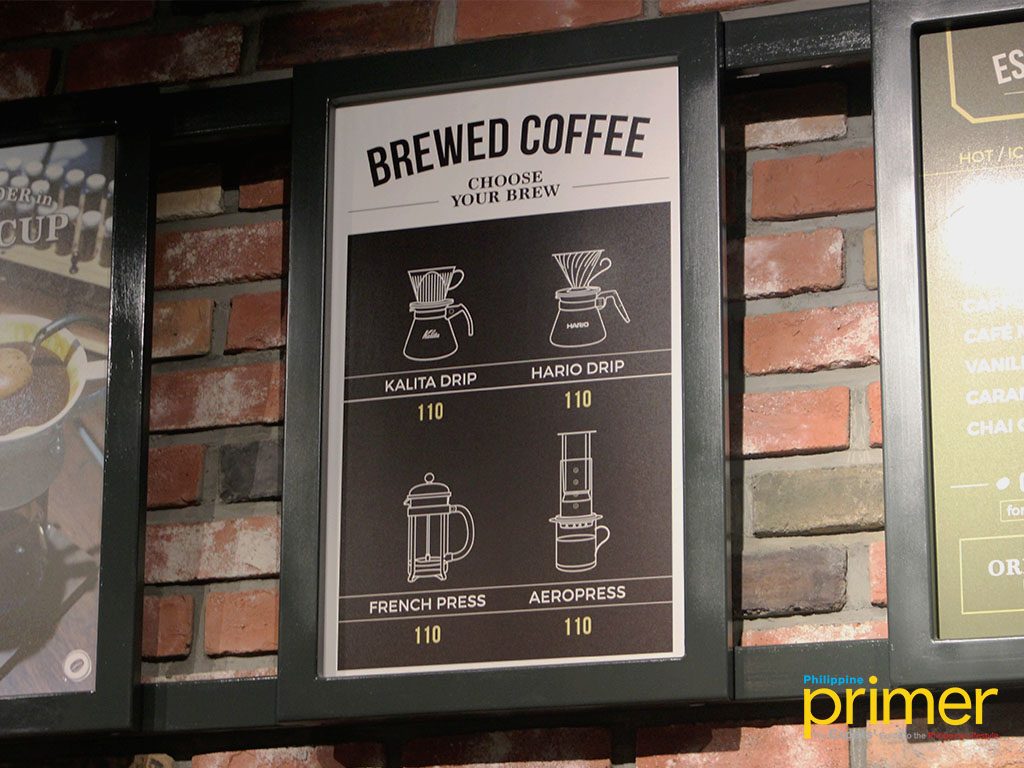 You can choose your brew at Blue Wonder
Looking for sweets? You should try their Strawberry Waffle (Php 200), for a perfect pair with your coffee. Banana Caramel and Chocolate flavors are also available.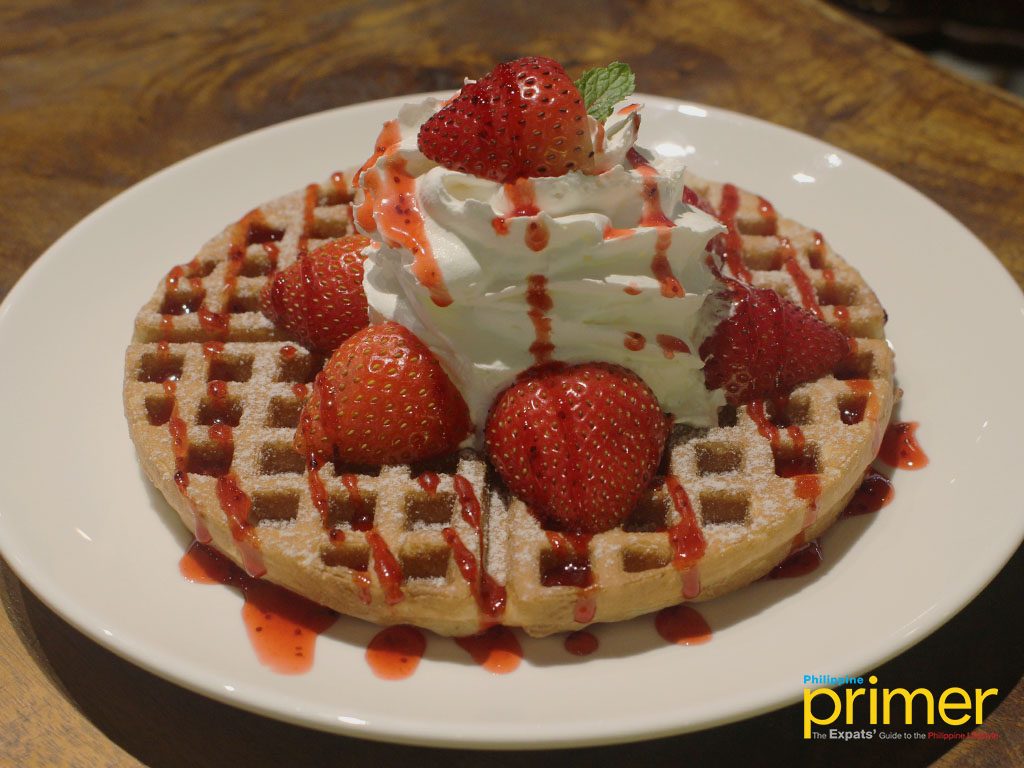 Strawberry Waffle (Php 200)
If you love macarons, theirs would surely become your most favorite. Using an original recipe, you, perhaps, would not just take a bite but would rather savor all flavors of Strawberry, Vanilla, Coffee, and Lemon for Php 50 each. The Cheese (Php 60) and Chocolate (Php 70) muffins are also some of the treats you must try that go perfectly well with the strong and smooth taste of the coffee. Teas, smoothies, and other special beverages are offered as well.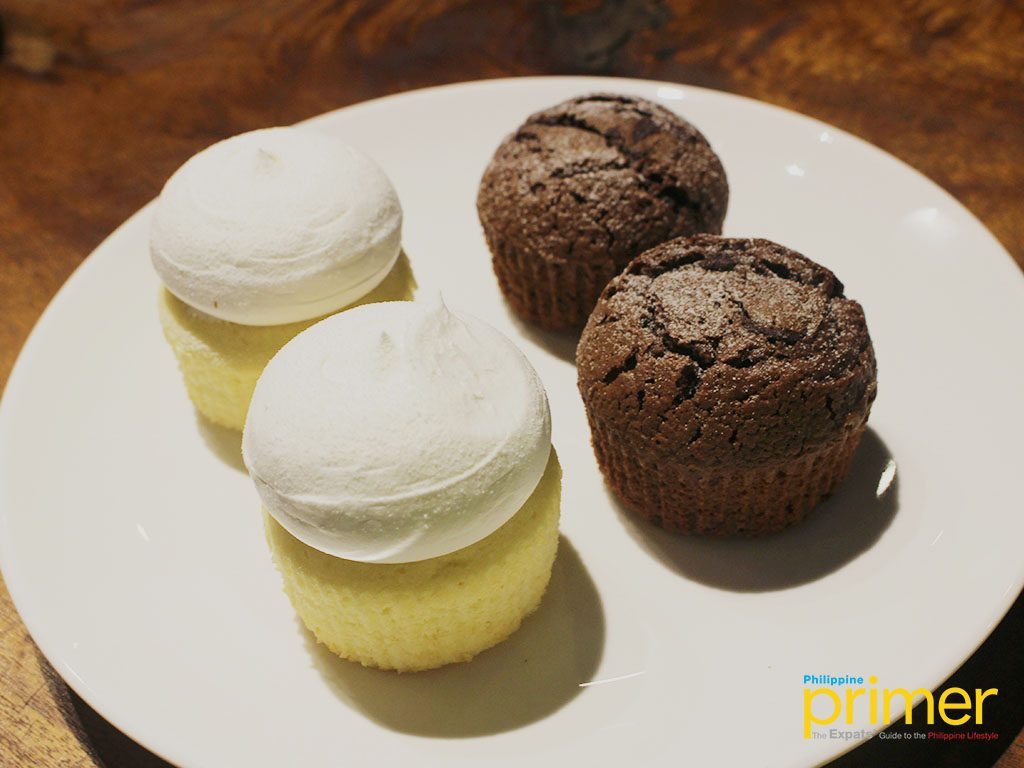 The Cheese (Php 60) and Chocolate (Php 70) muffins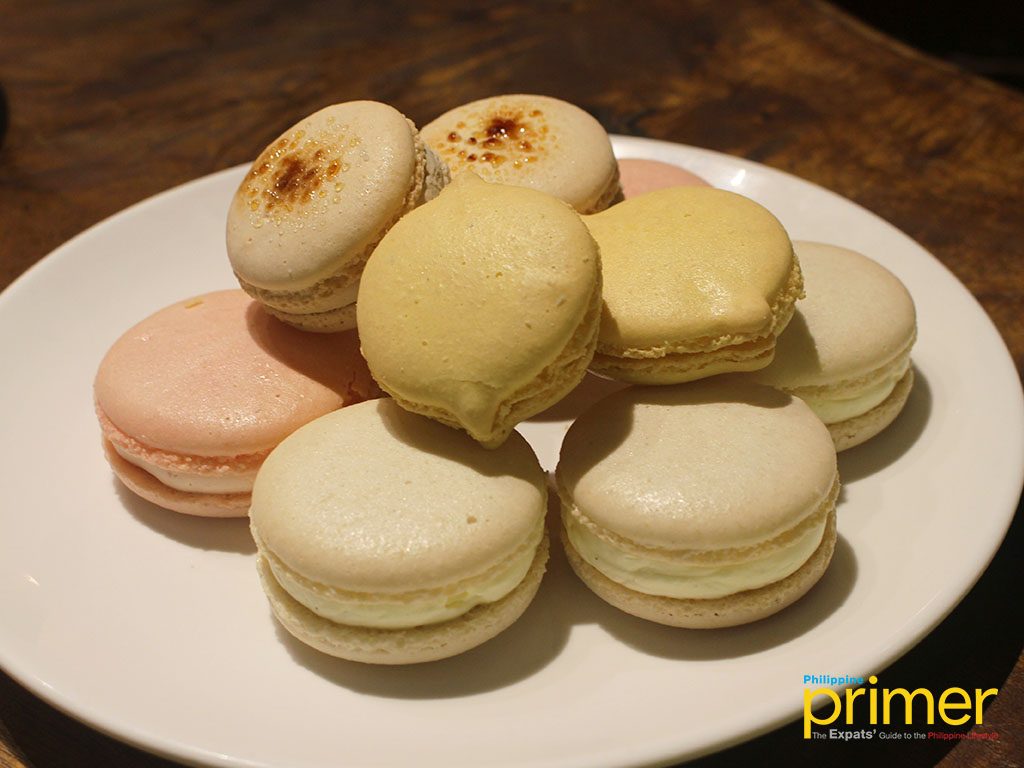 Blue Wonder's tasty macarons
Did you know could learn valuable knowledge from Blue Wonder? This is if you choose to enroll at the cafe's partnered school, the Cooko Academy.  Located at the same building as Blue Wonder, it was opened to help aspiring coffee enthusiasts to master the art of coffee making by providing world-class facilities and top class espresso machines and beans from all over the world.
Aside from the simple brewing you may learn inside the shop, you would get to know different coffee fundamentals and professional barista skills as well as skills related to culinary and bakery. The school is accredited by the Technical Education & Skills Development Authority (TESDA) in the Philippines and the Korean Cooks Federation. They also conduct workshops.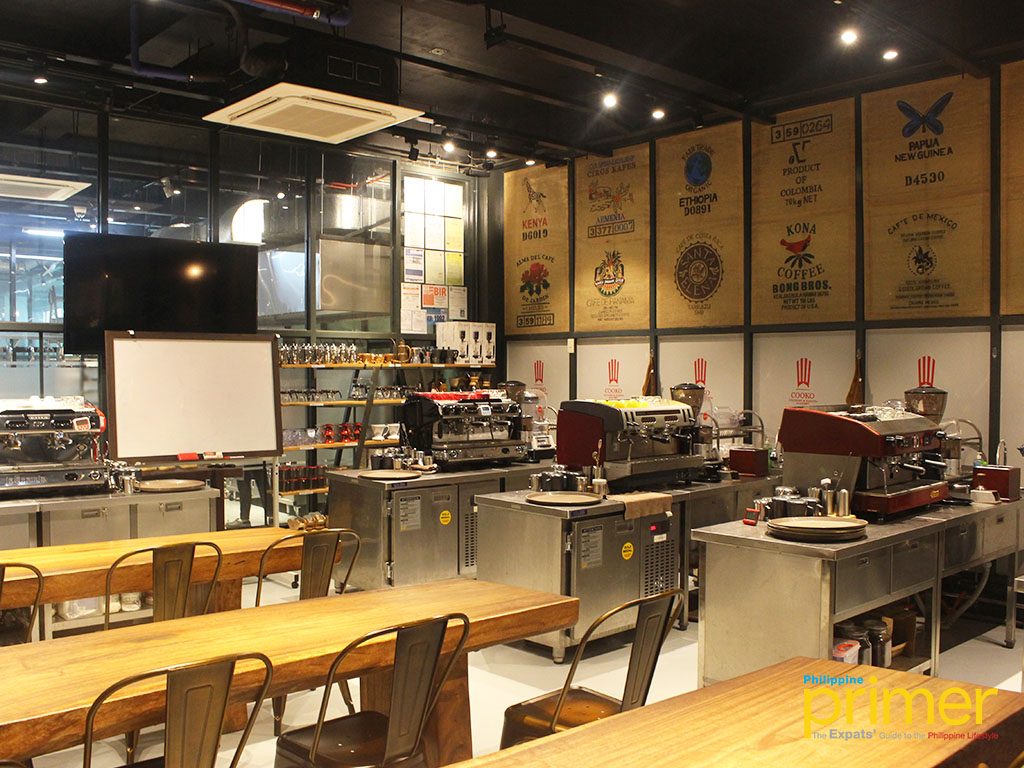 Barista Lab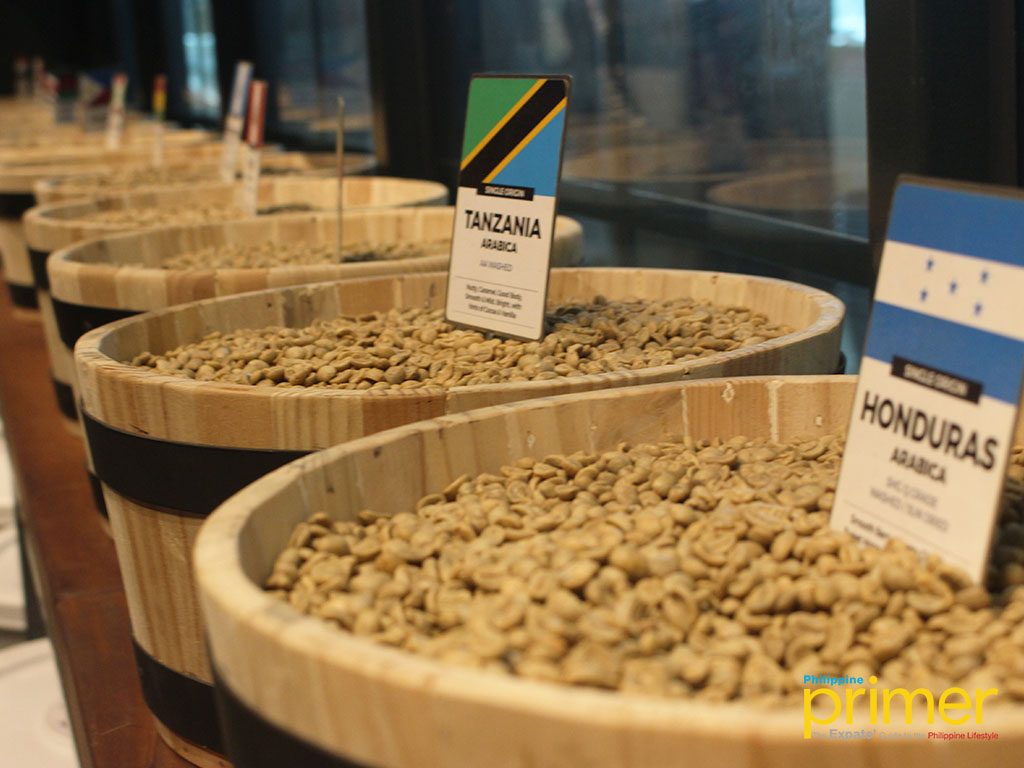 They source their beans from different countries
You must think now because your one-time visit to Blue Wonder may turn to a memorable experience.
Visit Blue Wonder Coffee and Bean Roastery at #4 E. Rodriguez Jr. Ave., Brgy. Bagong Ilog,C5, Pasig. It is open from 9:00 a.m. to 5:00 p.m. (Monday to Saturday). For more details about the school, go to www.cookoacademy.ph.
---
This also appears in Philippine Primer Japanese Magazine's September 2018 issue.
General Information
2/F, #4 E. Rodriguez Jr. Ave., Brgy. Bagong Ilog,C5, Pasig
02-535-7825
0917-146-6803
9:00 a.m. to 5:00 p.m. (Monday to Saturday)
Sundays