Chibo at S'Maison: Japan's best okonomiyaki is now in the Philippines! (CLOSED)
Update: Chibo Okonomiyaki in S'Maison, Conrad Manila is now permanently closed. 
You can now get a taste of Osaka's famous okonomiyaki as Chibo Okonomiyaki Restaurant, one of Japan's leading okonomiyaki restaurants, has landed on our shores!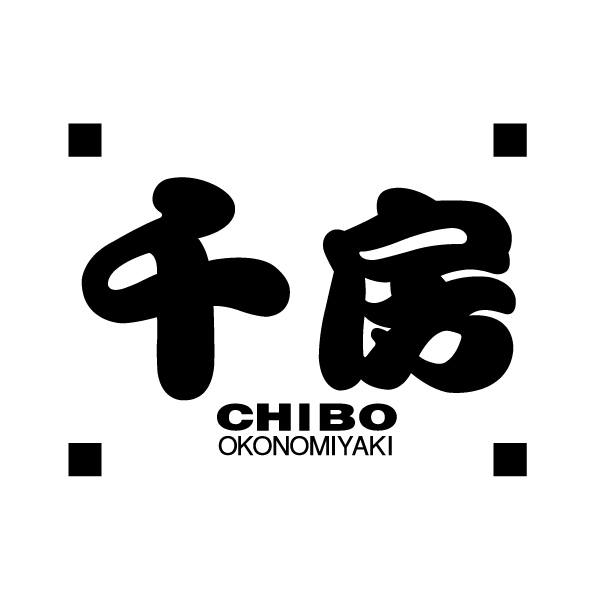 JAPAN'S BEST. It's been said that Osaka okonomiyaki is one of, if not the best in Japan. Chibo Okonomiyaki specializes in Osaka okonomiyaki, so expect no less than the best. Logo courtesy of Chibo Okonomiyaki Facebook page.
Chibo was founded in 1973 at Sennichimae in Osaka, Japan, a district known for gourmet eateries. The name comes from the flag mark of Hideyoshi Toyotomi, a 16th century Japanese warlord, and the man responsible for building Osaka Castle.
They've long been considered the king of okonomiyaki in Japan, pioneering an okonomiyaki-teppanyaki restaurant that has been regarded as the best in Osaka. With over 63 stores all over Japan and several more overseas, they're now brining the best okonomiyaki in Japan for Filipinos to experience.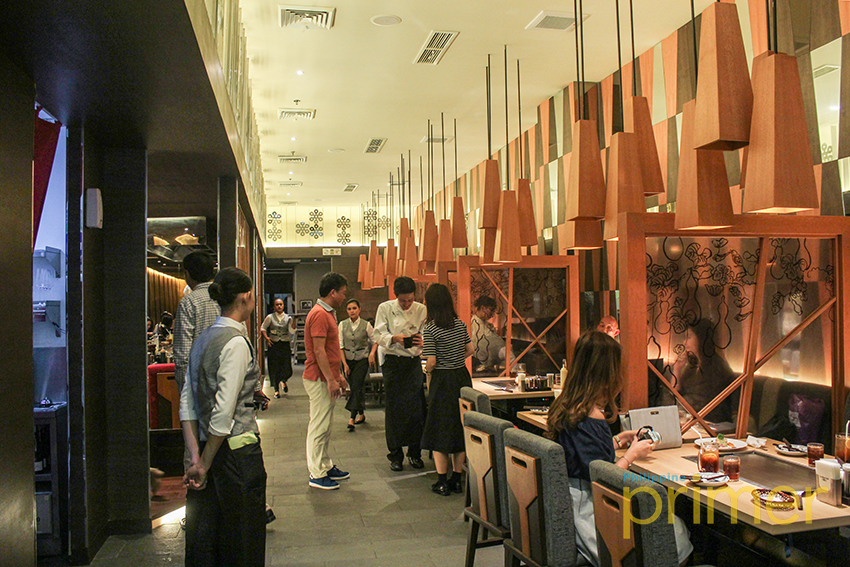 CASUAL DINING. The restaurant feels like a Japanese casual dining spot, complete with tables that had teppan warmers on them.
JUST LIKE IN JAPAN. This is the usual set-up for okonomiyaki and teppanyaki restaurants in Japan.
Chibo Okonomiyaki Philippines held a media preview last June 13 at their S Maison branch. It was graced by publications read by the local Japanese expat community. On hand were Mr. Kenji Komuro, who brought Chibo outside Osaka and into the Philippines, and David Guevarra, operations manager for Chibo Okonomiyaki Philippines.
Guests were treated to okonomiyaki the likes of which Filipinos may have only seen in Japanese movies or anime. Chibo certainly brought their A-game, brining some of their best creations along with their chefs to their first Philippine branch.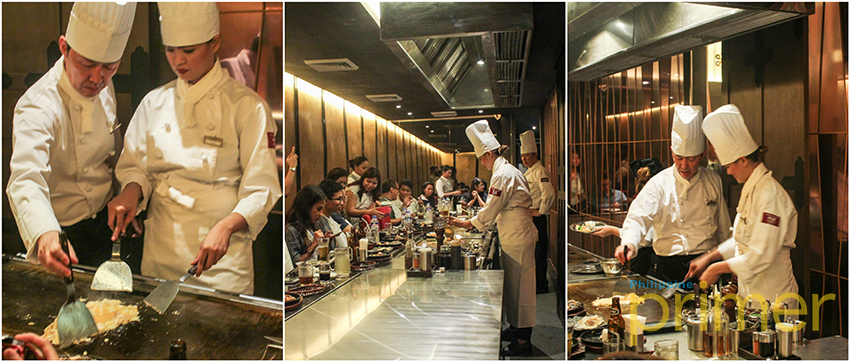 NO STONE UNTURNED. One of Chibo Japan's chefs made the trip to personally oversee the kitchen during the media preview.
The restaurant was full of guests who had nothing but love for okonomiyaki. Guests who managed to come in early were given seats in the Teppan showcase area. They saw first-hand how okonomiyaki and teppanyaki were prepared much like they would in Japan.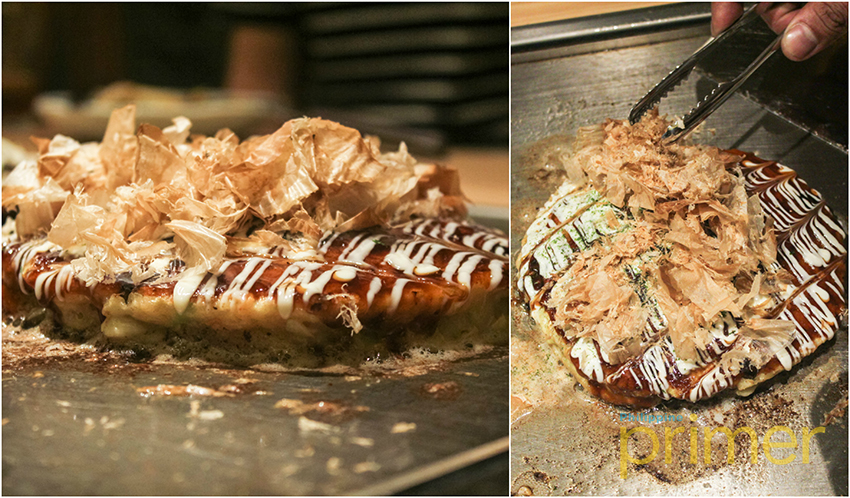 OSAKA CLASSIC. The Butatama Okonomiyaki (P190) is perfect for anyone who's not familiar with okonomiyaki.
For the uninitiated, they've brought their basic, yet oh-so-delicious Butatama Okonomiyaki. This is Osaka's classic okonomiyaki with pork. According to Mr. Komuro, it's perfect for anyone who wants to experience okonomiyaki.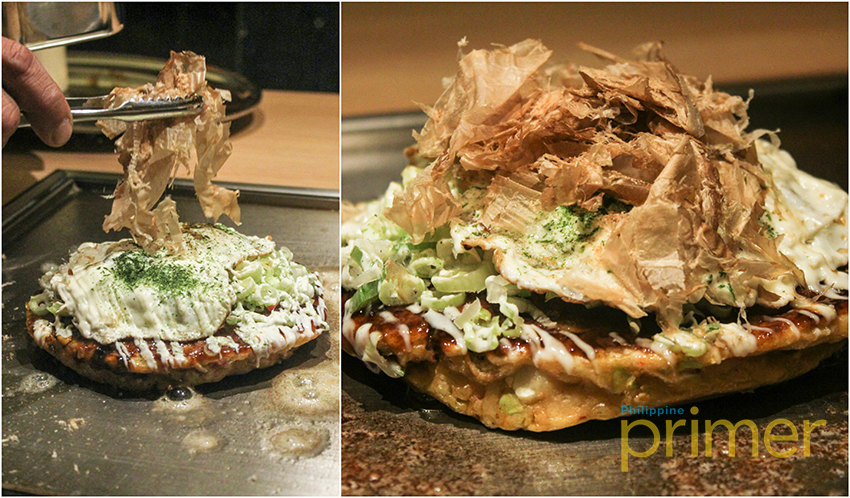 A RARE TREAT. The Stamina Okonomiyaki (or Staminayaki) is a great way to have your fill without the guilt. Pork + Kimchi = more stamina. Yours for only P230.
One of their more unique creations is the Stamina Okonomiyaki. A combination of ingredients believed to increase stamina make up this okonomiyaki, some of which include pork and kimchi.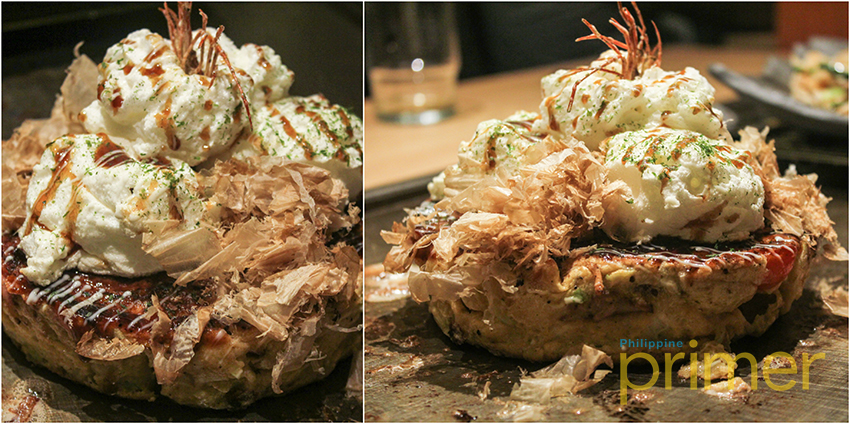 POTENTIAL BEST-SELLER? Only time will tell. The Shirayukihime (P430) is the highlight of their menu. It's a textured okonomiyaki, combining soft dough, fluffy meringue, and ingredients that's yet to be seen in other restaurants.
The belle of the ball for Chibo Okonomiyaki Philippines would be their Shirayukihime. This textured okonomiyaki is meatier than usual. Imagine all of these in one okonomiyaki: prawn, bacon, pork, tomato, avocado, and cheese. Pop 4 puffs of meringue and a prawn's head and you have something that's delicious and photo-worthy at the same time.
If you want to experience Japan's best, then head for Chibo Okonomiyaki, located at the second floor of S Maison, Conrad Manila, Seaside Blvd. cor. Coral Way, Mall of Asia Complex, Pasay City. They'll be open to the public on June 15, operating from 10 a.m. to 10 p.m.
For reservations, please call 02-898-3333. Want to know more about Chibo? Visit www.chibo.com or follow them on social media: Chibo Okonomiyaki Philippines on Facebook and @chibookonomiyakiph on Instagram.

2/F, S Maison, Conrad Manila, Seaside Blvd. cor. Coral Way, Mall of Asia Complex, Pasay City