Taverna Agape in El Nido, Palawan Is a Beach-Front Greek-Inspired Restaurant
It may come as a surprise to some that there's a Mediterranean inspired restaurant hidden in the town of El Nido in Palawan. But we found this Greek-inspired beach-front and sister restaurant of Trattoria Altrove named Taverna Agape, quietly tucked along the busy streets of Calle Hama in El Nido town.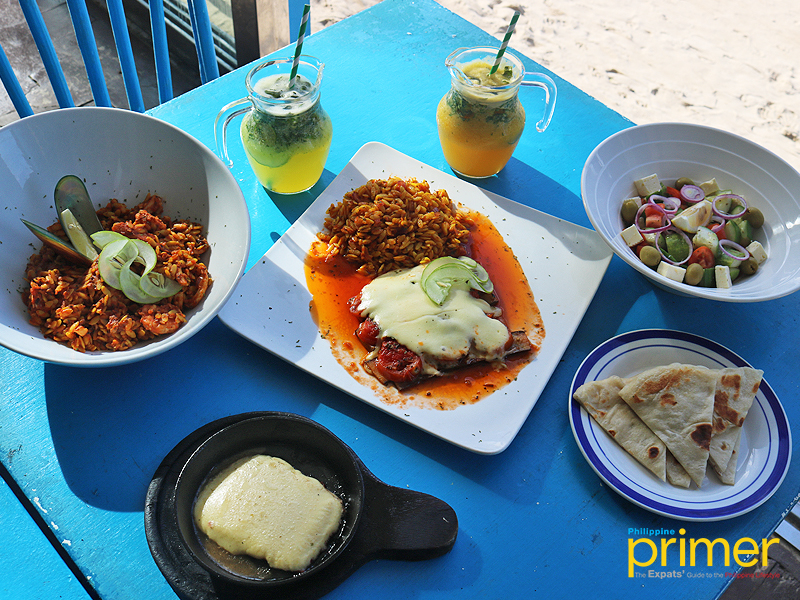 Inside, you'll be greeted by the flashing blue and white interiors, resembling the simple and functional homes in Greece—not to mention that the walls and the ceiling are accented with house plants giving that natural aesthetic similar to Greece.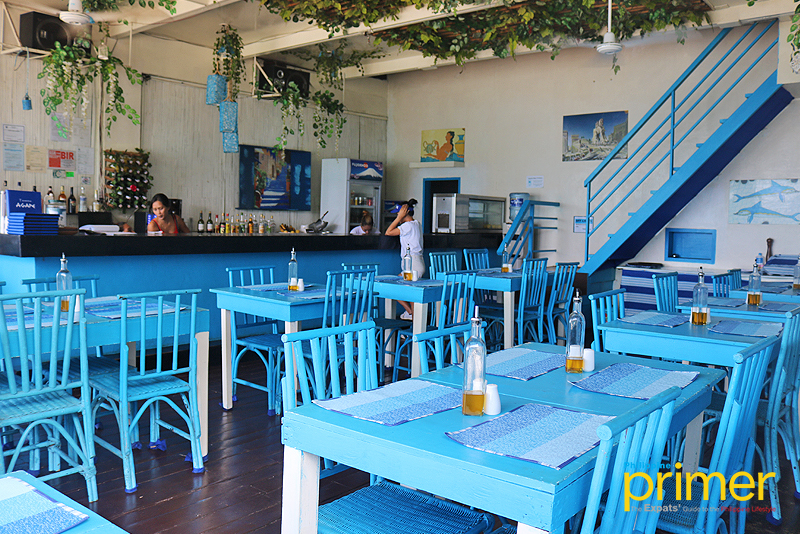 Their menu is mostly Greek and highly inspired by Mediterranean dishes. For starters, try out the flaming fried cheese Saganaki (Php 150) served with home-made pita. Oh, and when we said flaming, we really meant it.
Waiters usually light up the hot plate with flame while shouting the Greek-expression or cheer "opa" right before serving it.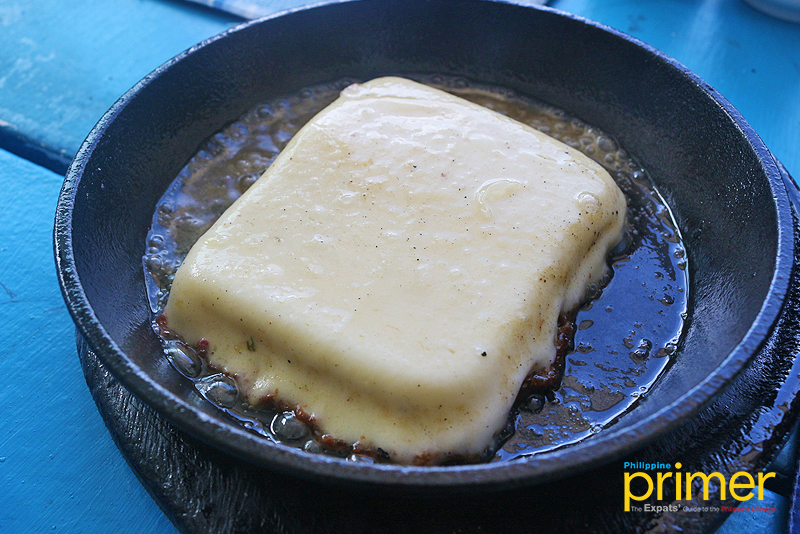 Saganaki (Php 150)
Since Greek cuisine is mostly healthy plates of greens, one not to miss out is their Greek Salata (Php 250) tossed in olive oil and lemon juice.
This freshly served healthy bowl has cucumber, tomatoes, onions, and olives with feta cheese that perfectly balances the tanginess coming from the vegetables.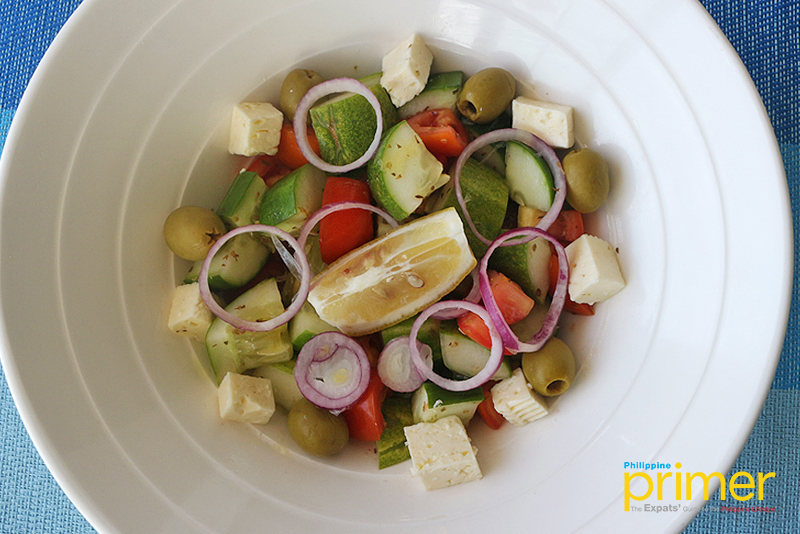 Greek Salata (Php 250)
If you're specifically looking for vegetarian options, they have Melitzanes Papoutsakia (Php 300), a plate of fried eggplant topped with tomato slices, and mozzarella cheese. This is also served with orzo pasta also known as risoni or pasta shaped like a large grain of rice.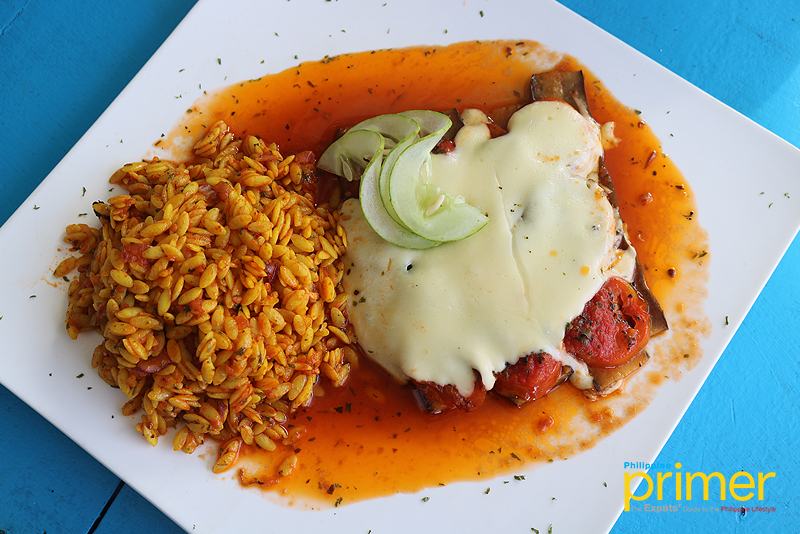 Melitzanes Papoutsakia (Php 300)
If you're not a big fan of vegetarian options, might as well try one of their main and best-selling dishes, the Bourani (Php 380), a Greek paella made with orzo pasta, fresh shrimp, squid, and mussels.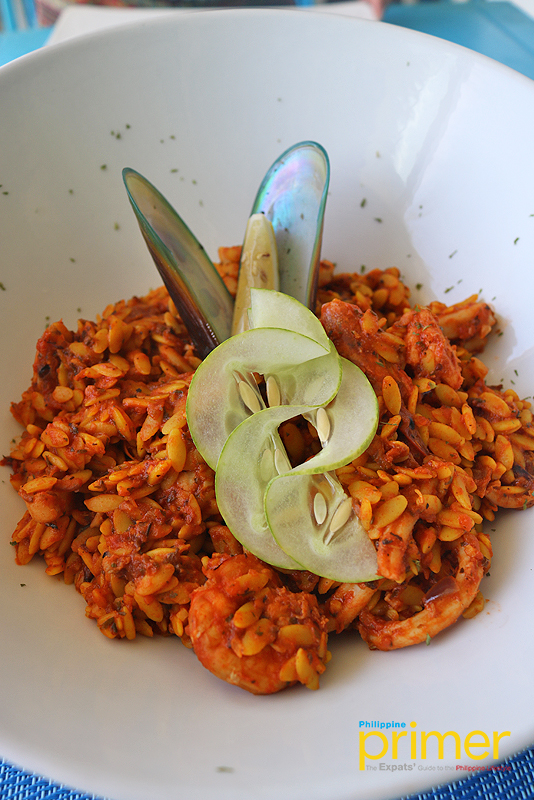 Bourani (Php 380)
Finish off with a good glass of cocktails like the Basil Cucumber or Basil Mango Mojito (Php 200/glass).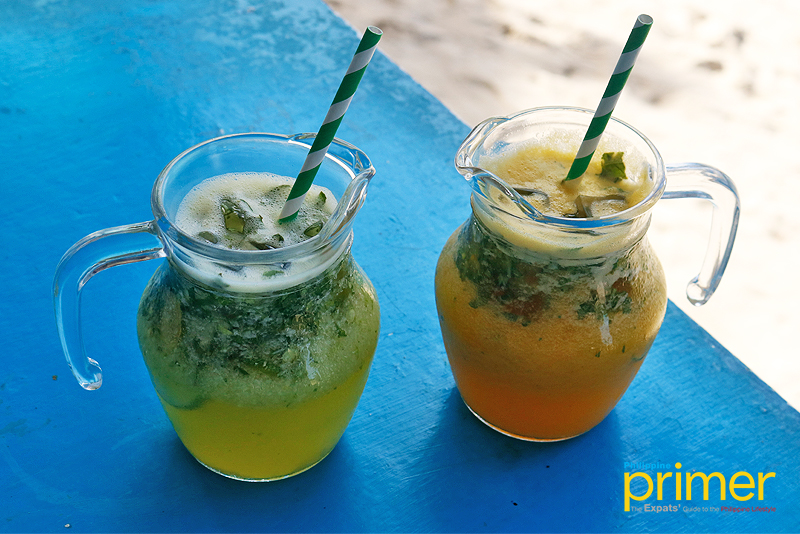 Basil Cucumber or Basil Mango Mojito (Php 200/glass)
How to get here:
From El Nido Municipal Hall, walk towards Real St., before turning left to Osmeña St. Then take the Calle Hama Street on the left. Taverna Agape is on the right side with a small pathway going inside the restaurant.
Store Information
Hama Street, Barangay Buena Suerte El Nido Palawan
11 a.m. to 11 p.m.
Restaurant Menu
You can scroll the image left and right.