Kobe Jones in Makati Combines the Best of the East and West in Fine Dining
Kobe Jones, a contemporary, East-meets-West restaurant serving a whimsical repertoire of cuisine, wine, cocktails, and sake located in Salcedo Village, Makati, is Chef Tom Hines' latest concept.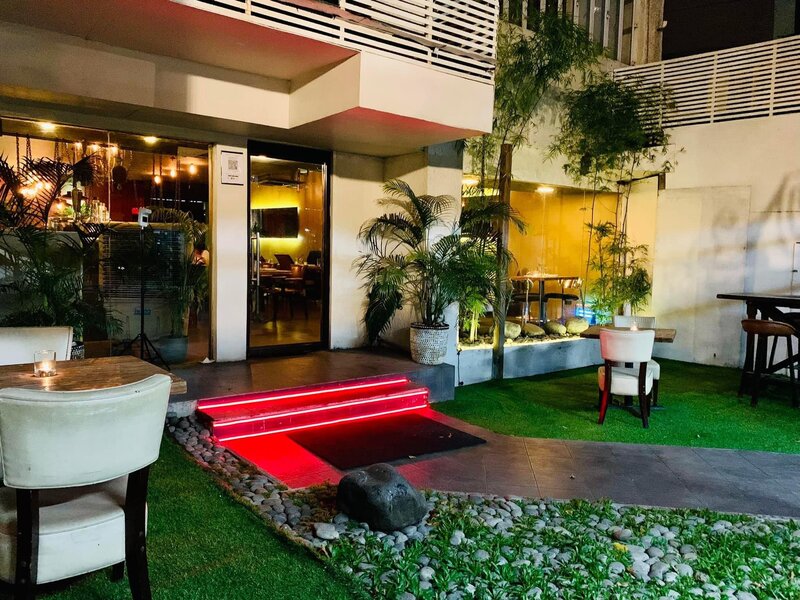 Kobe Jone's subtle lighting sets the mood for the ideal dinner date / IMAGE from Kobe Jones Facebook page
A seasoned veteran with 30 years of experience in the food and beverage industry, Chef Tom started his culinary journey in his home country, United Kingdom, where he was trained in classical French cookery. In 1994, he went to Hong Kong and worked for JW Marriott Hotel. After two years, the budding chef moved to the Philippines where he truly blossomed into the seasoned veteran that he is right now.
The maestro at work / IMAGE from Kobe Jones Facebook page
25 years of hard work in the most prestigious restaurants, bars, cafes, and hotels in the Philippines later, Chef Tom opened his latest offering to the local dining scene: Kobe Jones.
Here, you will find a modern-looking, low lit interiors with black leather seats and complimenting fixtures, perfect for your next celebration.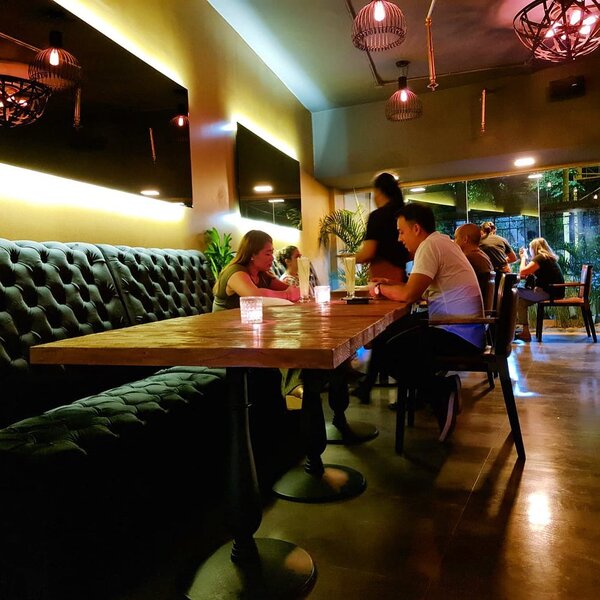 Great food and place demand equally great company / IMAGE from Kobe Jones Facebook page
While the food at Kobe Jones takes inspiration from Japanese and European cuisines, Chef Tom says that dish remains original with a contemporary twist, meaning it's not a fusion restaurant. It only serves the best of eastern and western cooking showcased individually.
The restaurant also has a sushi master–with 18 years of experience working for the best restaurants in the country–specializing in premium seafood caught from sustainable sources of international and local fishes.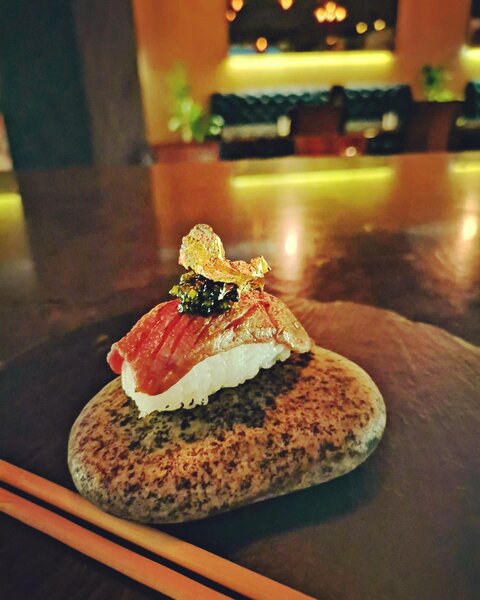 If this sushi doesn't scream class and luxury, I don't know what will / IMAGE from Kobe Jones Facebook page
Meat lovers with a penchant for premium high-quality steak are in for a treat at Kobe Jones. Chef Tom and his team only prepare the most opulent of grilled delights using very rare and sought-after cuts such as A5 Olive Wagyu A5 Matsusaka Beef, and Prime Angus steak to ensure that his diners only get the crème de la crème.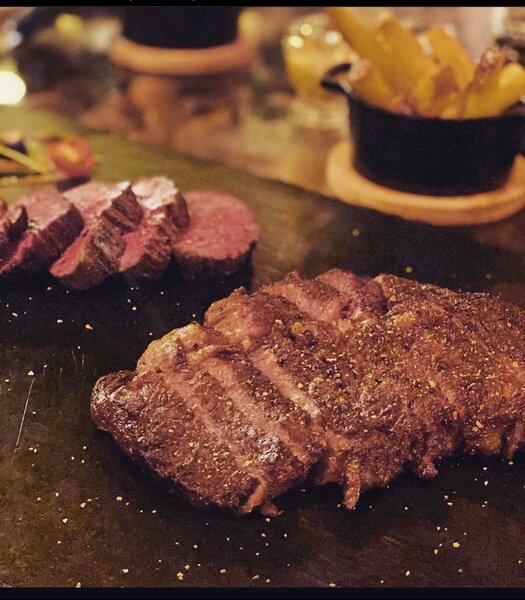 Grass-fed beef premium steak / IMAGE from Kobe Jones Facebook page
To cap off the sumptious meal, try its sinfully delightful desserts such as the Lemon Yogurt Cheesecake, Mochi Brownie, and Green Tea Chocolate Mousse.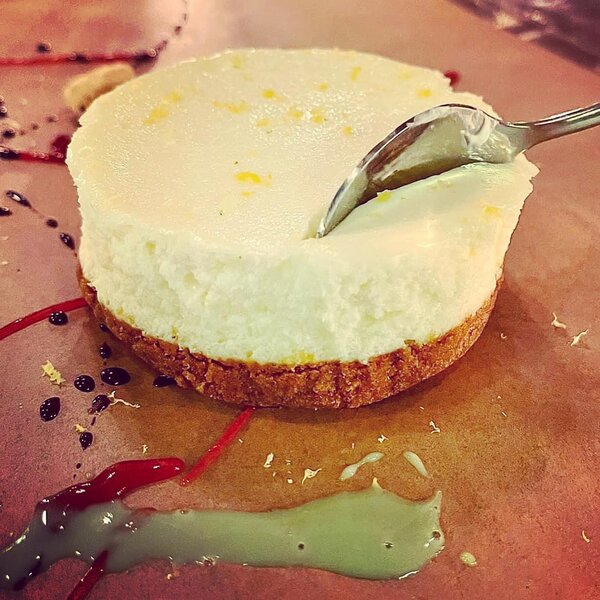 Lemon Yogurt Cheesecake / IMAGE from Kobe Jones Facebook page
Of course, don't forget to try their signature drinks before leaving!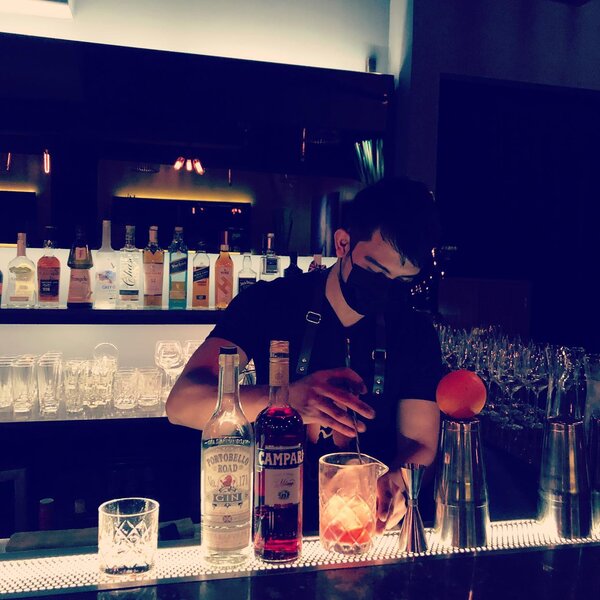 Pick your poison / IMAGE from Kobe Jones Facebook page
Chef Tom knows how to get a diner's fix of luxurious Japanese and European food and drinks so be sure to dine in at Kobe Jones next time you visit Makati for a truly unforgettable, delectable dinner so worth the splurge!
GENERAL INFORMATION
Address: 120 Le Grand condominium, Valero St. Salcedo Village, Makati City
Operating hours: 11:00 a.m. to 10:00 p.m. (Mon-Thurs) / 11:00 a.m. to 12:00 a.m. (Fri) / 4:00 p.m. to 10:00 p.m. (Sat-Sun)
Contact number: 0915-098-5735
Facebook: Kobejonesph
Instagram: kobejonesph