Juju Eats in Salcedo Village, Makati: A Do-It-Yourself Salad Place
Toxins aren't just limited to waste, animals or plants. Toxins can come from the foods we eat and the lifestyle we keep. So if you're having a hard time losing weight, focusing on school or work, and keeping up with the day, you might want to think twice with the foods you eat.
Start rebooting your palate with greens and juices at this salad bar located in Salcedo, Village Makati called Juju Eats.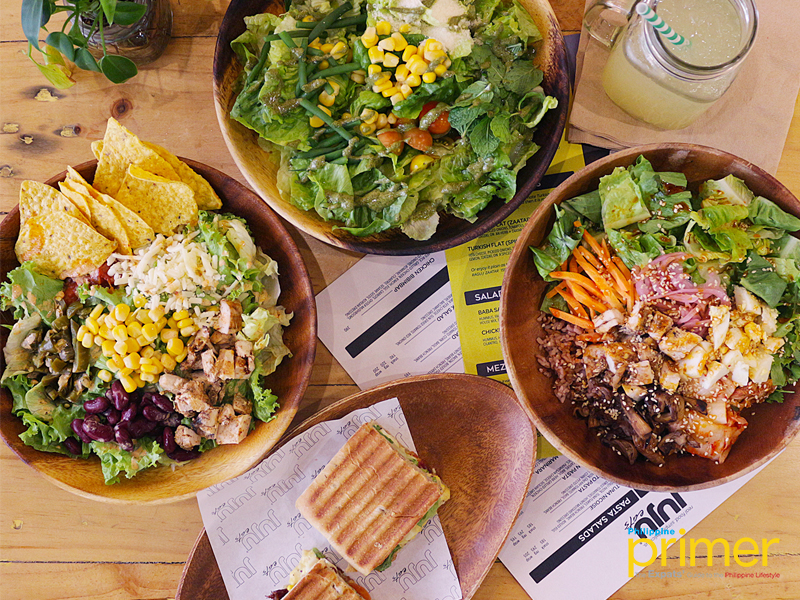 From the same people who introduced Juju Cleanse's cold-pressed juices in 2010, Mr. and Mrs. Kat and David Azanza, this new venture presents salads in a creative way to encourage people to eat their greens.
Juju Eats offers a selection of greens and salads with over 50 toppings and 12 dressings. There is a variety of signature salads to choose from as well as a Do-It-Yourself option that lets you customize and build your own original salad.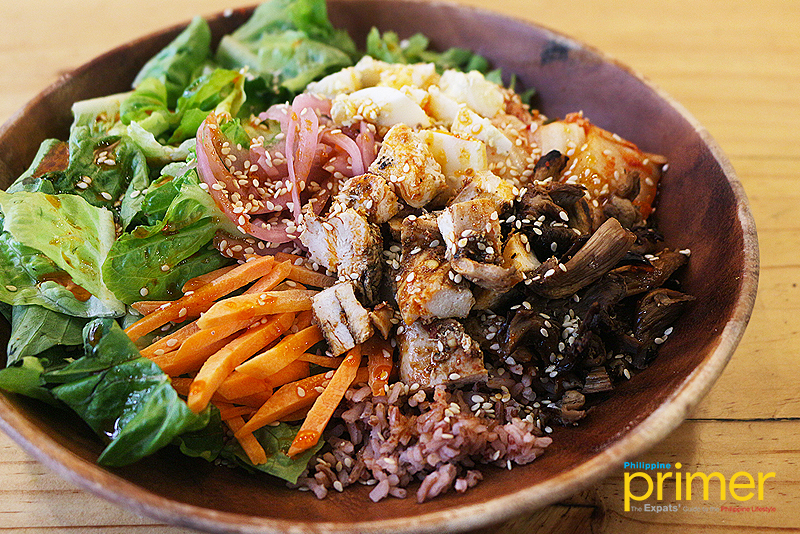 Bibimbap Chicken Bowl (Php 350)
The couple behind Juju Cleanse and Juju Eats both came from a family of health buffs. They practiced juice cleansing for years and it dawned on Kat that she wasn't still ready for a serious vegetarian lifestyle.
This paved way for a new goal in mind—to introduce a gentler yet healthy lifestyle to the people.
And because trying to be healthy is nothing new in this generation, Juju Cleanse and Juju Eats is here to introduce fun and healthy plates as they go sustainable and organic.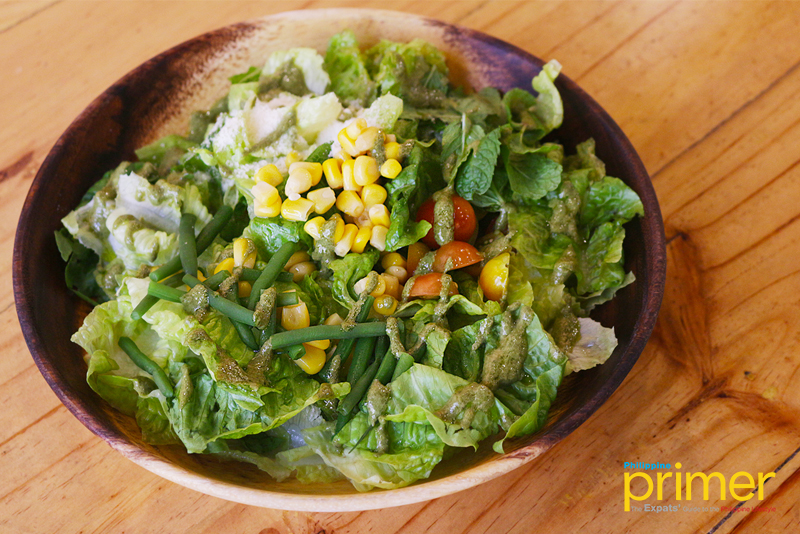 Pesto Salad (Php 350)
Here in Juju Eats, they offer healthy selections such as grilled paninis, pasta, rice bowls, wraps, and salads. 
For first-timers, you might want to try their Bibimbap Chicken Rice Bowl, a salad-like red rice bowl with kimchi, egg, oyster mushrooms, pickled onions, carrots, romaine, cilantro, sesame seeds, and Korean dressing. This is perfect for those who want to mix up rice and salads in one meal.
For pasta lovers who want to try out something new, you can try their Pesto Salad, pretty much like pesto pasta, but this salad bowl is with romaine, cherry tomato, corn, french beans, parmesan, and pesto dressing instead.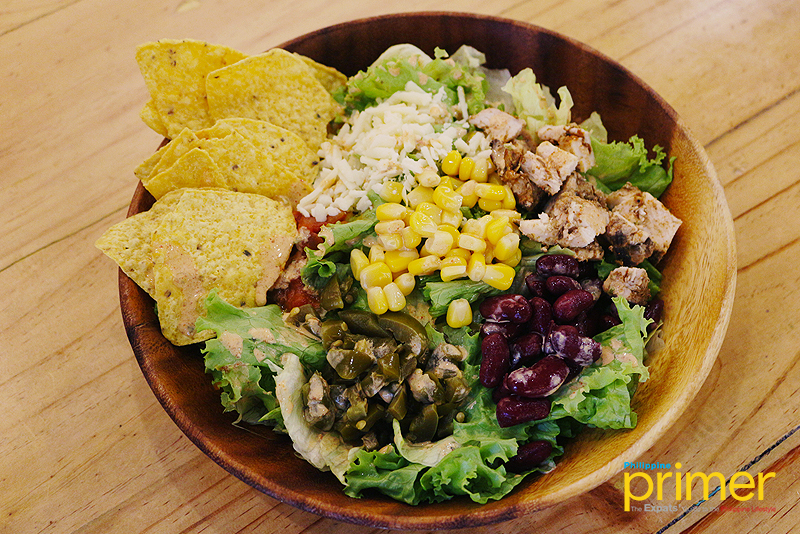 Ay Caramba (Php 450)
The Ay Caramba salad plate, on the other hand, is perfect for people craving for a healthy Mediterranean meal. This salad bowl has chicken, nacho chips, jalapeno, red kidney beans, corn, salsa, cheddar cheese, and ay caramba dressing.
Aside from salads and rice bowls, Juju Eats also serve healthy snack options like the Belt Panini. With its bacon, boiled egg, cherry tomato, romaine, caesar dressing, and herb focaccia ingredients, this snack is perfect not just for adults but also for kids.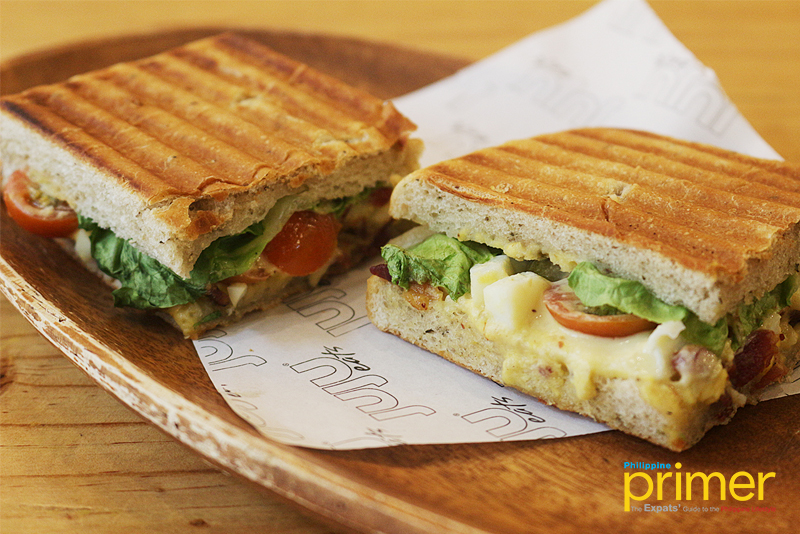 Belt Panini (Php 230)
But if the regular menu doesn't sit well with your appetite, worry no more as Juju Eats offers a Do-It-Yourself Salad bowl where you can choose your desired size and base, then you can pick up to three freebie toppings, and its dressing. The DIY Half bowl is priced at Php 179 while the regular bowl is priced at Php 235. 
These salad bowls are all best paired with their cold-pressed juices such as the Green Bomb, Red Giant, Spicy Limonada, Alkazest, Ginger Lemon, Qcumber Quench, Pineapple Chia, Vanilla Nutmilk, and Chocolate Nutmilk.
You can order it individually priced at Php 195, or as a booster kit of 6pcs for Php 1,170. For the cleansing program, you can visit their website at jujucleanse.com and start choosing your duration, level, and orders. 
No more excuses for not eating healthy as Juju Eats offers online orders and delivery at jujueats.com/order. You can also visit their branch in Makati at the G/F of Finman Center, Tordesillas st. corner Bautista, Salcedo Village, Makati City. They are open every Mondays to Saturdays from 9 am to 10 pm and every Sundays from 9 am to 9 pm. 

For more information, you can visit their website at jujueats.com. For inquiries, you can call them at (02) 820 4663 and (0917) 576-3012. For more updates, you can like their Facebook page at facebook.com/JujuEats. 
---
This first appeared on Philippine Primer Japanese Magazine's October 2018 issue.

G/F of Finman Center, Tordesillas st. corner Bautista, Salcedo Village, Makati City

Mondays to Saturdays from 8 am to 9 pm and every Sundays from 9 am to 8 pm.

BCS PRIME, G/F 2297 Pasong Tamo Ext.

LeGrand Tower 1, G/F, Union Street

4/F Vertis North Mall Vertis North

Mon.-Fri. 11am to 9pm Sat.-Sun. 10am to 10pm.

Don Jesus Blvd. Alabang Hills Village

Sun-Thurs: 11am-10pm Fri + Sat: 11am-12mn

The Podium Mall, G/F ADB Avenue