The Grid at Power Plant Mall, Makati Introduces New Must-Try Food Stalls
Everyone's favorite upscale food hall, The Grid Food Market at Power Plant Mall in Makati, just had an expansion! They now have four newly opened stalls you should definitely check out on your next visit.
These food stalls will take you on an amazing gastronomic adventure all in one place!  Let us get to them one by one.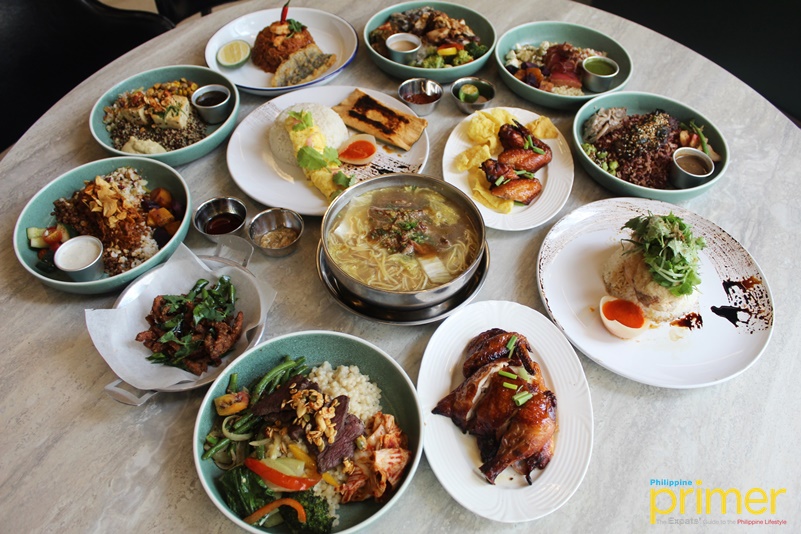 Your Local
Your Local is a fusion restaurant serving modern Asian flavors. Their menu is inspired by the owners' love for Pan-Asian cuisine brought about by the many travels they had in the region.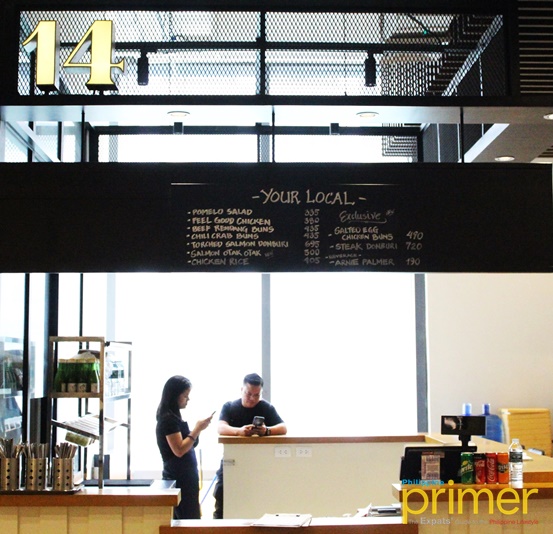 A reflection to its name, Your Local aims to be a neighborhood restaurant by bringing together people sharing the love for their unique dishes with well-balanced flavors. Their best sellers include Chicken Rice and Salmon Otak Otak.
Chicken Rice (Php 405)
Tender and juicy are the best words to describe the steeped chicken of Your Local's Chicken Rice (Php 405). Its light flavor greatly compliments the bed of ginger-flavored rice that comes with it. Add a little chili sauce for the complete package!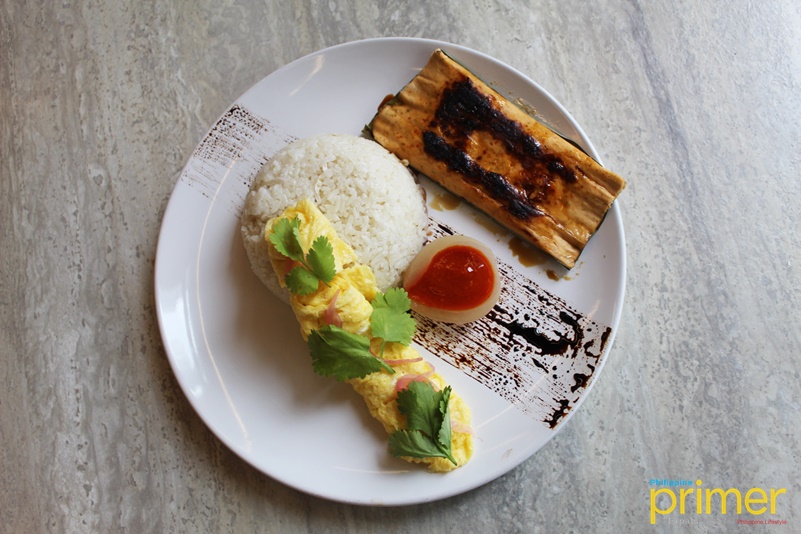 Salmon Otak-otak (Php 500)
Otak-otak is a type of fish cake that is widely popular in Indonesia, Malaysia, and Singapore. Your Local uses pan-fried salmon cakes on banana leaves served with coconut rice and shredded egg for their version of the Salmon Otak-otak (Php 500).
Visit Your Local at stall number 14 from Mondays to Fridays, 11 a.m. to 10 p.m. You may also check their official Facebook page and Instagram account to know more.
Samyan
Inspired by Samyan Street in Thailand, Samyan was created for the purpose of bringing Thai flavors closer to people. With the help of well-known Thai chef Chef Thitid "Ton" Tassanakajohn, Samyan turns traditional street food to modern gourmet dishes.
Their in-house chefs Mark Nepumoceno and Gabriel Ong were trained under Chef Ton to make sure that everything they serve is authentic.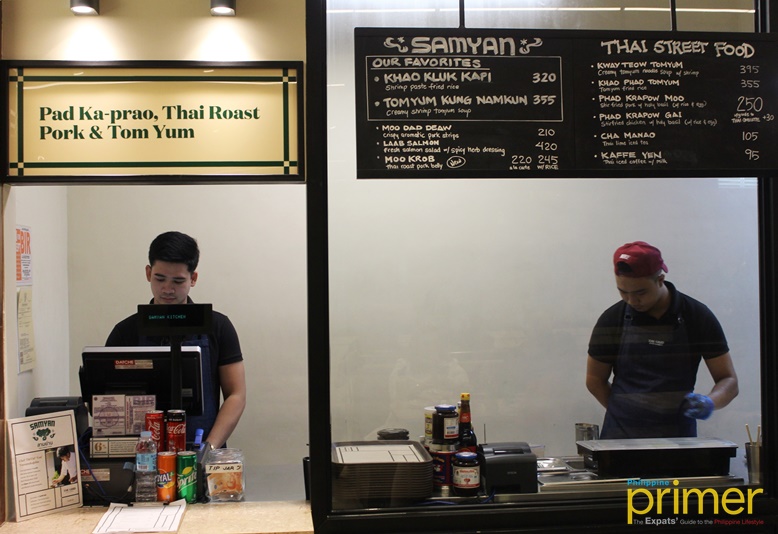 Sample a taste of Thai street food with their must-trys Moo Dad Deaw and Khao Pad Tom Yum!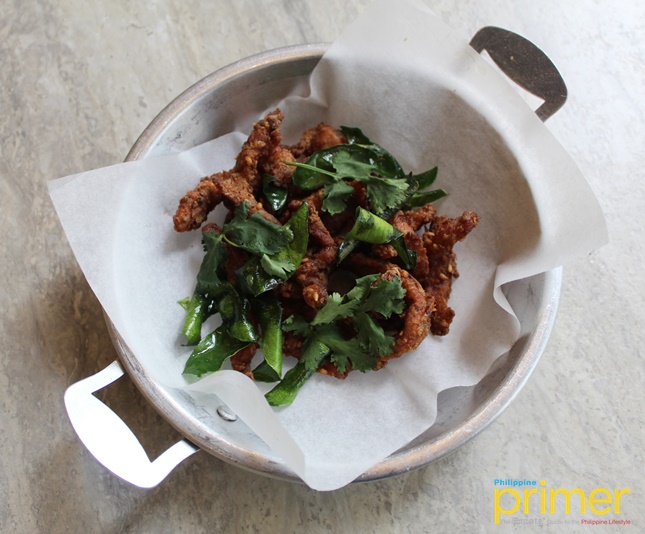 Moo Dad Deaw (Php 210)
Popularly know as "Thai Jerky," Moo Dad Deaw (Php 210) is traditionally sun-dried before deep frying to achieve its crispiness. In Samyan's version, however, the pork strips are marinated with soy sauce, sesame sees, native garlic and palm sugar then deep-fried. The result is a bowl of mouthwatering and crispy pork strips!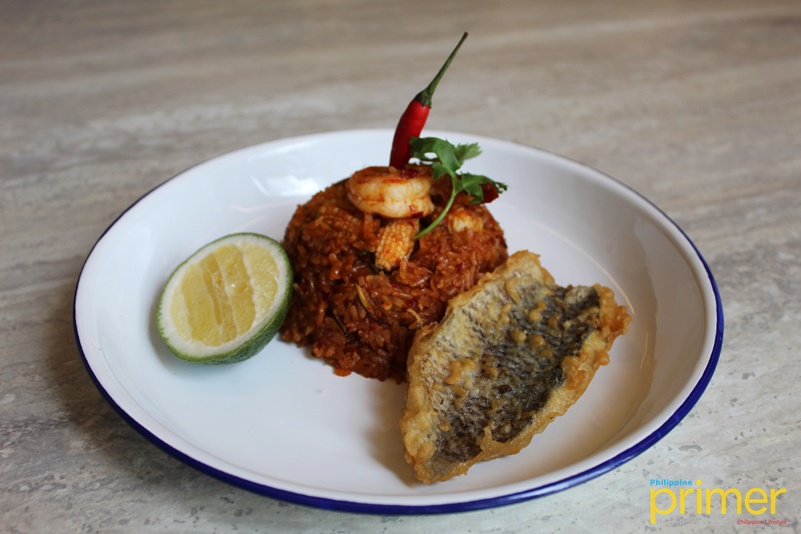 Khao Pad Tom Yum (Php 355)
Khao Pad Tom Yum (Php 355) is Chef Ton's fried rice version of the famed Thai soup. The rice is flavored with the spicy sour Tom Yum paste served with shrimp and fried fish.
Samyan is located at stall number 16 and is open from Monday to Thursday, 11 a.m. to 10 p.m., Friday, 11 a.m. to 11 p.m., Saturday, 10 a.m. to 11 p.m. and Sunday, 10 a.m. to 10 p.m. For more information, you can also contact 0917-703-2148 or visit their official Facebook page and Instagram account.
Pigeon Hole
Pigeon Hall was inspired by the concepts of Chinese restaurant Macao Pigeon House and Brazilian restaurant Brazil Brazil. The brand was born out of the idea of integrating the techniques of the two restaurants offering two completely different cuisines.
Known for their Fried Pigeon and Charsui, Pigeon Hole is a home of two flavors combined into one amazing taste. We were able to try out their Hongkong Style Chicken and Beef Brisket Noodle Soup.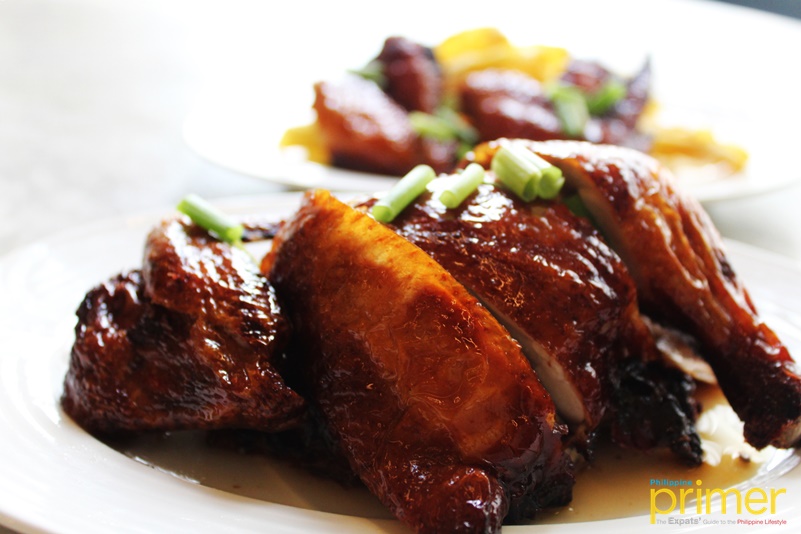 Hongkong Style Fried Chicken (Whole: Php 980, Half: Php 500)
Their Hong Kong Style Fried Chicken (Whole -Php 980, Half – Php 500) is meant to be eaten with lots of rice with its rich flavor that will leave you wanting more. We were told that the chicken was fully marinated in Pigeon Hole's top-secret spices and ingredients.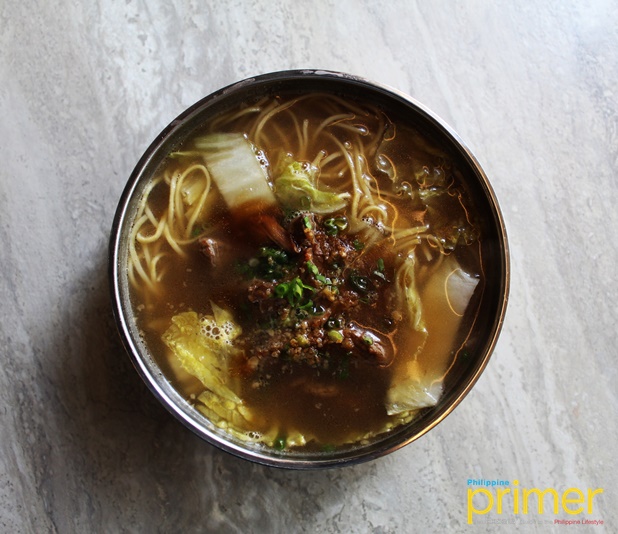 Beef Brisket Noodle Soup (Php 450)
On the other hand, the steaming bowl of Beef Brisket Noodle Soup (Php 450) makes for a heavy and hearty meal made of thick noodles, tender slices of beef brisket and fresh Chinese lettuce.
Pigeon Hall is located at the food stall number 11 of The Grid. If you wish to know more, you may contact 0917-180-3132.
Granivore
With Granivore, eating clean and healthy is as exciting as it can be. According to owner Kim Balza, they want Granivore to be anybody's go-to place to start eating better. It is a goal to make people see that eating healthy can be fun, accessible, and achievable.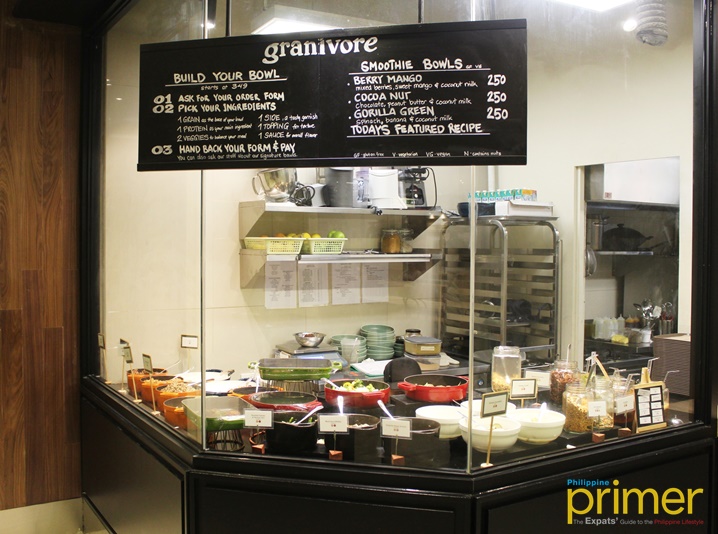 Aside from they offer grain-focused meals, Granivore is also unique for its build-your-own bowl where people could decide what to put in their bowls. This starts from a selection of grains or mixed greens as your base, one protein, two vegetables, one topping, and a sauce.  They also have smoothie bowls, fresh-pressed juices, and soon grab-and-go snacks, overnight oats, and more.
The best-selling bowls of Granivore are the Catch from the Sea, Grilled Soy Chicken, and Dijon Pepper Steak.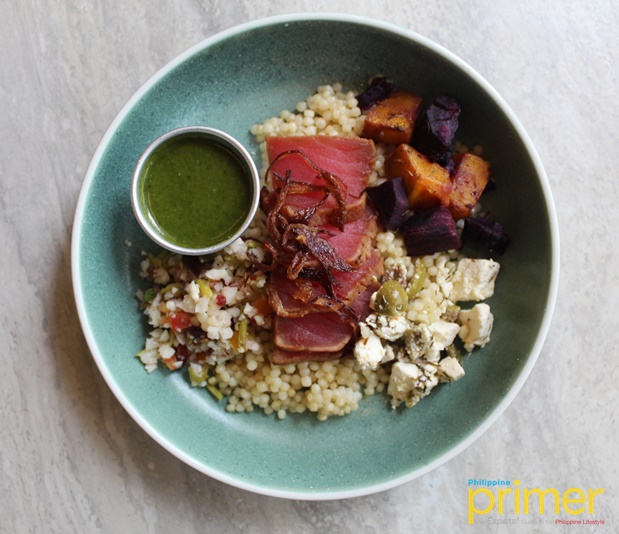 Catch from the Sea (Php 399)
A crossover between a seafood lover and a healthy eater's dream, Catch from the Sea (Php 399) is composed of pearl couscous, tuna tataki, za'atar roasted squash & sweet potatoes, cauliflower & asparagus tabouleh, olives & feta, fried shallots, and pesto cream.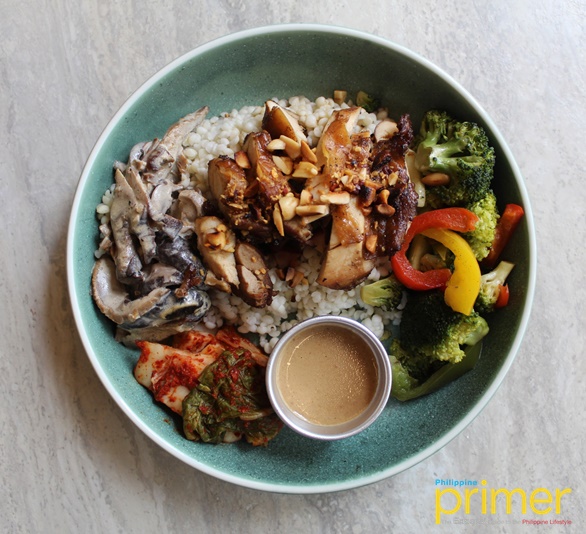 Grilled Soy Chicken (Php 299)
Who says chicken adobo can only be partnered with white rice? Granivore's Grilled Soy Chicken (Php 299) pairs this beloved Filipino dish with adlai served with steamed vegetables, mushroom medley, kimchi, hot peanuts, and satay sauce.
Dijon Pepper Steak (Php 399)
Last but not the least, don't forget to try their tasty Dijon Pepper Steak (Php 399), a bowl of wild rice, sous vide pepper steak, roasted tomato & haricot vert, mushroom medley, edamame, garlic chips, and black pepper sauce
Granivore can be found at food stall number 17.  Don't forget to like and follow them on Facebook and Instagram.
If you're having the common dilemma of not knowing where to eat in Makati, The Grid gives you so many exciting options, 18 to be exact! Aside from that, The Grid also gets plus points with its charming minimalist interiors and great ambiance.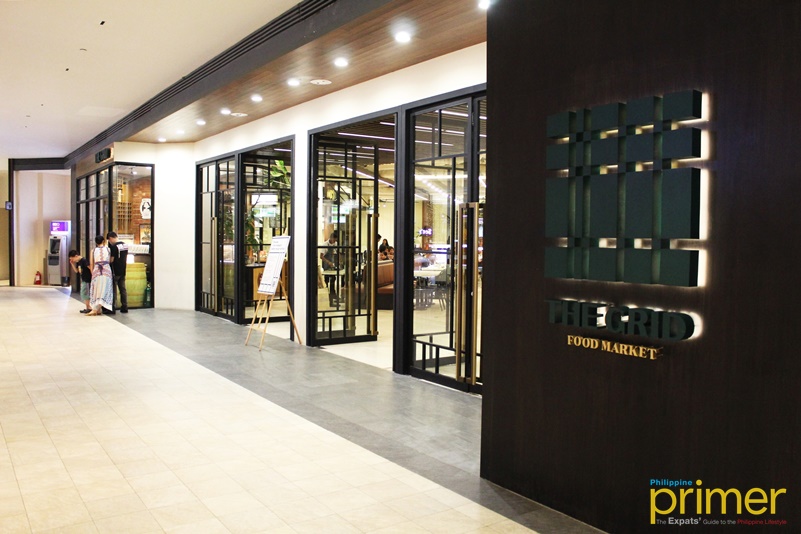 How to get here
The Grid is located on the 2nd floor of Power Plant Mall, Rockwell Center.
By car: From EDSA, turn right to Kalayaan Avenue then make a left to Rockwell Drive.
Turn right to Lopez Drive and you can already find Power Plant Mall on your right.
By public transportation: From Ayala Triangle Gardens, ride a jeepney with a route of Guadalupe Ibabaw-Ayala and get off at Rockwell.
---
Words and photos by Hannah Carmona

2/F Power Plant Mall, Rockwell Center, Makati