Chef Bruce Lim's Rustique Kitchen
Craving for accustomed local flavors with a twist where continental and Filipino-style cuisines meet? Indulge and pamper your taste buds at Chef Bruce Lim's Rustique Kitchen with the new creations and signature dishes of the famous chef.
–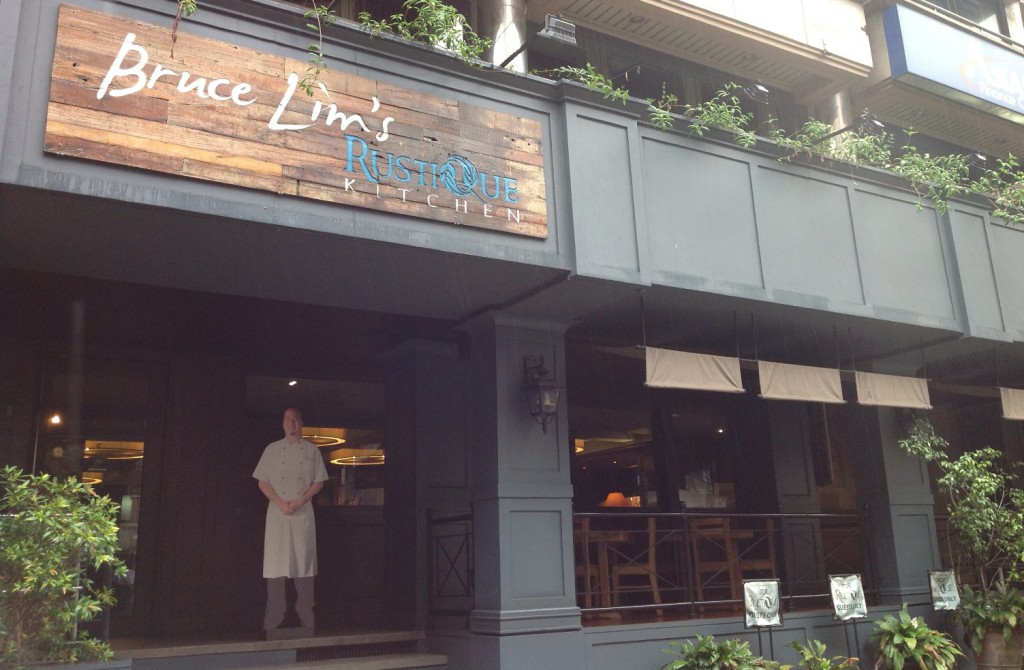 –
The Filipino-Chinese-American celebrity chef and host of the Asian Food Channel (AFC) production The Boss developed the concept of this chic and unique restaurant that bears his name. Trained at Le Cordon Blue in London and worked under world-renowned chefs like Gordon Ramsey, Julie Walsh and Andrew Males, he brings to the table, quite literally, his culinary expertise and contagious passion for food.
–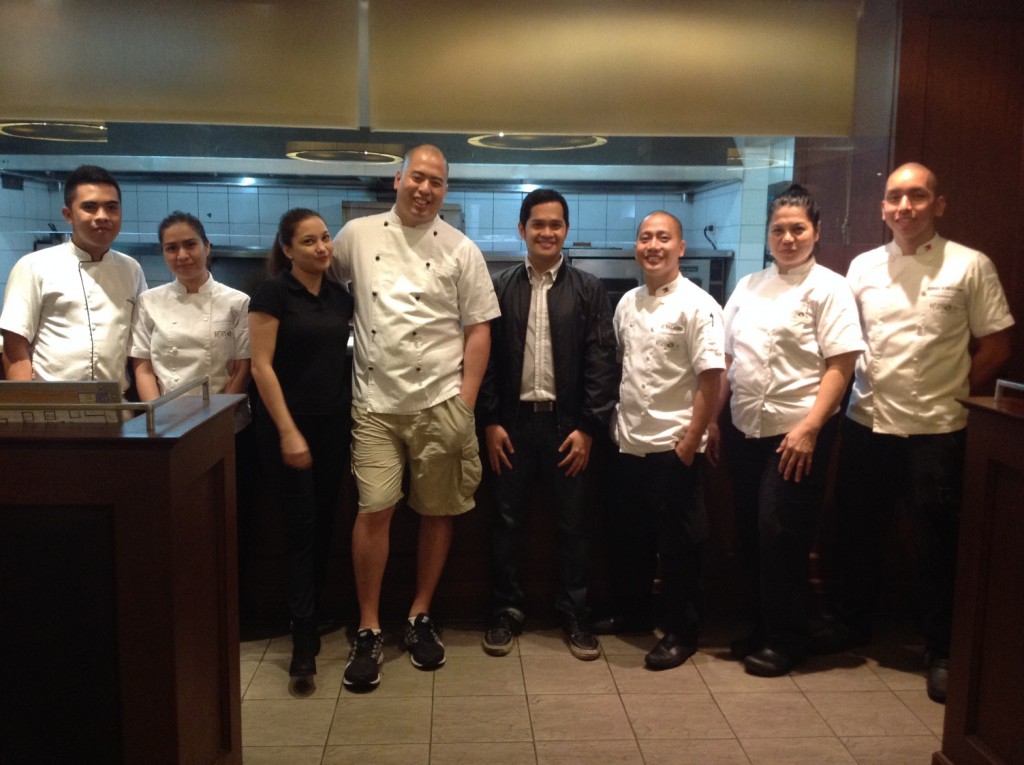 –
The restaurant promotes a laidback countryside ambience in a manifestly refined, slick and stylish way. It has striking lightings, lovely and elegant adornments that provide a preview to how tastefully crafted and pleasing the food are. The favorite spot inside the restaurant is the center table enclosed by four elegant seats with a set of plain marble-inspired table and antique-looking chairs with choice ornaments, huge vases and old-fashioned lamps, with exquisite paintings prominently displayed around. Ideal for special occasions, dinner dates, birthdays, anniversaries, small group meeting and events.
–
–
"We're serving comfort food," Chef Bruce explains. "We don't want to intimidate our customers. We'd like to make them feel right at home." Rustique Kitchen imbues Filipino comfort food and serves wide-ranging choice menu of main courses, pasta dishes, soups, salads, sandwiches, desserts, house cocktails and mocktails and all-time favorite beverages.
–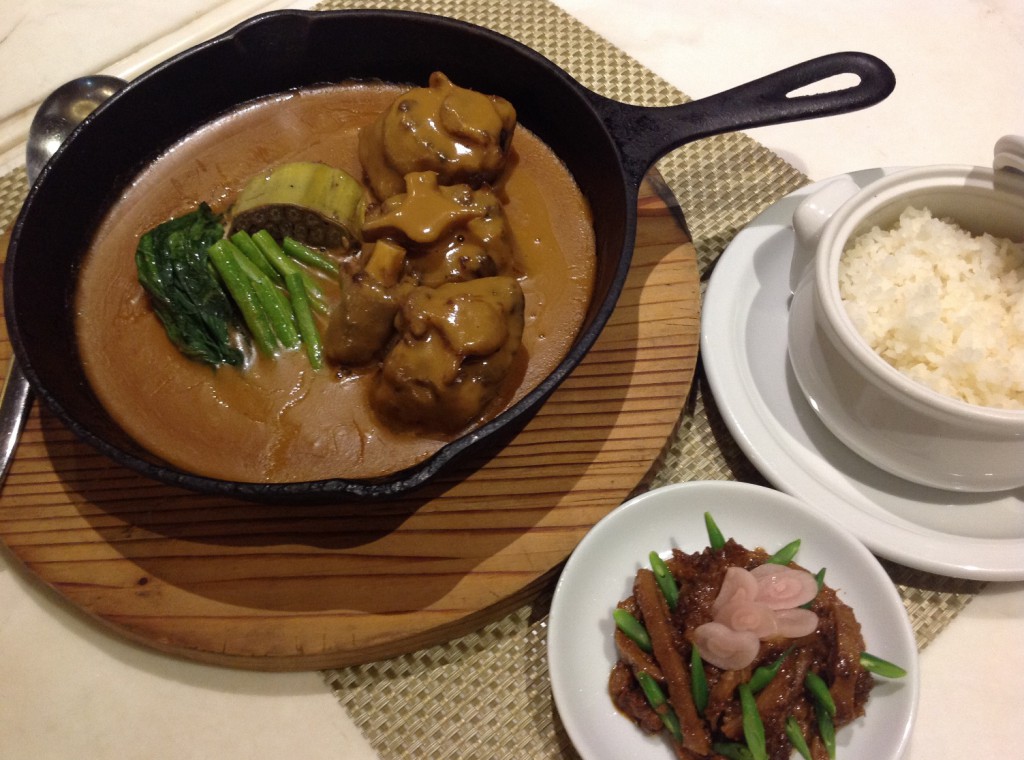 Sizzling Oxtail Kare-kare (P550)
–
Soft Shell Crab (P375)
–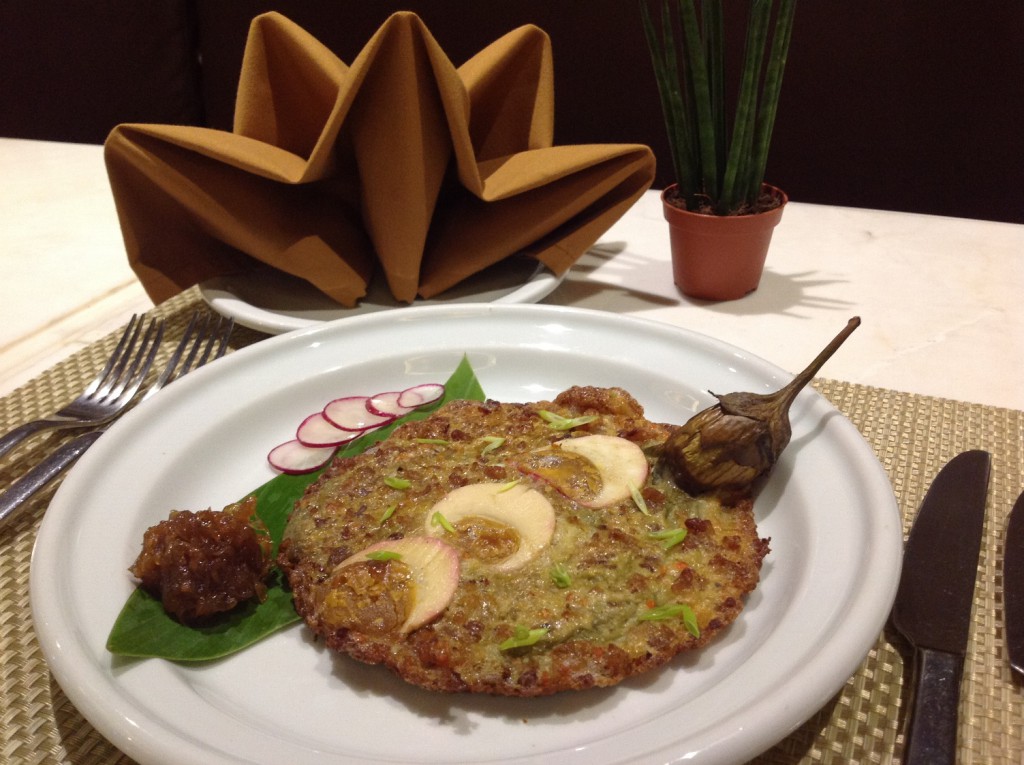 Tortang Talong (P150)
–
The premier (main course) all-time favorite dish is the luscious and delightfully good Sizzling Oxtail Kare-Kare (P550) simmered in peanut sauce served in hot plate with tripe salad and chicken rice. Also dubbed as favorites are the best-seller and pleasant to the taste with unique flavor Soft Shell Crab (P375), deep fried soft shell crab served with pasta tossed in a spicy tomato-based sauce and asparagus, the classic Filipino-style Eggplant Omelette, TortangTalong (P150) sautéed pork with egg and topped with salted eggs, the perfect side dish.
–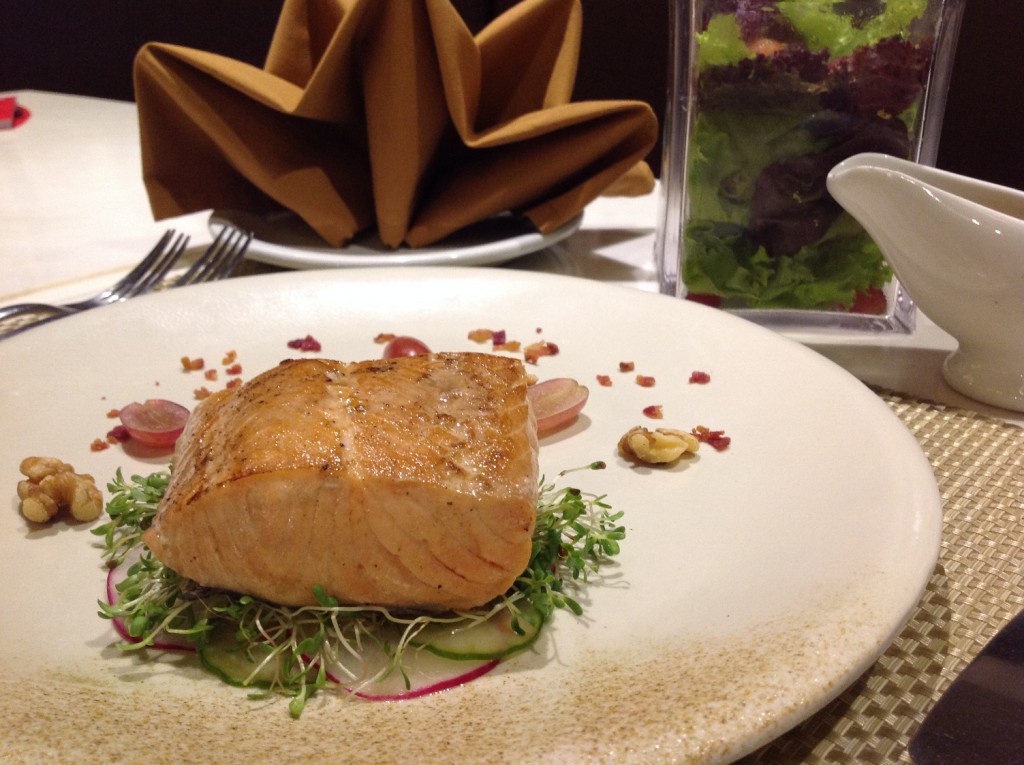 Char-grilled Salmon Salad (P350)
–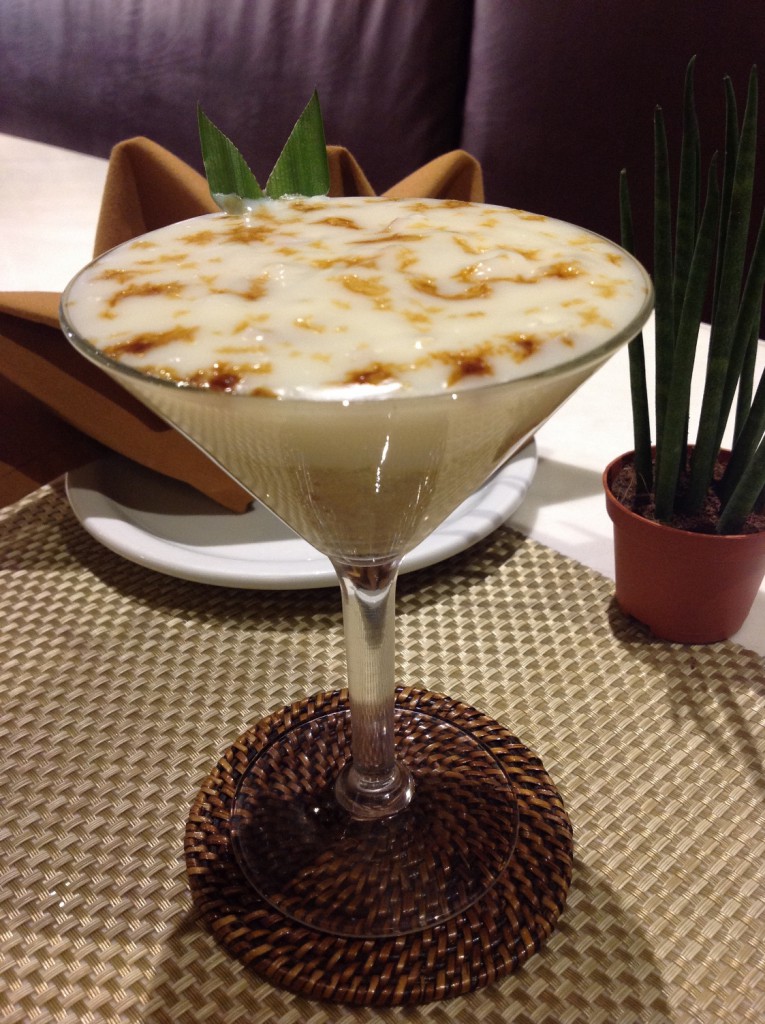 Signature Buko Pie (P150)
–
Also, the tasty and healthy light meal, Char-grilled Salmon Salad (P350), herb-marinated salmon grilled to perfection and served on a bed of summer greens and flavored with lemon maple vinaigrette. And the not-your-usual dessert served hot in a glass bottle is the smooth, soft and flavorful must-try Signature Buko Pie (P150).
–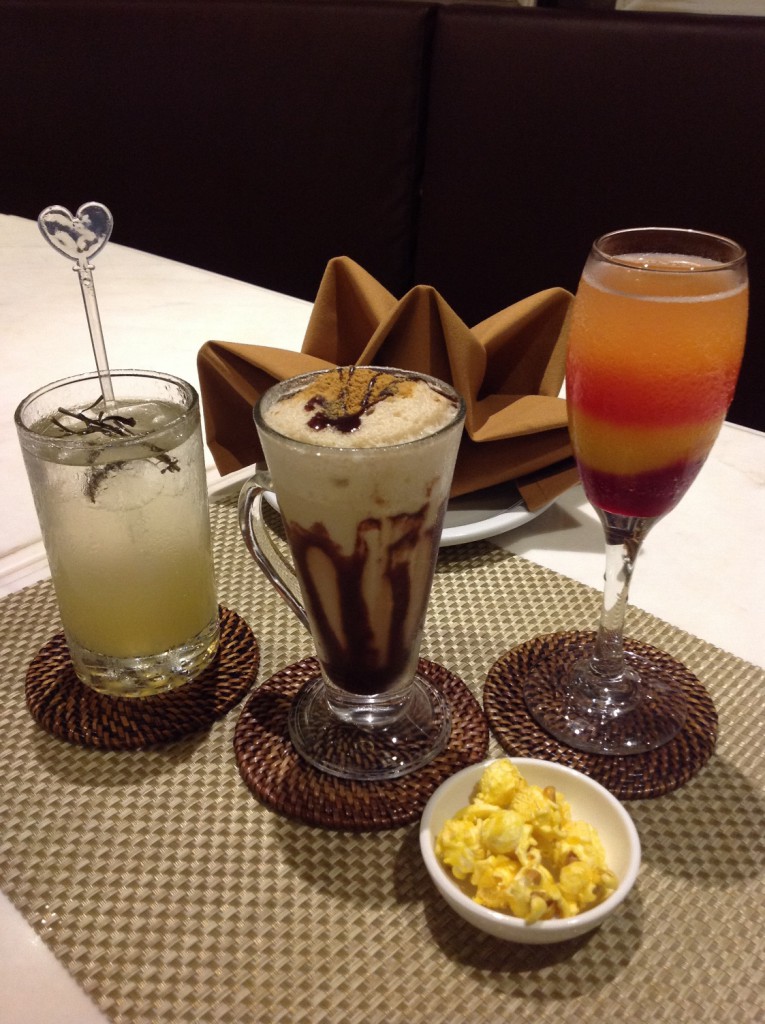 (L-R) Calamansi Fizz (P175), Vodka Mudpie (P195), Carnival(165)
–
There are arrays of beverages, wines, house cocktails and mocktails selection setting up a nightlife mood. The bar house cocktail favorite Calamansi Fizz (P175) is made from fresh Calamansi, tarragon, clear soda and absolute vodka. A delicious cocktail recipe with a twist, Vodka Mudpie (P195) with vanilla ice cream, crushed graham, chocolate syrup, chocolate vodka, kahlua and baileys is another best-seller. While Carnival (P165), a popular house mocktail is tropical-themed mixed drink infused with ripe mango, orange, beet syrup, soda water and popcorn.
–
Photos and article by Adrian Pempena
–

820 Leelin II Building Arnaiz Avenue (formerly Pasay Road), Makati City

(02) 750 2104 / (02) 894 2898

11:00 to 3:00 pm, 6:00 pm to 10:00 pm (Monday-Friday); 6:00 pm to 10:00 pm (Saturday)