Bad Bird
Find out why it's good to have it bad for the newest chicken place in town.
A quick trip to Hole-in-the-Wall at the recently opened Century City Mall and you know what's the "baddest" chicken place currently in the metro. BAD BIRD: Umami Fried Chicken takes Manila by storm –thanks to the distinct, satisfying umami flavor that is uniquely present in every bite of Bad Bird Chicken. Umami flavor is translated as a pleasant, savory taste and is widely considered by foodies around the world as the "fifth taste".
–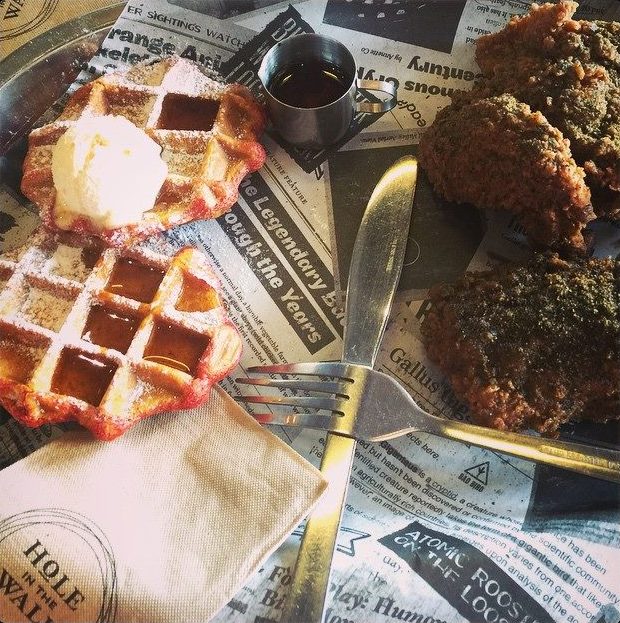 Crunchy on the outside, succulent and tasty on the inside. The Waffle Plate (PHP290) is a combination of sweet potato waffle topped with miso butter and two pieces of choice chicken parts, with a serving of sweet maple syrup on the side
–
Hungry dinners have the option of customizing their chicken order based on three spice levels: safe, spicy and chemical for those who want the extra kick on their plate. Aside from the Waffle Plate, Bad Bird also offers the Corn and Coleslaw Plate (PHP330) which comes with a corn on a stick dusted with kewpie mayonnaise, cheese and bonito flakes, togarashi and kimchi coleslaw, while their Dirty Rice Plate (PHP330) features fried rice with bacon, chicken liver, tamago and bonito flakes with kimchi served on the side. Dinners have the option of ordering individual chicken pieces or any of Bad Bird's Korean and Japanese-inspired side dishes.
Lines can get really long during regular meal hours and weekends, so diners can expect a 20-minute wait for the food. They currently does not accommodate take-outs or to go.
Probably the best thing about biting into a piece of Bad Bird chicken is tasting the savory flavor of the breading, mixing with the succulent meat inside. Often times served piping hot and fresh from the deep fryer, the chicken pieces complement the side dishes very well.
–

Article by Melanie Suzon

4F Hole in the Wall Restaurant, Century City Mall, Makati