Trufa Pasta Bar in Salcedo Village, Makati Lets You Make Your Own Pasta Dish
The famed Make-Your-Own Pasta bar, which first introduced the flavors of Barcelona and Manila in their Legaspi Village branch, opens a new branch in Makati! Explore all forms of pasta at Trufa Pasta Bar, your neighborhood Filipino-Spanish pasta bar in Salcedo Village.
Also read: Experience pasta goodness in many ways at Trufa Pasta Bar in Makati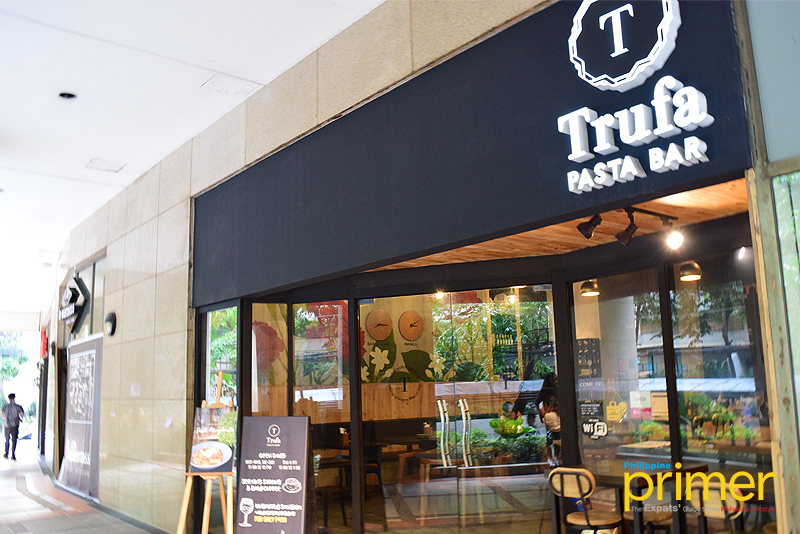 Trufa Pasta Bar in Salcedo Village 
If you're quite familiar with the restaurants around Legaspi Village, you must've heard of this Filipino-Spanish pasta bar located along Esteban Street. With an aim to be part of every community and to be present in every village, Trufa Pasta Bar has opened its doors at the friendly neighborhood of Salcedo Village, also in the city of Makati.
Trufa Pasta Bar is the brainchild of Ms. Patricia Espino. The restaurant started out as a school project and has now become the Barcelona city-inspired pasta place that lets you experiment and create your own pasta plate.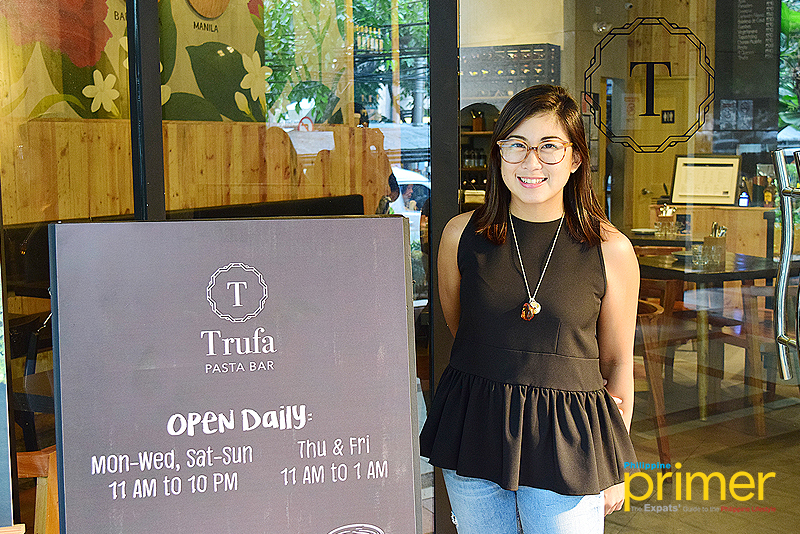 Patricia Espino, owner of Trufa Pasta Bar
As she studied in Barcelona, she fell in love with the city, the culture, the people and the lifestyle—the reason why Espino wanted to bring home her experience to Manila by introducing Trufa Pasta Bar—a Marriage of Barcelona and Manila Flavors.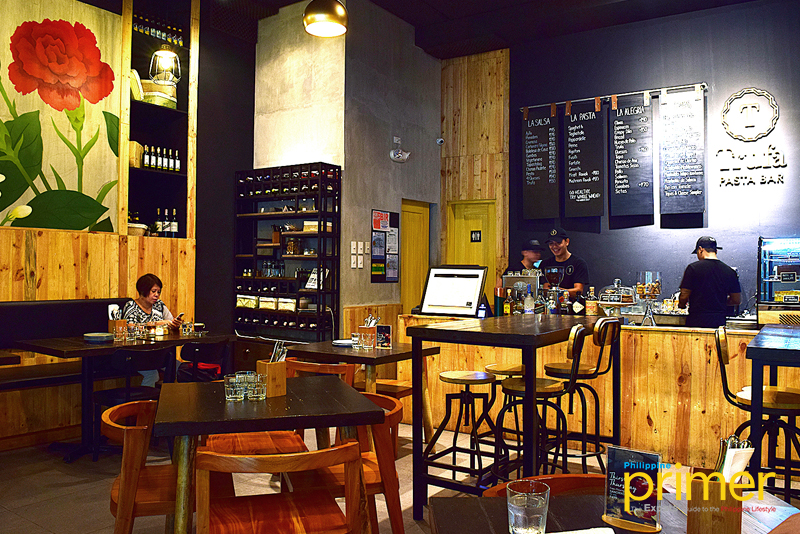 A garden but with a city vibe interior, inspired with the owner's apartment in Barcelona: Wood and Black
Trufa, a Spanish term for a truffle, is the owner's favorite ingredient. She named the pasta bar after Truffle not only because it was her favorite but because she sees truffle as an interlock of everything. Truffles have many layers and with every single layer, it gives you a different touch, smell, and feeling—which is what they want people to experience at Trufa.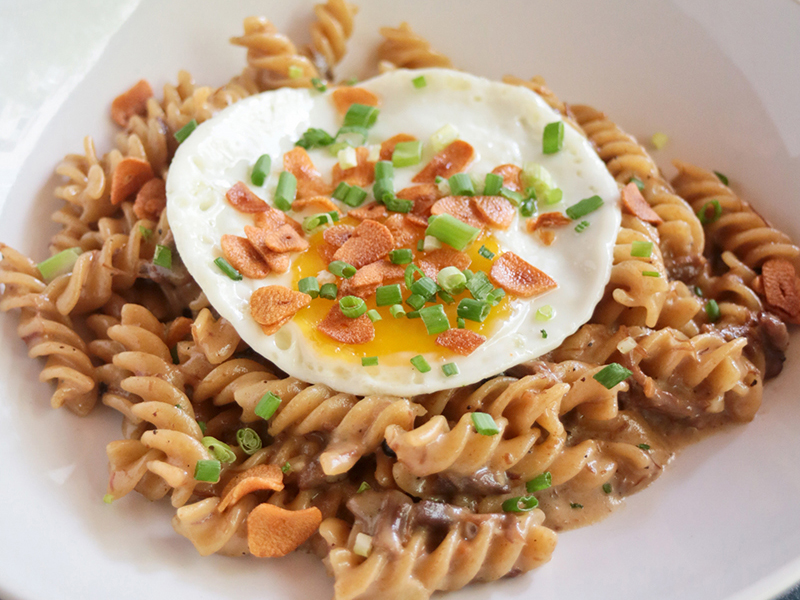 Tapastalog (Php 295)
At Trufa Pasta Bar, you don't just get to customize your pasta. You may also have a taste of their unique pasta offers available on their menu like the 'Tapastalog' on organic fusilli pasta. It is their best-seller and it definitely embodies the flavors of both Barcelona and Manila.
If you're looking for something that has a stronger taste, try their Chorizo Picante. It's a pasta with Ilonggo chorizo and tomato sauce topped with red pepper flakes making it an extra fiery dish.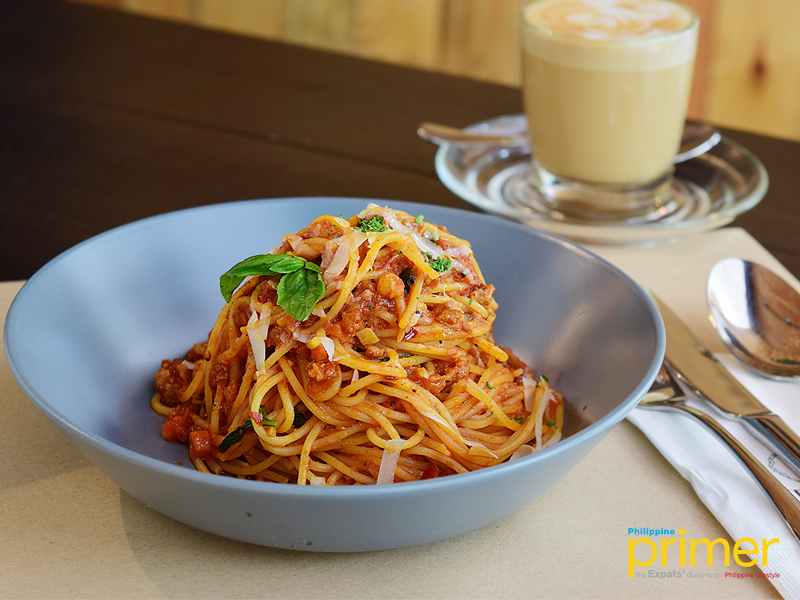 Chorizo Picante Php 295 
Trufa Pasta Bar takes pride in their recipes and ingredients. The Boloñesa, Spanish meatballs, and Chorizo are all hand-me-down recipes from the grandmother of Espino's friend from Barcelona. The chorizo, on the other hand, is sourced from Iloilo, while the ravioli, sauces, and salsas are all homemade. 
How Does the DIY Pasta Bar Work?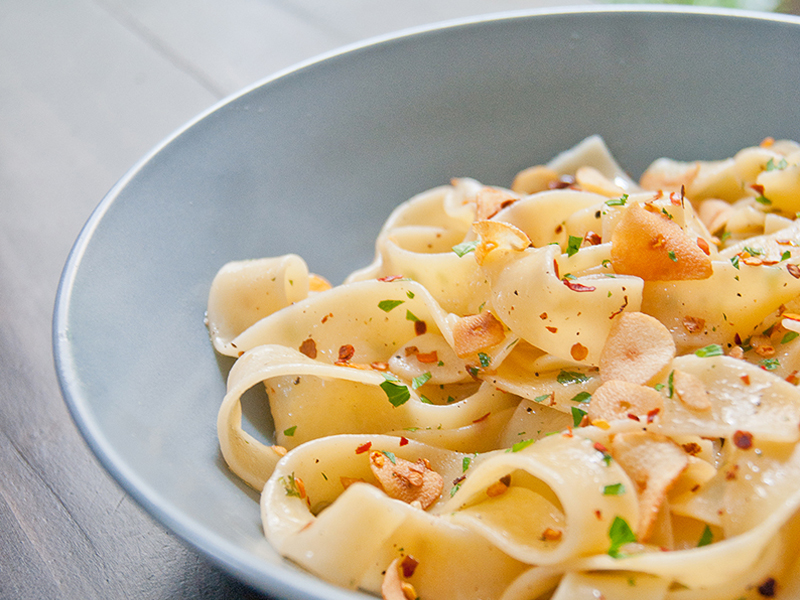 Ajillo Pasta (Php 195)
This is where it all starts. The sauce gives the flavor of the dish you want to eat. Depending on your preferred flavor, you can customize the sauce and choose from an array of different sauces they offer. Tip: Choose to be bold and daring. Mix and match flavors and you might find an interesting pasta combo.
Pasta is like the main piece of art. It is the base and the soul of the dish. Trufa lets you choose from over 10 different pasta shapes with every pasta prepared al dente.
After choosing your salsa and pasta, time to add a few more tweaks to your dish. A little tip: add some toppings to your pasta like chorizo, cheese, salmon, or mushrooms to add flavors to your dish.
The best part here in Trufa? It's not just your usual selection of pasta. What makes this pasta bar even more interesting is that they also serve tapas, Pastaella (a combination of pasta and paella), and Ensaladas.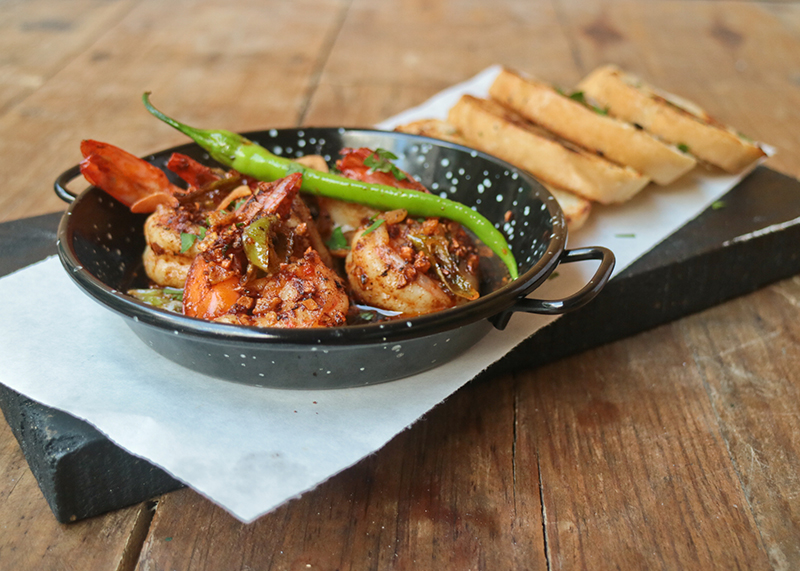 Gambas Al Ajillo Php 495
For appetizers, try their Gambas Al Ajillo, made of tiger prawns with spicy garlic olive oil and chili served with french bread. It's a certified Trufa favorite that will definitely give you a spicy kick to jump-start your main course. For vegetarians, Quinoa consisting of quinoa, zucchini, black olives, and apple would be a good choice.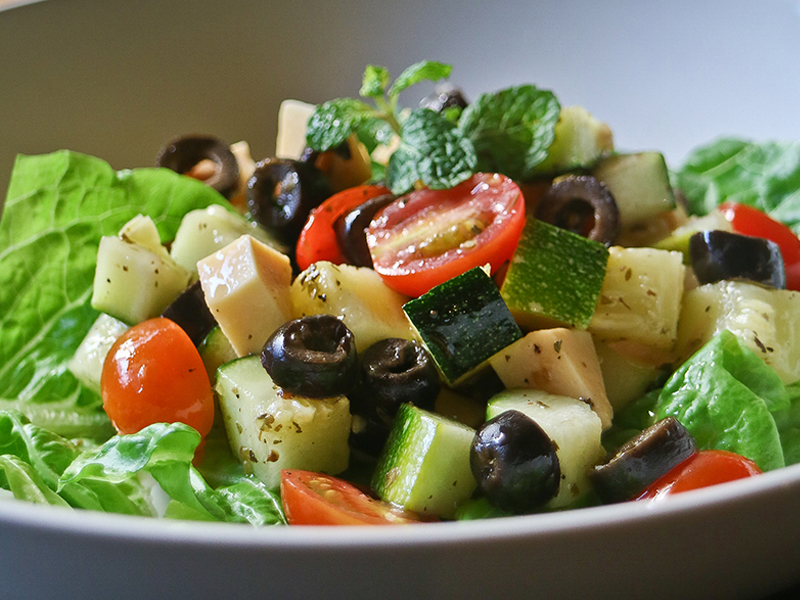 Quinoa (Php 300)
Aside from pasta, they also offer pastries and coffees, making this pasta bar an all in one stop for every single craving. For those who want to try different kinds of pastries, you can munch their cookie platter which includes a Chocolate Chip Cookie (Php 80), Trufa Cookie (Php 120), & Bocadillo Dulce (Php 80).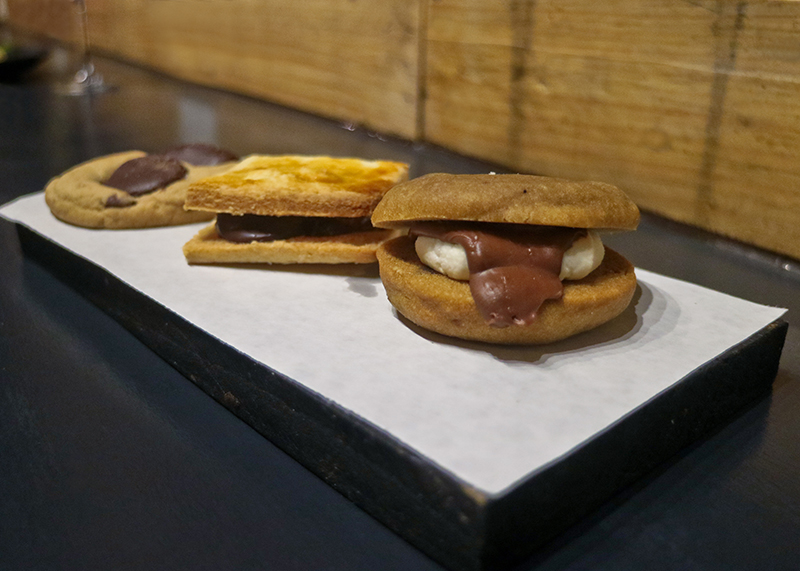 Cookie Platter: Chocolate Chip Cookie (Php80), Trufa Cookie (Php 120) & Bocadillo Dulce (Php 80). 
For coffee lovers, they also offer a wide range of bold coffee, freshly roasted from Bacolod. A cup of coffee typically ranges from Php 80 – Php 150 and you may have it in store or to-go.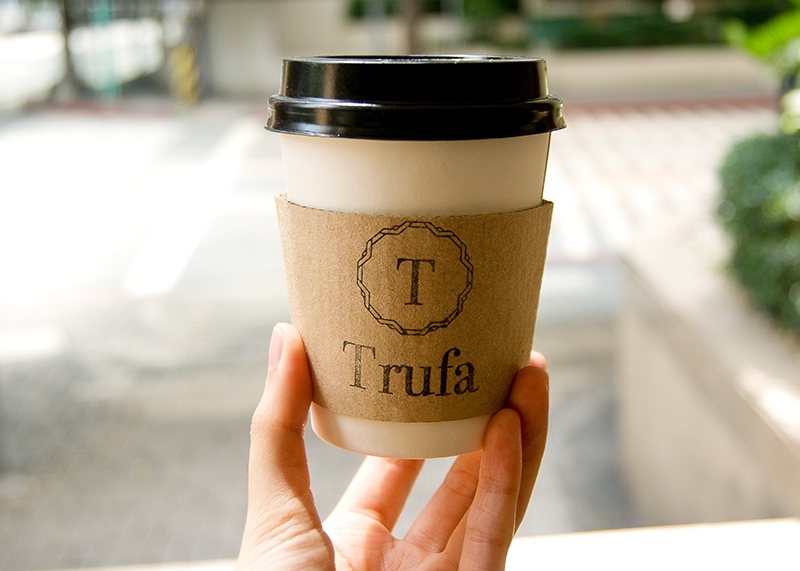 Coffees Php 80 – Php 150
Trufa Pasta Bar also offers not just coffee but they also have a wide variety of Italian wine and craft beers. They have an on-going promo of Unlimited Sangria Every Thursdays and a 20% off all alcoholic beverages from Monday to Saturday from 4 p.m. to 8 p.m. Trufa Pasta Bar is open, Mondays to Wednesdays from 11:00 a.m to 10:00 p.m, Thursdays and Fridays from 11:00 a.m to 1:00 a.m, and weekends from 12 nn to 10:00 p.m.
Visit their Salcedo Village branch at Paseo Parkview Suites G/F, Valero corner, Valero St. cor, Sedeño St., Makati City. For inquiries, you can call them at 0917 804 5011. For updates, you can visit their Facebook page at Trufa Pasta Bar + Salcedo.
---
This first appeared on Philippine Primer Japanese Magazine's October 2018 issue.
Store Information
G/F Paseo Parkview Suites, Valero St. cor, Sedeño St., Salcedo Village, Makati City.
02-830-07-21
0917 804 5011
M-W: 11:00 a.m to 10:00 p.m T-F: 11:00 a.m to 1:00 a.m S-S: 12nn to 10:00 p.m
109 Esteban Street, Planters Bldg, Unit A. Makati City, Philippines
02-771-2581