Pappy in Legaspi Village: A Quiet Nook for An Exquisite Fare and Late-Night Drink
Tucked away in the backstreet of Legaspi Village is a quaint bar and bistro that was born out of fondness for alcohol.
Pappy is a brainchild of Chef Louie Guerrero and Joe Fores who have been best buddies since their highschool days. They decided to build a bar where they can put their love for alcohol in a place that most people go for a late-night drink.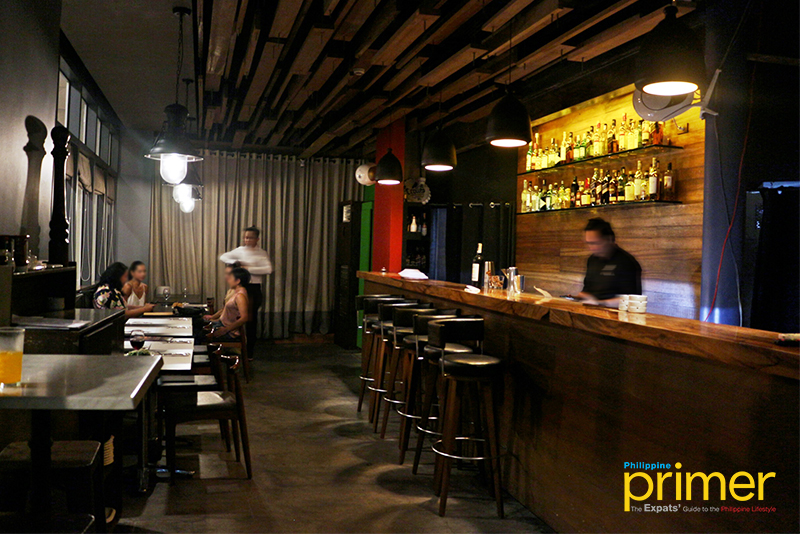 Generally, it stands as a "bar with a kitchen," as Chef Louie would describe the whole concept of Pappy.
Unlike usual bars, Pappy allows you to unwind and enjoy your favorite liquor with friends after a long day at work while munching on different fares that certainly no other restaurant has.
Just take for example their Chicharon Crusted Porkchop (Php 500), a juicy slab of chopped pork coated in crushed chicharon.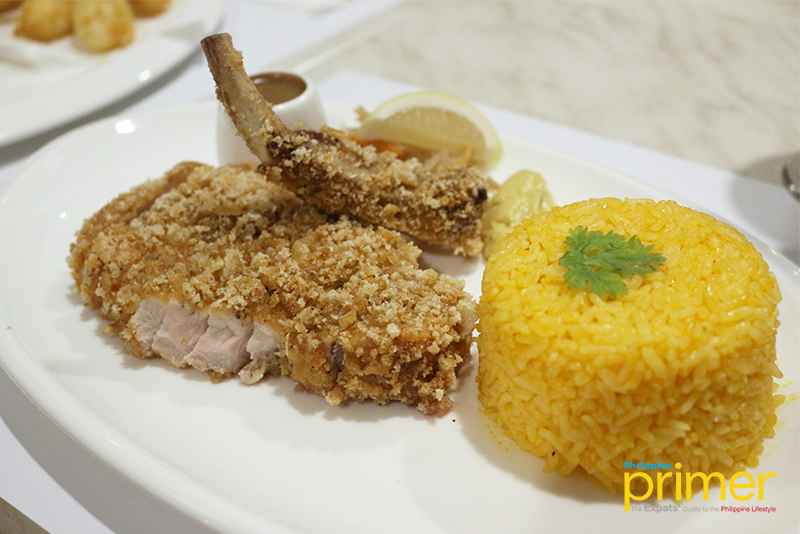 Chicharon Crusted Porkchop (Php 500)
This unique dish is a must-try from their menu because it differs from other pork chop recipes. Chef Louie explained that the chicharon helps the dish to still be juicy enough while adding a right crunch to it.
For the salad choices, they have the Caesar Salad (Php 275) made with whole crisp romaine lettuce, croutons, bits of bagnet, and cheese. This is a perfect starter paired with a glass of wine.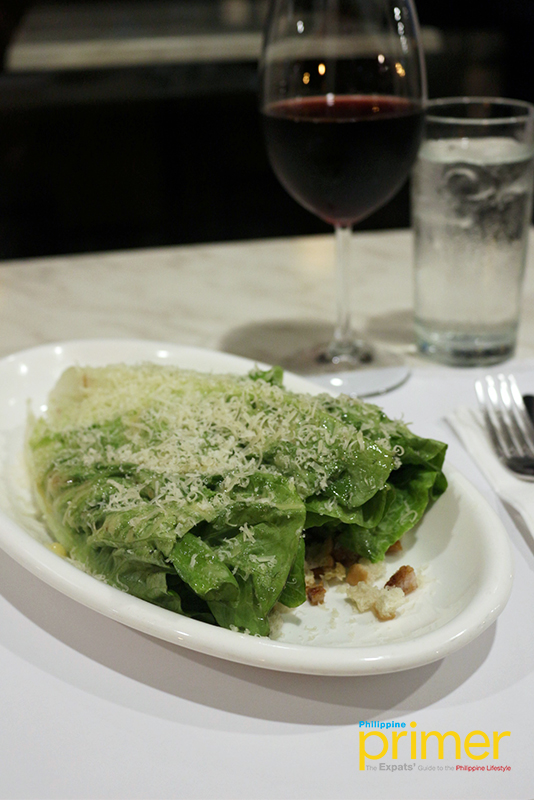 Caesar Salad (Php 275)
Another best-selling dish is the Chicken Kiev (Php 600), a Russian dish made of chicken breast pounded and rolled around a cube of cold butter with herbs. 
This dish requires a lot of time to prepare but is definitely rewarding because of its tender meat drenched in melted butter, which oozes out as you slice through the meat. On the side is a serving of mashed potatoes and vegetables.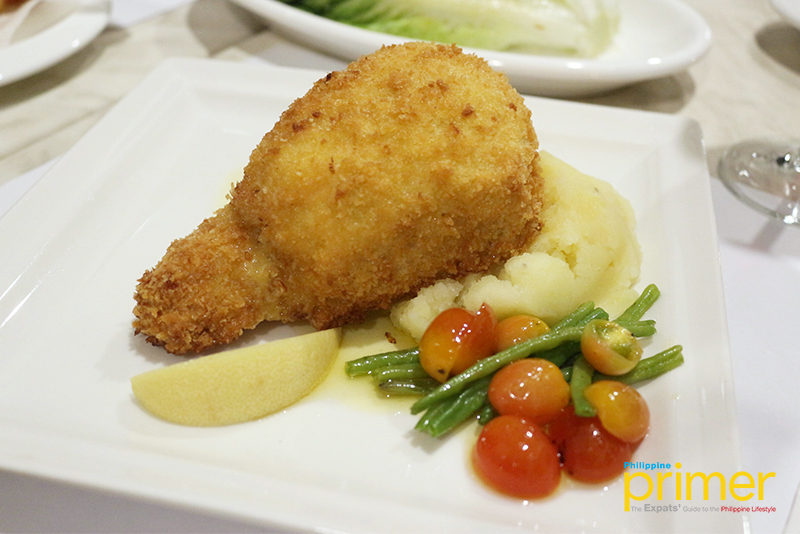 Chicken Kiev (Php 600)
Jumping from another international cuisine, Pappy also has a Japanese dish in their menu–the Shrimp Tempura (Php 490). It is served with tempura dipping sauce, cayenne pepper, and salt on the side to add taste.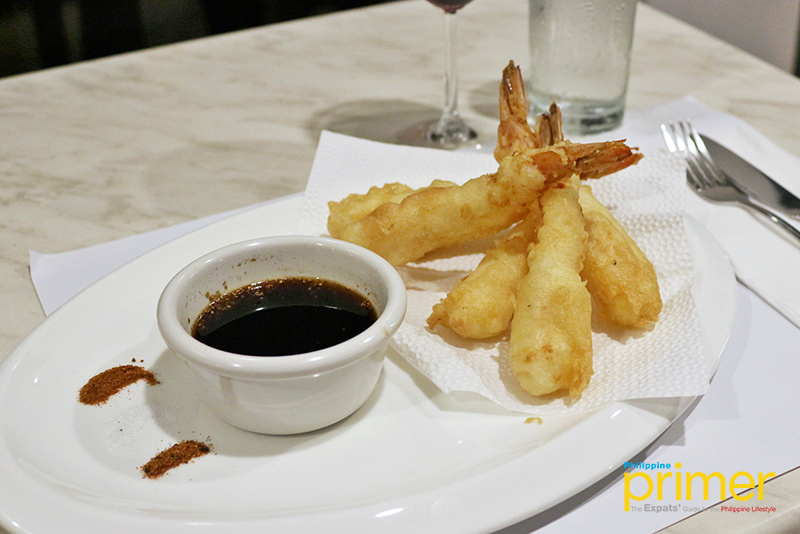 Shrimp Tempura (Php 490)
A dish that may surprise you is their Eggs Benedict (Php 600), a rather unusual dish to serve in a bar at night. It is made of a light bread and ham topped with poached egg and butter-based hollandaise sauce that flows nicely on your plate.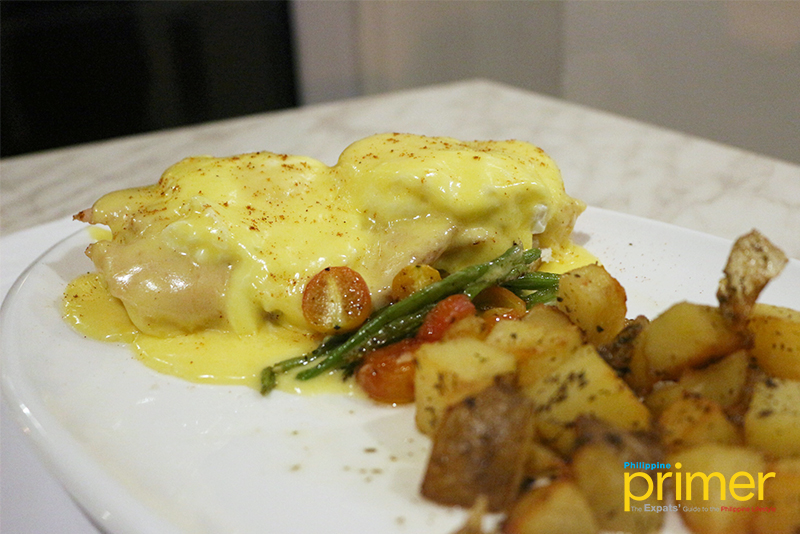 Eggs Benedict with vegetables and potatoes on the side (Php 600)
Chef Louie wants to incorporate this staple breakfast fare in their menu so that customers who crave it in the middle of the night can still enjoy the breakfast dish. 
They also have a selection of wine, cocktails, and beer. Customers can even buy a bottle and have it displayed in Pappy's bar area with their name on it.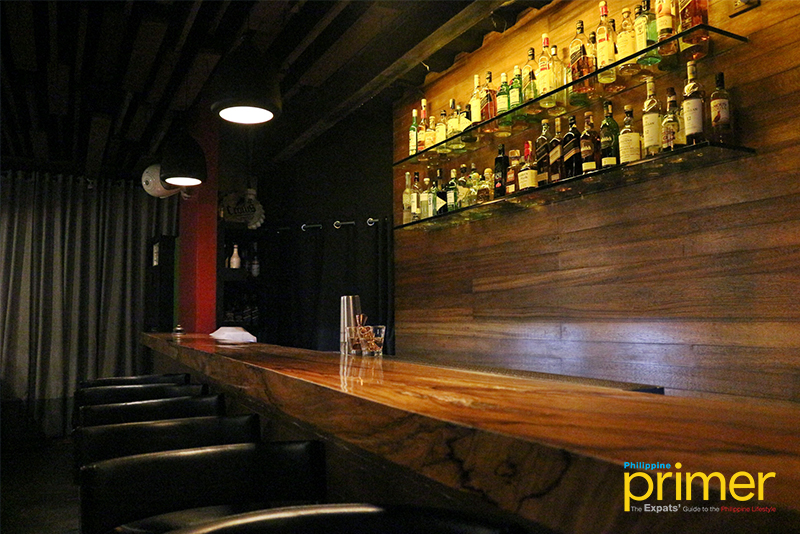 Chef Louie notes that even though they serve a heap of international dishes on their menu, they still want to mainly be known as a bar rather than a restaurant.
So if you have a late-night hangout with workmates, friends, and family, Pappy welcomes you to their quiet nook in Makati.
How to get here
Pappy is located on the ground floor of The Grand Midori Makati along Bolanos Street. It is 5 minutes from Ayala Avenue and 3 minutes away from Greenbelt.
By car: If you are coming from Paseo de Roxas, you may pass through Dela Rosa Street then turn right at Bolanos Street. If you are from Ayala Avenue, turn right onto V.A. Rufino Street towards Dela Rosa Street and turn right at Bolanos Street.
Take note that parking is not allowed in front of Pappy. However, there is a parking space in The Grand Midori Makati.
---
Written by Deneca Ordinanza
Store Information
G05 The Grand Midori Makati Bolanos St., Legaspi Village, Makati City
02-8-852-0138
5 pm to 2 am, daily