Local Edition in Legaspi Village: A Neighborhood Coffee Shop and Creativity Hub
Brewing along the relaxed and refined street of Perea in Legaspi Village is Local Edition, a café that serves great coffee concoctions and the best grilled cheese in town. Its façade is charmingly catchy and visible therefore there is very little chance for seekers to miss it.
Not only does it serve your favorite grilled cheese and coffee, but Local Edition is also a space for good friends, good coffee and great imaginations. As they say, great ideas often begin with a cup of coffee.  
Gooey Grilled Cheese & Tomato Soup Lunch Special (Php 220. Available from 11 a.m. to 2 p.m. only)
The café's ambiance, conducive to some me-time, us-time, musings, and conversations, has slowly made it into a hub for yuppies after a day's work or for holding meetings. What makes it a favorite of its habitués, though, would be their coffee quality and good food offering.
Inside Local Edition
As previously mentioned, Local Edition serves one of the best grilled cheese sandwiches that is best enjoyed with its classic partner–the tomato soup. Guests can also opt for a healthier choice through Local Edition's variety of salads such as the Deviled Egg Salad topped with a dijonaise dressing. Don't forget to grab a healthy bite of the Antipasto Sandwich and your tummy will thank you even more.
Antipasto Sandwich (P220) & Deviled Egg Salad (P210)
Aside from snacks, Local Edition's must-try are their coffee varieties which are all proudly sourced from the Philippines. Try either a cup of latte with a shot of espresso and steamed milk, or try their very own coffee milkshake for a cold drink.
Latte. shot of espresso, steamed milk and a medium layer of microfoam (Php 135 reg / Php 155 large)
Coffee Milkshake (Php 190)
Pair your drinks with their tablea brownies, which has a bitter-sweet aftertaste to complement the flavors.
Tablea Brownie (P80) 
With all these good cups and plates of snacks and coffees, Local Edition does not only promote good coffee and food, but it also promotes local artists and designers by handing out their grids every two months as a canvas to collaborators. This truly shows how Local Edition is the perfect destination for people who seek inspiration for creativity.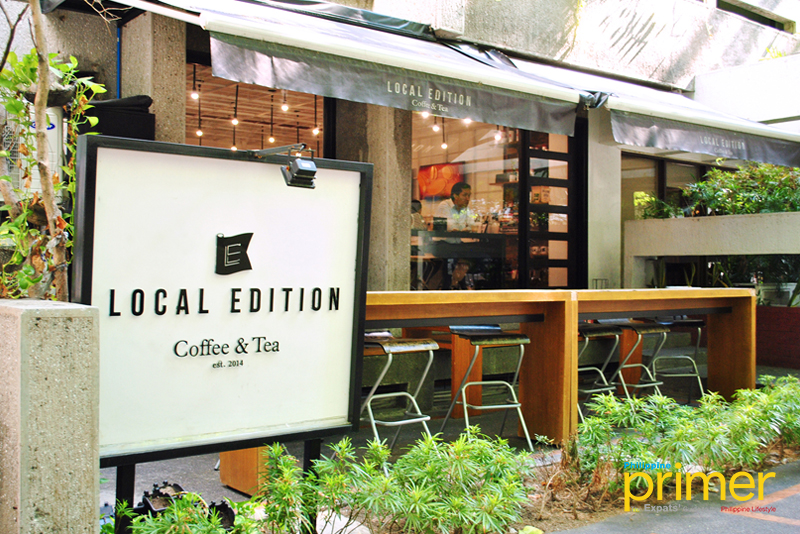 The bar stool is best enjoyed with a cold brew on Sundays when everything is quiet and peaceful.
Drop by this neighborhood café to be inspired to think, create, and appreciate life's simple pleasures over a cup of coffee and wholesome food.
Visit Local Edition at Mayfair Mansion, 116 Perea, Legaspi Village, Makati, City. For inquiries, you can call them at (02) 556 9655 / (+63) 905 444 8797. For updates about Local Edition, you can visit their Facebook page at localeditionph and visit their website at localedition.ph. 
General Information
Mayfair Mansion, 116 Perea, Legaspi Village, Makati, City
(02) 556 9655 / (+63) 905 444 8797
7:30am – 7:30pm (Mon – Fri) / 10:00 am to 6:00 pm (Sat – Sun)