LUMU in Makati: A Modern Beerhouse and Kitchen
Updated as of July 10, 2023, Permanently Closed 
In the Philippines, it has been a tradition amongst neighbors to drink outside their houses. Call it old school or what but to Chef Luigi Mulach, it is what he's accustomed to. With his love for Filipino cuisine, he created an ode to it and named it LUMU.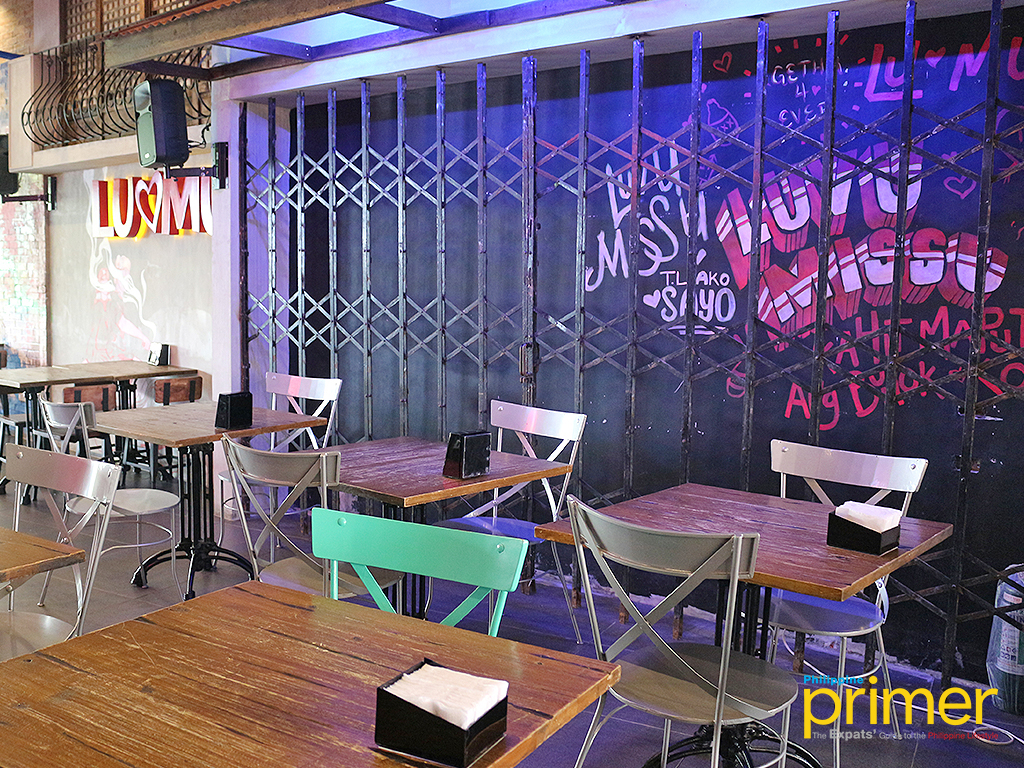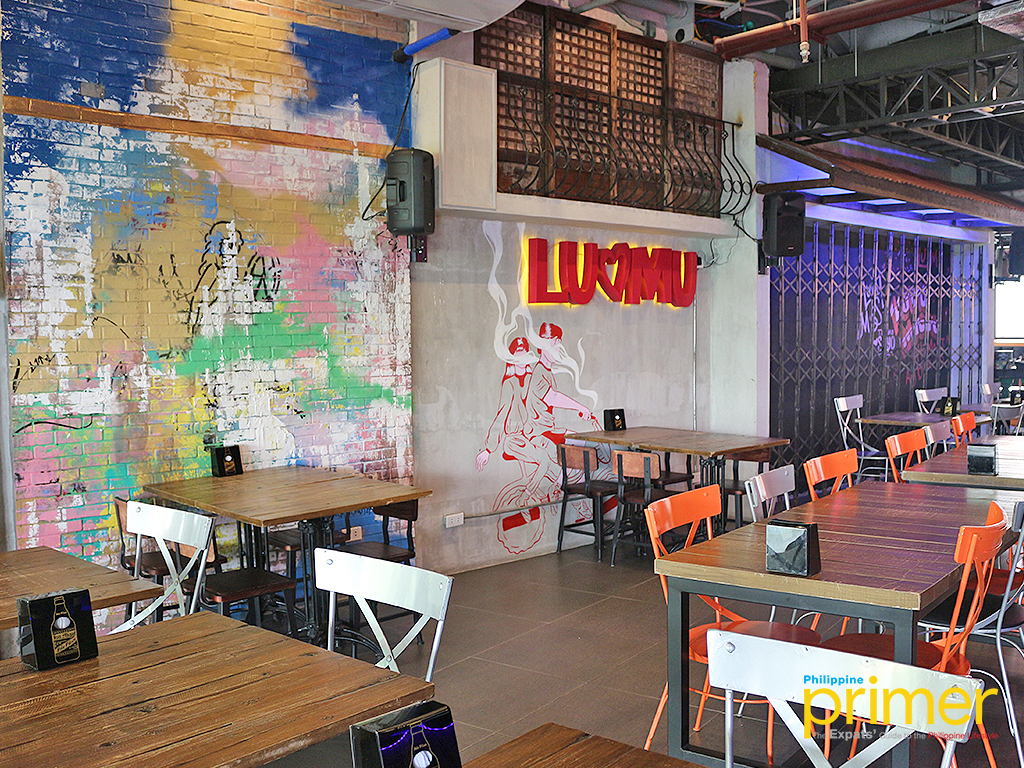 LUMU is mostly casual dining it transforms into a fun hang out spot at night.
LUMU is short for Love u Miss U. It came from a spur-of-the-moment moment and lots of good thoughts. It is located at Greenbelt 3 in Makati City, surrounded by other food establishments. Despite this, LUMU stands out with its quirky facade and interiors. It looks like a sari-sari store from the outside, mimicking the usual store we see around the streets. Cases of beers serve as decoration as well, adding that street style to it.
A usual sari-sari store outside the restaurant as their decor
Inside is a hip and casual dining area that has gates to a neon sign that reads Tomador, which means alcoholic or drunkard. They're thinking of having live band performances during the nighttime to add entertainment. On the walls are posters and flyers of some old movies, especially movies of the chef's parents, Aga Mulach and Janice de Belen, who are celebrity royalty in the showbiz industry here in the Philippines.
They serve rich Filipino flavors with a twist, mostly kambingan (goat) dishes. "When you hear pulutan, you can't go wrong with a goat," says Chef Luigi. Each dish is perfectly executed with a twist and fun names are thrown into the mix. For starters, you shouldn't miss out on their Hardcore Kambing Samplers (Php 449), a trio of their LUMU Papaitan, Ala Eh!, Gotong Batangas, and Kilawin.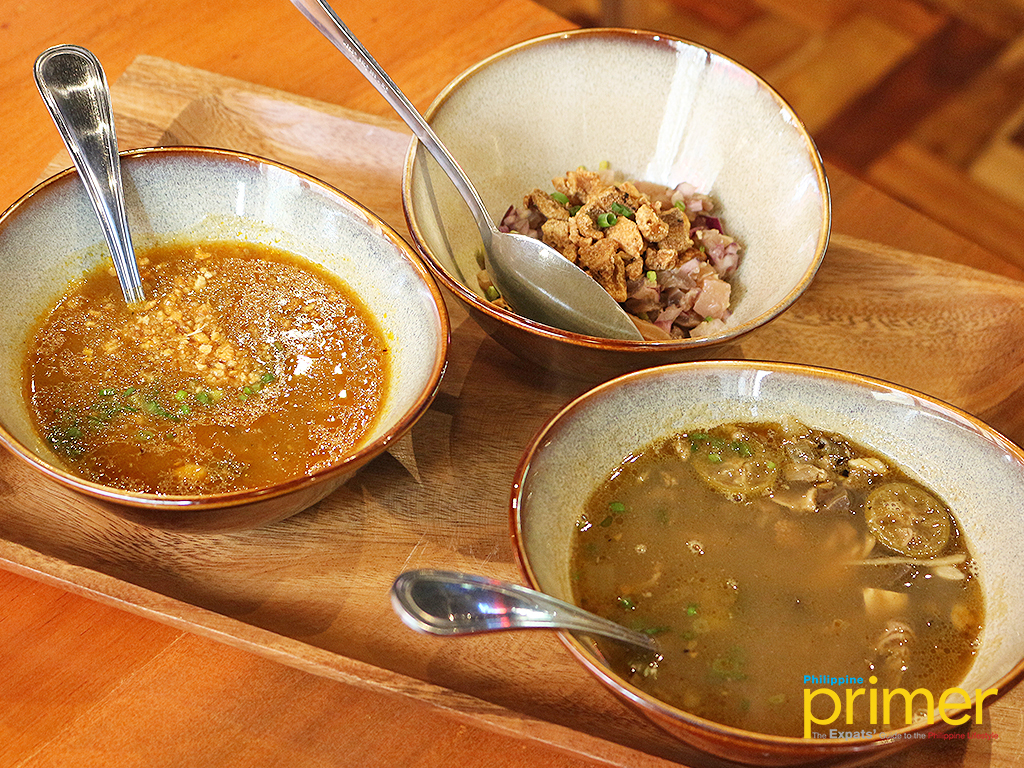 Hardcore Kambingan Sampler (Php 449)
Another favorite is the LUMU A-Bangers Sampler (Php 499), which has every flavor f their signature flavored sausages. There are nine sausages all inspired by local dishes: Kupido, spicy and savory Bicol Express, Cheese Mo (a cheesy kalderetang kambing), Nagdurugong Puso, Dinuguan (pork blood stew), and Walang Kamatayan (the classic pork and chicken adobo). If you have your favorites, you can also order them individually with 2 pieces each.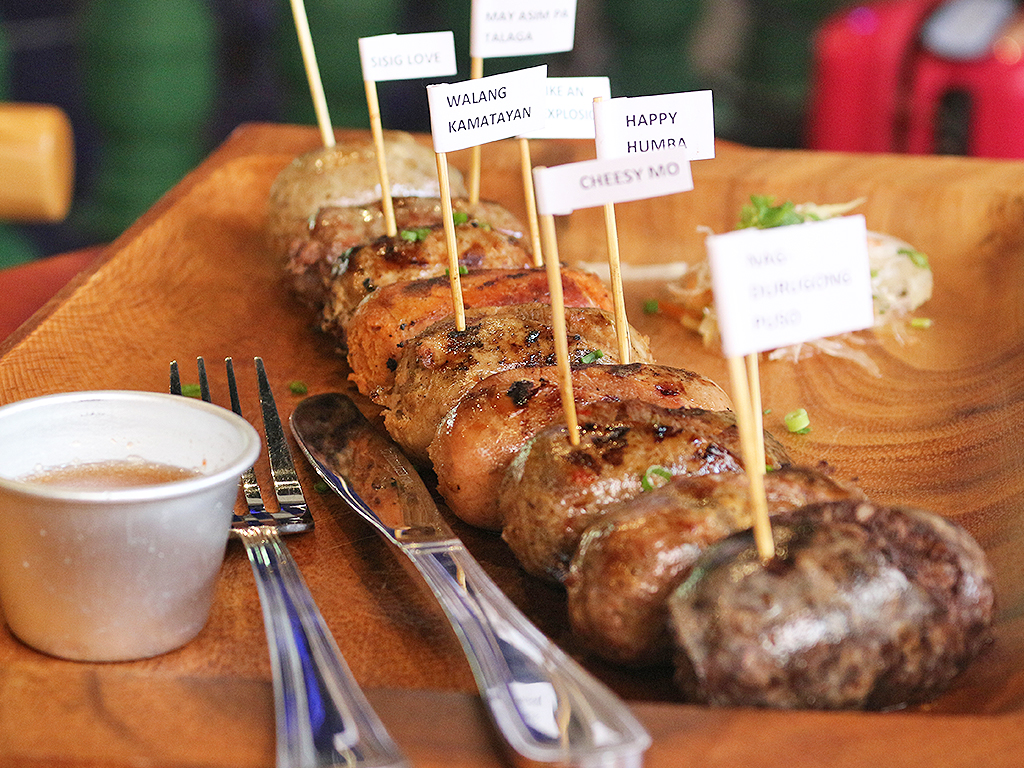 LUMU A-Bangers Sampler (Php 499)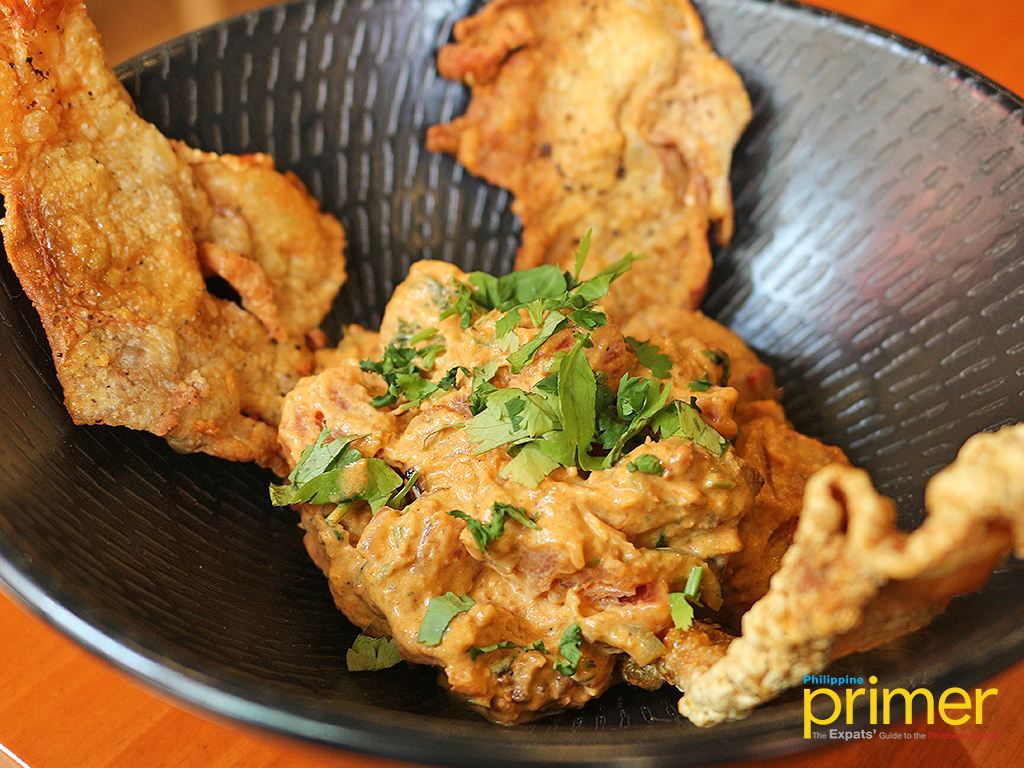 Patty's Sinuglaw (Php 199)
For something different, Patty's Sinunglaw (Php 199) is a must try. Sinuglaw is a native dish in the Philippines and it originated in Visayas and Mindanao. It first grilled then cooked by soaking it in vinegar. Chef's Luigi's take on this famous dish is a mix of tuna, pork belly, and aligue (crab fat) which adds texture and the right umami flavors. It is paired with chicken skin to add texture.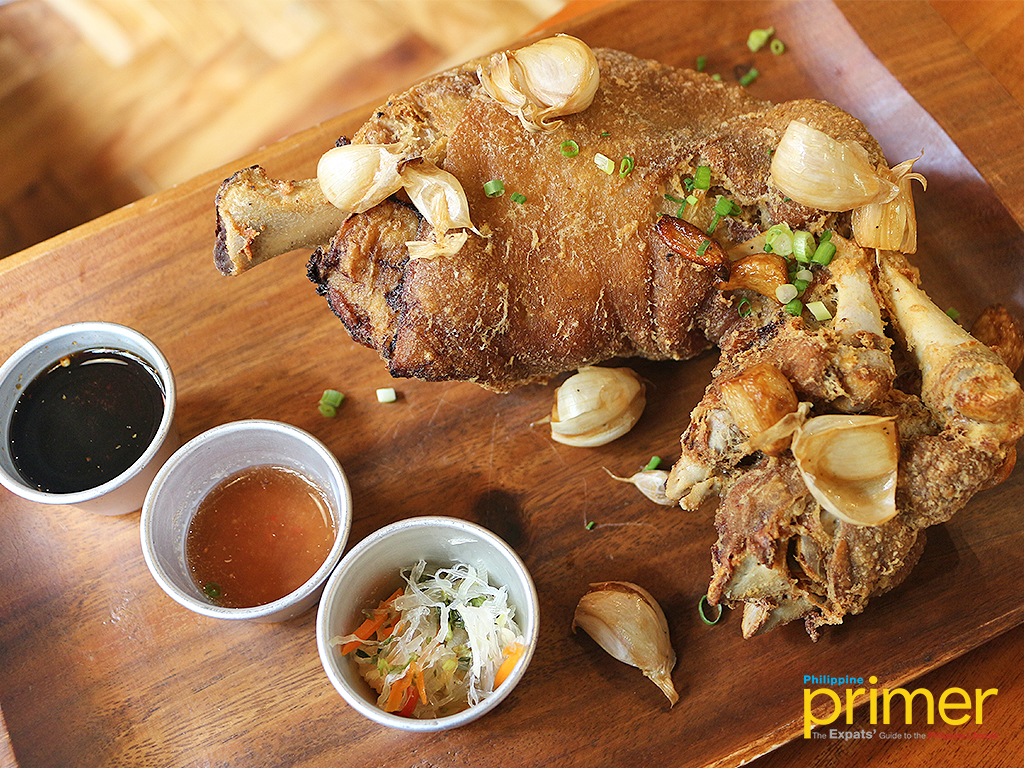 Crispy Pata (Php 695)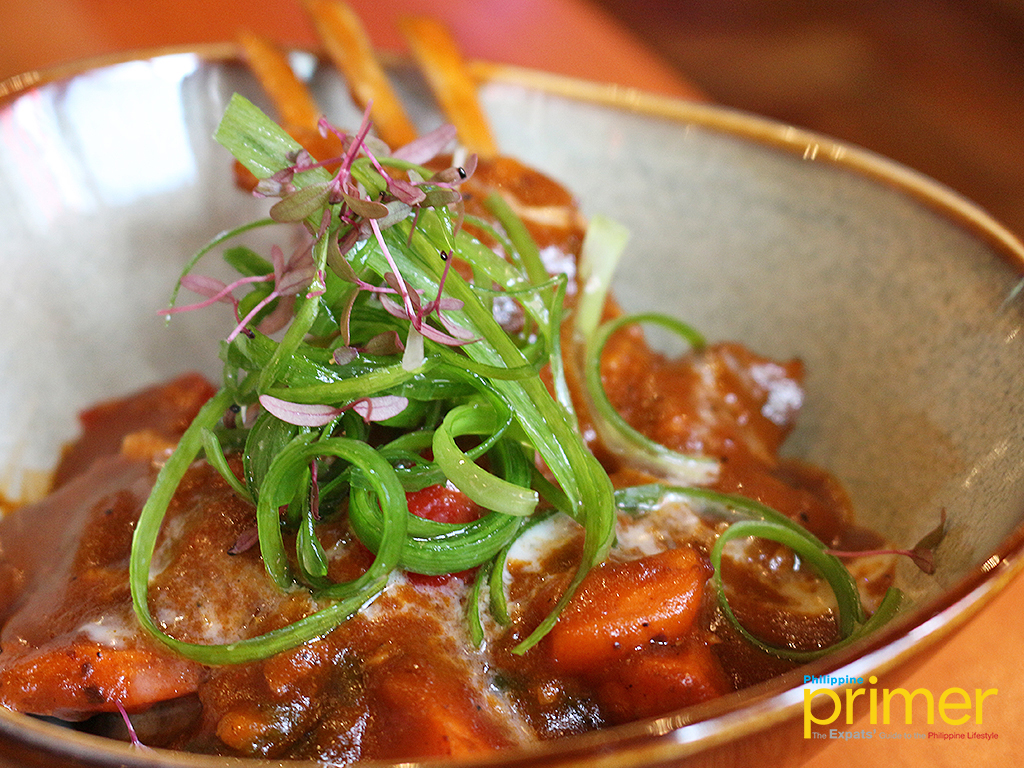 Miss You Kaldereta – de Nueva (Php 179)
We have also found one of the best Crispy Pata (Php 695) in Makati at LUMU. It's cooked sous vide, making it crispy on the outside and tender on the inside, with the meat falling off the bone.
Php Pichi Pichi Skillet (Php 225)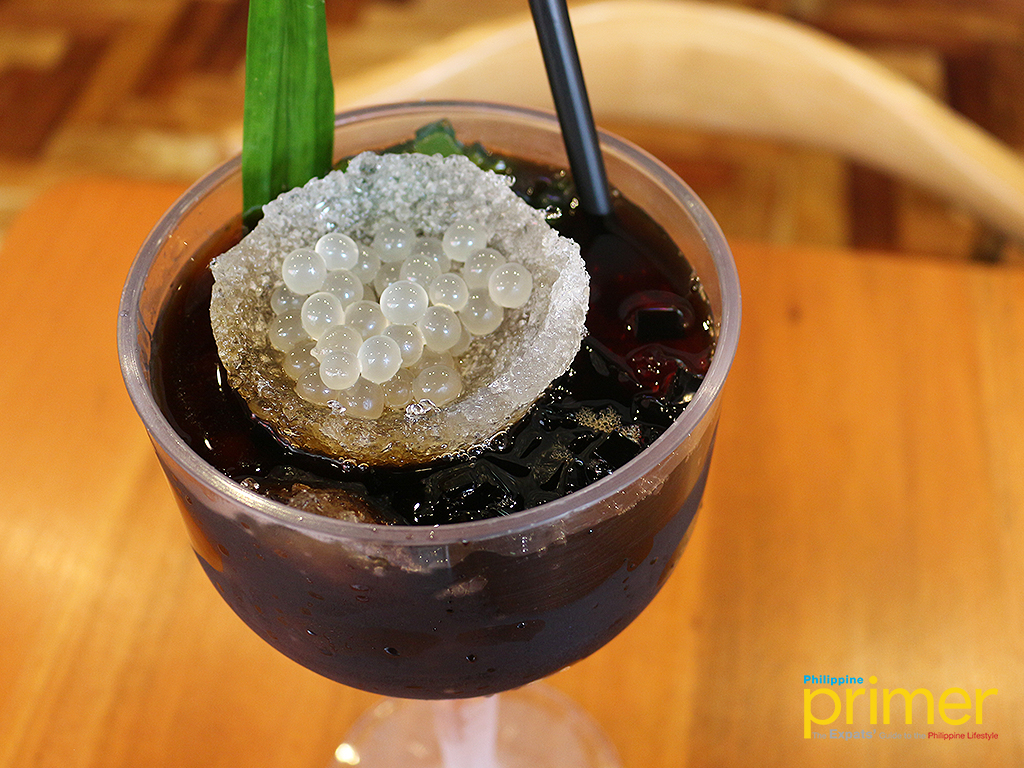 Sago't Gulaman Overload (Php 99)
All of their dishes go well with their signature drinks like the Sago't Gulaman Overload (Php 99). You can even have it spiked to make things a bit more interesting! The Mango Yakult (Php 85) has popping tapioca pearls which adds a surprise with each sip.
Order their Pichi-pichi skillet (Php 225) to end your meal. It's a warm cassava cake with coconut cheese and custard, and is worth the calories you'll be putting into your body.
LUMU will surely be close to your heart as it the best hang-out spot inside a mall.
Store Information
3/F Greenbelt 3, Makati City
02-504-5240
11:00 am to 11:00 pm until 1:00 am during Friday and Saturday