Herencia Garden Restaurant in Laoag: The Second Home of the Original Pinakbet Pizza
The home of the original pinakbet pizza that started back in 2005 just across Paoay church has found a new home in Laoag, Ilocos Norte.
From the previously called ghost town in Paoay, Herencia Restaurant has blossomed and extended their semi-fine dining to serve the fusion of local and international plates in Laoag introduced as Herencia Garden Restaurant.
The Birth of Pinakbet Pizza
A ghost town, as what many people would recall Paoay, was then a risky place to build up a restaurant. But Herencia was a promising restaurant that serves continental cuisine for tourists who pay a visit to the heritage site that is Paoay Church.
It wasn't that long when the media has picked up the restaurant's beauty and soon after, locals and tourists began flocking down the old restaurant. From serving international plates, they decided to introduce fusion flavors as well as Ilocano plates to the public, slowly but surely—thus the birth of Pinakbet Pizza.
Also read: Paoay Church in Ilocos Norte: The Stunning Historical Icon of the North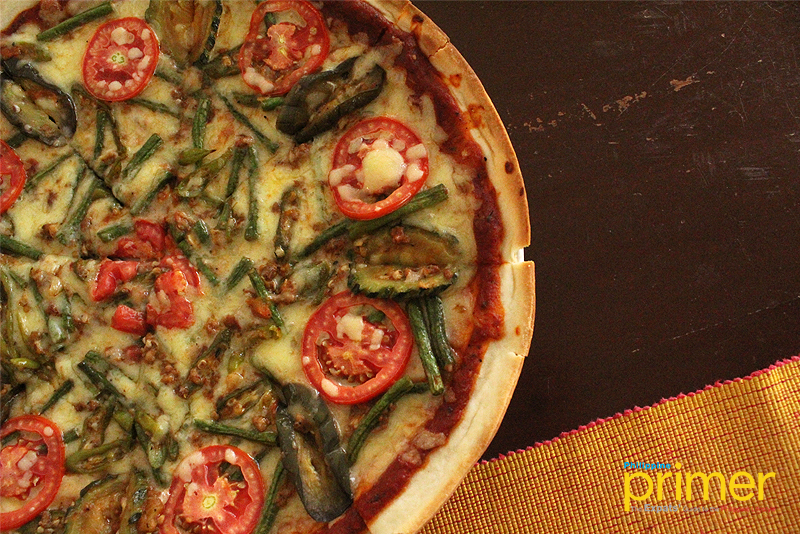 Pinakbet Pizza
From serving international pizzas, the people behind Herencia thought of introducing the Ilocano viand with a twist. Pinakbet Pizza was soon discovered and many media sites began covering the stories and the unique flavors of this pizza.
Later on, tourists and even locals began discovering Herencia in Paoay that paved way to the opening of their second branch in Laoag.
Herencia Garden Restaurant Laoag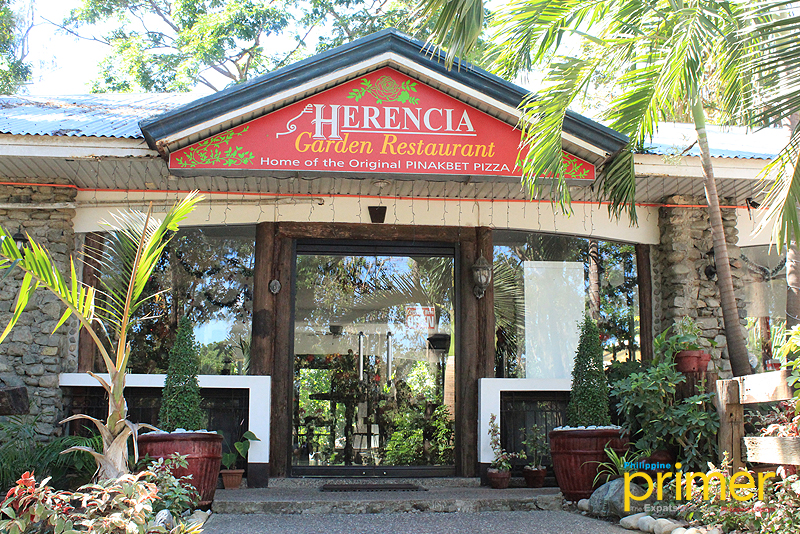 It was in 2014 that the team decided to open the second branch in Laoag along Rizal Park. It has now become the second home of the famous Pinakbet Pizza. It houses some interesting Ilocano fusions as well.
The famous Pinakbet Pizza (Php 405) which uses the typical Pinakbet vegetables like eggplant, tomato, string beans, and bitter melon has a slightly bitter and salty finish. And because they are committed to serving the original pinakbet pizza, every single vegetable on top are freshly delivered every day and ingredients are sourced locally.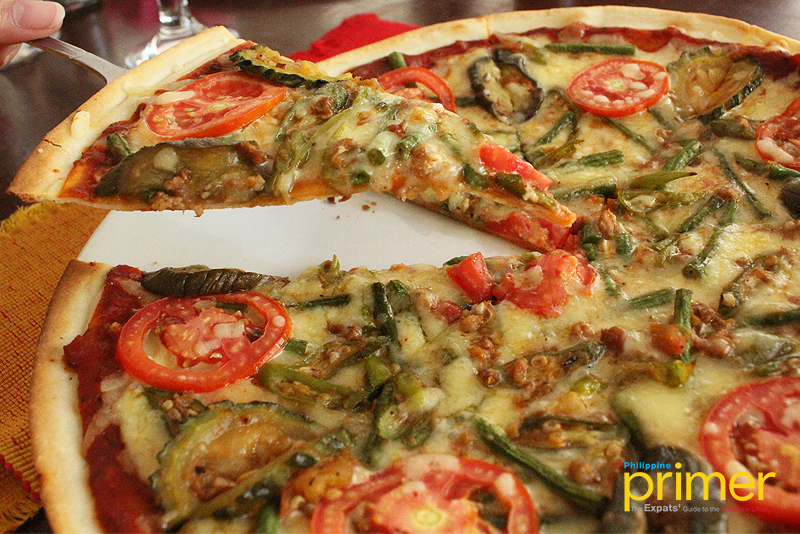 Pinakbet Pizza (Php 405). Tip: make sure to add the shrimp sauce in your slice to get the ultimate Pinakbet flavor.
Aside from Pinakbet Pizza, you can also try the Ilocandia Pizza, to taste a different serving of the ever famous Ilocos Longganisa. While introducing a fusion of local and international plates, Herencia Garden Restaurant also serves Ilocano favorites with a twist like the Crispy Dinuguan (Php 210).
This classic Filipino viand is often served in liquid and softly boiled meats but Herencia's take on the dinuguan is a crispy version that perfectly crunches on your mouth as you savor the sour pig blood stew.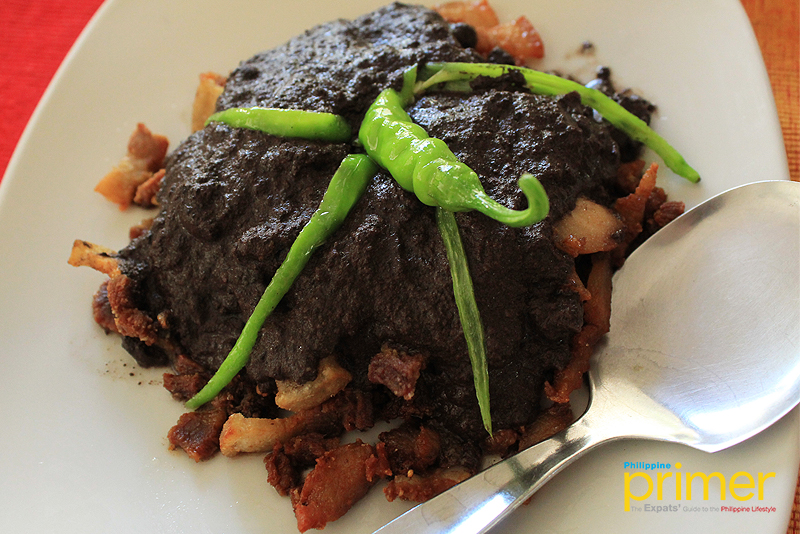 Crispy Dinuguan (Php 210)
Aside from these classic servings, of course, what's a tour to Ilocos Norte if you won't have a serving of the Bagnet with KBL (Php 260). Herencia's Bagnet is not like any other. It has an even distribution of the fat and the meat, plus it is both crunchy and soft at the same time.
They also gave the famous dish a different twist by serving Bagnet Kare-Kare, Bagnet Sisig, and Sinigang na Bagnet. Bagnet Kare-Kare will be soon available so make sure to check them out once in a while to get the first try of this delectable dish!
Bagnet with KBL (Php 260)
Last, but definitely not the least is also one of the ever famous Ilocano viand—Poque Poque (Php 160). Herencia's take on this dish is by far, one of the best. It has a creamy and salty finish that has a perfect balance of the egg and the eggplant.
While some poqui poqui dishes often have one ingredient that stands out the most, here in Herencia, you'll taste a balance between the eggplant's saltiness, the creaminess brought by the eggs, and the additional spice brought by the tomatoes and the onions.
Poque Poque (Php 160)
And because Herencia has been here for a long time now, their success was also extended to restaurants who made their own versions of the famous Pinakbet Pizza. But one must never forget where the roots came from. It always starts here, and the best of Pinakbet Pizza will always be here.
How to get here:
From Laoag town proper, head 

northwest

 on 

J. P. Rizal St

 then turn right onto Gov. Roque B. Ablan. After about 1km, turn left onto Apolinario Castro and then turn left onto Hernando. Herencia Garden Restaurant is on the left side. 
---
This first appeared in Philippine Primer's Japanese magazine March 2019 issue.
Written by Denisse Tenorio
General Information
McArthur St., Paoay, Ilocos Norte
077-614-0214
0917-501-9074
9:30 am – 9:00 pm daily
Rizal Park Pavilion, Gov. Ablan Ave., Castro St., Brgy. 4,, Laoag City, Ilocos Norte
Restaurant Menu
You can scroll the image left and right.