Steakhouse Boracay
A restaurant that has been a staple of Station 1 since 1998, Steakhouse Boracay is the place to be if you want to meet your need to feast on meat.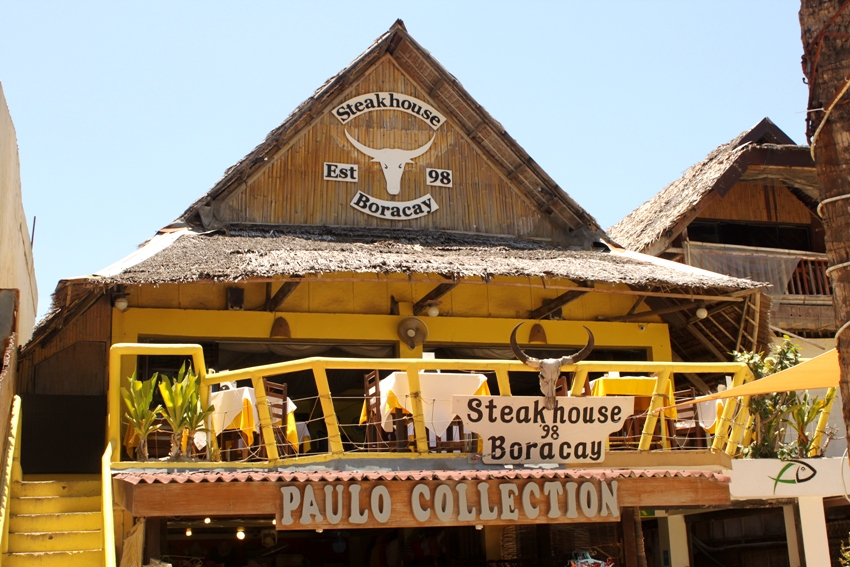 STEAKHOUSE BORACAY. The one that brought Boracay its steaks.
Steakhouse Boracay has what may be said as the simplest concept on the island: a place where you can get the best steaks in town. It's the first restaurant to have introduced steaks to the people of Boracay. It's popular with the locals purely through word of mouth.
Their dishes are all made to order, meaning the only time they cook your food is when you place your order. This ensures that everything on your plate will be as fresh as can be. They're not strict when it comes to what you're wearing: since they're on the beach, they find it awkward to reject someone based on what they have on their body.
Their steaks are some of the best on the island. Imported all the way from Australia, these steaks will surely satisfy anyone who likes meat. Their tenderloin (P750) sells like hotcakes. You can have this cooked to your preferred doneness. It's seasoned perfectly, and goes really well with their mustard sauce. If you're not into mustard, you can also get your steak with herb butter or pepper sauce.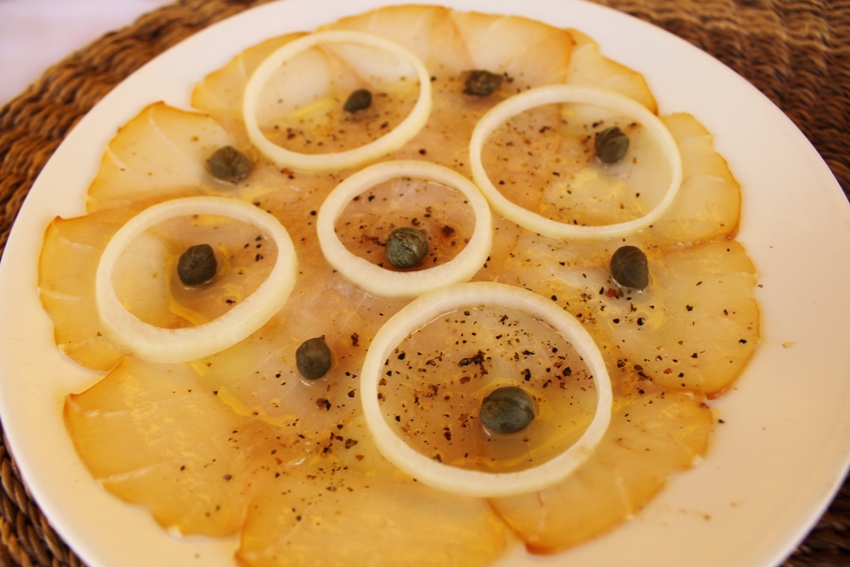 BEEF CARPACCIO. If you're all for meat, then this would be considered the perfect appetizer.
Another crowd favourite is Steakhouse's Carpaccio. Most people associate a Carpaccio with beef, which Steakhouse is already known for. Their Beef Carpaccio (P480) is a great way to start you meal. Thinly-sliced tenderloin combined with olive oil, olives, and strips of parmesan cheese will make any man happy to start their meal.
FISH CARPACCIO. A lesser-known variety, but no less appetizing.
However, what most people don't know is that Carpaccio is not limited to meat. Take their Fish Carpaccio (P480). Thin slices of masugi loin mixed with olive oil, Philippine lemon, capers, and fresh onion rings will make this appetizer one for the books. It's similar to sashimi, except it's a lot thinner and much more refreshing.
These meals will surely make your stay in Boracay all the more interesting, especially when you combine it with the views you'll get from Steakhouse Boracay's second-storey restaurant. Sweeping views of the beach will surely take your breath away… that is, if the food hasn't done so.
You can find Steakhouse Boracay at Station 1, Boracay Island. For reservations, please call 036-288-6102 or 0910-571-1274. You can also visit their website at www.kiteboracay.com or follow them on Facebook, Steakhouse Boracay.
Price range: P250 – P800 per dish plus 5% service charge
Station 1, Boracay Island
036-288-6102 or 0910-571-1274