Noor in Burgos Cirle BGC Is Your Next Dining Option with Idyllic Ambiance and Eats
We have already been overwhelmed by the extensive dining options within Bonifacio Global City in Taguig, and we can't help but try different eats from each one of them just to satisfy our playful appetite.
Besides, there is a new restaurant around Burgos Cirle, thoroughly conceptualized to be different and stand out among others in the district. Opened only this August, Noor has started out to fondly bring diners a new range of tastes.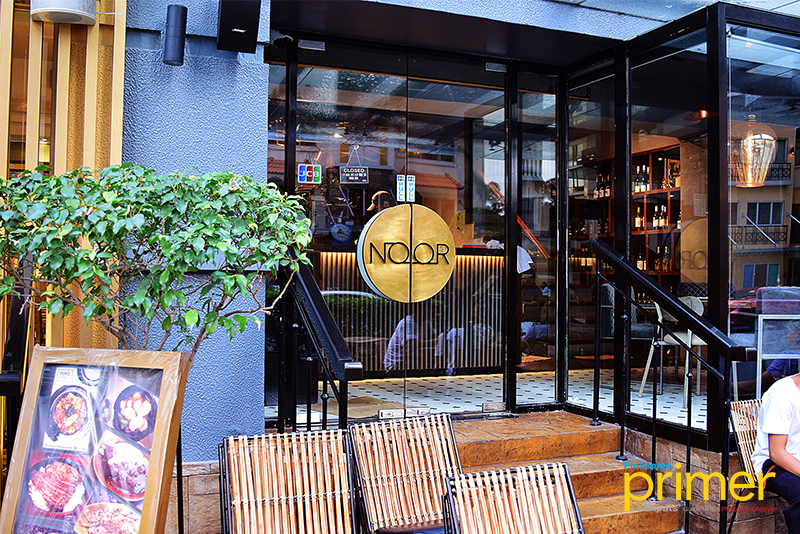 Noor displays an inviting, fancy exterior
Noor, which is a Hebrew word for "flame" or "light", boasts authentic Mediterranean cuisine prepared by Israeli chefs. It has an inviting, fancy look that induces passersby to spend a great time inside. And true enough, upon entering, customers will be greeted immediately by the friendly staff, including the chefs as they actively work in the open kitchen.
There is a counter seat on the ground floor where customers can enjoy their food while watching how the dishes are prepared in the kitchen. Upstairs is the extension of the the laid-back ambiance and vibrant energy accentuated by the light fixtures, floor-to-ceiling windows, and other restful interiors–all installed to fancy a fine dining experience. Even the outside setting is sporting a sleek and modern vibration.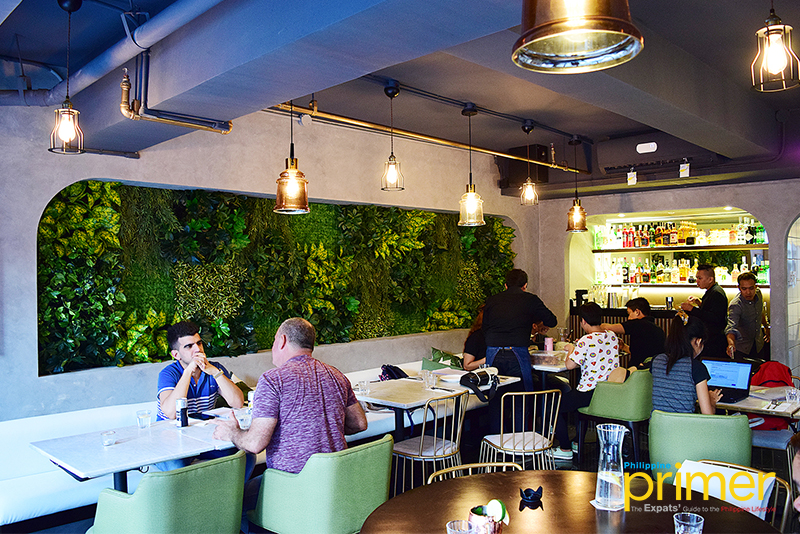 Diners can sit back and relax while enjoying their food in Noor's restful ambiance
In the first few weeks, Noor was only operating during dinner time, but to prolong the satisfaction, they have started opening as early as 11 a.m., now offering lunch. At any time, Noor is serving the best suit for your palate.
Try Fish Kebab (Php 550), which is a dish that puts fish meat dumplings on the Middle Eastern salad "Tabuore". It has cucumber, tomato, couscous, parsley with mild yogurt, and olive oil that gives a refreshing acidity.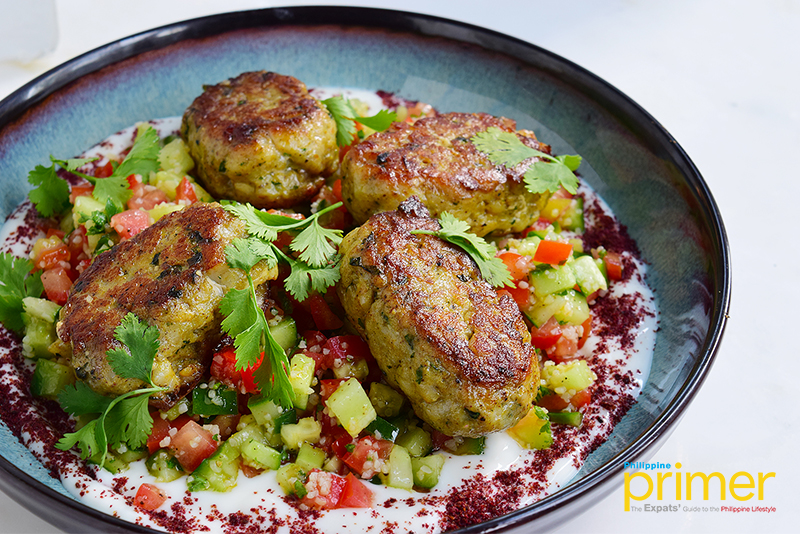 Fish Kebab (Php 550)
Meanwhile, the Lamb Baklava (Php 460) is a baklava with lamb's ground beef, which juicy minced meat with crispy filo dough and spice are at their full volume.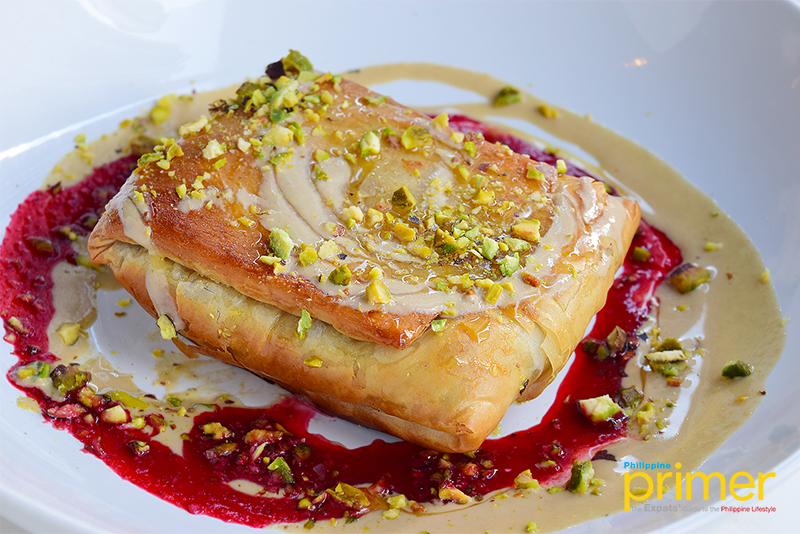 Lamb Baklava (Php 460)
The deep fried Cauliflower (Php 350) topped with ceasar aioli and parsley is a must-try too. The combination of baked cauliflower and the sauce is incredibly impressive.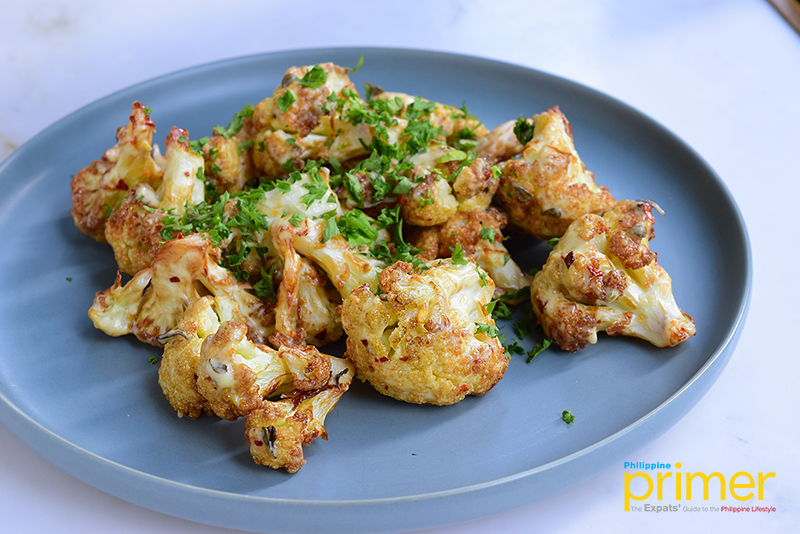 Cauliflower (Php 350)
For the dessert, the Knafe (P380), which is shredded phyllo pastry, white cheese, butter, rose water syrup, topped with vanilla ice cream is the most popular. Sample this one to have a fulfilling way to end your meal!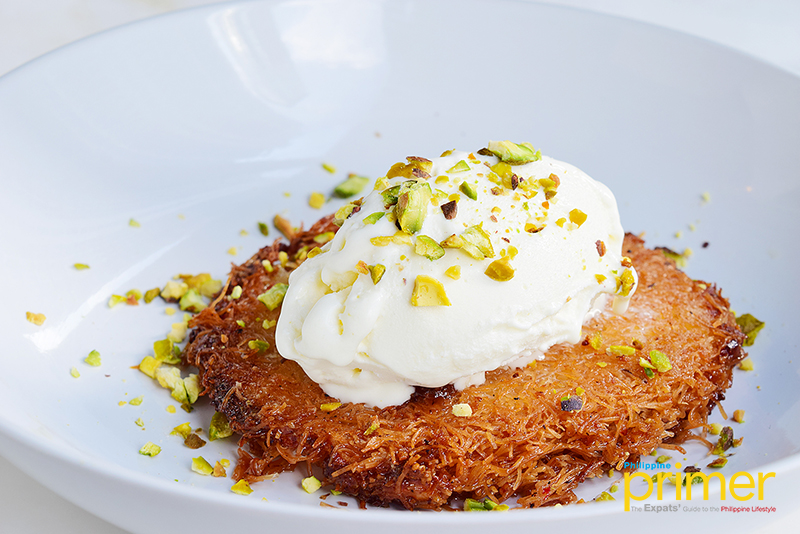 Knafe (P380) 
Aside from the aforementioned hearty eats, Noor has in-house bar that offers alcoholic beverages, perfect for a discreet revelry. Recommended cocktails are the Noor (Php 380), which is a concoction of Jin, Basil, Cucumber, Lemon juice and Tonic water, as well as the Regina Spektor (Php 380), which has the tastes of Vodka, Campari, Cointreau, Egg white, and Orange.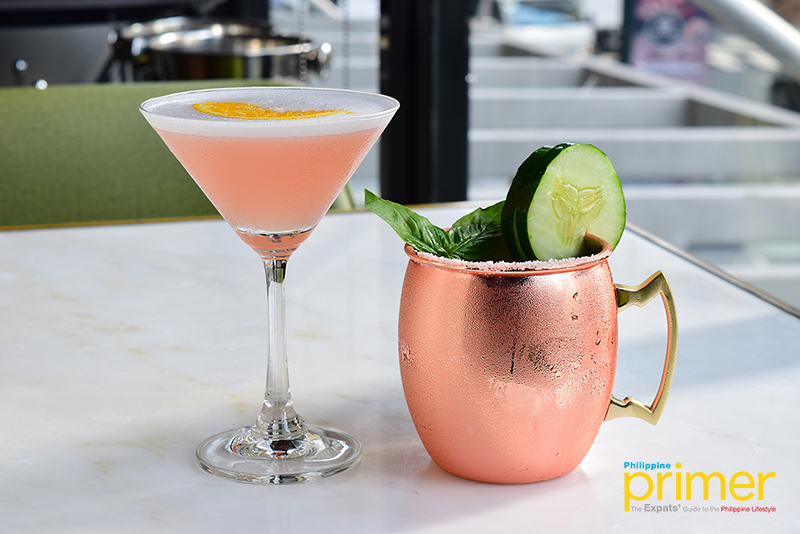 Cocktails (P380 each) Left: Noor (Jin, Basil, Cucumber, Lemon juice, Tonic water), Right: Regina Spektor (Vodka, Campari, Cointreau, Egg white, Orange)
Certainly, Noor is an idyllic and great place to indulge in an array of hearty eats while appreciating the restful state of the place. Visit Noor at Unit F 133 Forbeswood Heights, Burgos Circle, BGC, Taguig. It is open daily from 11:00 a.m. to 12:00 m.n.
Store Information
Unit F 133 Forbeswood Heights, Burgos Circle, BGC, Taguig
02-898-0292
0956-156-3426 / 0947-205-3718
11:00 a.m. - 12:00 m.n. (Monday to Sunday)