Vieux Chalet: A Taste of Switzerland in Antipolo
Vieux Chalet is a little slice of Switzerland hidden in Antipolo. Opened in 1984, by Tony Hassig, a Swiss man, and his Filipino wife, Susan, as a way to provide city folk a break from their fast-paced lives.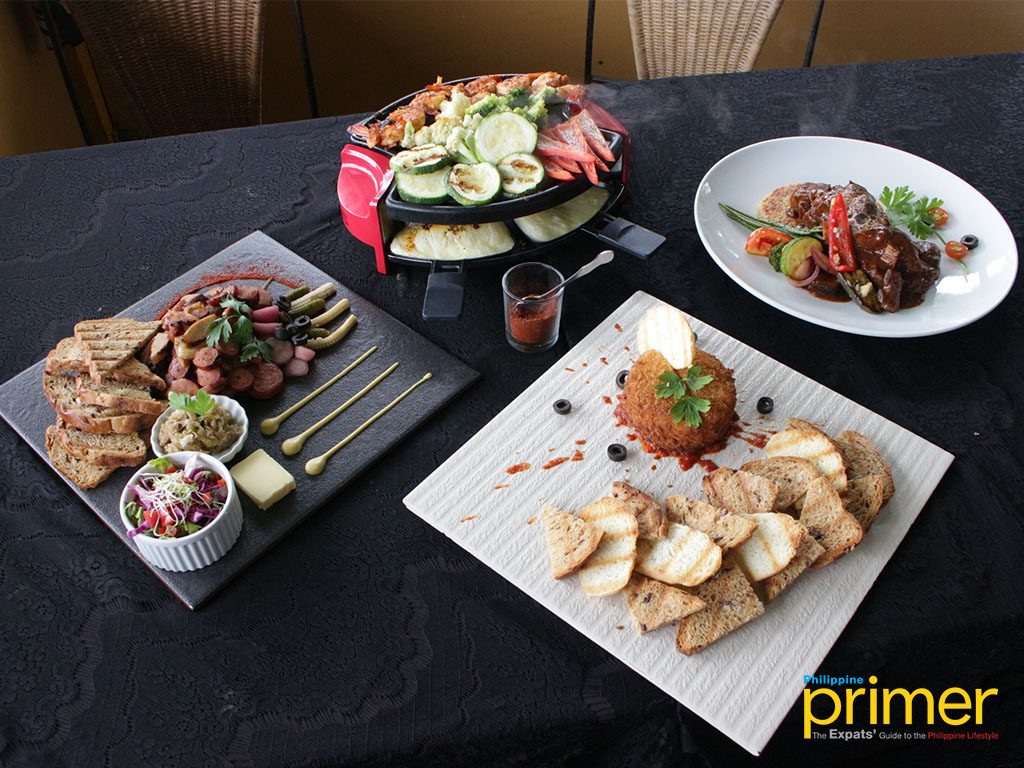 The restaurant is small, perfect for losing one's self in intimate conversations. The walls are decked with paintings, many of which were made by Susan. The window tables also give a great view of the city down below, especially in the evening.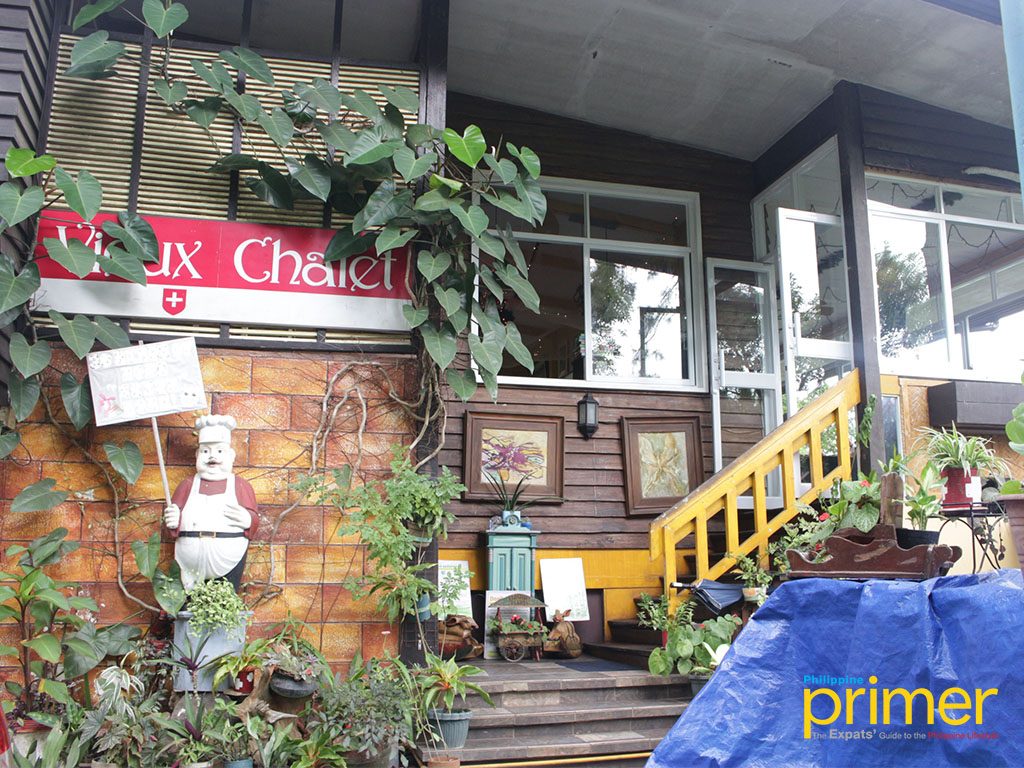 You'll fall in love with the place as soon as you the exterior
The food is undeniably Swiss. Tony wanted to serve Swiss food made from Filipino ingredients. When Vieux Chalet first started, they had their own milking cows that provided fresh dairy. They have since sold their cattle and now source dairy elsewhere but everything else is still made in-house. Don't expect store-bought bread when dining here because they make everything from scratch.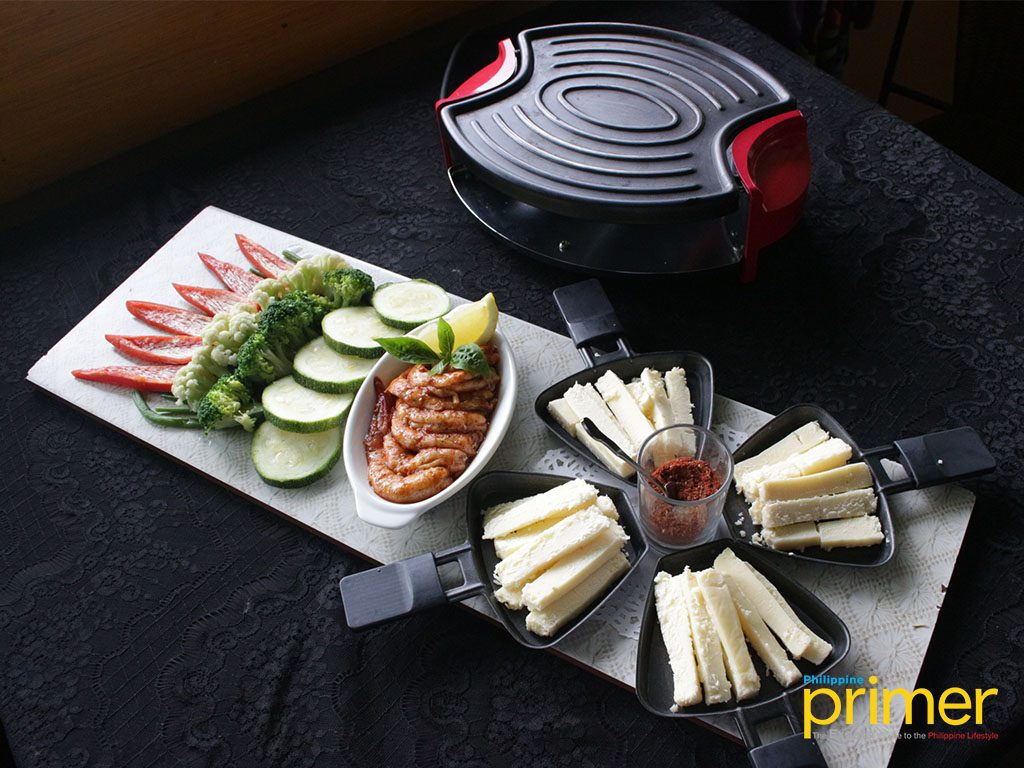 Raclette Festival (Php 1500)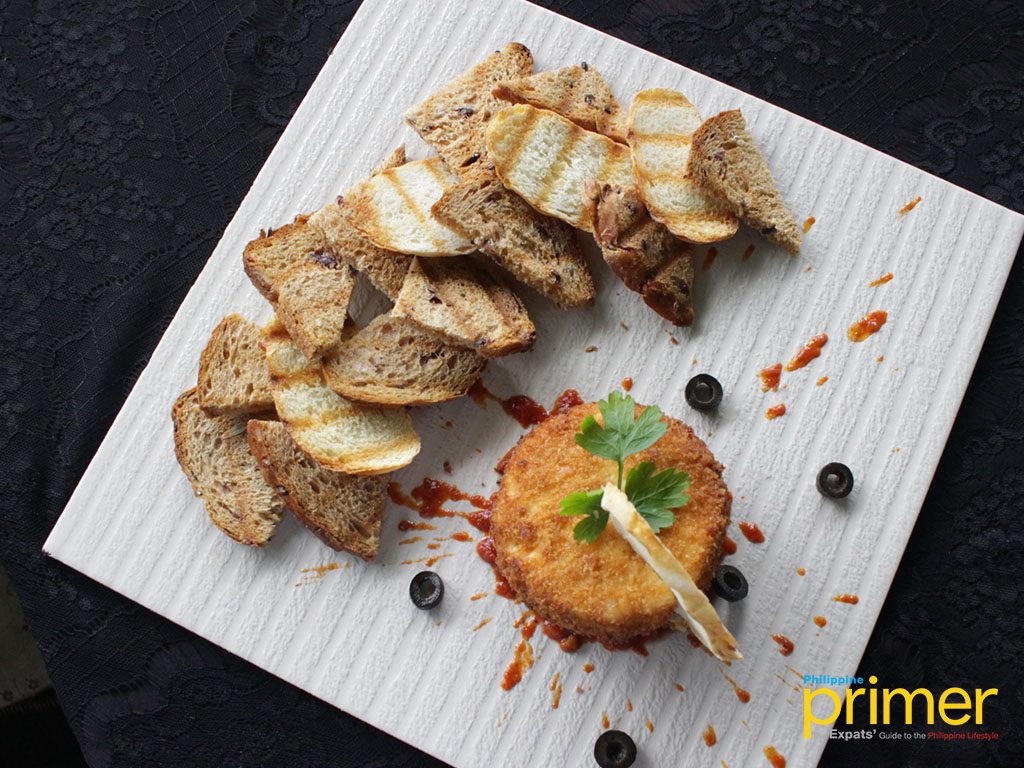 Malakoff
They've got an extensive menu (it spans more than 5 pages) and changes from time to time, though they have a couple of mainstays. Swiss food is never really complete if cheese isn't present. Part of their recent summer menu includes the Raclette Festival (Php 1,500). The raclette sits on a burner to melt. On top is a hot plate with shrimp, zucchini, broccoli, and bell pepper. Because the cheese neither sharp nor salty, it actually brings out the sweetness of the peppers.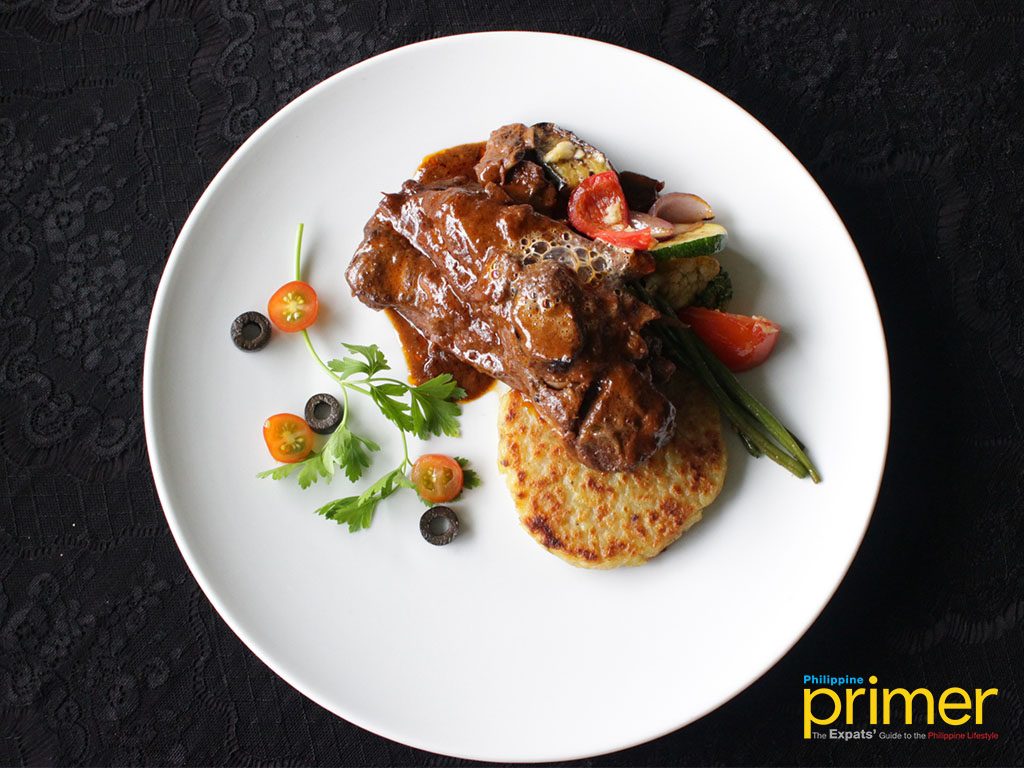 Lamb Shoulder in Red Wine Sauce (Php 1,243)
And then, there's the Malakoff. People who prefer soft cheeses with a milder taste would love this. It's a breaded and deep-fried wheel of camembert served with a side of toasted bread.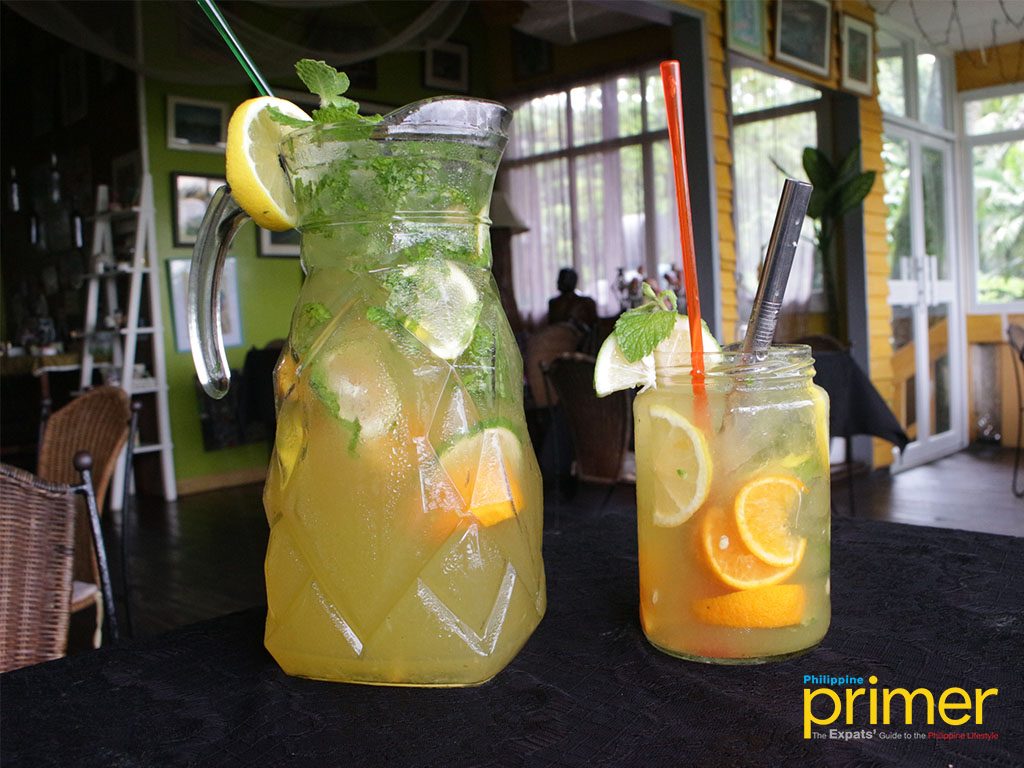 The Homemade Calamanturis Soda (Php 165/glass and Php 495/pitcher) is served with a metal straw!
Even with the cold Antipolo weather, it's pretty hard to resist their Homemade Calamanturis Soda (Php 165/glass and Php 495/pitcher). The refreshing soda is basically a medley of citrus fruits mixed with carbonated water.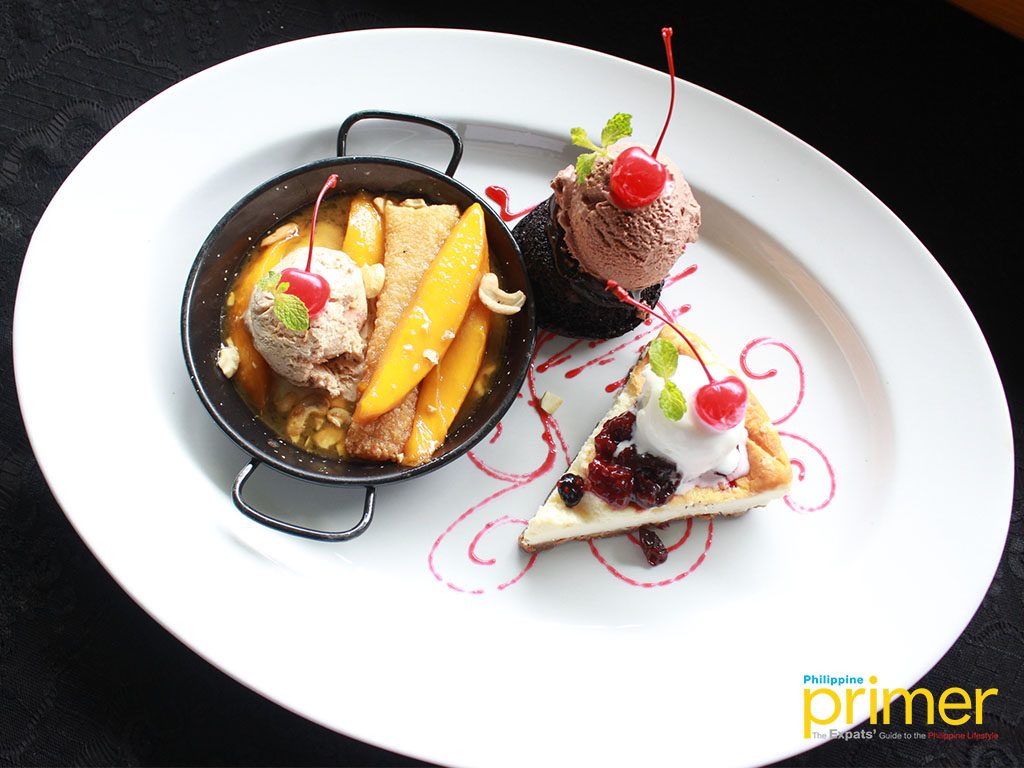 Trio of Dessert (Php 900)
The restaurant offers course meals for diners who want to sample a bit of everything. They also offer a la carte dishes for those who wish to sample just a few dishes. Though Swiss food is heavy on meat and dairy, vegans and vegetarians don't have to miss out so long as their chef is in.
---
This first appeared in Philippine Primer Japanese Magazine's September 2018 issue.
General Information
456vTakatak Rd, Antipolo, Rizal
+63026970396/+639088250549
9am to 10pm Friday to Tuesday
Wednesday and Thursday