Terry's Bistro & Gourmet Store in Makati Brings a Quiet Grandness to the Market
Updated as of May 5, 2023.
Fine is not limitedly settled across the expanse of Terry's Bistro & Gourmet Store's dining area alone because it is sprawled everywhere and over everything—from the gourmet store where a variety of retail products sits to the wine cellar where a wide selection of old and new world wine is kept.
We mean, you can definitely expect no less from a brand that's molded by a man who was a recipient of an accolade from the King of Spain himself, can't you?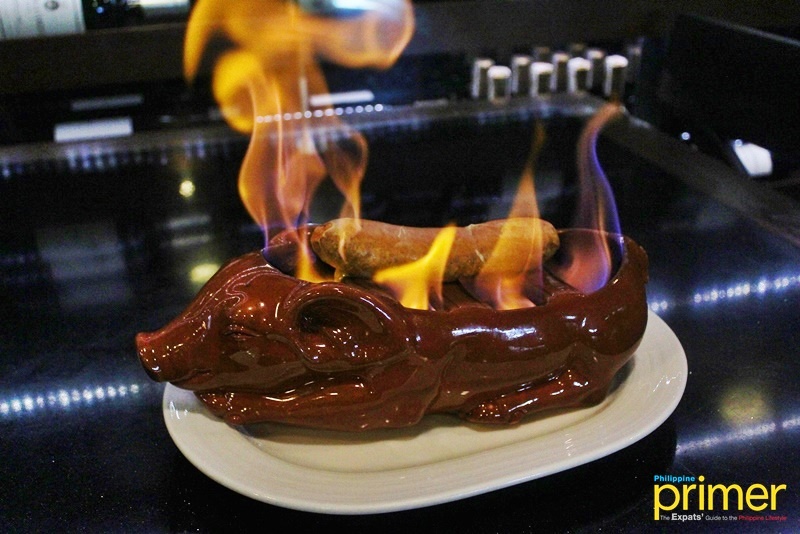 Juan Carlos de Terry, Ph.D. is the brain and the hands behind Terry's, an all-encompassing brand that silently emits grandiosity.
Through his decades-long handiwork of bridging the gap between Spain and the Philippines (as well as Mexico) in terms of the food and wine culture, he was awarded by the King of Spain Juan Carlos I with the prestigious Encomienda del Merito Civil.
Now, Terry's acts as a sturdy bridge that readily connects the flavors exclusive to that of the Mediterranean cuisine to the palates of people in the Philippines.
Terry's Bistro
The restaurant's Chorizo Terry on Piggyback enters the picture as flamboyant as it could be—with flames literally grazing the chorizo on the back of a pig-shaped cazeula.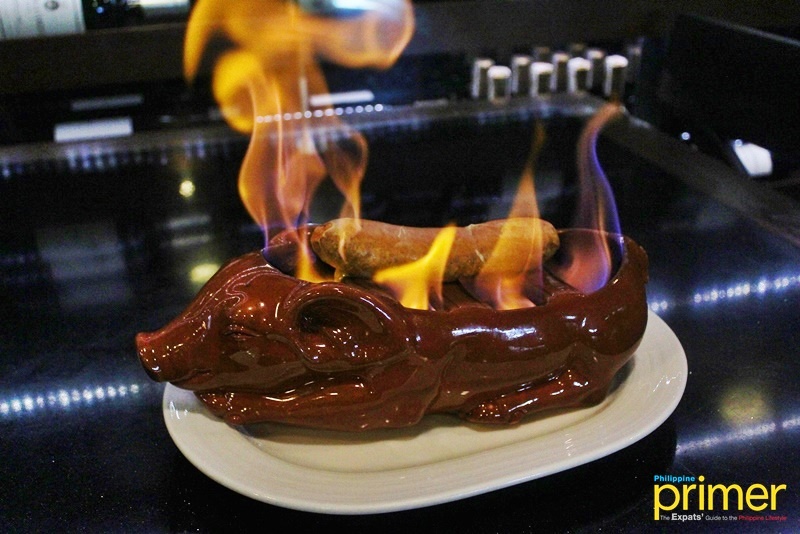 Chorizo Terry on Piggyback
Once done, the signature Terry's chorizo is served on a platter, boasting the right amount of varying spices, enjoyed with slices of bread on the side.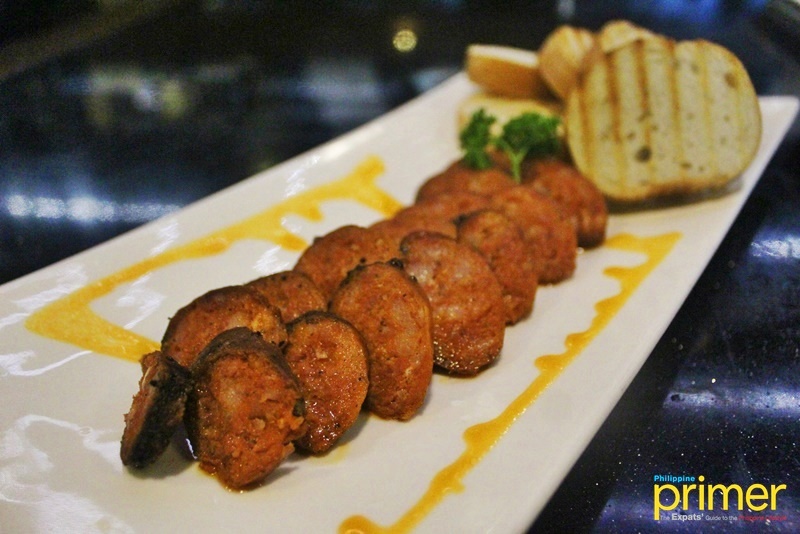 This is best partnered with Cinco Jotas® Béchamel Croquettes, as the two complements each other's tastes that are on opposing ends of the salty spectrum.
While the former exudes a powerful flavor, the latter boasts the utmost creaminess.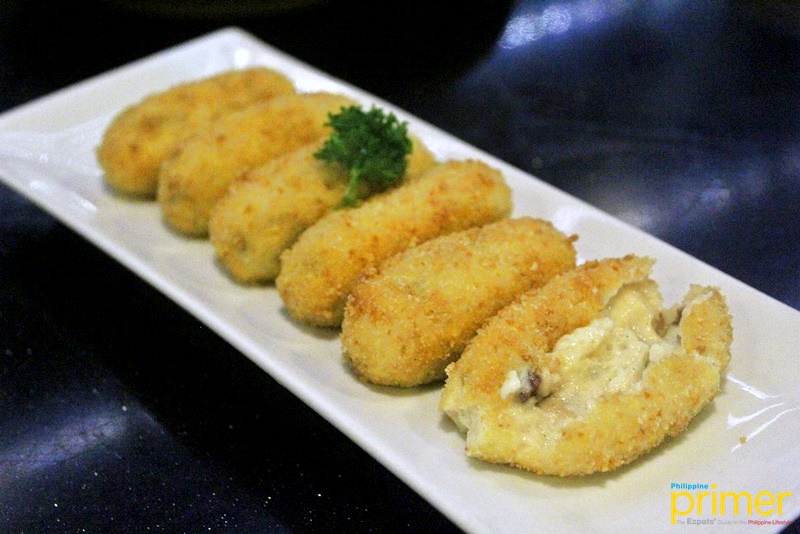 Cinco Jotas® Béchamel Croquettes
These are croquettes made of rich Béchamel, filled with Cinco Jotas® Jamón ibérico, that will definitely stuff you with its full, creamy delight.  
And while you're at it, munch on some Manchego Dumplings, with wonton wraps that are fried to a perfect golden brown, firmly keeping in place the intertwining saltiness brought by the thin slices of the Manchego cheese and Iberian salami.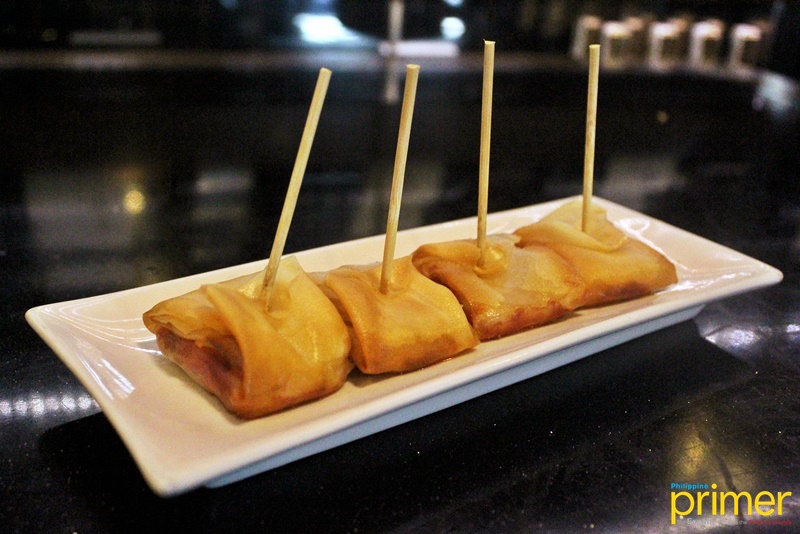 Manchego Dumplings
Moving forward to the slightly heartier meal, Gambas Al Ajillo is an undeniable delight to eat with the extra virgin olive oil acting like the sea where the soft shrimp pieces silently swim alongside the copiously situated reefs of garlic.    
While its ingredients are normally tagged with lightness, this dish teems with the kind of flavor that fully engulfs you in a voyage circling around saltiness and spiciness.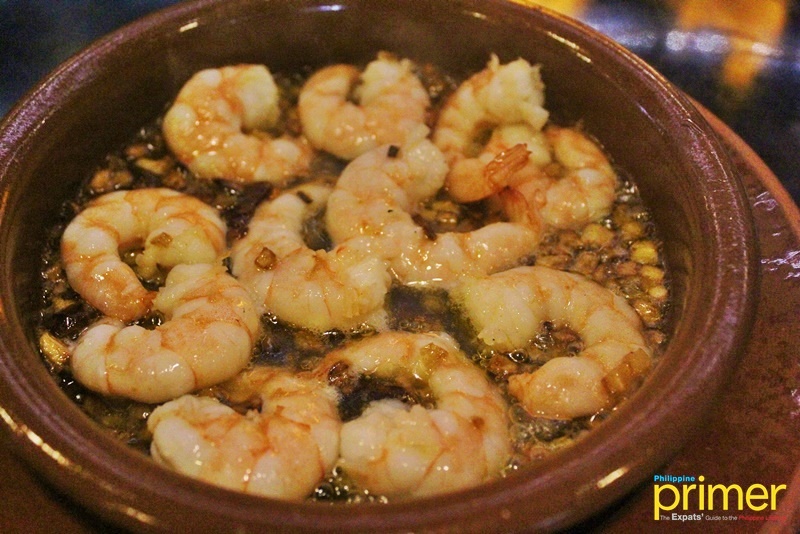 Gambas Al Ajillo (Php 780)
There may be a lot of things we are not sure of, but there's one thing we are: eating a single piece of shrimp definitely would not suffice.
And to get the utmost best of what Terry's has in store, try the Terry's Special Black Angus Steak—a Spanish-style bone-in steak or chuletón that can be relished by up to six people.
It is served with Rioja wine sauce accompanied with steakhouse fries and roasted Piquillo peppers. Note that you need to order it at least six hours in advance.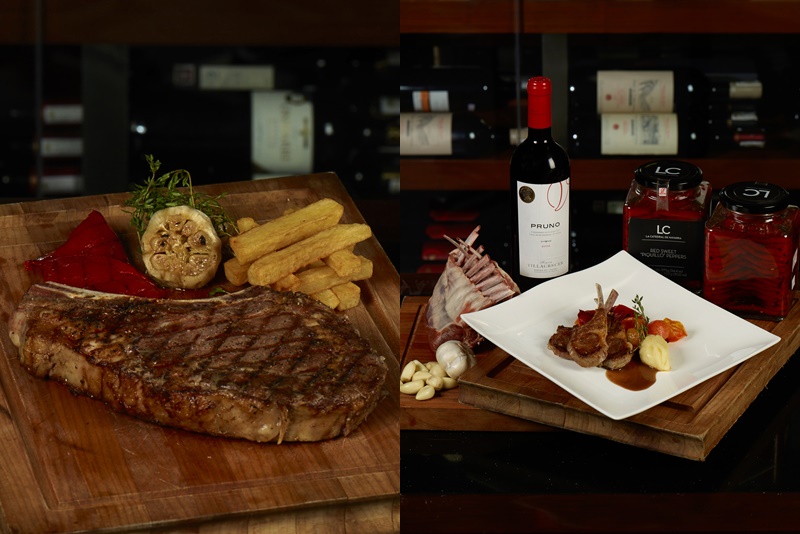 Left: Terry's Special Black Angus Steak (Php 4,470/1 kg); Right: Chuletillas de Cordero
The Chuletillas de Cordero, meanwhile, is made up of premium New Zealand lamb cutlets on a bed of grilled Piquillo peppers, garlic-infused mashed potatoes, and roasted vegetables drizzled with a distinctive Ribera del Duero wine reduction.
Terry's Bistro also features the finest quality jamón ibérico by its open kitchen, which is carved for you upon order.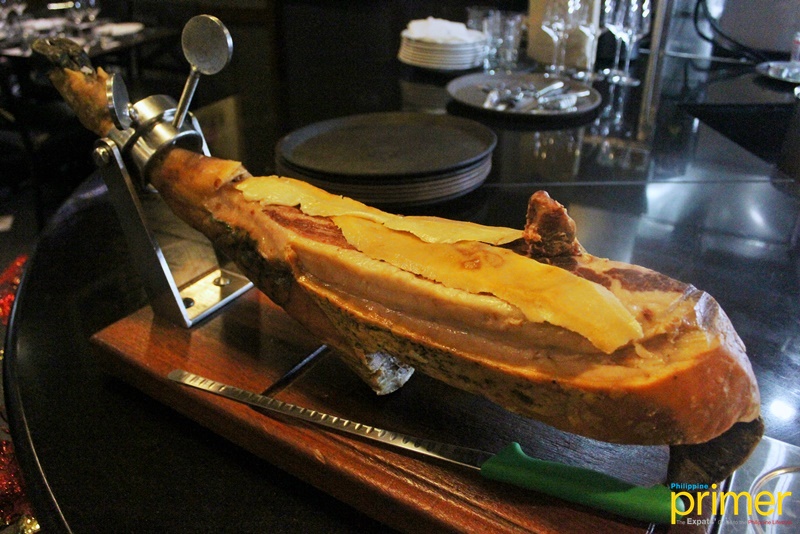 Further, the restaurant can sit up to 60 people but should you wish to hold an event in its expanse, you can reserve the entire restaurant for a minimum spend of Php 100,000.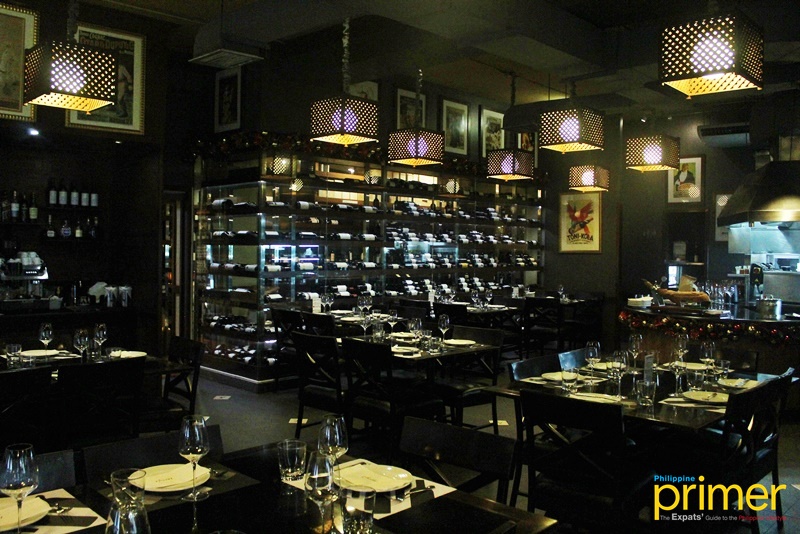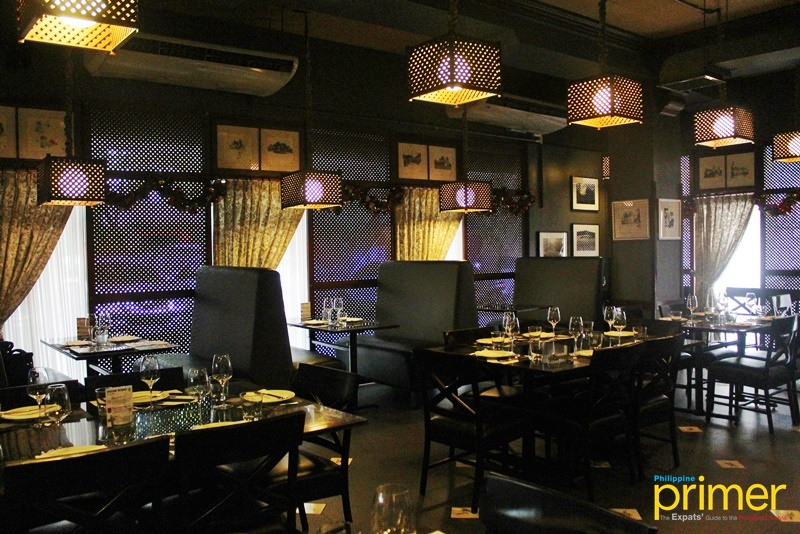 Terry's Gourmet Store
Beaming with more than 1,500 carefully-curated products that are of Spanish, Mediterranean, and European origin, Terry's Gourmet Store has kept its footing ever since its inception back in September 2000.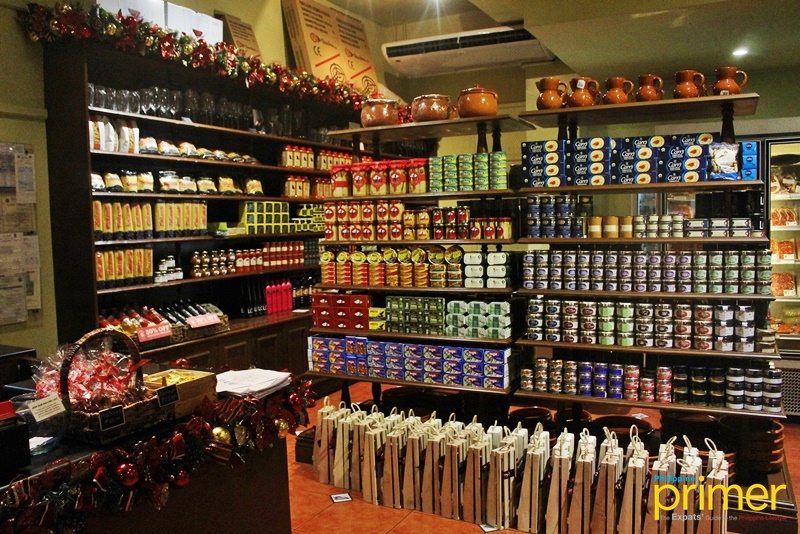 Terry's Gourmet Store
To date, the gourmet store continues to offer Mediterranean staples such as olive oil, wine vinegar, dry fruits, vegetables and nuts, vegetable and seafood sauces, meats, starch, dairy gourmet products, fruits and preserves, and spices and condiments.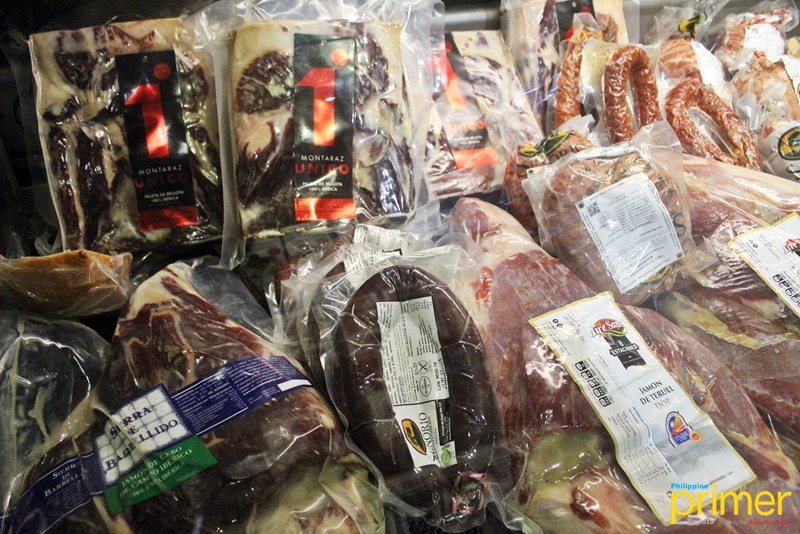 All Terry's meat products available at the gourmet store are carefully curated, either exclusively made for or imported by Terry's 
More than this, Terry's in Salcedo, Makati houses the biggest wine cellar among the restaurant's branches.
And you can be sure to find something at par with your preference because apart from the myriad of over 500 wine variants, there are also other liquor types such as brandy and whiskey.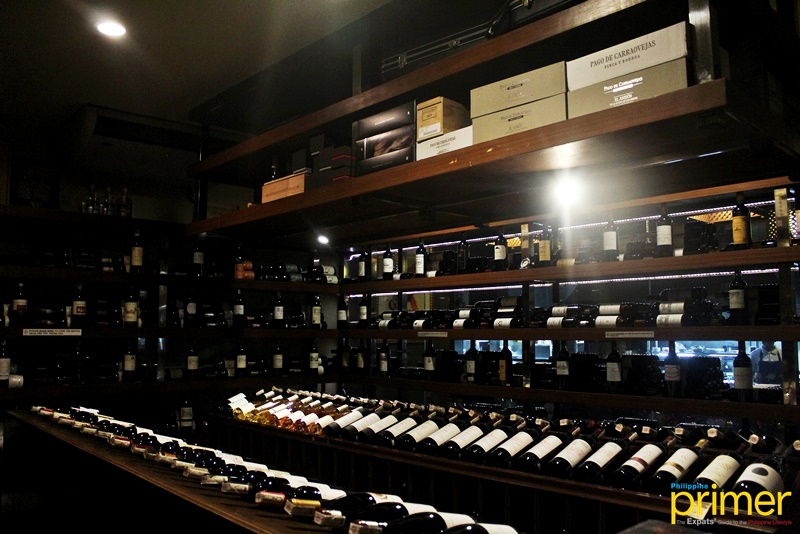 The wine cellar at Terry's in Pasong Tamo
Terry's Bistro & Gourmet Store does not instantly stun you with its grandeur. Instead, it slowly seeps into you as you dine and shop, making sure you leave with nothing but a new founded love for everything that it has to offer.
Also read: Pinot: A Purposefully-Hidden European Restaurant in BGC
Store Information
LP Leviste st., 132 One Lafayette Square, Salcedo Village, Makati, 1227 Metro Manila
02-8889-3194
0917-470-9277
10:30 a.m. to 10 p.m.
marketing@terryselection.com
L/G, The Podium, 18 ADB Ave., Ortigas Center
02-8281-1322
G/F, One Lafayette Square, 132 L.P. Leviste St., Makati City
02-8889-3194
Unit 102A, Windsor Tower Condominium, 163 Legaspi St., Legaspi Village, Makati City