Hola Bombon in Poblacion, Makati Pairs Classic Spanish Dishes with Sangria
When you combine the rich flavors and cooking techniques of Spain with the incredible ingredients sourced from the Philippines, you get a mouthwatering fusion that's like a delicious culinary masterpiece!
This is what Hola Bombon in Poblacion, Makati brings to the table. Plus, with the promise of Todo Sangria, you get to pair classic Spanish dishes with a delightful punch of sangria, all day and night!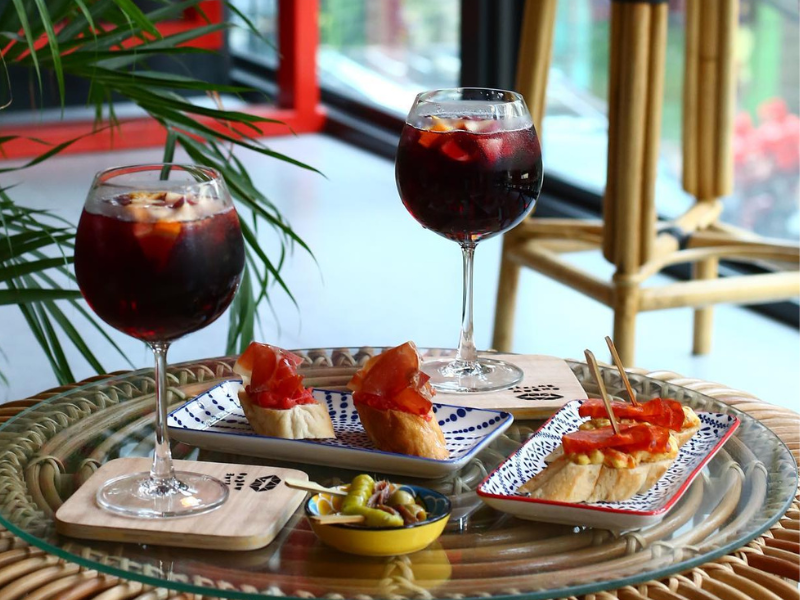 IMAGE from Hola Bombon's Facebook page
What is to Love about Hola Bombon?
Hola Bombon at Fermina Street in Poblacion is a fiesta waiting to happen. It reminds you of old Spanish houses with its ornate wooden chairs and tables that will ultimately transport you to the charms of Spanish heritage.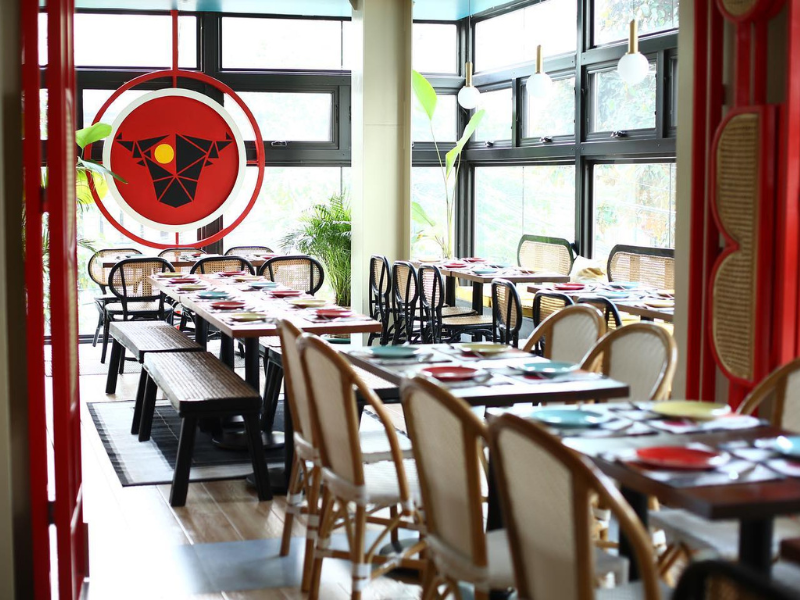 IMAGE from Hola Bombon's Facebook page
However, these elements are artfully contrasted with a contemporary vibe through a clever fusion of styles as seen through the colorful paintings on the walls and the soft, warm glow of lamplight that puts them into spotlight.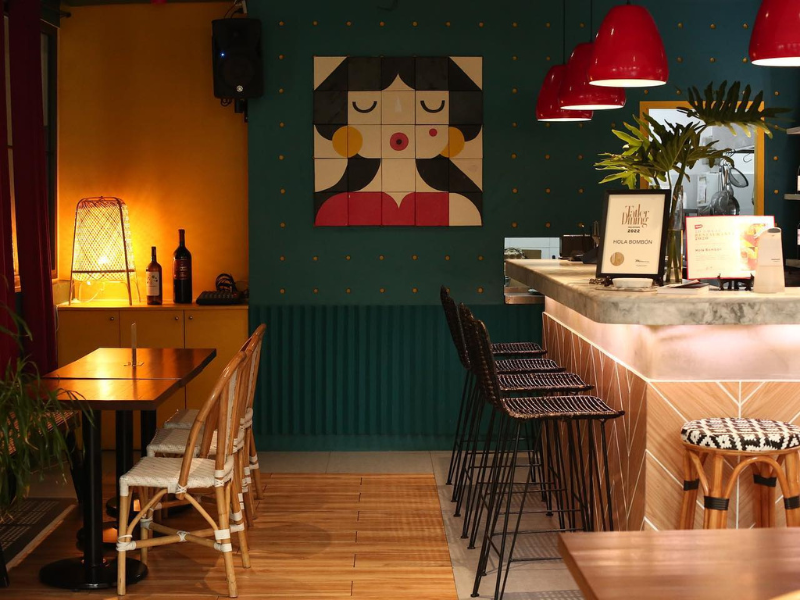 IMAGE from Hola Bombon's Facebook page
Three main ingredients make this tapas bar and restaurant a fiesta: a specially curated Spanish menu, Todo Sangria parties, and its culture of sharing Spanish cooking secrets through live, online cooking classes!
Spanish Menu
Hola Bombon's Spanish menu is composed of small, flavorful dishes of pinxtos & tapas as well as hearty pans of paellas and meats, best paired with a glass of wine or sangria. Their Huevos Y Gambas Al Ajillo is a must-try among their tapas with prawns stealing the limelight.
Huevos Y Gambas Al Ajillo (Php 635) / IMAGE from Hola Bombon's Facebook page
For a hearty but healthy option, you might also want to sample Hola Bombon's version of Bacalao Con Pisto made of salted codfish with eggplant, zucchini, and honey alioli to elevate its flavors.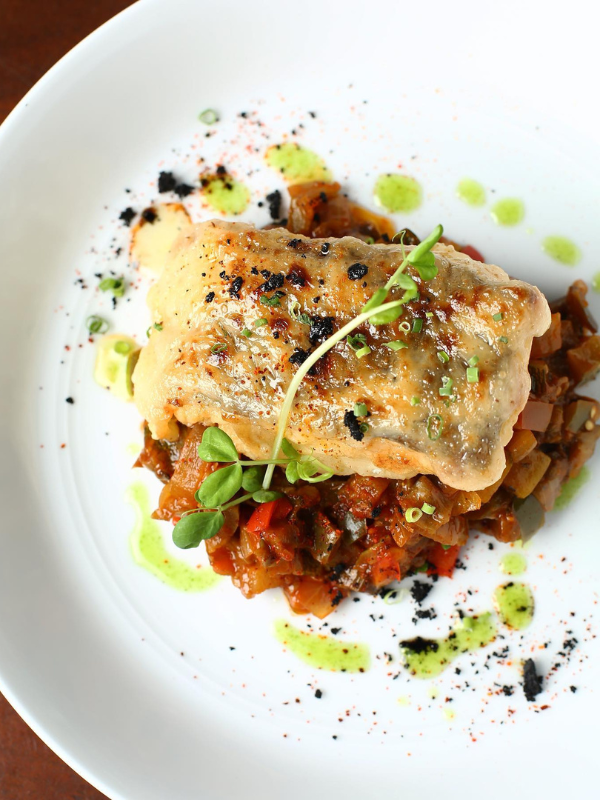 Bacalao Con Pisto (Php 835) / IMAGE from Hola Bombon's Facebook page
For paellas, on the other hand, we definitely recommend the Paella de Cordero Asado made with short-grain bomba rice, which soaks up the broth and gives the dish a rich, robust flavor. Remember to allow Hola Bombon 20 to 30 minutes of preparation for their mouthwatering servings of paella that are best shared with family and friends!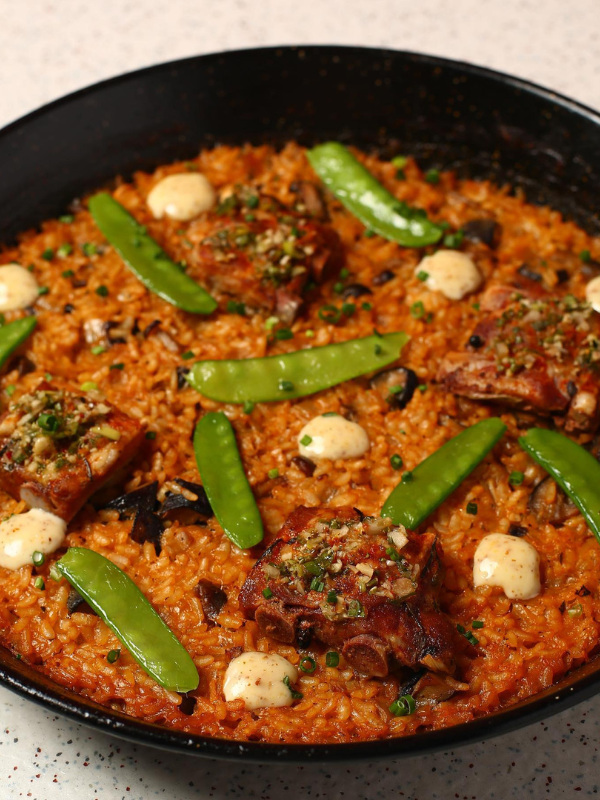 Paella de Cordero Asado (Php 1,455) / IMAGE from Hola Bombon's Facebook page
Todo Sangria!
Because an Hola Bombon experience embodies a festive atmosphere, the Spanish restaurant gives its guests a bonus with its Todo Sangria promo when you dine-in! You may enjoy a Buy 1, Get 1 on sangrias at Php 420 per glass and Php 1,600 for a carafe.
With celebrations possible at Hola Bombon, from birthdays to company events, from bridal showers to intimate wedding receptions, it's probably a great idea to hold a sangria party for everyone!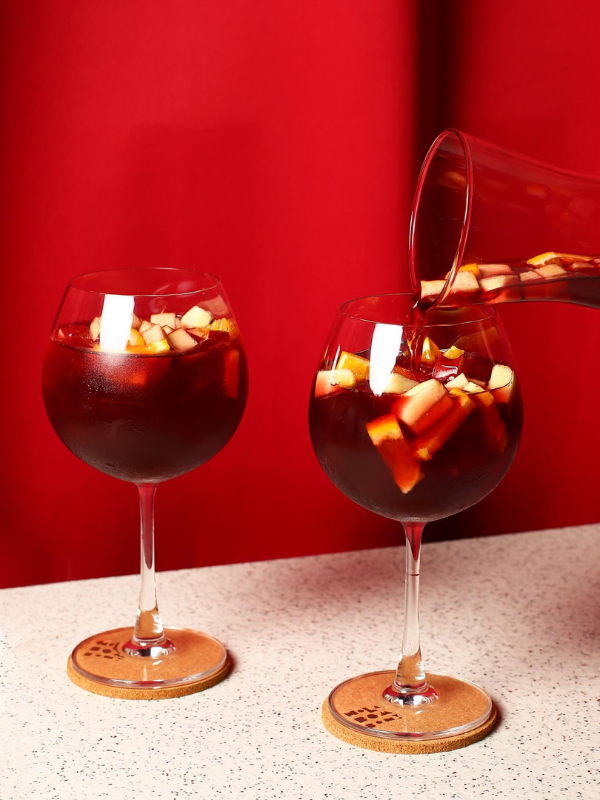 IMAGE from Hola Bombon's Facebook page
Online Cooking Classes
As you enjoy the authentic flavors of Spanish cuisine, made even more delightful with festive celebrations, you might be interested to know more about the art of Spanish cooking through Hola Bombon's online cooking classes called Cocina Española! And it's not only for the experts. It's for everyone who enjoys good food and great company.
To know more about their public, corporate, or one-on-one cooking sessions, you may visit their website at www.holabombon.com.
IMAGE from Hola Bombon's Facebook page
So, if it's the flavors and culture of Spain you want to celebrate in the vibrant district of Poblacion, let it be known that Hola Bombon is the perfect destination to immerse yourself in an authentic Spanish experience!
GENERAL INFORMATION
Address: 2/F 5887 Fermina Street corner Enriquez Street, Poblacion, Makati City
Operating Hours:
Tuesday to Thursday: 5:00 a.m. to 11:00 p.m.
Friday: 5:00 a.m. to 12:00 a.m.
Saturday: 12:00 p.m. to 3:00 p.m and 5:00 p.m. to 12:00 a.m.
Sunday: 12:00 p.m. to 3:00 p.m. and 5:00 p.m. to 11:00 a.m.
Closed on Mondays
Contact Number: 0917-520-1880
Website: www.holabombon.com
Facebook: Hola Bombon
Instagram: @hola.bombon.ph
---
Featured images from Hola Bombon
Store Information