Onlypans Taqueria in Poblacion: Serving Killer Tacos, Gooey Quesadillas, and More
Let's makes this short and sweet: Onlypans Taqueria in Poblacion, Makati is one of the best tacquerias, if not the best in town. They bring in mind-blowing flavors, terrific fillings, salsas that bring the heat, and a relaxing atmosphere that keeps you coming back for more. These and more make Onlypans a place that should not be missed.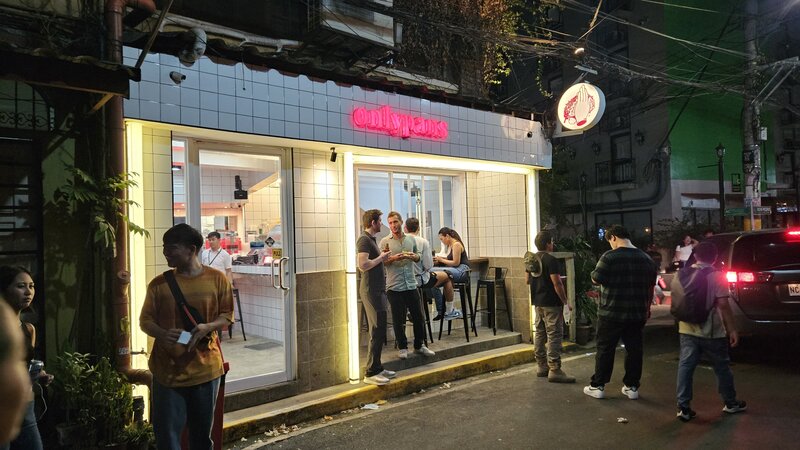 IMAGE from Philippine Primer
What sets Onlypans Taqueria apart is their commitment to authenticity. They take pride in using traditional Mexican techniques and ingredients (especially chillis!), ensuring that each bite transports you straight to the streets of Mexico. The flavors are bold, the spices are just right, and the food is prepared with love and attention to detail.
Onlypans has got a tantalizing array of tacos that will make your taste buds do a salsa dance. From classic favorites like carne asada and al pastor to more adventurous options with unique fillings, they've got you covered. Here are some of our suggestions:
The Queso Birria Taco is a cheesy delight that will make you weak in the knees. Imagine tender, juicy USDA beef slow-cooked to perfection and infused with rich, savory flavors. But here's the kicker – they take it up a notch by stuffing it with gooey mozarella cheese, giving each bite a delightful combination of meaty goodness and cheesy indulgence.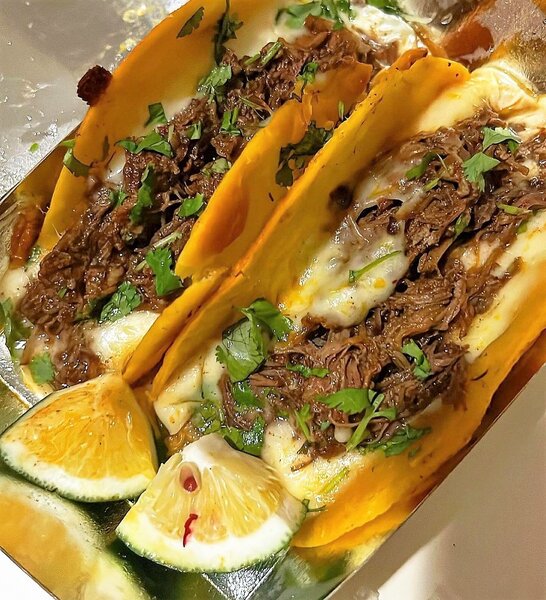 Queso Birria Tacos / IMAGE from Onlypans Taqueria Facebook page
Succulent, slow-cooked pork that's been marinated with spices and cooked to tender, juicy perfection. That's what Onlypan's Carnitas Taco is. Each bite is a burst of flavor, with the crispy edges adding a delightful textural contrast. Top it with salsa, onions, cilantro, and a squeeze of lime to complete the experience.
Pescatarians, rejoice! Onlypans also celebrates the flavors of the sea. Try their Camaron Taco, a seafood delight you won't want to miss. It's plump, succulent, beer-battered shrimp seasoned with a tantalizing blend of spices, perfectly grilled, and nestled in a warm tortilla. With each bite, you'll experience the ocean's bounty in a taco, complemented by ccoutrements and a squeeze of lime that truly elevate the dish.
But wait, there's more! To truly embrace the Mexican street food experience, don't miss out on their quesadillas, ceviche, cervezas, and perhaps even some pay de queso for dessert. Don't forget to load up on these flavorful additions to customize your dining experience just the way you like it.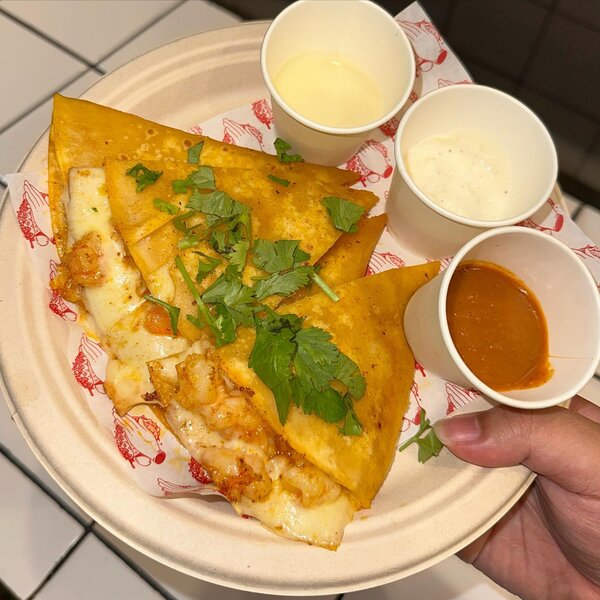 Quesadilla / IMAGE from Onlypans Taqueria Facebook page
And of course, we can't forget about the fantastic service. The attentive staff at Onlypans Taqueria goes above and beyond to ensure you have a memorable dining experience. They know their stuff and happy to offer recommendations if you don't what to order.
So, if you're in the mood for some mouthwatering tacos and other Mexican comfort food, swing by Onlypans Taqueria in Poblacion, Makati. Get ready to indulge in a fiesta of flavors that will leave you craving more. Ypu'll thank us later. Enjoy!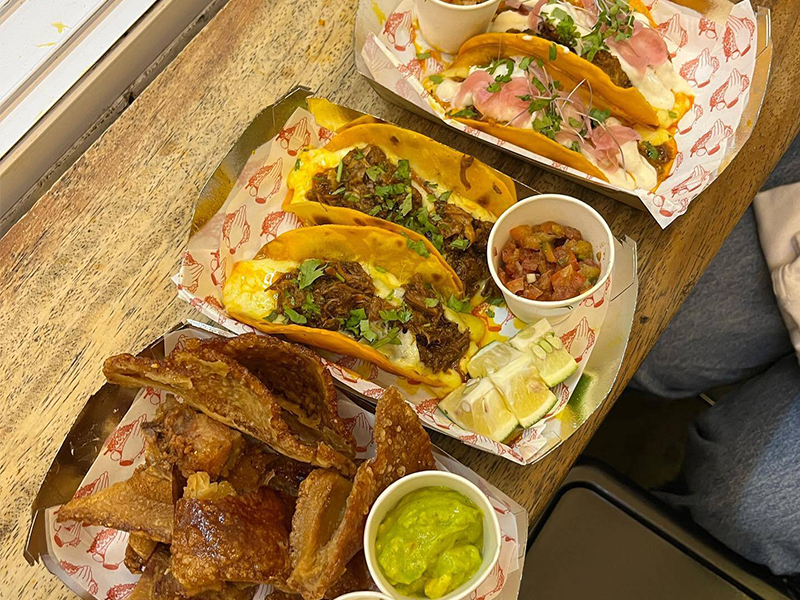 IMAGE from Onlypans Taqueria Facebook page
General Information
5663 Don Pedro St., Poblacion, Makati
0919-007-0745
11 a.m. -11 p.m. (Tue-Fri) / 11 a.m. -2 a.m. (Sat-SUn)
Monday