Shari Shari Kakigori House Serves the Fluffiest Shaved Ice Dessert in BGC
The popular Japanese Kakigori House in Hong Kong is now in Manila!
Everyone can now enjoy fresh fruits and other flavors with special shaved ice goodness at the Shari Shari in Serendra, BGC.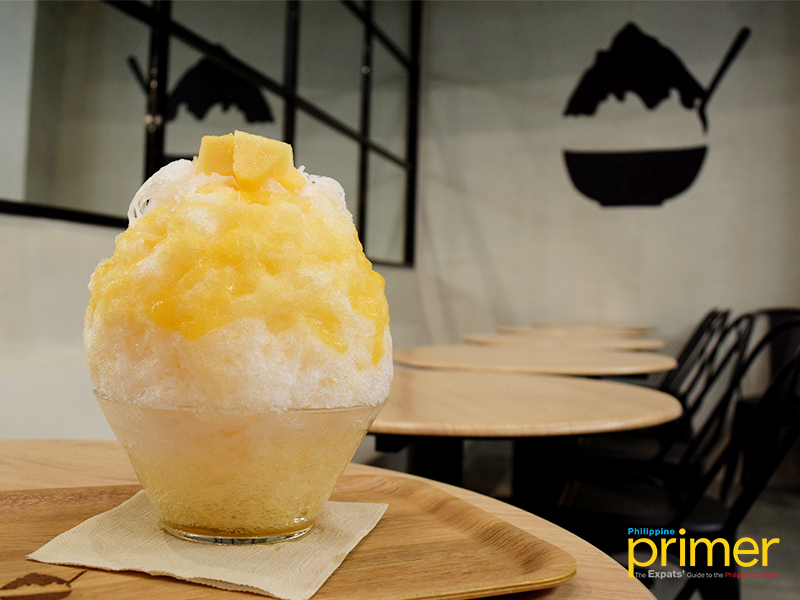 Owner Shingo Take from Hakodate, Japan began with a dream to bring the Japanese culture to the neighboring Asian countries. This passion made him create the first Shari Shari Kakigori House in Hong Kong just five years ago—and it has since been known as one of the best-shaved ice desserts in the city.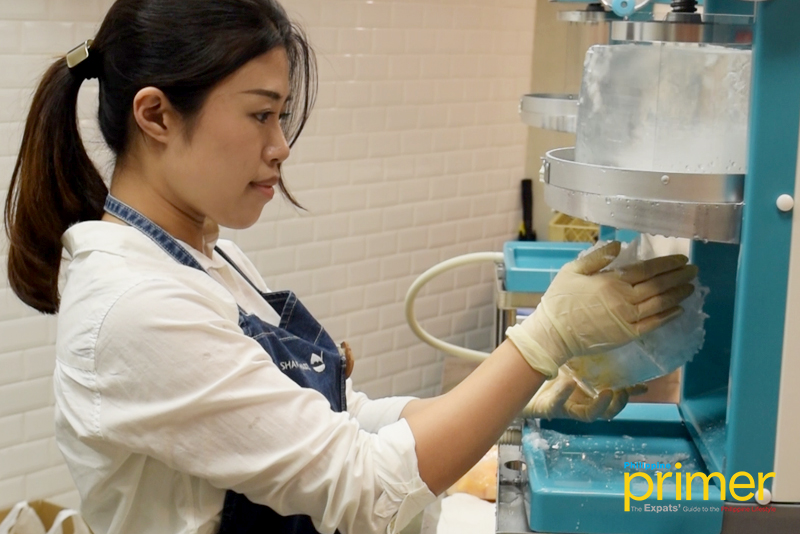 His partner here in the Philippines, Darlene Lim, shared with us the process of making the iconic Shari Shari kakigori that foodies line up for in Hong Kong!
A kakigori's main ingredient is the ice, which uses a special mixture of water with a specific amount of minerals, shaped into blocks to keep it from melting fast.
Other ingredients like matcha, tofu, azuki, and shiratama are sourced all the way from Japan, while the fruits used for their syrups and toppings are bought fresh locally.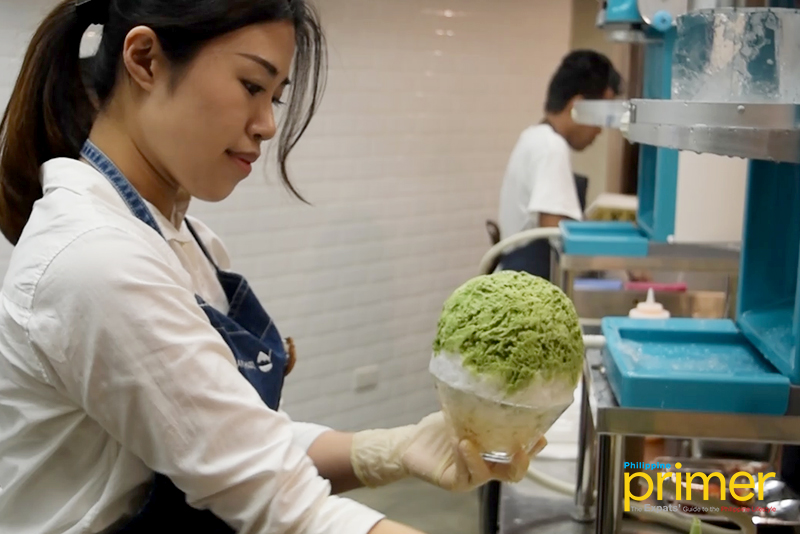 Try one of Hong Kong's best seller, the Matcha Cream Special with Kuromitsu (Php 380). The ice is covered generously with the vibrant green matcha syrup, perfectly balanced with its mildly sweet kuromitsu (brown sugar syrup).
The best way to eat this is to start with the cream and scoop down to reveal a little pocket of crushed cookies inside, which provide texture to the complex mix of soft and creamy ice.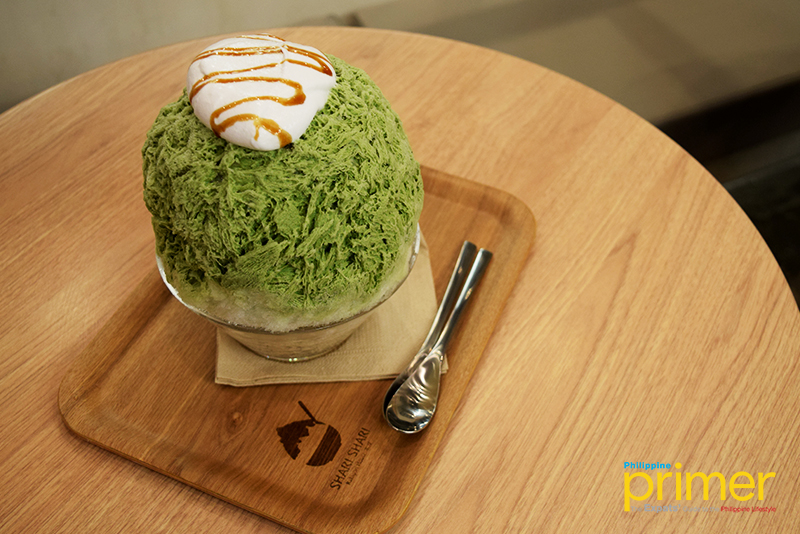 Matcha Cream Special with Kuromitsu (Php 380)
To match the Philippines, they added fruit flavors—such as the Strawberry Special (Php 350), Mango Lassi (Php 300), Banana Lassi (Php 270), and Avocado Milk (Php 300)—using local ingredients.
The syrup used to flavor the ice, further, is prepared daily using fresh fruits and sugar, without any preservatives. Fruits are also used as frozen toppings that make each kakigori very Instagrammable!
One exciting flavor to try is the Philippine-exclusive Cantaloupe Melon (Php 350) using local melons that the owners find to be of great quality for kakigori. It's also dairy-free so you get that fresh melon syrup and frozen fruit with the snowy ice.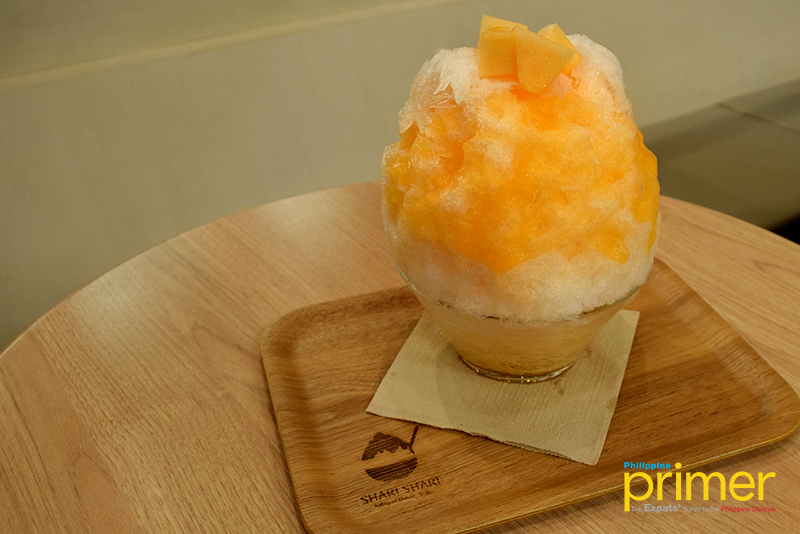 Cantaloupe Melon (Php 350)
You may also personalize the kakigori as you please by choosing from their selection of add-on toppings. These include Chocolate Syrup (Php 10), Shiratama Mochi (Php 15), and Whipped Cream (Php 20).
Lim also tells us that they plan to adjust the menu according to the seasonal ingredients, making sure that everything is fresh and has the best flavors. We'll soon have a chance to try limited-time flavors and more from the Hong Kong menu!
Starting July 29, 2019, the Sakura with Matcha Kakigori is available for a limited 10 bows a day. Taste the delicate floral notes of Sakura flown in from Japan and the earthy taste of our Matcha from Kyoto. Yum!
They've added their signature cookie bits to make it extra special Hurry and get your much needed Kakigori fix today!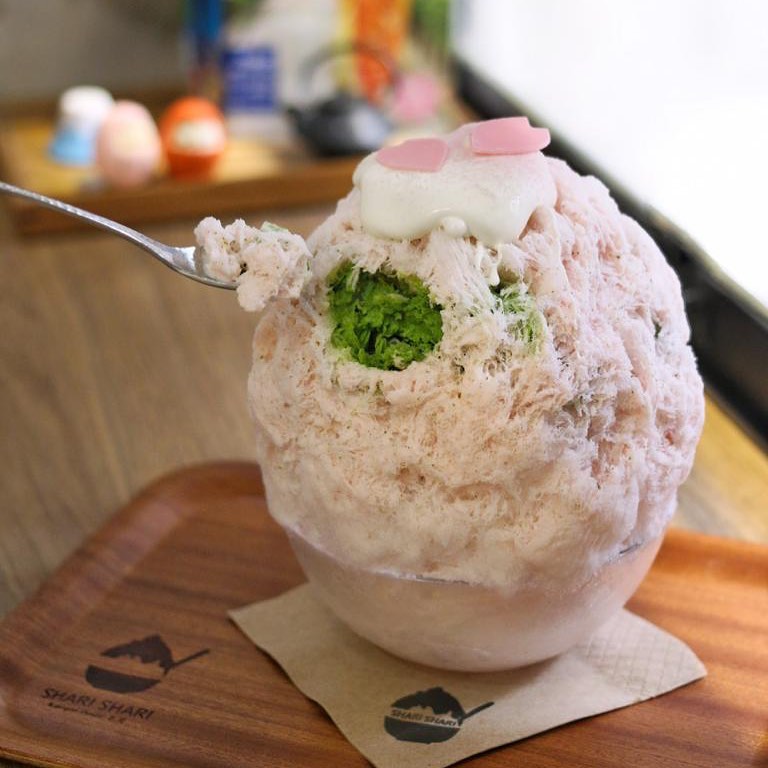 Sakura with Matcha Kakigori (Php 380)
Come get your fluffy and fresh Japanese shaved ice dessert at Shari Shari Kakigori House in Serendra, BGC!
General Information
G/F, C127, Serendra Piazza, Mckinley Parkway, Bonifacio Global City, Taguig
1 p.m. to 10 p.m. Daily
sharishari.ph@gmail.com
Restaurant Menu
You can scroll the image left and right.