Alice in a Labyrinth Restaurant in Ginza, Tokyo: A Place to Live Your Fairy-Tale Dream
Fans of the timeless classic Alice in Wonderland can actually cross the threshold into Alice's fantasy world through fantasy dining at an Alice in Wonderland themed restaurant in Ginza, Tokyo.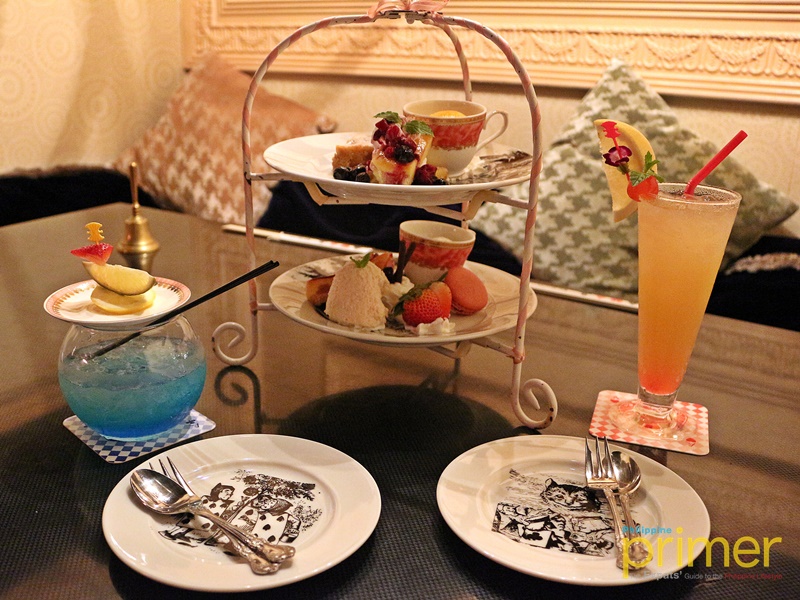 Inside Alice in a Labyrinth, I lost sense of time and space, as if I drifted away from reality and into a little dreamlike world. Inspired by Alice's tangled adventures in a maze, the restaurant starts with a small hallway, lined with storybook pages.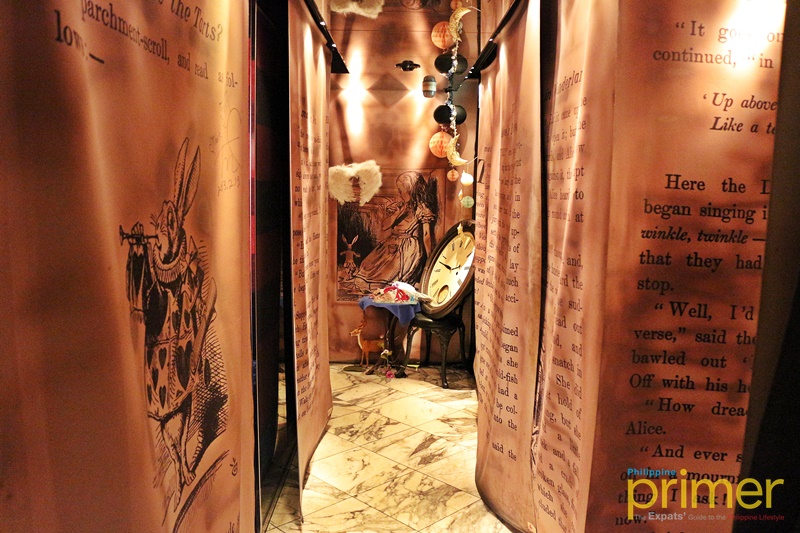 It passes small cubicles meant for intimate dining and ends in a bigger space decked with large playing cards and a large teacup with a table and seats, which is the center of attraction in the room. The dim and mysterious lighting enhances the overall dreamy, unworldly vibe of the place.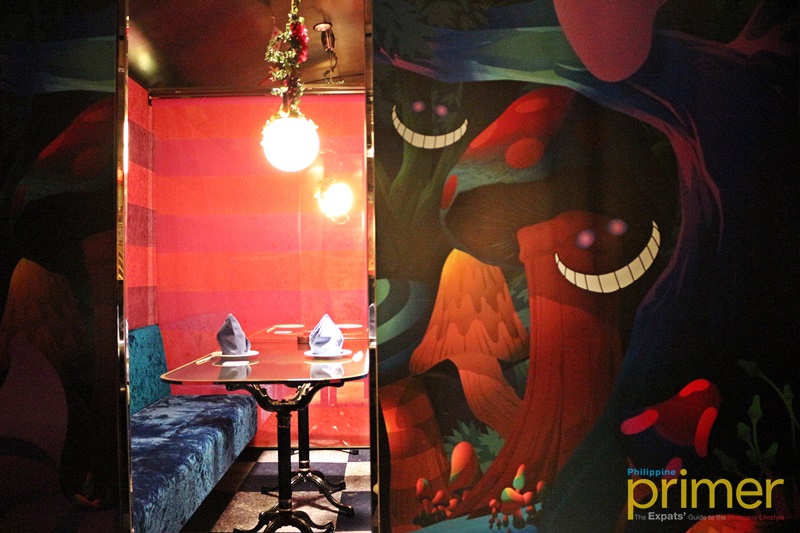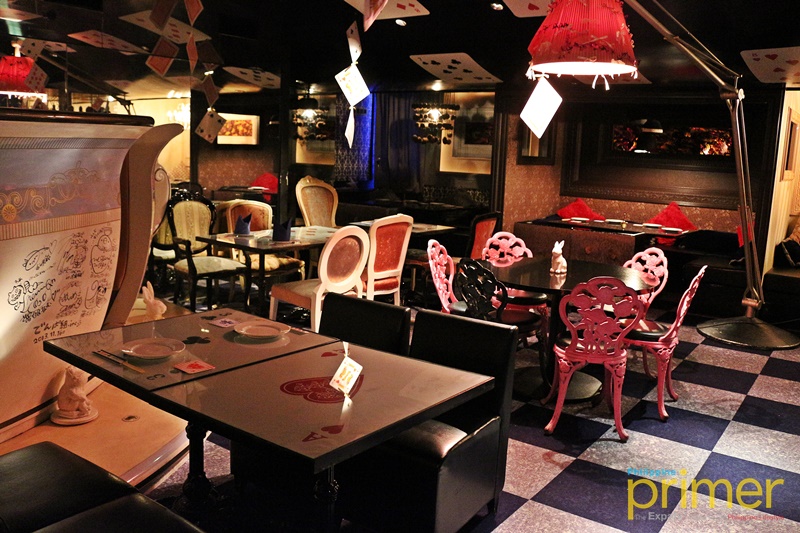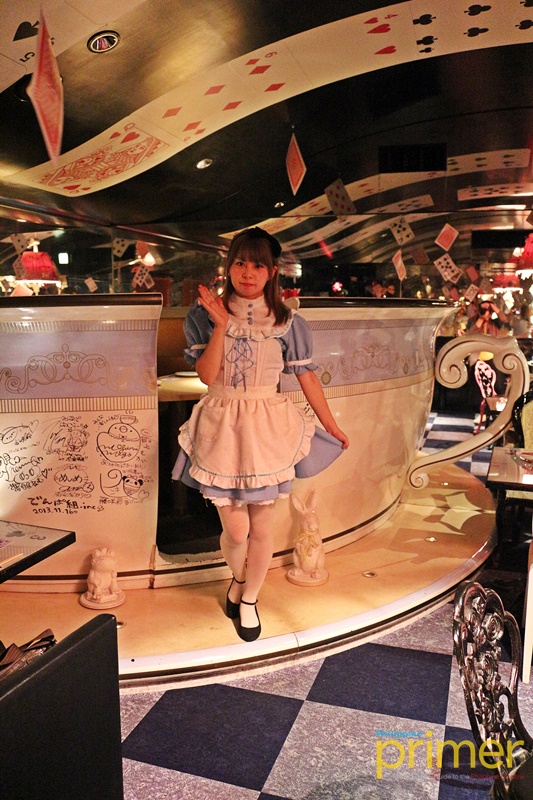 There are semi-private spots with couches in the corners of the restaurant. There are also small private and semi-private booths along the halls, for couples and people who want more privacy while enjoying the atmosphere.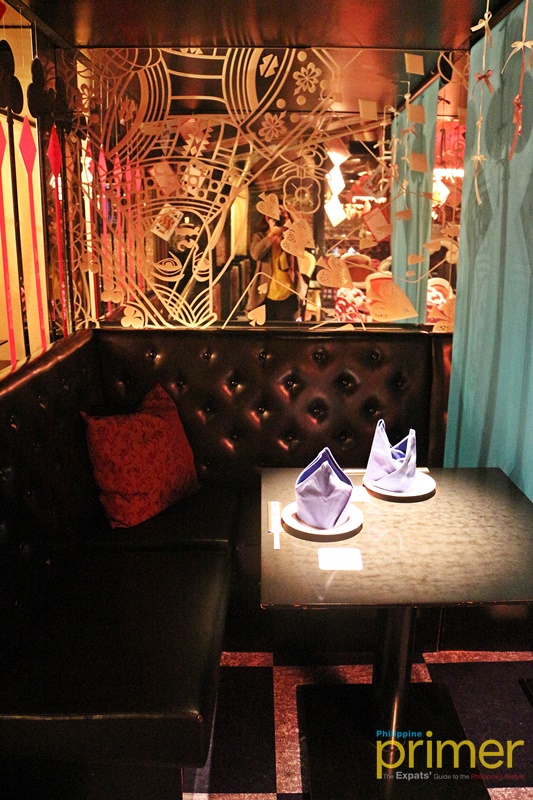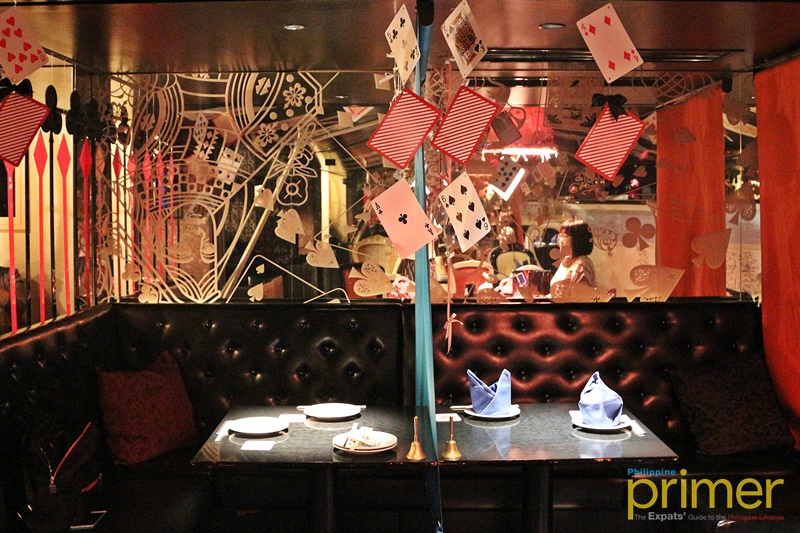 From walking the maze-like hallway, interacting with waitresses dressed as Alice and browsing the creative menu up to enjoying the whimsical food presentations, Alice in a Labyrinth is hugely sought after not just for the food but for the overall experience.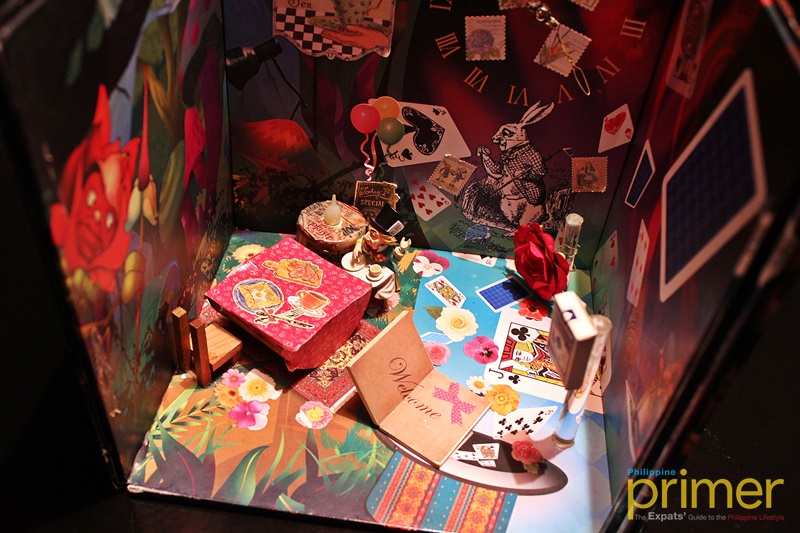 The food, in terms of gustatory experience, is not extraordinary but nonetheless satisfying. The overall dining experience is greatly enhanced by the visual feast presented before one's eyes. The dishes are creatively themed—there are dishes shaped like the White Rabbit or the Cheshire Cat, while some are just simply colorful and quirky.
We tried the British Style Tea Party Set, which brings to mind the popular encounter of Alice and the Mad Hatter. This two-tiered dessert stand is made up of various desserts like macarons, strawberry and cream, pudding, and cake. These cold desserts are best enjoyed right after they are served, so as much as it is a perfect subject for an Instagram post, snap those photos quickly so you can enjoy eating too!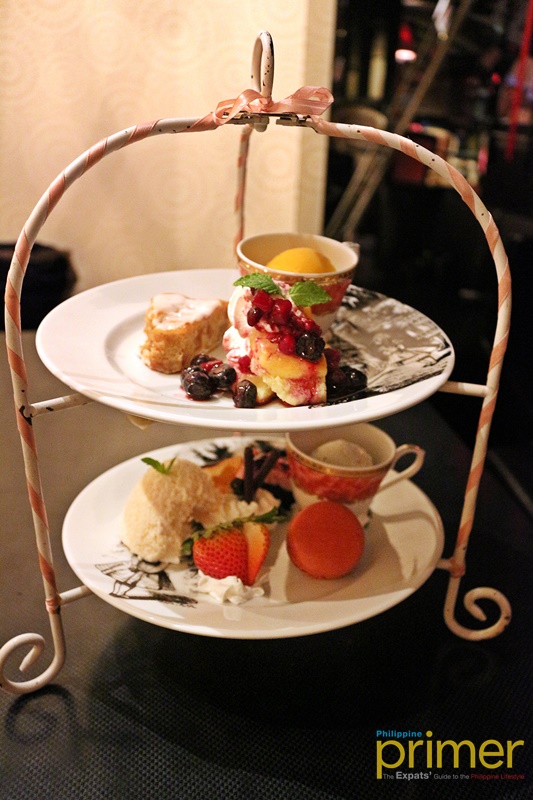 British Style Tea Party Set (¥1,580)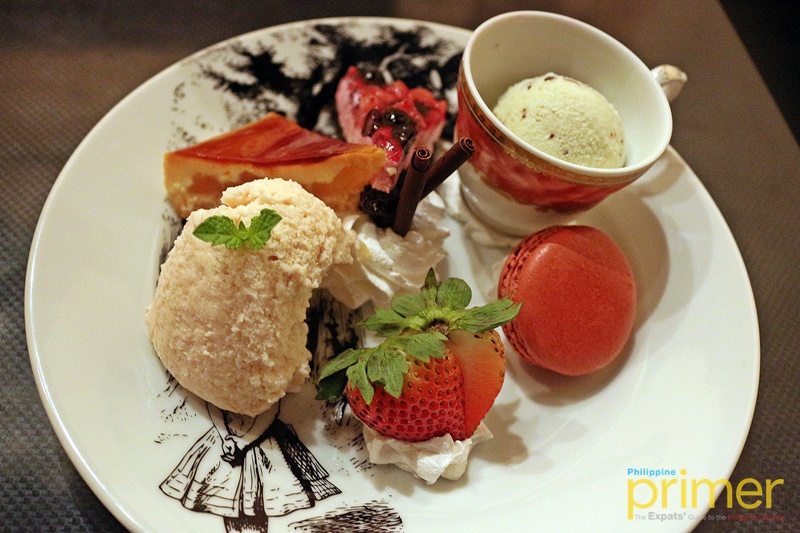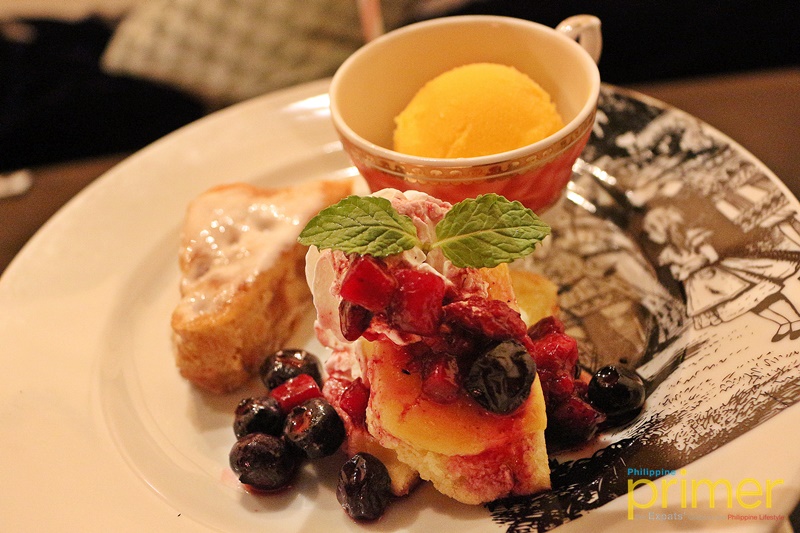 Ironically, the British Style Tea Party Set does not include tea. And that's alright—who needs tea when you got cocktails? Alice in a Labyrinth features ten original themed cocktails, two of which are non-alcoholic. The cocktails don't seem to have a strong alcohol kick, so that lets more people enjoy them regardless of one's drinking tolerance.
The "Watch Out! A Dodo Bird" cocktail is a refreshing fruity cocktail made with lychee, grape juice, and ginger ale, topped with lemon, lime, and strawberry for an added zest.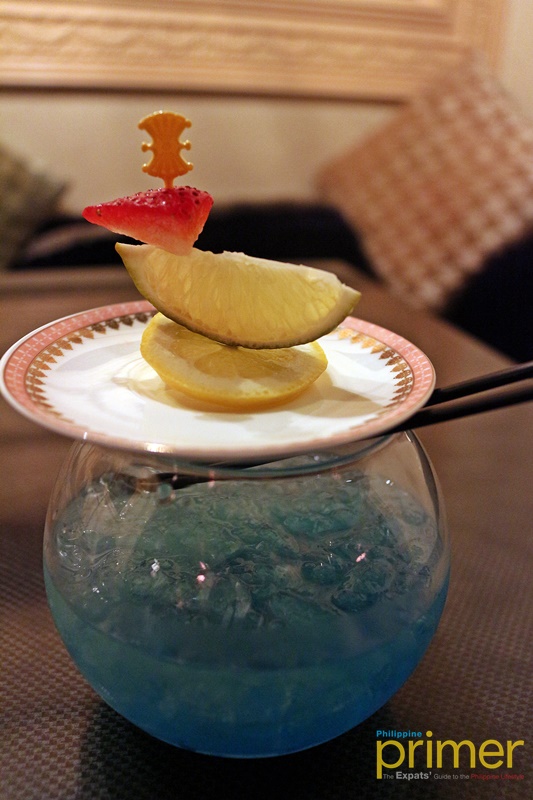 Watch Out! A Dodo Bird (¥950)
We also tried the "Chatty Flowers' Harmony" cocktail made with a fragrant and fruity combination of lychee, peach, pineapple, and passion fruit. The presence of alcohol is not strong, so it is easy to drink.
Chatty Flowers' Harmony (¥950)
Alice in a Labyrinth is visited every day by a diverse crowd. It is good to visit for families with kids, couples, and the kids at heart. There are currently six Alice in Wonderland themed restaurants or Alice's Fantasy Restaurants by Diamond Dining in Japan. Four of which are located in Tokyo, including Alice in a Labyrinth.
Also read: Pokémon Cafe in Nihombashi, Tokyo: A Must-Visit for Pokémon Fans of All Ages!
Tips
• There is a cover charge of ¥600 and a minimum order of one drink and one food per person.
• On peak hours, customers are limited to a maximum of two hours dining at the restaurant.
• Ideal budget for 2 persons: ¥3,000 – ¥4,000
How to get there
• The nearest train stations to Alice in a Labyrinth are Ginza Station and Shimbashi Station. From the station, the restaurant is only around an 8-minute walk.
• From Tokyo Station, Ginza Station on the Marunoichi Line is immediately the next stop. You can even walk from Tokyo Station, which takes around 15-20 minutes.
• From Shibuya Station, it takes about 20 minutes to go to Shimbashi Station on the Yamanote Line.
General Information
5/F Taiyo Building, 8-8-5 Ginza, Chuo-ku, Tokyo
+813-3574-6980
5 pm to 11:30 pm (Mon to Fri); 11:30 am to 3 pm, 4 pm to 11:30 pm (Sat to Sun & holidays)
cash, credit cards (Visa, Mastercard, AmEx, Diners)