Ramen Due Edo Japan in Tokyo: Japanese-Italian Fusion Ramen to Fall in Love With
Naturally, there are many ramen restaurants to find in Japan, even in Tokyo alone. It is easy to find a nice ramen place even on shopping streets and at train stations—but it is hard to pinpoint which one is the best. Restaurant distinctions given by the Michelin Guide, however, help narrow down the list a bit.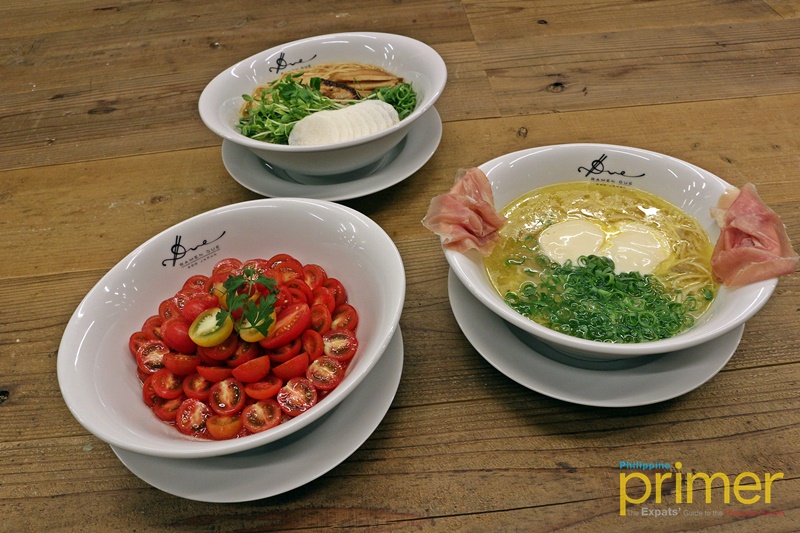 Due Italian has been recognized and listed as a Michelin Bib Gourmand restaurant in Tokyo for three consecutive years. Bib Gourmand is a special Michelin designation awarded to restaurants that have excellent food and with good value for money. Due Italian has a few branches around Japan, and Ramen Due Edo Japan is a special branch of this well-known Japanese ramen joint. It is the only Due Italian branch with the "Edo" theme.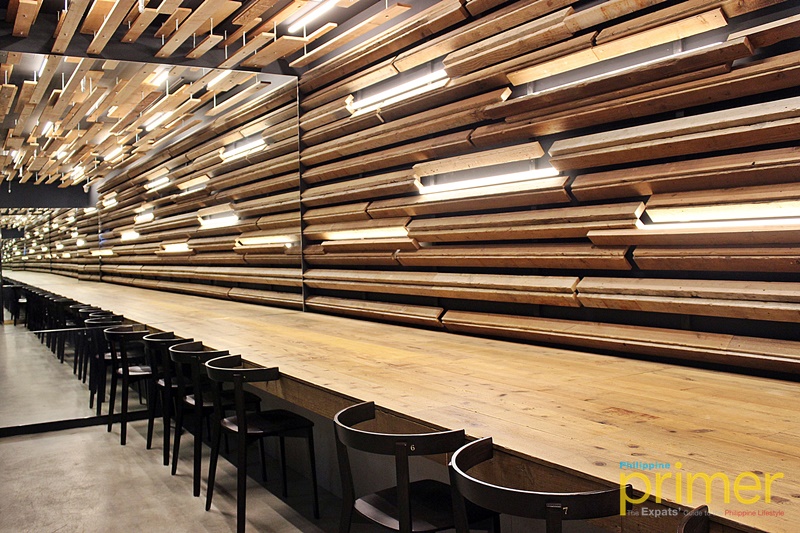 The interior of Ramen Due Edo Japan in Tokyo is Instagram-worthy!
Different from its sister branches, Ramen Due Edo Japan takes on the "Edo" concept to make it identify more as a novel Japanese ramen restaurant. The feel of the place itself is noticeably different from the other branches. While the Due Italian branches have a strong Italian feel in the interiors, with ruby color mixed in with the aesthetic through the chairs and decor, Ramen Due Edo Japan feels more natural and rustic because of its focus on wood. And yet, it is also ingenious—the dining area consists of one long stretch of a dining table with a unique arrangement of wood panels and with pull-out drawers where one can find the condiments and dining utensils. The mirrors on both ends create an illusion of a long, seemingly endless table counter.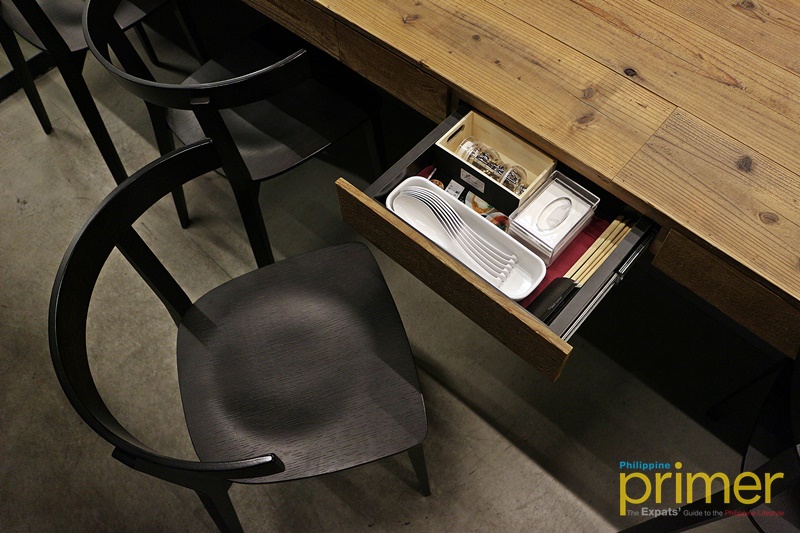 The pull-out drawers are a smart way to save space.
The menu offerings are just as creative as the place—the dishes are a fusion of Japanese and Italian ingredients and techniques, created by head chef and owner, Kazuo Ishizuka. Chef Kazuo, who has been featured a lot in media, grew up in Italy and specialized in Italian cuisine until he went back to Japan and turned his gaze to ramen.
Due Italian/Ramen Due Edo Japan owner and head chef, Kazuo Ishizuka has been featured several times in media.
Pasta and noodle lovers will surely find themselves drawn towards Due Italian/Ramen Due Edo Japan's most sought-after specialty, the Ramen Ham Fromage which is perhaps the best illustration of Japanese and Italian fusion. The soup, made with tasty chicken broth, has the perfect chemistry with the creamy cheese blend made with cheddar and gorgonzola. Every flavor and texture is clear—the richness of the soup, the creaminess of the fromage, the saltiness of the ham, and the firmness of the homemade noodles.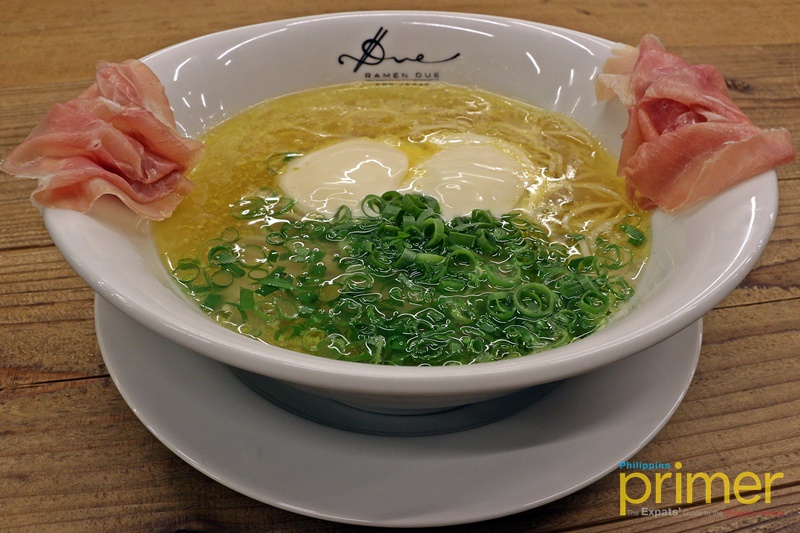 Ramen Ham Fromage (¥1,180)
Another must-try is the original Foie Gras Miso Ramen, another dish with a perfect chemistry between its ingredients—the rich delicate taste of foie gras goes very well with the robust flavor of the soup. A burst of flavors—ideal for those who prefer fervent flavors in their food.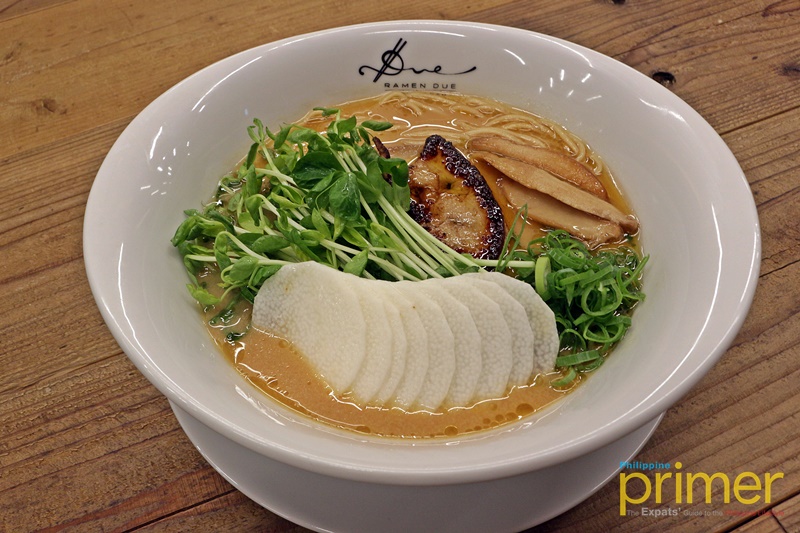 Foie Gras Miso Ramen (¥1,480)
Meanwhile, a seasonal dish that is certainly worth a try is their Tomato Collection Cold Ramen, a delicious and refreshing cold noodle dish that is specially offered from summer to autumn (March to November). It is made with around nine kinds of tomatoes/berries which give it a very Italian taste. Still—it is a ramen dish!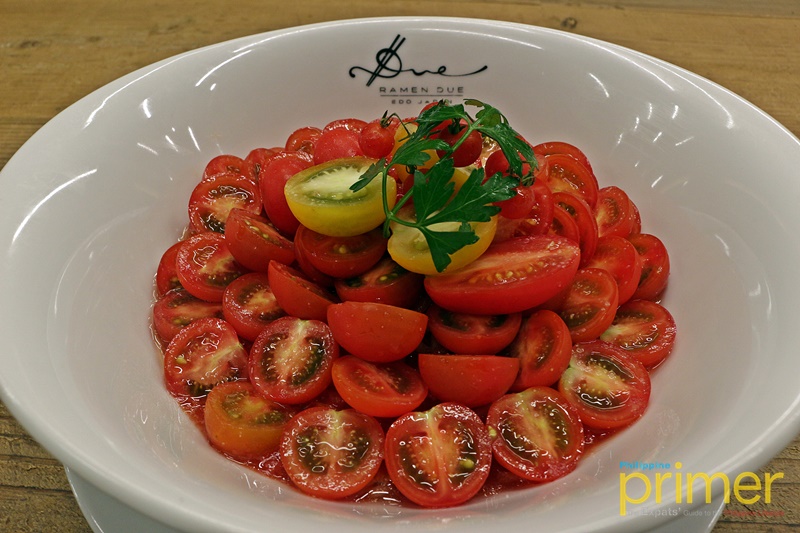 Tomato Collection Cold Ramen (¥1,200)
Ramen Due Edo Japan also has a ticket system on ordering food. Just choose your preferred dish on the vending machine, hand over your ticket to the staff, have a seat, and wait for your meal.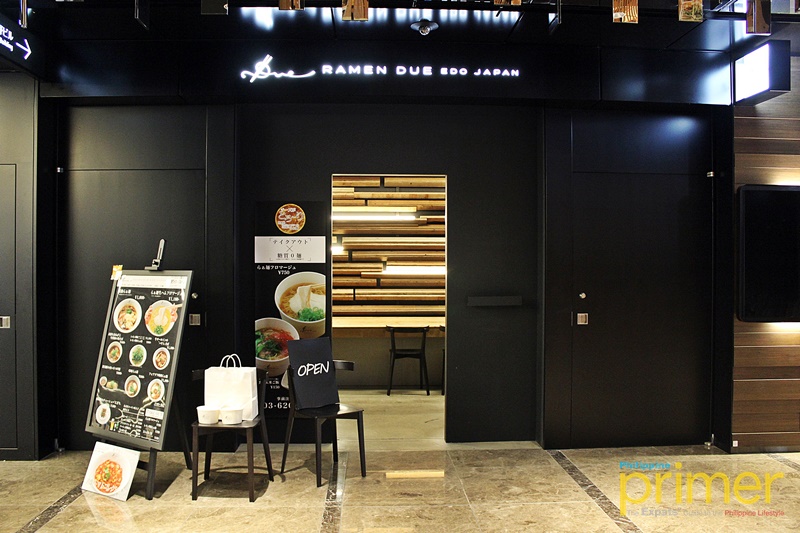 How to get there
Ramen Due Edo Japan is tucked away at the basement floor of Hibiya Park Front, which is right across Hibiya Park (south side). It is only a four-minute walk from Kasumigaseki Station, the nearest subway station.
From Shimbashi Station, it takes about 10 minutes to walk going to Hibiya Park Front.
---
Written by Rei Leaño
This first appeared in Philippine Primer English magazine's Vol. 31 – October issue. 
Store Information
B1F Hibiya Parkfront, 2-1-6, Uchisaiwaicho, Chiyoda-ku, Tokyo
+813-6205-4810
11 am to 3 pm, 5 pm to 10 pm (Mon to Fri)
cash