Akrotiri in Alabang Is the Right Place to Eat like a True Greek
If you're a fan of Mediterranean cuisine, you probably know the uniqueness and diversity of Greek flavors. It's certainly not just about Greek yogurt and salads, so let this restaurant in Alabang bring every bit of Greece to you and introduce its authentic cuisine.
Opened just last year, Akrotiri Real Greek Restobar takes pride in their authentic Greek dishes. They started as a Eurasian restaurant but later on noticed the popularity of their Greek heritage menu, so they shifted into the cuisine last January.
As what they proudly claim here, Akrotiri serves only real and traditional Greek dishes with no twists and alterations from the original recipe. "I think it's the word 'real'. It's Greek food inspired by Greece, made real as we possibly can," Manager Dave described.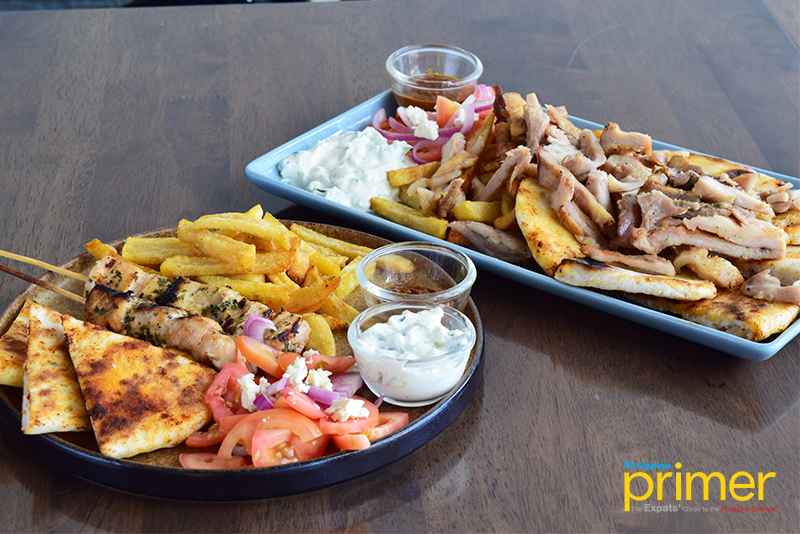 It took them months to do a taste test just to prove that what they offer here is as authentic as possible. They even had some of their Greek friends come over to the restaurant to judge if the flavors are enough. Currently, they offer 67 Greek dishes from their newly curated menu.
A few inspiration for Akrotiri's fresh look is basically all about Greece and Mykonos, as what Dave described it to be. They want it to be comfortable and relaxed for their diners that they also put up a few tables outside.
"We are very 'Instagram-able'. We have some very nice decor and atmosphere and a very nice view. Alabang is a beautiful green area, very open, so it's a nice place to come and relax and enjoy yourself especially on a Saturday or Sunday with your family," Dave said.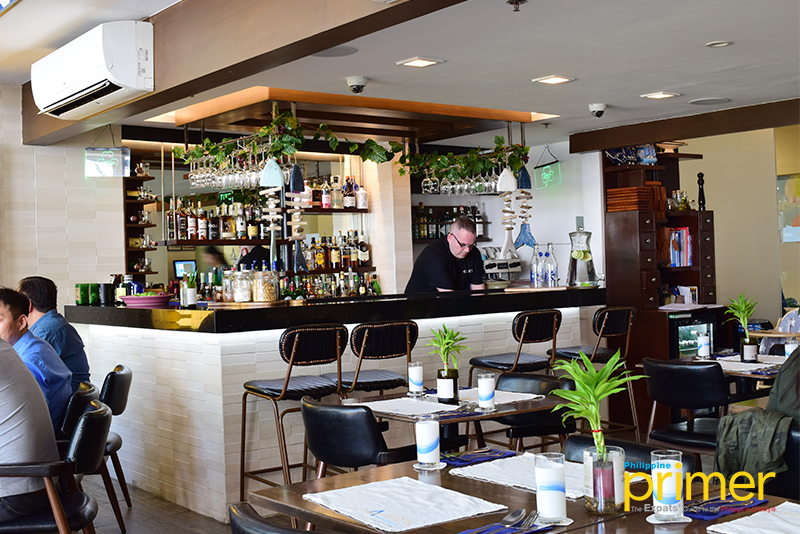 Of course, you cannot call a Greek restaurant 'Greek' without the classic Santorini-inspired vibes and the white and blue-colored interiors. Adding up to the whole modern Grecian look of the restaurant are the coastal ornaments and decors placed on the wall.
Real Greek food
The interior is one thing, but to actually fill your tastebuds with all the exciting Greek flavors is what completes your dining experience here!
One of their most popular dishes is Gyros (Php 400), a platter of pita bread, fries, and sliced meat—either pork or chicken—with the traditional Greek Tzatziki or yogurt sauce and chili sauce on the side.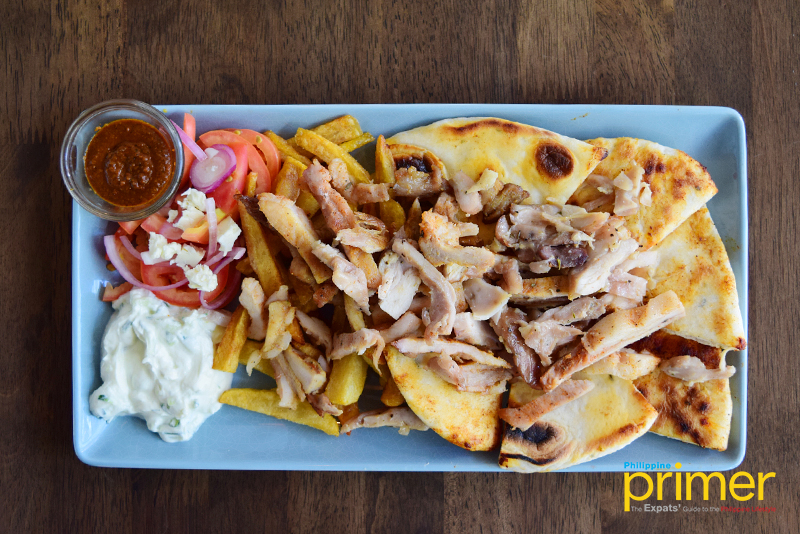 Gyros (Php 400)
It may look a bit intimidating to eat but luckily, Dave taught us the proper way of eating Gyros. It goes like this: grab a piece of pita bread, put the meat and fries on top, splatter a generous amount of Tzatziki sauce and chili sauce, finish with some tomato and onion as a garnish, and voila, you can now eat it like a pizza!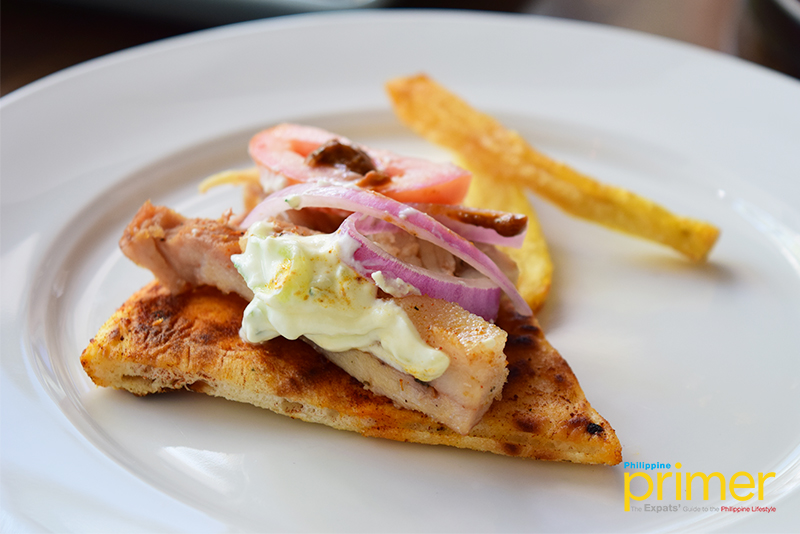 A seafood choice you might want to try is their Kalamaki (Php 370). These salmon skewers are served with the same pita bread, fries, and Tzatziki sauce. You may also eat it like how Gyros should be eaten.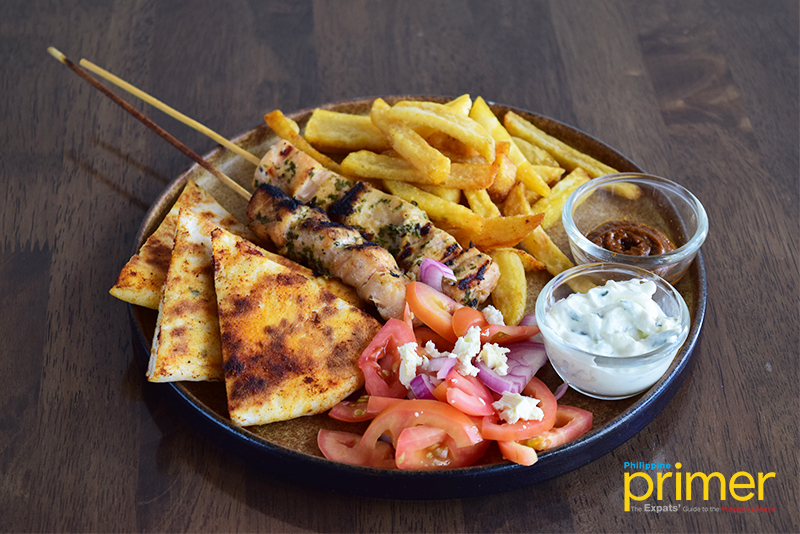 Kalamaki (Php 370)
For dessert, a crowd-favorite from their menu is the Galaktoboureko (P300), which is a traditional Greek dessert. It's made up of layers of phyllo pastry and creamy custard topped with vanilla ice cream, honey syrup, and almonds.
A few heavenly bite of this dessert will surely make you crave for more.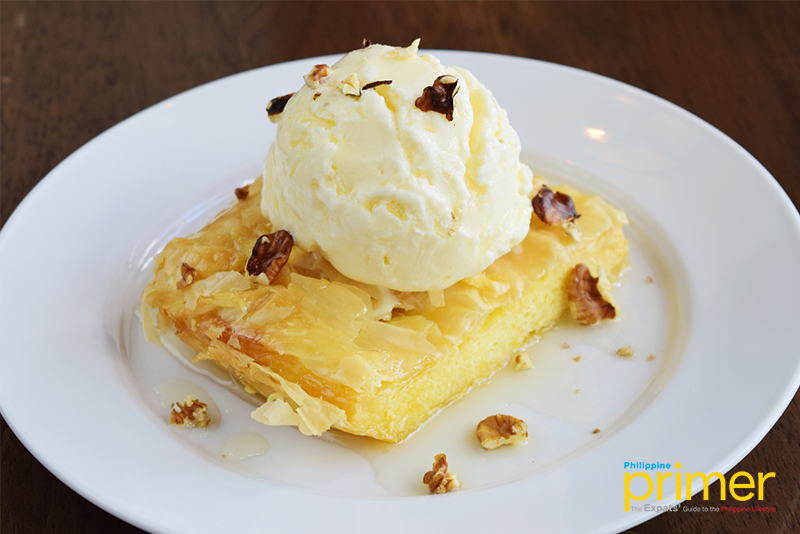 Galaktoboureko (P300)
Just don't forget to tell the staff to serve it last to your table so that the vanilla ice cream won't melt.
Aside from the mouthwatering dishes, they also have an intensive bar that houses a very good range of gin, Irish whiskey, cocktails, wines, and beers perfect for a post-work get together. On Friday nights, they have live music wherein they invite bands who have been playing in Manila for the past 20 years.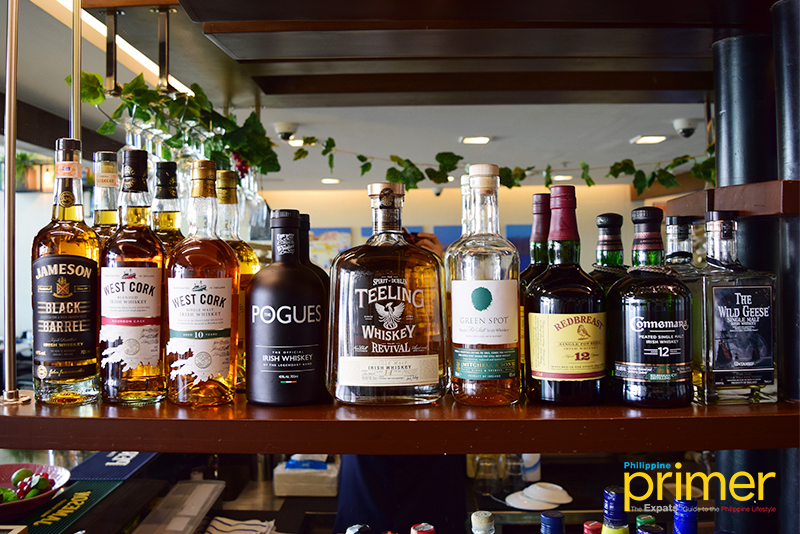 How to get here
By car: From SLEX, exit at Filinvest Exit. Drive down Alabang-Zapote road and make a right turn onto Filinvest Avenue. Commercenter Alabang will be on your left side.
P2P Bus: Ride a P2P at Greenbelt 1 bus going to Alabang Town Center, then hail a cab going to Commercenter Alabang.
---
Written by Deneca Ordinanza
General Information
Commerce Center, Commerce Avenue, cor Filinvest Ave, Alabang, Muntinlupa, Metro Manila
0926 732 0279
11 am to 11 pm, daily