Shaburi in Uptown BGC: Experience authentic Japanese shabu-shabu
Shabu-shabu restaurants are a dime a dozen in the Philippines. Both Filipinos and Japanese love eating in them because of the way you can personalize your meal. However, there is a distinct difference between Filipino and Japanese shabu-shabu restaurants: the atmosphere. At Shaburi, you get the full Japanese shabu-shabu experience: food, atmosphere, and everything else in between.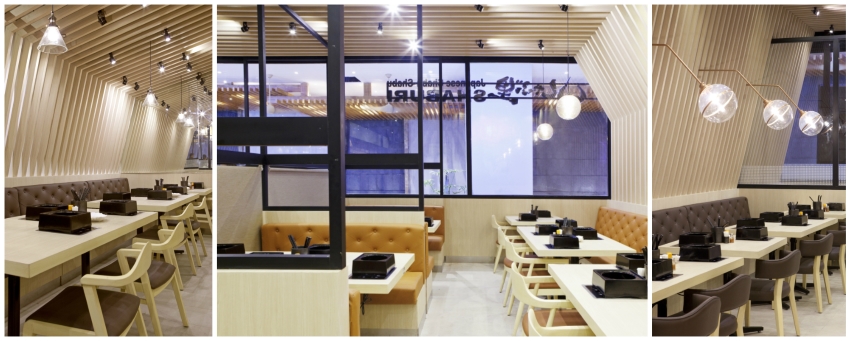 WELCOME TO SHABU-SHABU HEAVEN. International shabu-shabu chain Shaburi had its soft opening last September 20.
Shaburi is an all-you-can-eat shabu-shabu franchise from Japan that's known worldwide for serving up some of the best all you can eat shabu-shabu experiences you can imagine. It has branches in Japan, Korea, Taiwan, Singapore, Indonesia, Malaysia, and now the Philippines.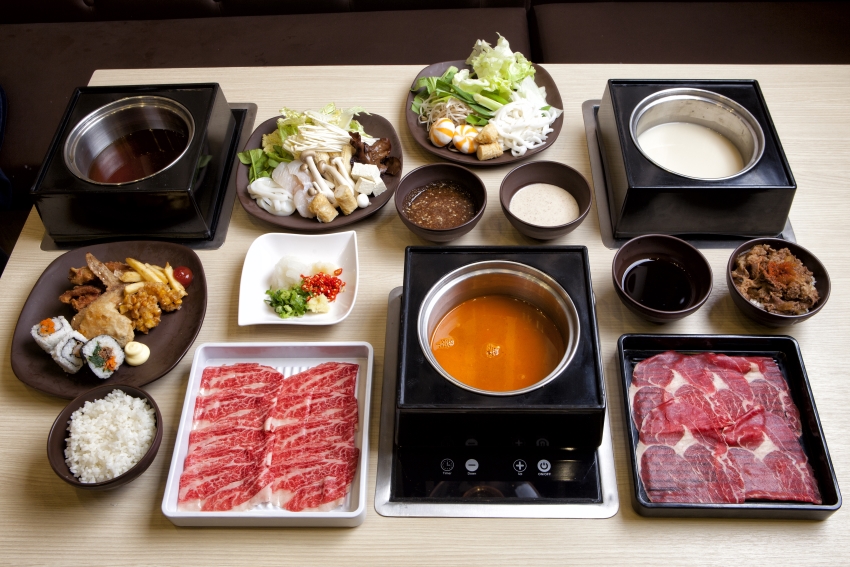 YOUR OWN PLACE. Shaburi gives you your own serving of shabu-shabu and your own area of the restaurant. No room for singles, though, since shabu-shabu is meant to be enjoyed with someone else.
The best thing about Shaburi is their take on serving shabu-shabu. Most Filipino shabu-shabu restaurants serve in big portions, meaning everyone has to share. You may or may not like the soup picked up by whoever you're eating with; it's also awkward to dip your meat into the same soup bowl.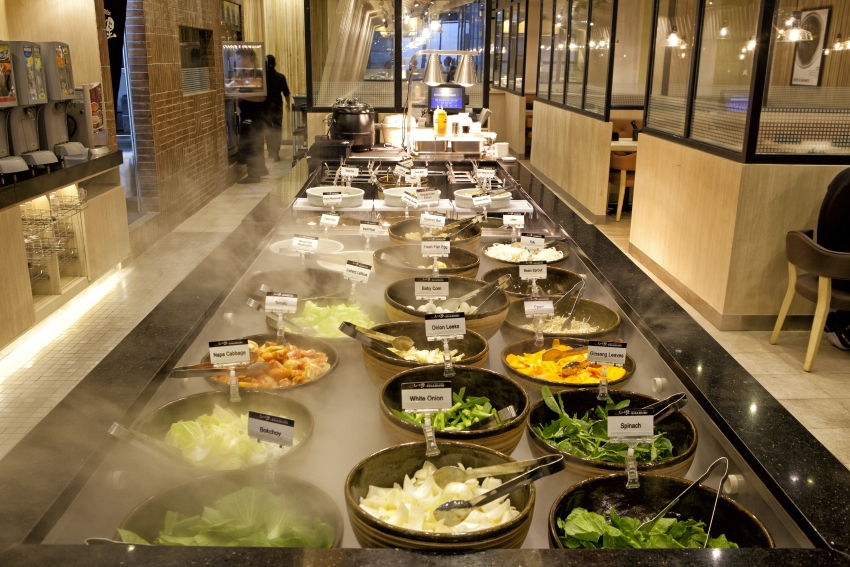 UNLIMITED BUFFET. Gone are the days of gimping on your veggies, dessert, drinks, sides, and everything in between with Shaburi's Unlimited Buffet.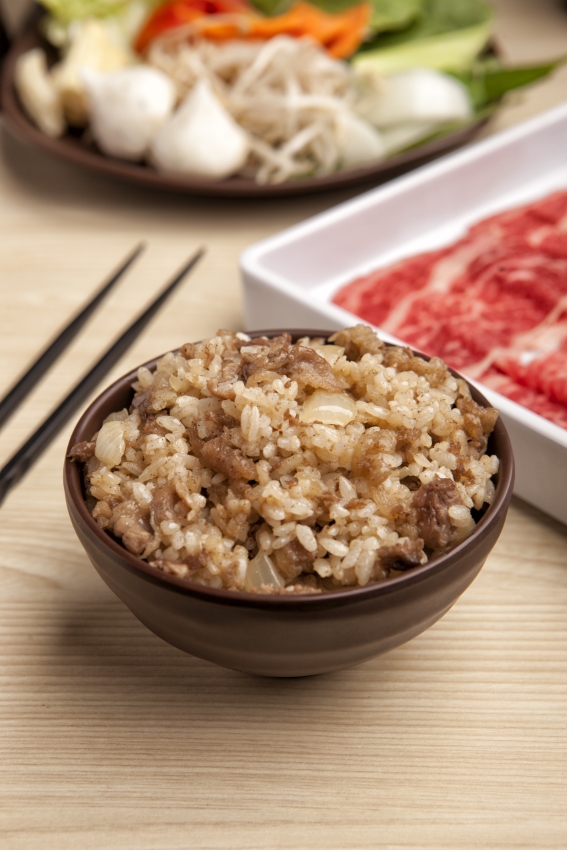 NO MEAL IS COMPLETE WITHOUT IT. Shaburi's signature Wagyu Steak Rice will soon be your favorite variety of rice.
At Shaburi, you're given your own serving of everything. Gone are the awkward moments as well as having to ask for a smaller bowl just so you can enjoy shabu-shabu.
Shaburi's All You Can Meat shabu-shabu has both beef and pork. There are four levels available for their imported beef: Tasty Beef, Special Beef, Shaburi Wagyu, and Special Wagyu. To know the level you have, you just need to look at the color of your plate. If you have a black plate, it's either Tasty Beef or Special Beef. A white plate give you a taste of their heavenly Wagyu beef.
All-You-Can Meat also includes 5 different soups you can pair with your meat: Original Konbu, Sukiyaki, Soy Milk Miso, Chicken Collagen Paitan, and Hot Miso. Get as much as you want in 90 minutes, including access to their Unlimited Buffet table. From appetizers, side dishes, and fresh vegetables to sauces, drinks, and dessert, you can eat to your heart's content at Shaburi.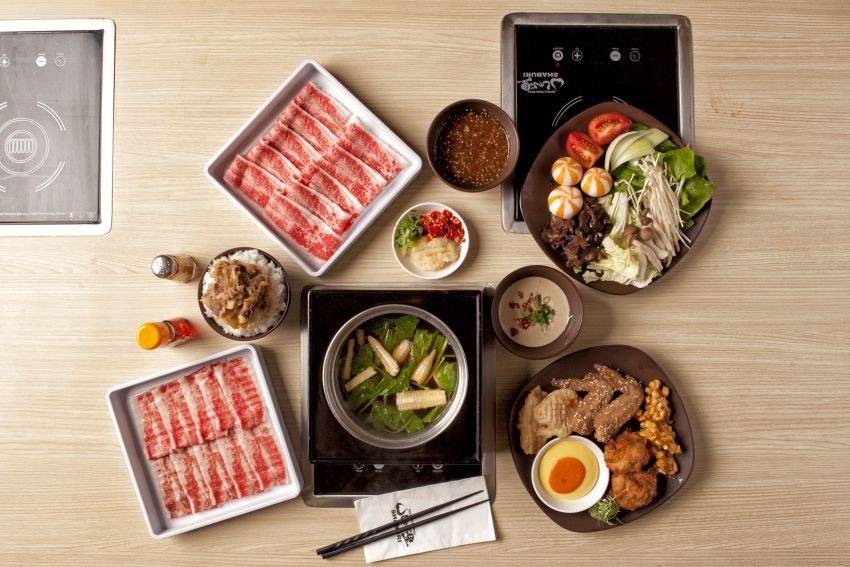 HEAVEN ON TWO PLATES. The Shaburi Wagyu 2-Plate Set, ladies and gents. Make sure you don't regret not going unlimited when you order this one.
Can't handle that much meat, especially during lunch? You can still enjoy their delicious meats with their Weekday Lunch Buffet Plate Set. Instead of all-you-can-eat meat, you are given a choice between their Regular Shabu Set (P399 for 1 plate, P449 for 2 plates) or their Shaburi Wagyu Set (P535 for 1 plate, P675 for 2 plates). Don't worry, though: you still get unlimited access to their buffet table and the same options for your soup.
You can find Shaburi at the 4/F Veranda, Uptown Mall, 38th St., Bonifacio Global City, Taguig City. For reservations, please call ‎02-805-2932, 02-978-2481, or 0917-708-3930. Rates for their All You Can Meat shabu shabu are as follows:
Lunch (10:00 am – 5:00 pm)
Regular Shabu (Tasty Beef and Tender Pork): P499 for adults, P325 for children
Special Shabu (Special Beef, Tasty Beef, and Tender Pork): P789 for adults, P533 for children
Shaburi Wagyu (Shaburi Wagyu, Special Beef, Tasty Beef, and Tender Pork): P1,249 for adults, P861 for children
Special Wagyu (Special Wagyu, Shaburi Wagyu, Special Beef, Tasty Beef, and Tender Pork): P1,599 for adults, P1,111 for children
Grand Menu (5:00 pm – 10:00 pm)
Regular Shabu (Tasty Beef and Tender Pork): P599 for adults, P405 for children
Special Shabu (Special Beef, Tasty Beef, and Tender Pork): P889 for adults, P612 for children
Shaburi Wagyu (Shaburi Wagyu, Special Beef, Tasty Beef, and Tender Pork): P1,349 for adults, P941 for children
Special Wagyu (Special Wagyu, Shaburi Wagyu, Special Beef, Tasty Beef, and Tender Pork): P1,699 for adults, P1,191 for children
General Information
4/F Veranda, Uptown Mall, 38th St., Bonifacio Global City, Taguig
02-805-2934, 02-978-2481
0917-708-3930
10:00 am - 10:00 pm, Monday to Sunday