Lutong Macau at Makati (CLOSED)
UPDATED: This restaurant is CLOSED as of January 15, 2019.
In Makati City, there are varieties of restaurants lined up on Jupiter Street. However, there is one restaurant that stand-out the most because of its noticeable sign that says, "Lutong Macau."
This restaurant is already in its 8th year and still continues serving authentic Cantonese cuisine, as well as Western and Chinese food. Its veteran chef, who has been cooking for 36 years, is the one who is responsible for Lutong Macau's menu. In addition, the taste of its dishes is quite unique, a flavor that you will only find in this restaurant.
The first dish that Lutong Macau's chef recommended is the 'Seafood Egg White Fu Young' (P300), which looks like salad at first glance. It's a delicacy that is made from scallops, shrimp, crab, and sprinkled with brown powder. Overall, Seafood Egg White Fu Young gives off a refreshing flavor and it is also low in cholesterol, making it a healthy food.
Next is the western style dish, Baked New Zealand Clams with Garlic Butter Cheese Sauce (P300). This dish has a creamy, irresistible taste and it is a perfect to eat with beer.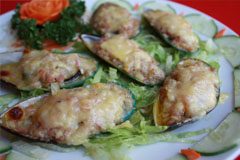 Steamed Cabbage Stuffed with Seafood Roll (P300) is another remarkable item of this restaurant! Ham and scallops are wrapped in cabbage, making it the seafood version of Cabbage Rolls.
Lastly, Coffee Jelly and Mango Pudding (P60 each) are the mouth-watering desserts of Lutong Macau that you should also try.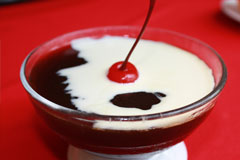 ****
Suggestions:
A meal with a large number of people
Atmosphere:
A lively atmosphere
Budget:
around P800 per person
Recommended Menu:
Lutong Macau Seafood Egg white Fu Young (P300)
Baked New Zealand Clams with Garlic Butter Cheese Sauce (P300)
Store Information
116 Jupiter Street, Bel-Air Village, Makati City 1208
(02) 896-7777; (02) 895-3333
darwin.ngo @ lutongmacao.com