Business Talk with Ryan K. Cruz, CEO and Managing Director of The Real Ramen Nazi Inc.
Business Talk with Ryan K. Cruz, CEO and Managing Director of The Real Ramen Nazi Inc.
Ryan K. Cruz is the man behind three famed Japanese restaurants in Metro Manila, namely, Ramen Yushoken, Mendokoro Ramenba, and Kazunori. A graduate of marketing management from De La Salle University, Cruz had a string of businesses including venturing into gaming and amusement but found his true passion in the food industry.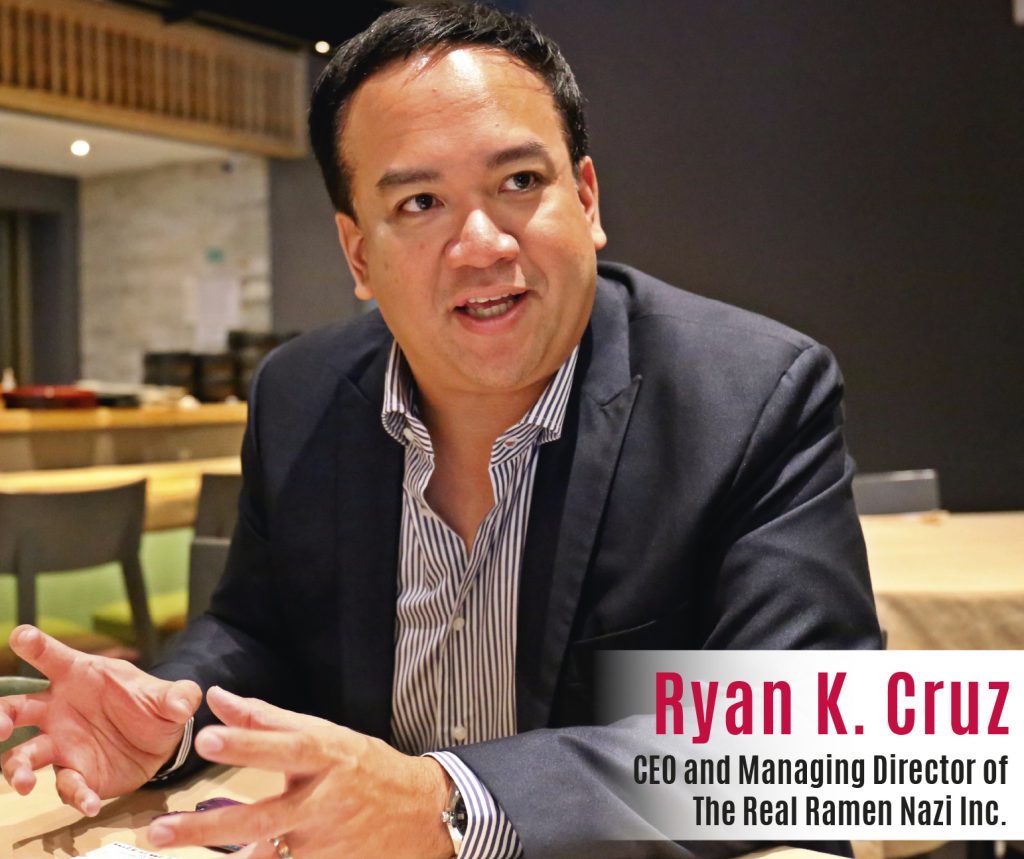 How did you get into the restaurant business?
The food industry is something that I've always wanted to get into. Even though I graduated with a marketing management degree, I still pushed myself to go to culinary school when I was already doing business.
There was a ramen restaurant in Makati that my friends used to frequent, and the idea came to me during one of those times I tried it. For me, there was a disconnect between the line of customers and what I was eating. So, I was telling myself, "Why are people lining up for this?"
I usually don't talk about it this way because it might seem pompous or arrogant, and I try to avoid that. But it's the truth. I saw that there has to be a huge opportunity here if people were lining up for this, knowing that there was so much better stuff out there. The big lesson here is that you have to always strive to have higher standards than everyone else if you want to stand out in the industry. It's the same standard that presents opportunities for you as well.
In one of my early trips to Japan, I decided to do some sort of a ramen tour. It was an eye-opening experience because the level of education, understanding, and respect for food in Japan is very different from what it is here. That level of appreciation interests and excites me.
When was the time that you realized that you actually want to do a restaurant business?
I always knew that it was one of the riskiest businesses one could get into; the attrition rate locally was no different from the rest of the world, about 72%. I only took it seriously when I met these ramen chefs and saw what they could do. My previous businesses were all very different. I was into micro-financing, gaming, and amusement, but those were not really industries that I was passionate about, to be completely honest. This right now is something that has proven to be what I really love doing.
It's such a rewarding experience when you know you made a difference in people's lives and you sort of become a fabric in their lifestyle already. One example is when people would come up to me and introduce me to their one-year-old son or daughter and they tell me, "You know, this guy grew up on ramen," because the whole time that the mother was pregnant, they would go to our place. Or when they say how they've had such a stressful day and they look forward to eating your food to waste that all away.
What do you think should go into creating a restaurant that has good food, good quality, and a good following?
First of all, you always have to think about the purity of intention. When I say that it's thinking, "What kind of product will I have on the market if I didn't consider the cost and the possible income?" You start from that and develop the product. It was making sure that the intention was translated into an experience for our customers over and over again. The next thing you have to remember is, "What is the overall retail experience that I want my customers to go through?" That is something that has to involve both the front and back of the house. Always remember also that every single thing in the restaurant sends a message.
Also read: Ramen Yushoken in Alabang: A Crowd-Favorite Spot in the South
It's really spending so much time in this business that has allowed me to learn a lot about what is required to run an operation like this. In the end, you need to have an absolute passion for it. If you don't, you will end up quitting way before you are able to give what is required of you.
Can you differentiate between Mendokoro, Kazunori, and Yushoken?
Yushoken and Mendokoro are both ramen restaurants; they are essentially the same. Yushoken is a full-service restaurant with typical chairs and tables. Mendokoro has a full bar format, and it actually translates to "A place where you share ramen." The whole idea was to cut the distance between the kitchen and the customer, as temperature plays such a huge role in the enjoyment of the dish. Other than that, it does not have fried rice and karaage like Yushoken has.
Kazunori is a three-in-one concept where you have a café, the main restaurant, and the sushi bar. The café menu has the things you would have in a Tokyo café, where there is a cross between Japanese and French, or Italian, or American cuisines. The restaurant concentrates on more traditional things, like the yakitori, the udon, the soba—more refined, structured things I would say. And then the sushi bar being our crown jewel is our main specialty, and we offer Omakase courses nightly, aside from our a la carte items.
What can you say about the local dining market?
I think they are a lot more educated nowadays. Now, the part of the dining scene is becoming an enjoyable cerebral exercise. If you were drinking wine, you start thinking what's the grape variety, what kind of temperature or soil makeup does the grapes grow from, etc—food has become that. However, I still think that for a lot of types of cuisines though, we're still not there yet in terms of full appreciation.
Back in the '80s, it was a little more difficult because you mostly had nothing but fine dining and fast food. There was hardly anything in between. It was in the mid to late '90s, when that started changing and it's fantastic because food became more accessible. Nowadays, people are learning a lot through social media and the internet as a whole. It can only get better. Great restaurants ultimately are good for the industry itself. It is through them that the market gets educated. They prove that it's worth it to make an effort to go out, spend money for an experience that you would want to keep repeating again and again.
How would you describe your management style?
My management style is something that is constantly evolving. I came from being someone who's very hands-on—but when your company grows, micromanaging is never good because it shows that you don't trust your people. And the whole premise of hiring people who specialize in one thing, like a restaurant manager or an HR manager, is because they're supposed to know better than you. So now that I have them, it's my job to manage and guide them. And I owe it to my partners and the business itself to focus on growing it. Up to this day though, I still handle customer complaints by myself because there will always be customers who will only be satisfied if they're talking to the owner. And that's something that I tell my staff, that we're all in this together. If you make a mistake and screw up, you have me to back you up.
Lastly, and this is something that I wish everyone would practice, is that I treat all my employees like family. If you don't want your customer to be treated like a commodity, then don't treat your employees like a commodity as well.
Also read: Business Talk with Ruel Amparo, CEO and Founder of Cropital
---
This first appeared in the Philippine Primer Magazine's May 2019 issue.