Business Talk with Keiichi Kuroda, CEO of Ramen Kuroda
Keiichi Kuroda was born in Tokyo in 1976. After graduating from Teikyo University, he ventured into music and HR businesses. In 2009, he opened a casual French restaurant in Tokyo. He has been working in the Philippines since 2013, wherein he also opened his own ramen restaurant.
Kuroda is currently the CEO of Ramen Kuroda, a Japanese restaurant that has been attracting a huge amount of attention worldwide as a representative example of Japanese cuisine.
The restaurant is known for offering Japanese-quality ramen at reasonable prices. Directly managing all the shops, Kuroda brings to the table his vast career experience, which includes human resources and even music.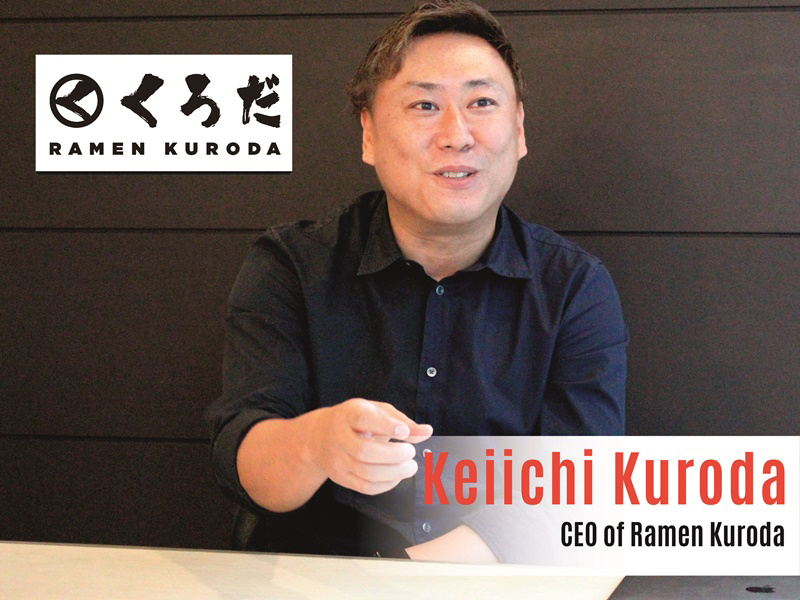 Could you tell us about your business in the Philippines?
We started providing genuine ramen in 2013 in BF Homes, Parañaque and now have 18 branches in the Philippines. Thanks to our loyal customers, the sales of the first branch keeps growing until now. I did my own business in Singapore around that time. Seeing the growing potential of the Philippine restaurant industry, however, I decided to focus on the business in the Philippines instead of Singapore.
We always offer authentic Japanese ramen at an affordable price: Php 180 for a bowl of ramen.
Why is your ramen so affordable?
As long as we do business in the Philippines, I would like to offer affordable prices so that ramen can be a part of people's daily lives. Though the Philippines' economy has grown steadily, I thought Php 400 was way too expensive as the price of a bowl of ramen in the Philippines. To be honest, the prices of our ramen was the advice of my business partner who knows the Philippines very well.
We use chef-selected flour to serve the best noodles, extract umami carefully from pork bone into the soup, and exert ourselves continuously to achieve our mission: "Make ramen part of your every day ". We check the richness of broth three times a day at every store.
Which aspects of the business are you focused on?
I'm always at a hiring interview in the Philippines. As a whole, the work environment of a dining establishment is not good, such as hiring conditions. Therefore, I would like to offer a good environment where people have a lot of opportunities. We have an original work system that increases employee salary and there is no salary limit for managers.
How did you go on your career path before coming to the Philippines?
I was in a music-related business and opened a casual French restaurant in Japan before. In my high school days, there was a big movement of hip hop so I wanted to be a DJ. When I was a college student, I worked as a DJ on weekends. After I graduated from college, I and my DJ friend started a business related to music. We got investment from venture capitals.
However, the business went bad so I started to do another business related to HR with my current business partner, which didn't work well because of the bankruptcy of Lehman Brothers. Then, finally, I ventured into food business in Japan.
Why did you get into that industry?
I used to be interested in food business during my DJ times. Owing to a famous French chef, I opened my casual French restaurant in Nerima district, Tokyo when I was 32 years old. One of my customers then told me that he had a property for rent, and I saw an opportunity for a ramen restaurant because there were Japanese pubs nearby.
How did you start your ramen business?
I needed to know about ramen, so we visited a famous ramen restaurant, Menya Isshi in Fukuoka, Japan. We happened to meet the owner, and we were able to set up a shop with their expertise—we opened Nerima Isshi. That was my real beginning. I really appreciate the support from the people who surrounded me.
What other plans do you have for the foreseeable future?
I would like to open 24 branches in the Philippines by 2020. Moreover, I want to expand our business in other countries in Southeast Asia and Europe with our Filipino staff. Our mission is, "Take a chance and aggressively challenge. Keeping up to the point of origin, we change step by step."
What is your motto?
"Talent is the ability to sustain passion."
I learned this phrase from the TV and later learned that it was the quote from Hayao Miyazaki, a Japanese animator, a filmmaker and co-founder of Studio Ghibli.
---
This first appeared in Philippine Primer's November 2019 issue.