Business Talk with Dino Araneta, Founder and CEO of QuadX Inc.
Dino Araneta is the man behind one of the fastest-growing start-ups in the Philippines, QuadX, which specializes in cross-border digital logistics and e-commerce payment processing. The company has developed three digital platforms, namely, ShippingCart, CheckMeOut, and XPost. Araneta is also the former President and Chief Strategy Officer of LBC Express.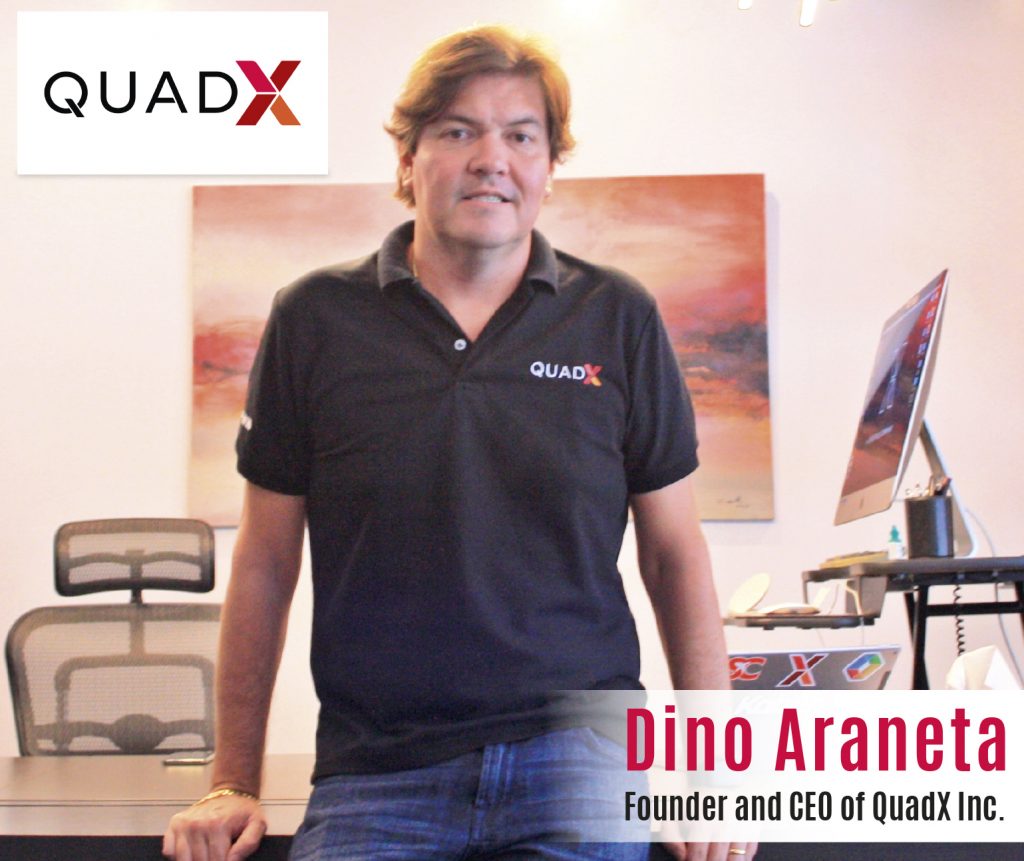 What does your role in QuadX entail?
My role is to keep pushing the boundaries and limits of QuadX, our people, and the ideas of each on how things are being done. With that, it's a continuous effort to set up the best team possible and try and make superstars work together. In a management team consisting of all CEO-like officers, getting all to see the vision is not necessarily what is hard; but to be able to achieve our goals with the least amount of politics and friction.
How and when did you get into the business of digital logistics? What is QuadX and what prompted you to put up your company?
We started QuadX in 2014 with like-minded individuals who all just wanted to enable e-commerce for anyone and everyone. We initially started off building a marketplace, TheShop.ph, which failed (we didn't have the money to keep up in the industry of marketplaces). We learned from this expensive decision and moved to concentrate on the service of what actually completes an e-commerce transaction: the payment and delivery aspect, which was really to make cash on delivery (COD) available to anyone and everyone and concentrate on the social sellers.
What made you decide to shift from being a digital logistics company to one that provides a seamless commerce experience?
We never really intended to set up a digital logistics company. What we wanted to do was to enable or facilitate an e-commerce transaction. So, we came up with platforms like ShippingCart.com to enable Filipinos first to buy from other countries without the hassle, and CheckMeOut.ph, a payment and delivery tool for anyone selling socially.
Logistics came into play because, when we launched, we said we can do the pick-ups and the deliveries better. But it is not because of the actual action of delivery but in providing better and faster data, hence the term Digistics. It's basically managing logistics digitally—from the movement of goods as well as the information about the items. It's almost to say that we can't do the logistics part if data is not readily available. I mean, can you imagine buying an item from Amazon, Lazada, or Shopee without it being online? So it goes the same for logistics. For the entire experience to be seamless, all systems have to be communicating almost real time at every link of the entire chain.
Also read: Business Talk with Ray Alimurung, CEO of Lazada Philippines
Our mindset was never really to be a digistics platform when we started; this was more like a mindset we developed as we were building up. What we really want to achieve is to provide a seamless commerce experience. Everything in the future is commerce done electronically. It may not involve delivery in the end. Even a seamless checkout experience in the malls and all the micro and small businesses out there are what we want to be able to give the platform or technology to. The logistics part was just the start.
What were some of the biggest challenges you faced running QuadX? How is QuadX addressing those challenges in a digital environment?
The biggest challenges for me were at the start. We were months away from closing down and we had to cut half our people and pivot from being a marketplace to what we are now. Other main challenges we have are making everything work seamlessly, how to make us build things faster, and getting the right people at the right time. I would like to scale much faster than what we are currently doing.
What plans do you and QuadX have for the foreseeable future?
We plan to expand our services like ShippingCart to buy from the United Kingdom, Japan, and Korea, and for the entire Southeast Asian market.
We plan to launch CheckMeOut out in a couple of Southeast Asian countries as well. We also continue to develop new things like the automated drop-off machines so that customers would have a better experience when dropping off items instead of waiting in line at our drop-off partners. We will be launching XPay and PayLink, to provide better and faster payment facility for our customers.
We are also working on an On-Demand platform called GOGO, which has verticals that would lead to on-demand e-commerce: Go-Eats, Go-Fresh, Go-Meds, and possibly even Go-Ride. And also in the works in the latter part of 2019-2020 would be CheckMeOut Retail, a product extension of our CheckMeOut service, to achieve better retail check-out experience for consumers.
How would you describe the way you manage QuadX?
I would like to think I have people who believe in the vision of where we want to go. And I manage by inspiring and motivating my team to believe that vision every single day. And like the words on our walls: Think Big, Keep Moving Forward, Stay Humble, Be Kind, and Always Have Fun. I would like to continue living by those words—which I never came up with. Those words were actually put up by our first marketing officer. It stuck to me especially because those are really what I would like us all to live by in QuadX.
Who are the people you look up to?
I always looked up to my father, of course. He has built a great company in LBC Express and raised it with a positive mindset. My first-ever idol as a child was Michael Jordan because he refused to lose and always worked to improve himself.
Now, I have to mention Jeff Bezos. He isn't the richest man in the world for nothing. But during my first years in Harvard Business School (HBS) Owner/President Management (OPM) 44, that was one of the first cases I read and from then on I never stopped wanting to set up QuadX. And probably Elon Musk, only because I like to try and find people who actually think much crazier than I.
Describe your typical day at work.
My team really does most of the work in QuadX. I am really just a cheerleader, and I would like to think that I am the one who put BIG on "Think big," and FORWARD on "Keep moving forward." We do have our weekly meetings called X-Mondays; it's basically about what happened last week and what will happen this week. There are dozens of meetings that go on, which I sometimes pop in and out of when I'm bored. I look through the data and performance reports we have, and I brainstorm a lot on my own with the knowledge I have on what we can improve on and what's next for QuadX. I am more involved in new projects to set direction then leave to the best people to make it happen.
Also read: Business Talk with Aisa Mijeno, CEO and Co-Founder of SALt
---
This first appeared in the Philippine Primer Magazine's April 2019 issue.