Business Talk with Ben Chan of BENCH/
For a lot of Filipinos, the word bench usually means the country's most popular clothing brand and a pioneer among other local brands in terms of marketing and advertising efforts.
This October, we spoke to Ben Chan, executive creative director of Bench and the founder and chairman of Suyen Corporation, Bench's holding company.
Please introduce yourself. When and how did you get your start in the fashion industry?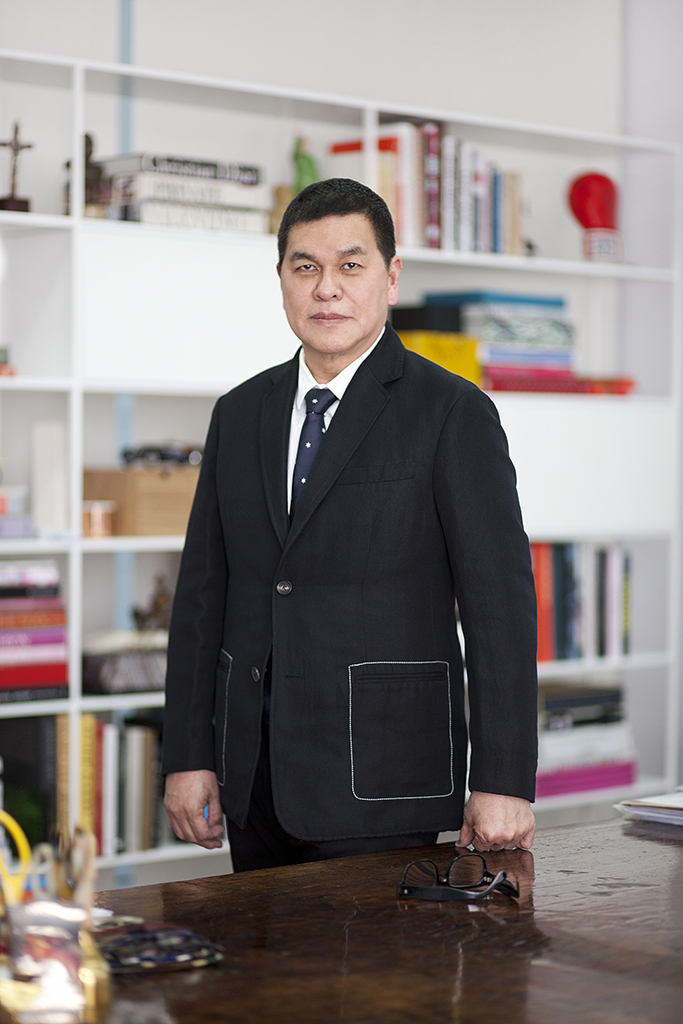 I'm Ben Chan, chairman and founder of Suyen Corporation and executive creative director of Bench.
We started BENCH/ in 1987, and we celebrate our 30th anniversary this year. We are thirty years young, and we remain a youthful brand. Every day for us in the fashion industry is a fresh start.
What made you decide to get into the world of fashion?
It would be my inclination towards aesthetics and an eye for beauty. I suppose I was only waiting for the right medium for me to express that creatively. After years of study, seeing the world, and a bit of experimentation, my calling turned out to be in fashion retail.
When was BENCH/ launched and what was the idea behind it?
We started out as a t-shirt brand in a corner of SM Department Store (now SM Store) in 1987. I put up a fashion label under my own name at a time when I felt there was something lacking in the local industry and decided to focus on it.
It was small, but we already had a distinct look and design to our brand. Shoppers at SM noticed that and patronized it, which led to the brand's rapid growth.
What other clothing brands or product lines do you own apart from Bench?
Locally, we own the streetwear line Human, Kashieca, a clothing line for young ladies, the contemporary furniture store Dimensione, Bench Skin Expert, Bench Fix Salon, Bench Barbers, and PCX – a complete cosmetics and beauty shop.
We're also the local distributor for the following international brands: Cotton On and Cotton On Kids from Australia, Vero Moda from Denmark, American Eagle, curated multi-brand store Assembly, Aldo (shoes) and Call It Spring (accessories) from Canada, Charles + Keith and Pedro (shoes and bags) from Singapore, and Korea's Face Shop.
We also carry the UK's Cath Kidston (clothing, bags, and accessories), Paul Smith (luxury apparel and accessories), FOX clothing from Israel, Under Armour, Cappellini, Fritz Hansen, Magis, and MDF Italia.
Rounding out the list is the international home and office furniture line Foscarini, Australia's Rubi shoes, Origins, Jo Malone, Bobby Brown, and cosmetic and fragrance brands Kiehl's, and Estee Lauder.
What separates Bench from other brands?
BENCH/ has a distinct and irresistible taste that you can't get anywhere else, hence giving us one of our taglines: Live life with flavor.
A BENCH/ t-shirt will have something extra that Pinoys look for and can relate to; something that gives them the feeling of being home. You can't put a price on that. All you can do is experience that feeling.
Your brand was the first to use celebrity endorsers at a time when it wasn't the norm. What made you decide to do so?
From the Bench archives: A shot from the classic "A Day in the Life of a Sculler" in 1991 featuring Richard Gomez. Still as iconic as ever. #ThrowbackThursday #Bench30Years
We didn't just want to sell clothing; we wanted to create an image for the brand. We decided that the best way to do this was by tapping a celebrity who embodied that image, which at that time was Richard Gomez.
A CULT CLASSIC. This commercial didn't just propel BENCH/ to its current state; it's also become a cult classic.
Something magical happened when we put him in a rowboat for our first TVC in 1991. It won so many awards and is now considered a classic. It also set the formula for how Bench would choose and promote its celebrity endorsers in the years to come.
We were the first in the Philippine market to do something that other big global brands did during the 90s, and Filipinos loved it.
We heard that you started bench as a one-man team. Was that the biggest hurdle you got over or were there bigger one that came along the way?
Bench was by no means a one-man effort. I worked side by side with my sister Nenita Lim, who is our VP for Finance. Her husband, Virgilio Lim, is our president. I am very fortunate that the three of us work well together as a team; we offset our own strengths and weaknesses.
The biggest hurdle we had to face was globalization. We saw the Philippine fashion, textile, and retail industries transform before our eyes. In many respects, the country was not prepared for globalization, and that was a difficult hurdle we had to overcome. Global competition to this day remains fierce, and it is a battle we face every day.
What is BENCH/ doing to keep up with local and global competitors?
The game today revolves about information and what to do with it. If you want to stay relevant, you have to be in the loop with everything that's going on. You can't miss a beat. You either keep up with the times or you get left behind. Technologically, you have to be at par with the best of the best.
What are your plans for Suyen Corporation?
We want to expand in every direction that has a potential for growth. We're catering to a new generation who's needs and demands are remarkably distinct from the previous ones.
Today's millennials require us to expand our thinking and see the brand with fresh eyes. We need to know when to retain what's tried and true and when to reinvent ourselves. It takes us out of some of our comfort zones, which helps us evolve and grow.
What would you consider as your greatest professional success? What about your biggest setback?
I consider being in business for 30 years as my mark for success. Longevity is hard to achieve, and our brand is still going and growing to this day. I also don't believe in setbacks; instead, I view each challenge as an opportunity to be better.
How would you describe the way you manage your company?
I do it by intuition. It's a family-run company with my sister, her husband, their children, and myself running the show. Naturally, we treat our employees as our extended family.
Back in July, we celebrated our 30th anniversary by taking employees who have been with us for at least a decade on a trip to Hong Kong. That turned out to be 400 employees, which includes both local and overseas operations!
We filled an entire plane, and the whole trip turned out to be more than a team building experience. It cemented our bond as a company and made the trip unforgettable.
What's a typical day of work like for you?
No two days are alike for me. I'm constantly traveling and meeting new people. Even if I'm in Manila for three consecutive days, each one would still be different from the other.
What quote/phrase do you live by?
I used to have one in the 90s from Irish author Jonathan Swift: "Vision is the art of seeing the invisible."
However, with the many wise quotes I see on my Instagram feed each day, I get a newer and better mantra. I guess that's just a reflection of how the world is today.
This interview also appears in the October issue of Philippine Primer English magazine.
You might also like...