Business Talk with Albert Wang, President of MELCO Factory Automation Philippines
Albert Wang is the President of the newly-established MELCO Factory Automation Philippines Inc., a joint venture between Mitsubishi Electric Corporation (MELCO), Integrated Factory Automation Inc. (IFA), and Setsuyo Astec Corporation (STC), focusing on sales and technical services for factory automation products. With an extensive background in the industrial machinery business, Albert Wang has already been a proponent of automation at a young age.
With a degree in marketing management, he considers himself an industrial salesman, working closely with the sales and technical units.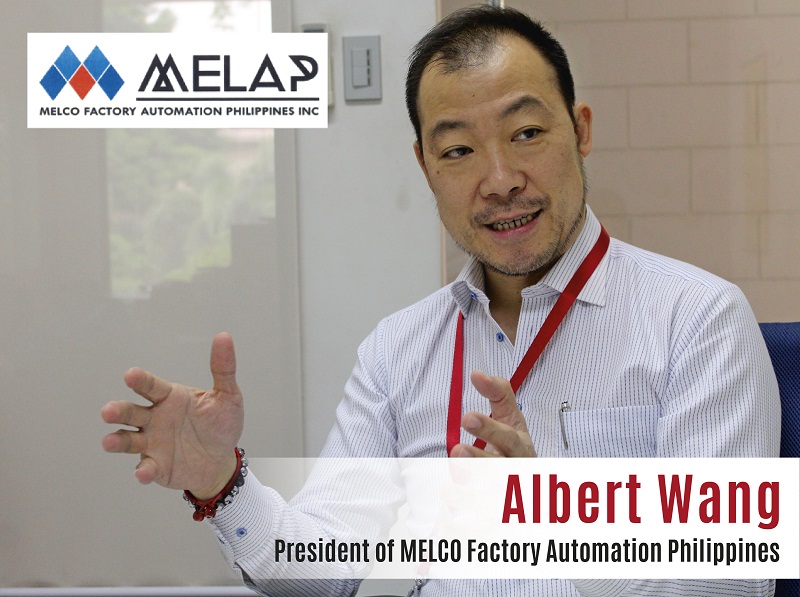 Please tell us your background in business.
When I started in 1988, I was a salesperson for equipment in the food and beverage industry. I was in the food processing division in the beginning; and then later on, I came to handle both food processing and packaging divisions. I established my first automation company in 2000 with the belief that someone in the Philippines had to promote innovation to the Industry. That was when Asia-Pacific Packaging Equipment Corporation (APEC) was born.
With our experience in promoting automation, we were able to get a project—the first in the Philippines—an Automated Warehouse System, and we supplied it to Monde Nissin Corporation in Sta. Rosa, Laguna. During that time, we were an end-user of Mitsubishi factory automation components, supplied back then by Setsuyo Astec. In the year 2005, Setsuyo invited APEC to be the exclusive local distributor of Mitsubishi components.
In 2009, we spun off our factory automation division, and it was named Integrated Factory Automation (IFA). That's the time our company was able to expand to various industries aside from food and beverage.
My presidency of MELCO Factory Automation Philippines (MELAP) is just very recent. The company will start officially in October.
Can you please introduce MELCO Factory Automation Philippines and its services?
The whole business when we established the new company will be exactly the same as that of IFA. Aside from supplying the components, we do projects like machine conversion—because for the controls, there's obsolescence. After the equipment and controls age, the mechanical hardware is still functional; on the other hand, electrical controls become outdated and obsolete.
We have the capability to convert and replace the controls while maintaining the current mechanical hardware, and then make the machine run for another good 10 to 15 years. It helps save money for the client, which is one of our core strengths.
We also do system integrations. For example, if it's a food company—from processing, packaging, storage to automated warehouses and movement to the distribution centers, we can integrate them through Mitsubishi controls.
Our scope of industries has become wider. Now, we are into logistics, automotive, semi-conductors, electronics, airport terminals and water districts. We can also contribute to building & energy management, infrastructure, and transportation development like MRT/LRT rails and future subways.
How do you plan to improve the sales and technical support of your company?
Formerly, as a distributor, there were some limitations when it comes to direct access of information on new technologies and updates. However, now that we are already part of MELCO, we have direct access to their massive technological library. In the world of automation, data on technological advancements are key to promoting a better system that captures a market.
Take the e-Factory for example; taking advantage of the internet, we garnered the capability to see the live status of factories in different locations worldwide in one location— main displays, laptops or mobile phones. We can seamlessly combine the aspects of plant operations and business management systems with our e-Factory.
We can enhance and offer more advancement to support the emerging industries while catering to various customer requirements with reliable and robust customized solutions.
What are the challenges that you have encountered in running all these businesses?
The greatest challenge I continuously face is the current mindset of the people. If you talked about automation 20 years ago, limited companies would be interested because it's either they are still on the traditional side, with little awareness about automation, or they are too cost-conscious. They focus on the small matters, but they neglect to look into the holistic feature. So, when we offered them automation, a lot of times they turned us down. But here we are, we never give up because we want to contribute to the Philippine Industry. Today it is proven—for those customers who gave us a chance, they now understand and reap the benefits of automation.
Also read: Business Talk with Ellard Capiral, Founder and CEO of AdMov Marketing Solutions
What are those benefits?
In automation, the common mentality is you are aiming to cut down the manpower or remove employees, but for us, automation means we have to increase the productivity by educating employees while promoting better working conditions.
We need to understand the data and have real-time data access in order to integrate manufacturing to the sales channel. When you integrate information and use automation, you can see a significant increase in the productivity. Productivity means you can increase your output and increase your profit while eliminating unnecessary problems like stoppage of production lines.
What can you say about the technological industry and the future of automation in the Philippines?
In other countries, the government supports and promotes the concept of "Industry 4.0" or the fourth industrial revolution (e-Factory). Automation is considered a great asset and companies are scrambling to be a part of the industrial revolution.
Here in the Philippines, we are still taking baby steps when in fact we must take leaps and bounds to better our economy's future. It is also our target to contribute to developing this industry.
My hope for the future of automation in the Philippines is that we catch up to our neighboring countries and bring back the way we once were, a market leader in the Asia Pacific Coast.
Also read: Business Talk with Yutaro Kuryu, Senior Development Officer of Mitsubishi Corporation
Can you describe your management style?
I am very hands-on but at the same time, I like empowering people especially the young ones of today. I want them to work on their own terms as long as they follow rules and are disciplined. They have to respect the system. I believe that by allowing them to work freely, they can become efficient. I believe that they are the future of our industry and that, as a mentor, being able to bring out their best qualities is the best way to manage a growing business. I want to promote growth to both my company and my people.
Can you give us a quote or phrase that motivates you to do well in your job?
Ever since, it has been, "Believing in Change." The negativity always comes from the mindset that, "It's impossible." I am the person who always believes, "It's possible."
For example, in the early '90s, the speed of a Japanese packaging machine for snacks was about 50-60 packs per minute; that was the standard. A customer told me that there's a European machine offering 100 per minute, and then my former boss said, "How stupid of you, Albert." Today, our machine is running at 135 packs per minute. But it did not become easy—it's a journey. If you don't believe in it, who will ever do it?
---
This first appeared in the Philippine Primer Magazine's September issue.