Ramen Crawl Through Bonifacio Global City
Considered as one of the most popular Japanese dishes, ramen became massively popular, especially among those living in urban areas, in the '50s after the local food supply dwindled due to the catastrophic effects of World War II that war-torn Japan. Since then, Japanese cooks and chefs have continuously innovated ramen to satisfy the cravings of countless locals who fell in love with this wonderful treat. Eventually, it became a global hit when the Japanese people, who carried with them the secrets of making this delicious noodle dish, started immigrating across the world.
Now, the Philippine Primer tours you around Bonifacio Global City (BGC), where we will feature the best ramen shops on this side of town. From traditional restaurants serving the classic shoyu ramen to the innovative ones offering award-winning ramen dishes, and everything in between. So enjoy this appetizing ramen crawl through BGC that will surely whet your appetite and make you crave ramen even more. Itadakimasu!
Ramen Keisuke Tori King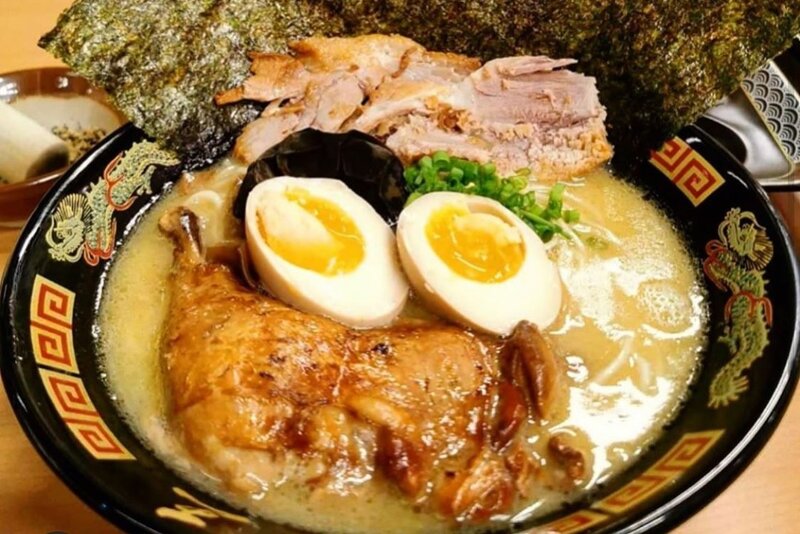 Tori King Ramen/IMAGE from Ramen Keisuke Philippines Facebook page
A ramen chain from Japan founded by Keisuke Takeda, who entered the ramen industry by infusing it with French and Japanese cuisine techniques. The restaurant's signature dish is ramen with whole chicken thighs. Aside from their well-received four distinct ramen (rich, light soup, red spicy, and black spicy), they also offer side dishes such as dumplings and take-out items such as fried chicken lunch set that you can enjoy anywhere.
Address: Unit 1&2 G/F Tower 1, Corporate Plaza, High Street South, Bonifacio Global City, Taguig
Phone: 0917-320-8879
Business hours: 11:00 a.m. – 9:00 p.m. (Mon to Sat), 7:00 a.m. – 9:00 p.m. (Sunday)
Facebook: KeisukePH
Pickup: Yes
Shiroi Daichi
Shio Ramen/IMAGE from Philippine Primer
Shiroi Daichi is a Sapporo ramen shop in BGC, where you can taste authentic miso ramen. They are currently open for dine-in with limited seats from 11:00 am to 7:00 pm. The shop's signature dish is miso ramen (P350), a mouth-watering dish that highlights the deep miso flavor of the broth. They also offer ramen kits and frozen gyoza which you can enjoy at home.
Address: Twenty-Five Seven Mckinley 7th Ave. cor. 25th St., Bgc, Fort Bonifacio, Taguig
Phone: 0906-555-4469  
Business hours: 11:00 a.m. – 7:00 p.m. (closed on Sundays)
Facebook: ShiroiDaichi
Pickup: Yes
Hanamaruken
Happiness Ramen/IMAGE from Philippine Primer
Hanamaruken is a ramen chain with about 40 stores in Osaka and several branches in the Philippines. Their Signature Happiness Ramen is very popular among their ramen-loving customers. Their Gyoza (Php240 for 8 pcs) and Ebi Tempura (Php580) are also highly recommended.
Address: 1/F Serendra, Bonifacio Global City, Taguig
Phone:  0995-585-0430/0917-589-4547
Business hours: 11:00 a.m. –  9:00 p.m.
Facebook: hanamarukenph
Pickup: No
Also Read: Japanese Feast in BGC
Bari-Uma Ramen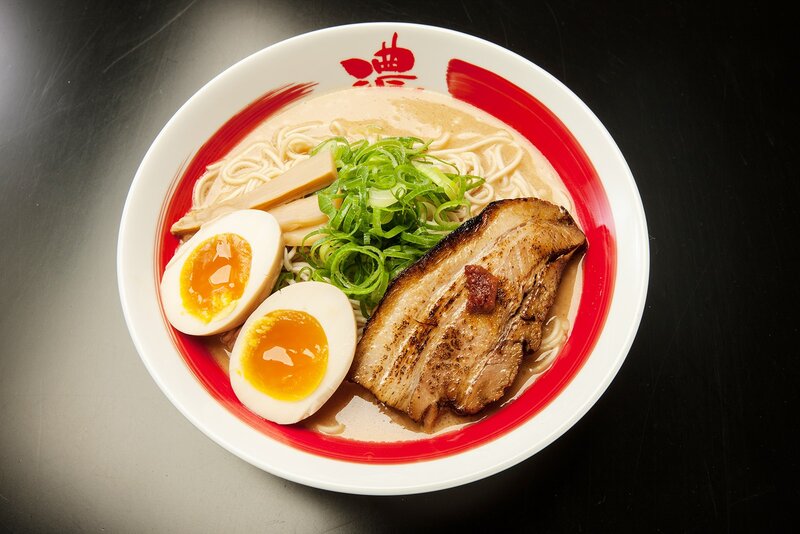 Ajitama-Uma/IMAGE from Bari-Uma Ramen
Bari-Uma Ramen is a ramen shop that originated from Hiroshima. The restaurant is famous for its Ajitama Uma, a shoyu-based pork ramen. Their special broth is made from pork bones simmered in a special cauldron for 8 hours or longer.
Address: Serendra 2 Loading Bay, Ground, Bonifacio High Street, Taguig
Phone: 0995-499-7962
Business hours: 10:00 a.m .to 8:00 p.m.  (Mon to Fri), 10:00 a.m. to 9:00 p.m. (Sat to Sun)
Facebook: bariumaramenph
Website: www.bariuma.asia
Pickup: Yes
Ippudo
Shiromaru Motoaji/IMAGE from Ippudo
Ippudo is a chain of ramen shops that is very popular among the Japanese. Their signature dishes, Shiromaru Motoaji and Akamaru Shinaji are highly recommended. These dishes are also available in half-sized portions from 11:00 am to 4:00 pm on weekdays.
Address: Ground Floor, Uptown Place Mall, 36th Street Corner 9th Avenue, Bonifacio Global City, Taguig City
Phone: 0919-074-4560
Business hours: 10:00 a.m. to 6:00 p.m.
Facebook: ippudoPH
Website: www.ippudoph.com
Pickup: No
No dine-in allowed
Ramen Nagi
Red King/IMAGE from Philippine Primer
A popular Japanese ramen store chain that opened in Manila in 2013. Their menu consists of four types of ramen: Original Butao, Black King, Red King, and Green King. The best-selling Original Butao consists of soup made from pork bone broth and handmade noodles, topped with pork chashu, garlic, spring onions, and many more.
Address: 5/F, SM Aura Premier, C5 Road Corner 26th Street, Bonifacio Global City, Taguig
Phone: 02-8828-6783 
Business hours: 10:00 a.m. to 9:00 p.m.
Facebook: RamenNagiManila
Website: www.ramennagi.com.ph
Pickup: No
Tsuta
Shoyu Soba/IMAGE by Philippine Primer
Originally from Sugamo, Tokyo, Tsuta is the only ramen shop in the world that ever won a Michelin star. Their signature dish, Shoyu Soba, is made with dashi from high-class local chicken and seafood. The owner, Mr. Onishi, is very particular about his ingredients and cooking method.
Address: C3, Bonifacio High Street Central, 7th Ave., Bonifacio Global City, Taguig
Phone: 0906-237-7002 / 0945-330-3469 (Viber) / 02-7625-4678
Business hours: 10:00 a.m. to 11:00 p.m.
Facebook: tsutaphilippines
Pickup: No
No dine-in allowed
Menya Kokoro
Zenbu Mazesoba
Menya Kokoro is the Philippines' first mixed soba specialty store. It is located in BGC's uptown mall. The founder, Chef Takuma Ishikawa, trained at the store that originated in Taiwan Mazesoba in Nagoya, and he opened the main store in Kanto. Taiwan Mazesoba is a type of soupless noodles made by putting Taiwan minced meat (soy sauce-flavored spicy minced meat with pepper and garlic) on extra-thick noodles.  The trick is to mix the eggs, add kelp vinegar (if you like), stir well, and eat. When you run out of noodles, you can get a small amount of white rice and eat it with the remaining sauce.  
Address: 3/F Uptown BGC Mall, 8th Avenue, Taguig
Phone: 02-7758-6493 / 0919-001-9392
Business hours: 10:00 a.m. to 9:00 p.m.
Facebook: menyakokoroph
Website: www.menyakokoroph.com
Pickup:  Yes
---
Have you been to any of these ramen restaurants before? Tell us in the comment section below!
This first appeared in Philippine Primer's English and Japanese Magazines March 2021 issue