LIST: 6 Premium Brands Offering Innovative Protective Products
While the present situation isn't as grim as it was a few months back, there's no denying that most of us are continuously on the edge about our health and safety. Thanks to the help of technology, though, we can feel a little bit at ease through the protection it offers in place of the still nonexistent vaccine.
From advanced air conditioners and air purifiers down to highly-innovative paint, you'll definitely have your eye on one of these products offered by some of the premium brands here in the Philippines.
SHARP 
Sharp's revolutionary Plasmacluster technology has been proven to be 99.97% effective against viruses and microbes, leaving air cleaner and healthier as it emits the same positive and negative ions that occur in nature. It also eliminates unpleasant odors, pet dander, and allergens as well as provides a beautifying effect on the skin by maintaining its moisture.
Sharp Air PurifierBring the nature to your home with Sharp Air Purifiers. It has Plasmacluster Ion (PCI) the same…
This technology is also equipped in their Car Ion Generators and some models of their refrigerators and air conditioners as Sharp is constantly developing new ways that Plasmacluster can bring benefits to the society. 
Website: ph.sharp
Also read: Sharp Plasmacluster Technology Demonstrates Effectiveness in Reducing Airborne Contaminants
Panasonic
Spanning from 1997 to the present time, Panasonic has seen quite an effectiveness to hydroxyl radicals contained in water as inhibitors of pathogenic microorganisms including coronaviruses (hydroxyl radicals themselves are deemed as nature's 'detergent' found in the troposphere).
Later, the company developed what they now call as nanoeTM technology that contains hydroxyl radicals, which blocks surface-level pollutants by penetrating deep into fabric materials and neutralizes bacteria and viruses among others.
Looking for 24-hour protection from bacteria and viruses? Panasonic Air Conditioner nanoe™X Technology has got your…
Panasonic products equipped with this include the Elite Inverter Sky Series Aircon, Portable Nanoe Generator, and Air Purifier. 
Website: panasonic.com.ph
Daikin
Daikin, a global-leading air conditioning company, manufactures and markets air purifiers equipped with streamer technology. This oxidatively decomposes harmful substances using a type of plasma discharge called steamer discharge.
As proven by experiments*, 99.9% of the mouse coronavirus and those of the same genus can be inactivated by releasing streamers for at least three hours. The same technology has remarkably been used for bird influenza virus, influenza virus, mouse norovirus, and food poisoning. 
Now is the time to protect your air quality indoors. 🌬Daikin's Air Purifiers feature multiple layers of powerful…
*Said experiments were done using a test streamer generator (streamer technology) and no indication of the effect of the actual Daikin products or of the actual usage environment was recorded.
Website: daikin.com.ph
Kansai Paint
Japan-cultivated brand Kansai Paint boasts a range of innovative products that sit well for decorative and industrial purposes to automotive ones. And one that is all the more promising at this point is their Ales Shiquy, an environmental-friendly, water-based lime plaster that denatures viruses and humidifies the air on top of its odor-removing feature.
We often experience uncontaminated air indoors. Whether it's from your laundry room, shoe cabinets or bathroom, always…
More so, Kansai Paints also has what they call the Contagion Prevention Sheet, which is an antibacterial and antiviral set of adhesive sheets similarly coated with lime plaster material. It can be easily applied onto stainless steel, wool, and glass among others.
The first and only Anti Virus sticker sheet for railings and door handles. Ask me how? www.kansaipaint.com.ph
Website: kansaipaint.com.ph
J.P. Marzan Project Ventures Inc.
J.P. Marzan is a logistics provider that offers sterilization services as well. These are available in the forms of a fixed generator-type and a manual one requiring the presence of a technician.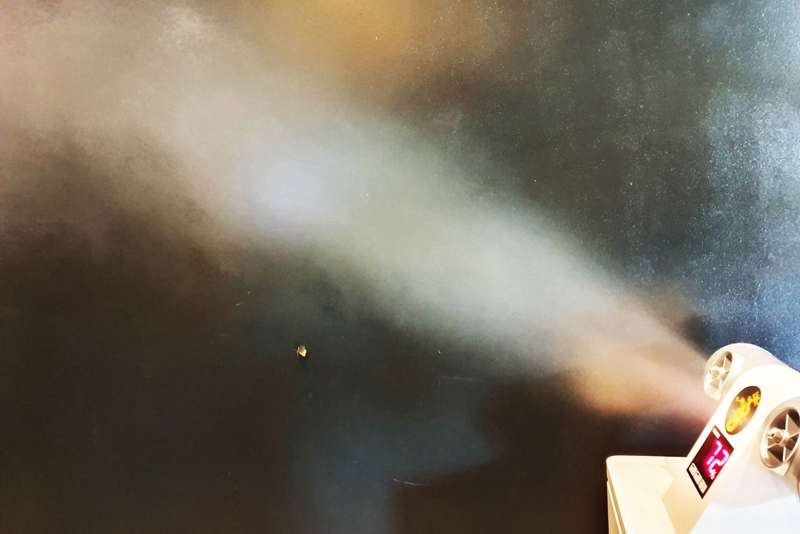 Fixed Generator-Type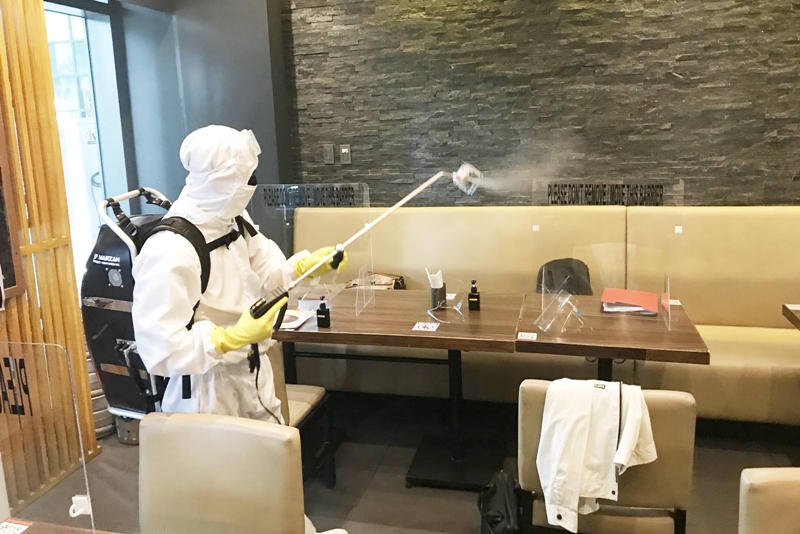 Manual spraying of Marella Water
The two similarly employ the use of Marella Water, or electrolytic hypochlorous acid water, which is said to exhibit a high-performance disinfecting capability that includes the sterilization of norovirus—a 'more virulent' strain than coronavirus.
Since it does not use any chemical, Marella Water is safe around kids and pets alike; it holds no threat of hazardous wetting of things too. J.P. Marzan provides such services to all facilities, from restaurants to medical institutions.
Contact: 0917-155-2208
Email: yusuke.kondo@jpmarzan.com
Alsons/AWS Information Systems, Inc.
In addition to the basic functions of a temperature detector such as non-contact body temperature measurement, AAISI's product is equipped with facial recognition and photo/measurement log functions. Through a cloud service, the registered face can be authenticated upon temperature check, allowing for the saving and managing of data such as the registrant's body temperature, time detected, presence or absence of mask, and whether or not blacklisted via a personal computer.
This is sold in three different types: one that can be held by a hand, one that can be mounted on a wall, and one that can be put atop desks. 
Website: aaisi.com.ph
Have you got something you want to purchase? Share with us which among these it is!
---
Images grabbed from their respective websites and/or social media accounts 
This first appeared in Philippine Primer English Magazine October 2020 issue