Where to Buy Mooncakes in the Metro for Mid-Autumn Festival 2020
Another year has passed by and the season of mooncake is here again! The Mid-Autumn Festival, also known as the Moon Festival, is a prestigious festival in China and is celebrated here in the Philippines with much delight.
Having mooncakes for this celebration is a staple, which is why we rounded up seven hotels in Metro Manila where you can get your box or two of traditional mooncakes for the Mid-Autumn Festival 2020 celebration!
Conrad Manila
Available for pre-order since August 15, Conrad Manila's award-winning restaurant China Blue by Jereme Leung celebrates the upcoming Mid-Autumn Festival with handcrafted mooncakes crafted in signature designer bags by the hotel and Malaysian style icon Christy Ng.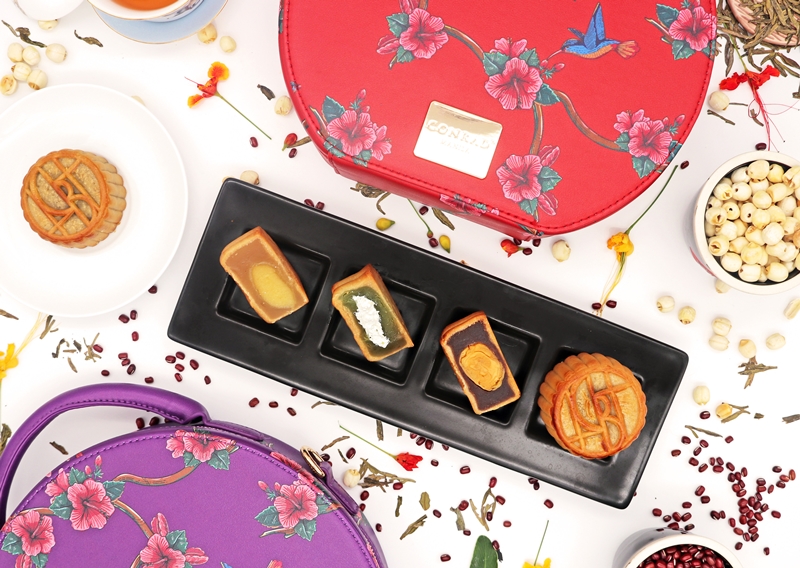 The mooncakes are available in boxes of four and in varied flavors of baked traditional Red Bean Single Yolk, Baked White Lotus with Lava Custard, and Baked Fragrant Pandan with Lava Coconut. The pick-up date for the mooncakes is from September 8 to October 1, 2020.
Where to order: 0917-650-4043 / 02-8833-9999
New World Makati
New World Makati's Jasmine Restaurant is ready to give a rich, sweet, and creamy indulgence of handcrafted mooncakes for this year's Mid-Autumn Festival.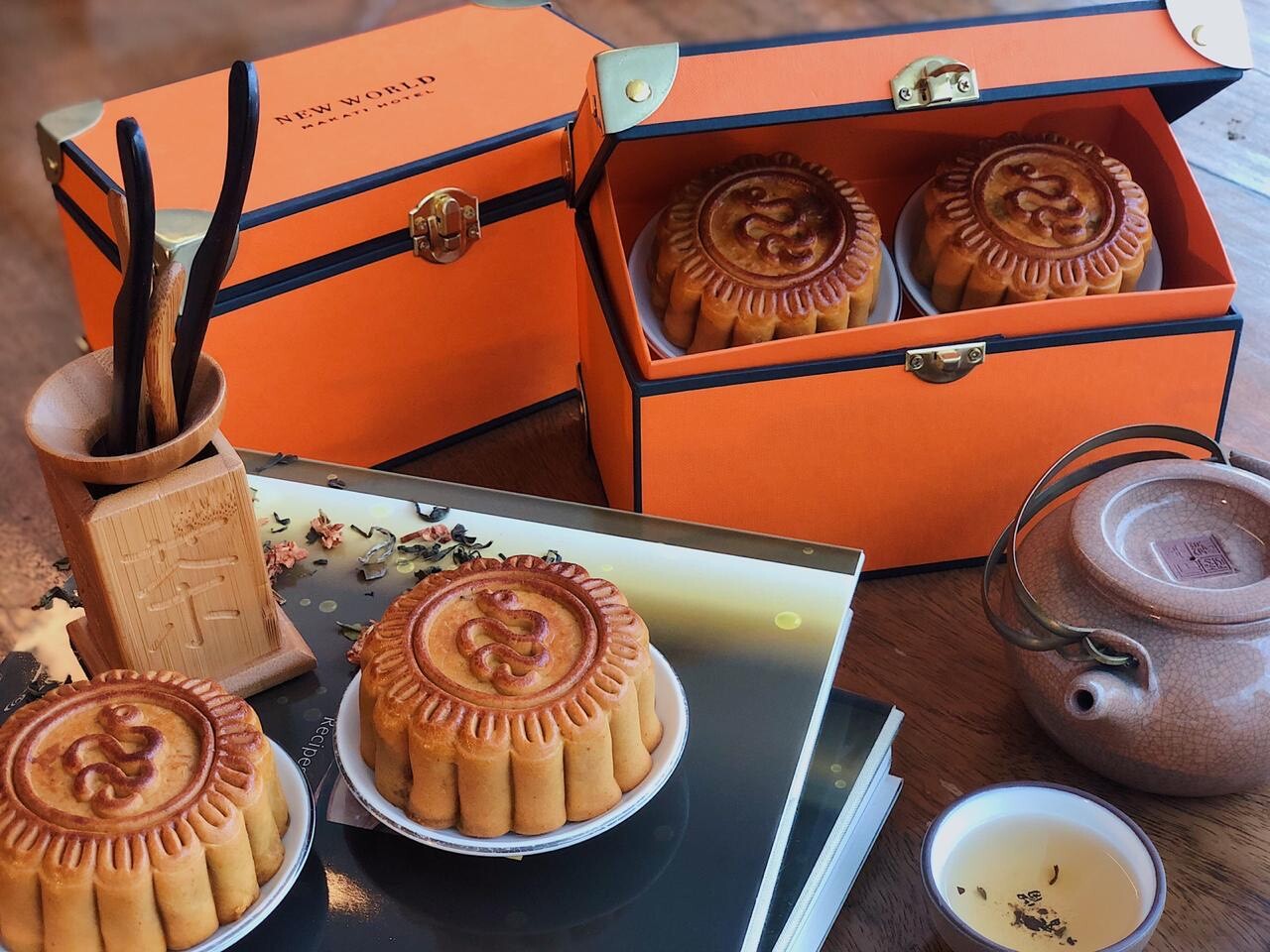 The decadent and timeless treats are available in four classic flavors: Red Bean, Red Lotus, White Lotus, and Five Kernels (watermelon seeds, sesame seeds, walnuts, Terminalia seeds, and almonds), which are sealed in an elegant tangerine box with gold accents.
A box of two is priced at Php 1,088 net while a box of four is priced at Php 1,588 net.
Where to order: Order form
Contact: 02-8811-6888 ext. 3679 / 0917-888-4194
Grand Hyatt Manila
Just in time for the Mid-Autumn Festival 2020, Grand Hyatt Manila's team of talented pastry chefs prepared timeless traditional mooncakes and decadent cakes inspired by the festival.
To attract prosperity and good luck, the traditional mooncakes are available in flavors such as Taro, Lotus Paste, White Chocolate and Red Bean, and Fruit and Nut priced starting at Php 1,388 for a box of two. The mooncakes are packed in a unique Grand Hyatt gift box for an elegant festival gift for family and friends.
Where to order: manila.grand@hyatt.com
Contact: 02-8838-1234
Marriot Manila
Marriott's handcrafted mooncake gift sets are the perfect customary gift this Mid-Autumn Festival!
Bringing luck and fortune, this year's Marriot mooncake gifts come in different filling flavors like Whole Salted Duck Egg, White Lotus Paste, Red Lotus Paste, and Five Spiced Nuts with Dried Scallops.
These mooncakes are elegantly arranged in Marriot's luxurious crimson red latticed box complete with a gold stamp and cherry blossom patterns. It is available in a premium box of six priced at Php 2,020++ and is available until October 2, 2020.
Where to order: 0917-624-5980
EDSA Shangri-La Manila
Light up this year's mid-autumn with the warmth of reunion brought by special mooncakes from EDSA Shangri-La Manila's Summer Palace Restaurant.
Available until October 8, you can choose from six mooncake flavors, namely White Lotus (Regular or Reduced Sugar), Red Bean, Mixed Nuts, Durian, Chestnut, and Black Sesame.
Torn between classic flavours and exciting new creations? Take your time, but don't take too long! Our mooncakes are…
Prices start at Php 388+ per piece of small mooncake and Php 588+ per piece of large mooncake. A rectangular box of eight small pieces is also available for Php 3,088+, while a sure box of four large pieces is at Php 2,888+. They also have a deluxe box of eight large pieces that you can get for Php 4,088+.
Where to order: Order form
Contact: 02-8633-8888
Marco Polo Ortigas
Celebrating the traditional Mid-Autumn Festival, Marco Polo Ortigas' Lung Hin Cantonese restaurant presents its Celestial Treasures, a selection of premium mooncakes.
Celebrate kindness in all its forms. Share a joyful gift with loved ones through Lung Hin's premium traditional…
Available in four joyful flavors: Red Bean with Double Egg Yolks, White Lotus Seed with Double Egg Yolks, Red Lotus Seed with Double Egg Yolk, and Mixed Nuts.
Lung Hin arranges the mooncakes in individual boxes for Php 798, a box of four for Php 2,888, a box of six for Php 3,888, and a limited edition of four for Php 2,888.
Where to order: marcopolohotels.com
Contact: 02-7720-7777
Peninsula Manila
Available in two flavors—Traditional Lotus Seed Paste with Yolk and the luscious Egg Custard, The Peninsula Manila's exquisite handcrafted mooncakes treasures the celebration of giving and sharing in a box of much-loved delicacy.
The saying, "what goes around, comes around" rings true this mid-autumn harvest season with the treasured tradition of…
You can enjoy their exquisite mooncakes either in a selection of eight assorted mini mooncakes for Php 3,888 or an indulgent box of four mini custard mooncakes for Php 2,388.
Where to order: facebook.com/ThePeninsulaManila
Are you ready to celebrate the Mid-Autumn Festival this year? Share your favorite mooncake flavors in the comment section below!
---
Featured images courtesy of Conrad Manila and New World Makati